"Addicted" To Learning: Transformative Performance Enablement Software Workforces Love To Use
As many direct selling companies battle retention problems — the industry saw a 5.2% decrease in workforce last year — AMSOIL, a major developer of synthetic lubricants for automotive vehicles, is staying ahead of competitors and reporting unprecedented dealer engagement. How? By investing in the end-to-end digital transformation of its learning, certification, and sales enablement systems with Rallyware's performance enablement software.
Let's take a look at how AMSOIL revolutionized its workforce capacity with data-driven performance enablement software.
What Are Synthetic Lubricants? How Do They Help?
Synthetic lubricants like those developed by AMSOIL are man-made lubricants. These are specifically designed to provide superior performance and protection to machinery and equipment compared to traditional mineral-based lubricants. They are chemically engineered using a complex mix of base oils and additives, which provides them with unique properties and benefits.
Synthetic lubricants are highly resistant to heat, oxidation, and breakdown. That means they last longer than traditional mineral-based lubricants, even in extreme environments, and offer better protection against wear and tear. They also have a lower coefficient of friction. This can help to reduce energy consumption and improve overall machine efficiency.
Other benefits of synthetic lubricants include:
Improved performance in extreme temperatures: Synthetic lubricants perform better in extreme temperatures. This makes them ideal for use in hot or cold environments.
Enhanced durability: Synthetic lubricants are less likely to break down or oxidize over time, which means they can last longer and provide better protection to machinery and equipment.
Reduced maintenance: Because synthetic lubricants are more durable and long-lasting, they require less frequent changes and maintenance compared to traditional mineral-based lubricants.
Improved fuel efficiency: Synthetic lubricants can reduce energy consumption and improve fuel efficiency by reducing friction and improving overall machine performance.
Synthetic lubricants can help to extend the lifespan of machinery and equipment, reduce maintenance costs, and improve overall performance and efficiency. Suffice to say they've been revolutionary for the automotive industry.
Recognizing the Need for End-to-End Performance Enablement Software
AMSOIL is a historic innovator in the development and distribution of synthetic lubricants.
In 1972, after years of research inspired by aerospace technology, AMSOIL 10W-40 Synthetic Motor Oil became the first synthetic motor oil in the world to meet American Petroleum Institute service requirements, ushering in a new age in lubrication science.
AMSOIL's revolutionary synthetic motor oil outperformed conventional oils on all counts and continues to lead the industry in quality.
As a direct selling company, workforce learning and certification is paramount for AMSOIL. Company leadership understood that to stay competitive in today's market, they had to invest in best-in-class performance enablement software. They needed a solution that would combine all learning, certification, and sales support needs into one easy to use digital experience for its independent, nationally distributed workforce. Cue Rallyware.
Building A Complete Field Enablement Suite for Personalized Learning, Certification, and Sales Optimization
AMSOIL approached Rallyware with a clear vision of its distributed worforce's needs: compliance and customer service training, sales optimization, and high-engagement personalization.
Chief among AMSOIL's KPI's is efficiency and completion of its customer certification process, a training program by which AMSOIL dealers develop the customer service skills required for meeting sales goals.
Rallyware got to work designing a custom field enablement suite that guides the distributed AMSOIL Independent Dealer network to success with personalized learning about the most efficient selling practices, smart notifications around new product launches, leaderboards that compare and visualize sales progress for multiple dealers, educational content on how to talk about different types of lubricants; and more — all enriched by robust data integrations to constantly re-engage dealer attention with the activities most relevant to each individual.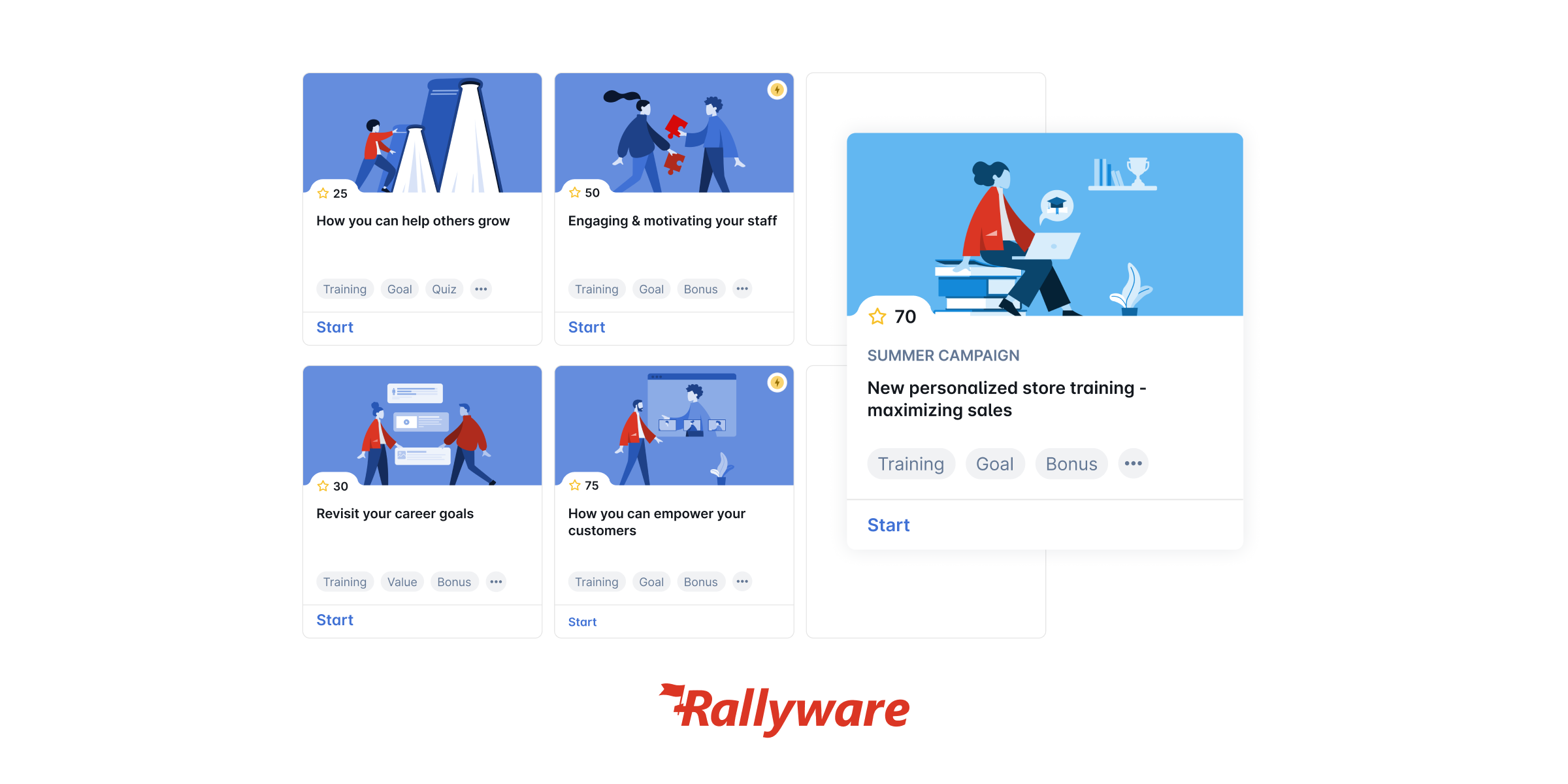 These features optimize and speed up the achievement of AMSOIL's most vital metric – the customer certification pipeline.
The Results Are In: People Are "Addicted" to Performance Enablement Software
Following the roll out of AMSOIL's Rallyware-built field enablement suite, dealer praise for ease of use and engagement came pouring in. Users call Rallyware "addictive," and say they "can't stop training until they're done."
"With Rallyware's platform, we've been able to craft a highly personalized and automated digital experience for onboarding, learning, and selling that our dealers enjoy using," says Dan Peterson, SVP Marketing and Sales at AMSOIL. "This is exactly what we imagined when we were looking for technology that would enable us for the challenges of the 2020s: technology that's at once highly effective for us as a business – in terms of our KPIs – and extremely usable for our dealers day to day."
These results are in keeping with Rallyware's track record of radically improving training and sales outcomes. On average, Rallyware improves workforce engagement by 47%, productivity by 32%, and retention by 43%.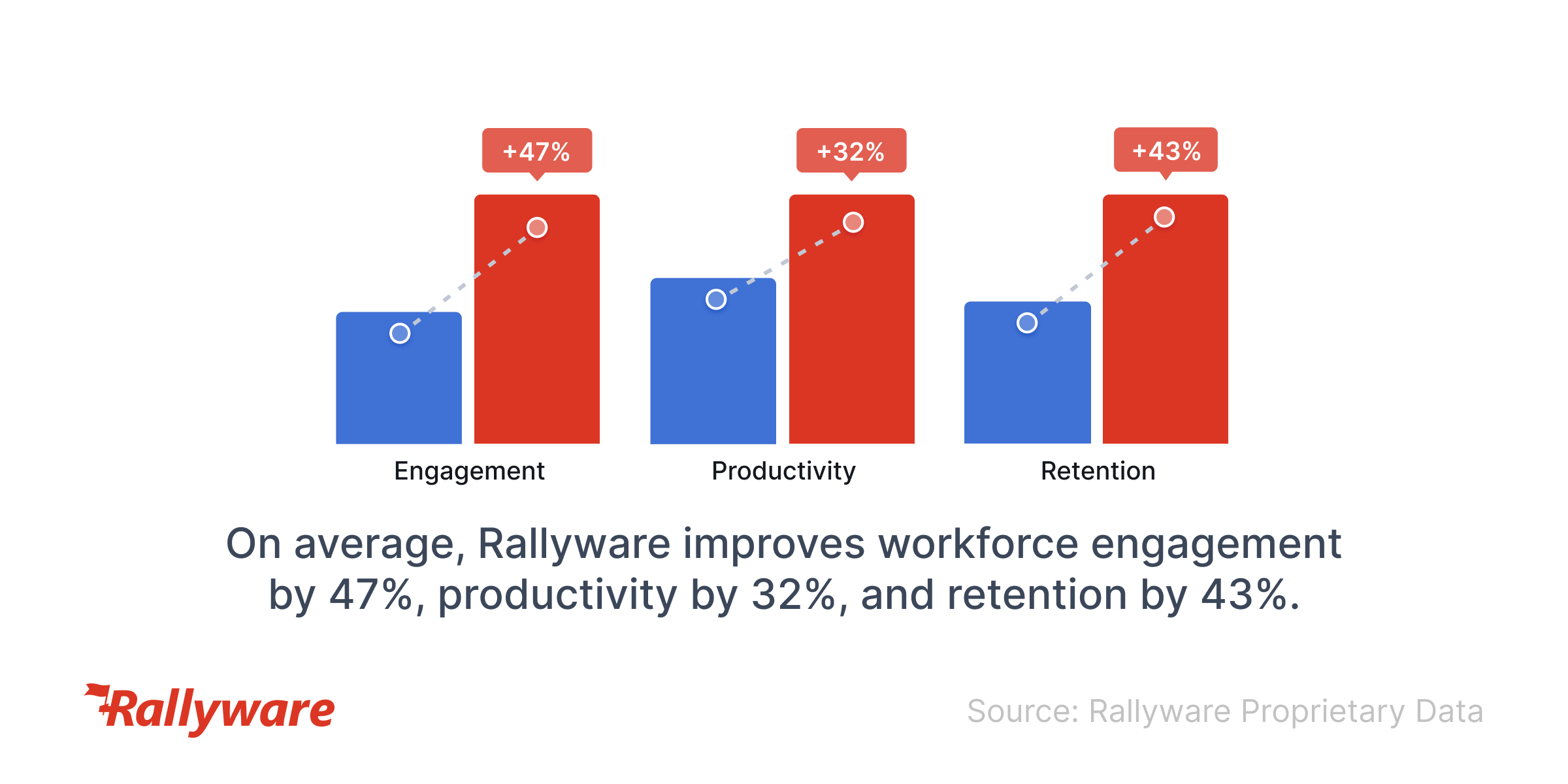 Of course, Rallyware's leadership shares in the enthusiasm for AMSOIL's results. "We're immensely proud of what we've done so far with AMSOIL, and we're excited about what's to come in the near future," says George Elfond, Rallyware's CEO and Co-Founder. "AMSOIL uses Rallyware's data-driven technology to make sure that their dealers are fully engaged with the company's high-performing and highly reliable motor oil family of products. We're very impressed with what we've seen so far – AMSOIL has been able to use Rallyware to create a more educated and engaged workforce, shaping success one customer-certified dealer at a time."
Rallyware's end-to-end performance enablement platform (PEP) provides each member of a distributed workforce a unique, personalized growth journey based on their goals and skills. To experience the power of data-driven performance enablement, click here for a demo.
News and Insights on Workforce Training & Engagement
We're among top-notch eLearning and business engagement platforms recognized for effective training and talent development, helping to empower distributed workforces
Subscribe