Direct Selling Business Tips for 2022: New Year's Resolutions
In which key areas should direct selling companies revolve to focus their efforts in 2022? In our recent webinar, 7 New Year's Resolutions Every Direct Selling Company Needs to Make in 2022, Rallyware's Rich Schubkegel was joined by Brett Duncan, Managing Principal at Strategic Choice Partners, a firm that brings together specialists from various business disciplines (such as technology, training, and event planning) to help direct selling companies move ahead. A self-described "transitionist," Brett specializes in helping these companies as they transition into the new era of direct selling.

From prioritizing tech development to doubling down on video, here is a recap of the key highlights and takeaways from the presentation.
Top 4 Points from Rallyware's Direct Selling Webinar
Learn From Other Direct Selling Companies, But Do Not Compare
When direct selling companies hear about the successes and innovative efforts of others, they may look at their own situation and grow discouraged, thinking: "If I'm not growing like that, then I must really be falling short." However, Brett pointed out, there are some companies that are growing, and there are others that are not. The past several years have been a challenging time for many – you're not alone!

"Our channel leverages momentum like no other channel does," Brett said. "While there are many benefits that come from this, we also have to recognize that we are, to a certain degree, a slave to momentum, or a lack thereof. Part of our responsibility on the corporate side is to plan for it, one way or the other."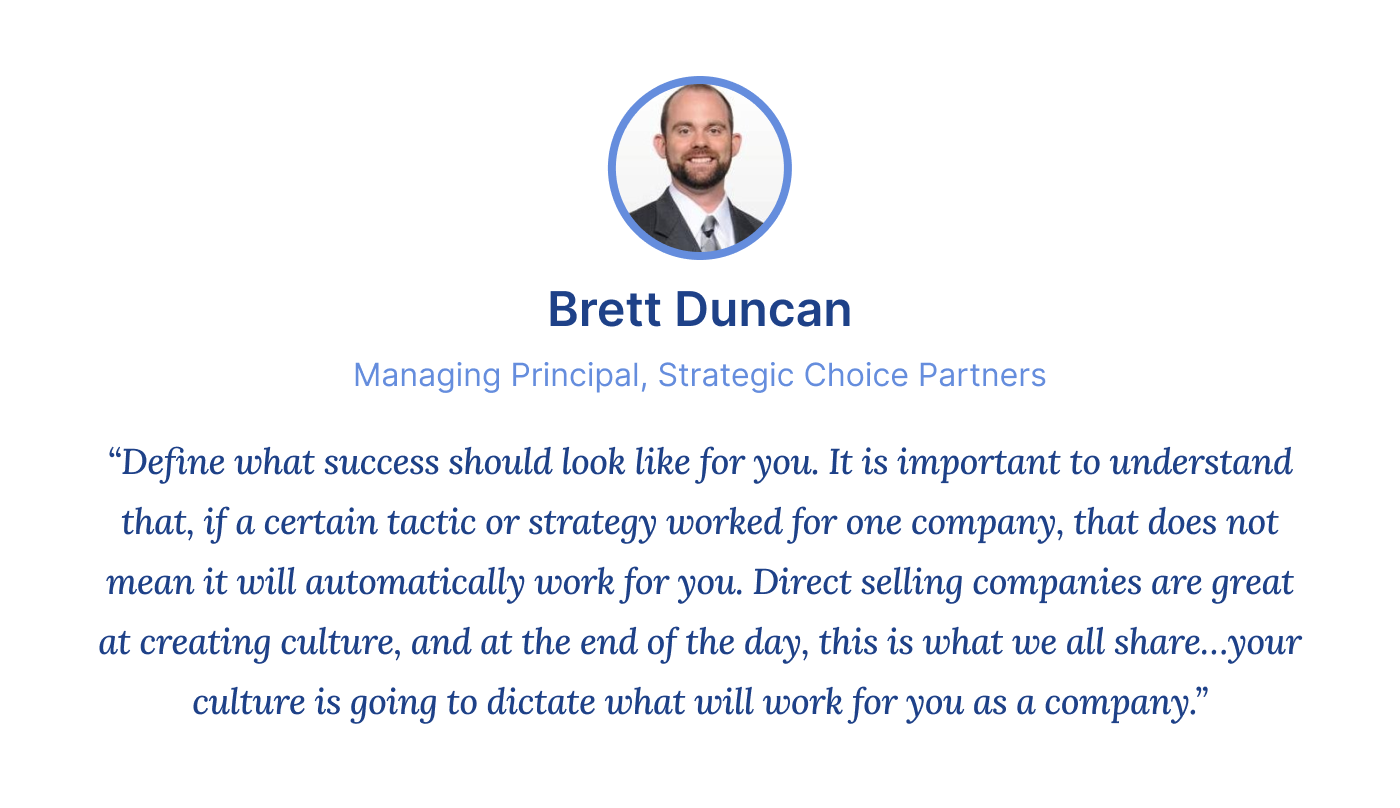 Focus On Investing In Your Digital Transformation

We at Rallyware have said it before: in order to remain competitive and relevant in the digital age of today, digital transformation is essential for scaling a direct selling company's growth. Faster marketing and enhanced customer satisfaction are among the many benefits that digital transformation brings.
Brett seconds this notion, pointing out that all actions that direct selling companies perform require development, whether that may involve making tweaks to their compensation plans or altering their payment processing. Budget whatever it takes to have a proper system in place, one that allows for such developments to be deployed and scaled, whether this may be hiring a third-party or contract workers.
Investing in technologies that are both agile and flexible is also key. "It's ridiculous for any company to feel that their technology is holding them back, because technology by its very means is meant to help you accomplish more," Brett said. "Technology always requires an investment, so make sure you are investing on the right side."

Rethink New Distributor Onboarding
During the conversation, Brett posed the question: what if 90 days is all the time we have? Being limited to working within this time frame will likely impact how direct selling companies engage with their distributors. How can you efficiently streamline the process, ensuring maximum effect in order not to lose a new distributor? Taking a strategic approach to onboarding, one that encompasses personalization, is also key, as no two distributors are alike.
We also need to account for the fact that distributors may be engaged in multiple gigs, and, in the gig economy, many of them are. Over the past year, Brett noted, 55% of gig workers reported that they worked multiple gigs – the year after, this number jumped to 69%. As these workers may be on a short contract, and maintaining a flexible schedule, the "one-size-fits-all" onboarding process, which has traditionally lasted from a week to 90 days, will not suffice in this situation.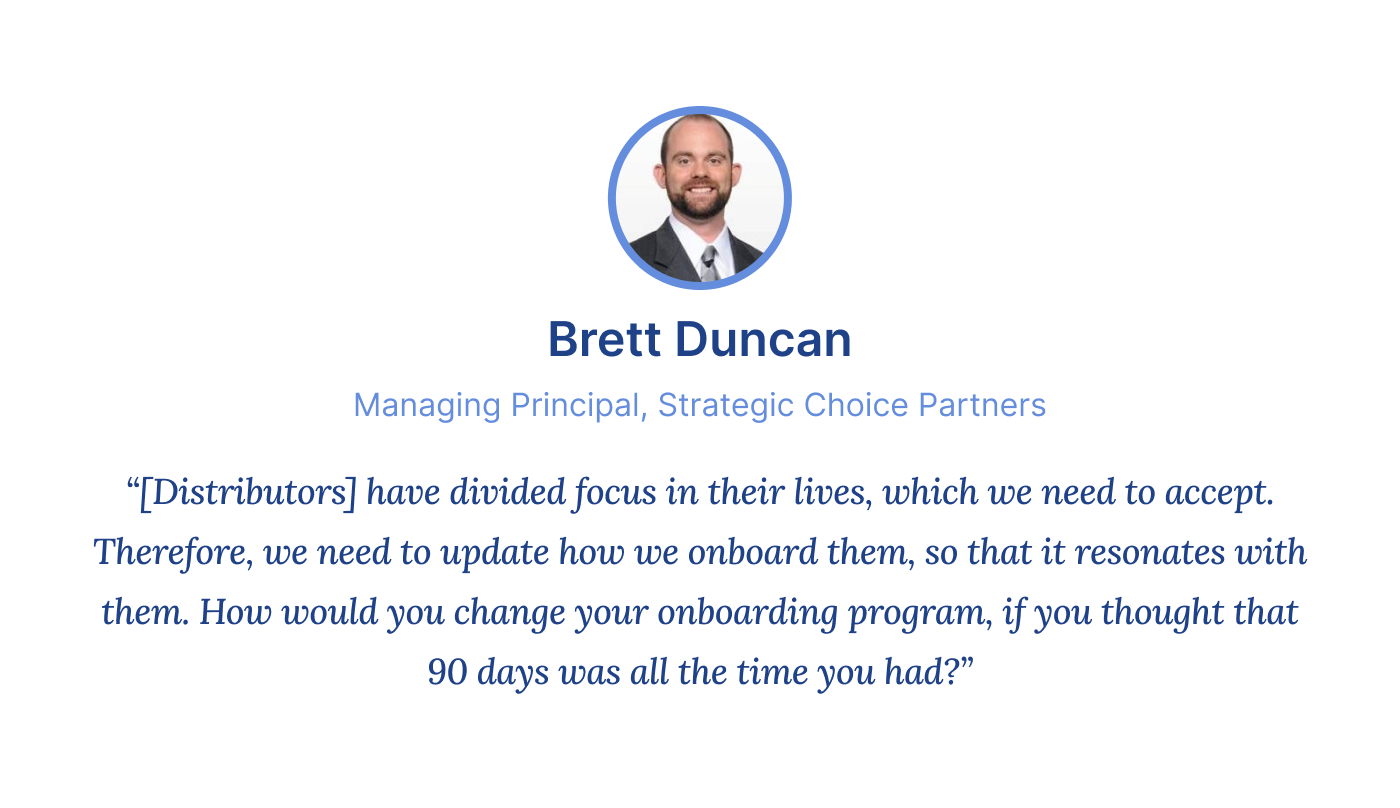 Double-Down on Video
"The entire internet runs on video," Brett emphasized. "We need quantity of video, as well as quality." In 2022, if you are not publishing a video per day, you are likely to fall behind. However, he pointed out, these do not need to be heavily produced and edited – even short videos, such as stories or reels, can make an impact. Once these videos are published and distributed to the right segments of distributors, they must also be nurtured, which requires a strategic approach for sharing via social media, ensuring that they are viewed by others, while also engaging new and current customers.
View the full recording of 7 New Year's Resolutions Every Direct Selling Company Needs to Make in 2022!
Rallyware can help you make your resolutions as a direct selling company a reality in 2022. Schedule your demo of our Performance Enablement Platform to see how the right business activity can be delivered to distributors at the right time, for ultimate business success.
News and Insights on Workforce Training & Engagement
We're among top-notch eLearning and business engagement platforms recognized for effective training and talent development, helping to empower distributed workforces
Subscribe