Rallyware's 2022 in Review: A Banner Year for the Performance Enablement Platform
Despite the challenges of 2022, we've had a banner year for performance enablement at Rallyware— in addition to the achievements of the year, 2023 marks our 10th anniversary! And in the wake of global conflict, our team has demonstrated how distributed workforces don't have to sacrifice collaboration, innovation, and productivity even in the most staggering circumstances.
We've welcomed multiple partnerships with global firms across new verticals and sectors who share that commitment, with amazing results across their most important KPIs. As performance enablement has shifted the paradigm for distributed workforce productivity, we've continued having conversations about the psychology of behavior change and the necessity of modernizing operations to compete for workforce mindshare in the attention economy.
This year has shown us how commitment to a vision of delivering the right activity, at the right time, to the right person for every member of distributed workforces delivers remarkable outcomes for organizations with performance enablement. Some of our proudest moments of the year have been in receiving feedback from partners who can't believe the enthusiasm from their teams about Rallyware's PEP.
A few highlights from 2022:
We won a DSA Partnership Award and reaffirmed our DS market leadership.
Since 1910, the Direct Selling Association has been an authority in direct selling, and the DSA Partnership Award is one of the most prestigious awards in the industry for making a positive impact on direct selling companies. Winning this award reaffirmed Rallyware's status as the leading performance enablement platform driving digital transformation for global DS brands.
The award is conferred annually to "a supplier company that provides a product or service that has a measurable impact on the growth or development or increases the profitability of a direct selling member company." Rallyware was so proud to see the transformative results of performance enablement recognized; with a 24x first year ROI, 47% increase in engagement, 32% increase in productivity, and 43% increase in retention, we are certainly committed to creating measurable impact for our partners.
Says our CEO and co-founder, George Elfond: "Winning this award is nothing short of amazing. We have seen many direct selling companies come to Rallyware and find themselves finally able to evolve and out-compete in a market that, before, felt like it was slipping out of their grasp due to changes in technology and workforce behaviors. It is extremely heartening to see that our exceptional results and industry expertise have established us as the lead performance enablement and consultant experience technology partner for direct selling – that our efforts have been recognized and celebrated among industry peers, clients, and figureheads."
We answered the call for digital transformation in retail with performance enablement.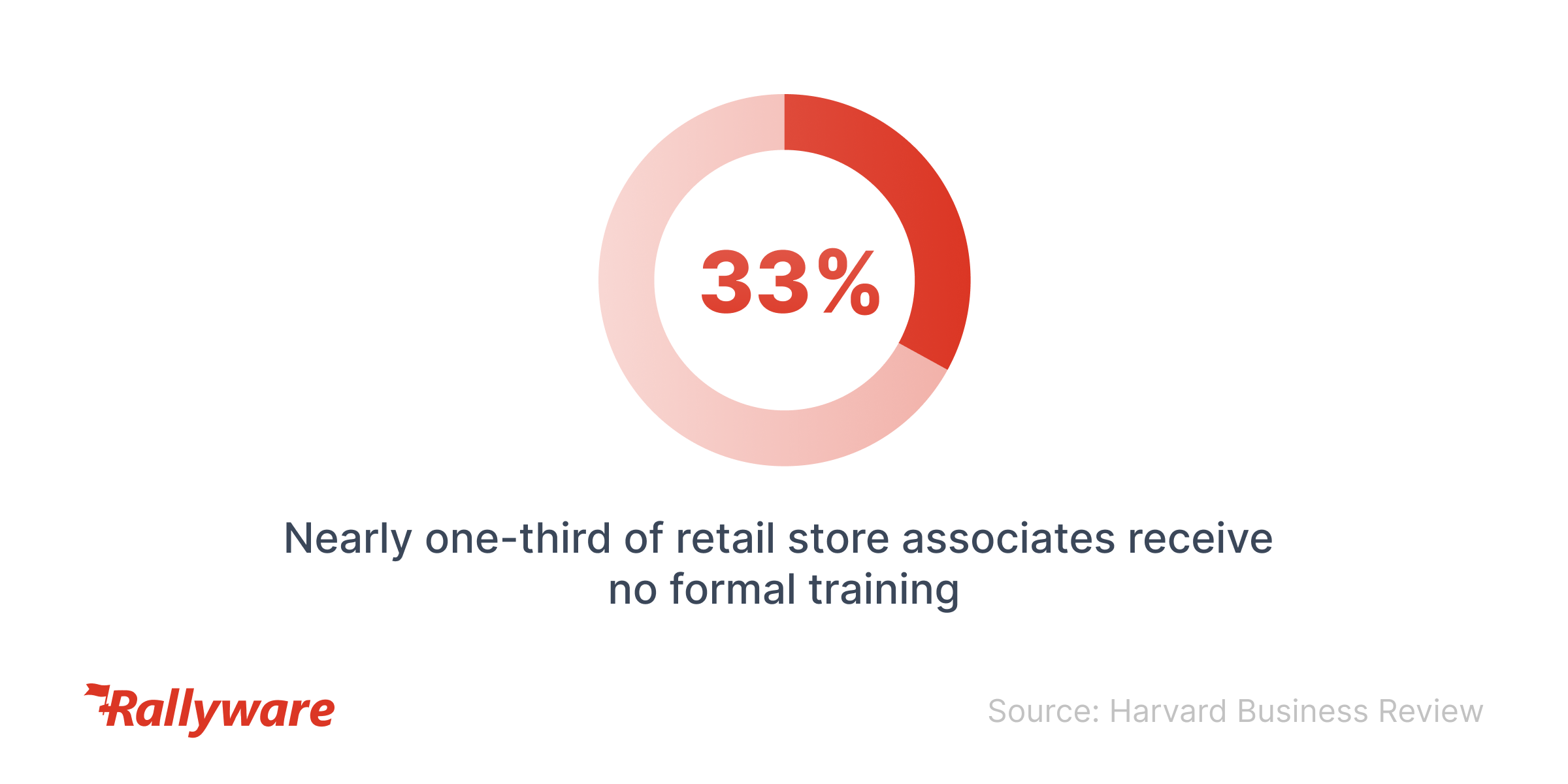 The turbulent economic climate of 2022 led retailers to confront the desperate need for modernization of in-store operations; given our track record of delivering digital transformation with amazing results in other sectors, Rallyware entered the retail industry in 2022. Rallyware's performance enablement platform (PEP) is bringing right activity, at the right time, to the right person all-in-one technology to retailers investing where it matters most: the frontline.
Retail has been plagued for years by high attrition, inefficient legacy tech stacks which inhibit sales productivity and communications, and cautious consumers facing economic headwinds. But, despite 80% of all sales happening in stores, most retailers prioritized ecommerce operations ahead of in-store technology. As PEP has taken hold as the new standard for business software, however, retailers have taken notice.
This January, Rallyware will be at the National Retail Federation's annual conference, #NRF2023, sharing expert advice about how to maximize frontline efficiency, consolidate expensive, outdated tech stacks, and modernize store operations with digital transformation. Check out our guide to the Big Show!
We can't wait to see what incredible results retailers will achieve with all-in-one performance enablement in 2023 and beyond.
We led conversations about digital transformation for distributed workforces.
It's always been a priority for Rallyware to share our expertise with the largest possible audience and 2022 was no exception.
Our CEO George Elfond shared some critical insights about how dwindling attention spans are impacting distributed workforces and what organizations can do to compete for mindshare in today's attention economy in Forbes, describing how understanding the psychology of behavior is crucial for producing positive and lasting changes in distributed workforces.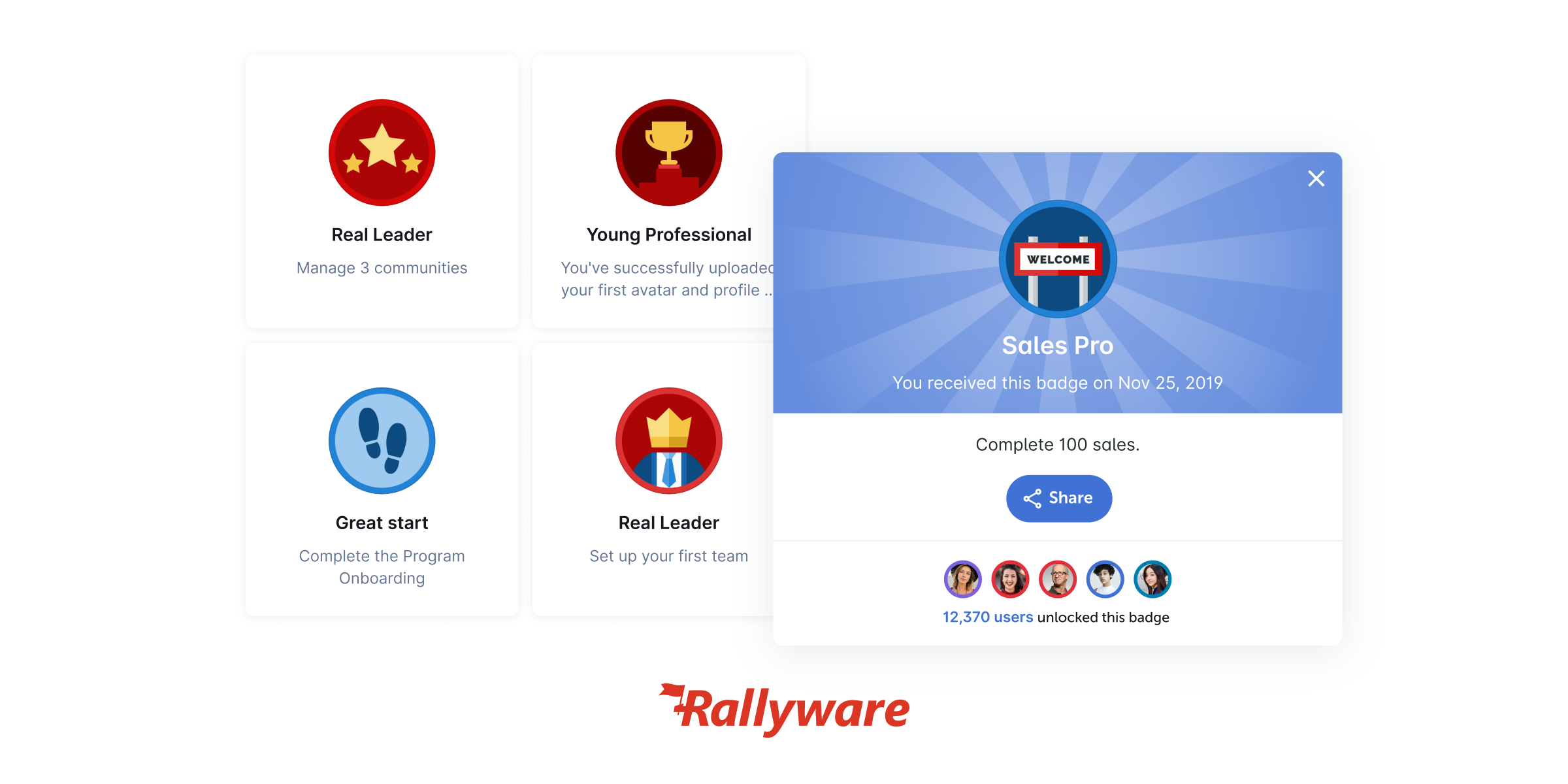 In eLearning Industry, we continued to lead conversations about the new performance enablement paradigm, and how retailers can use PEP to solve their most salient problems in L&D, inventory management, and retention. For retailers today, with so many threats in evidence, the need to innovate on the sales floor is real. We dug into how any innovation must be as relevant and as targeted as possible to each individual retail employee, and connected to company KPIs.
Speaking of which, across business publications, social channels, and our own blog, we've championed purpose. That is, moving away from arbitrary tasks for their own sake but true performance enablement connected in real time to KPIs, so that every activity completed creates the greatest possible value for individual workers and their organizations. We can't wait to continue leading conversations about what real performance enablement can do for companies ready to transform their operations. 
We stood with Ukraine.
As the war in Ukraine rages on, Rallyware continues to deliver our Ukrainian team and their families to safety as we stand in solidarity with the Ukrainian people in their struggle to maintain their sovereignty and live in peace.
Led by Ukrainian-American founders, Rallyware has teams in Ukraine, the United States, Canada, Peru, Argentina, and other locations. Rallyware is proud to have Ukrainian roots–a connection to a long history of resistance and victory under duress. We are proud of our Ukrainian team, who remain confident, resilient, and strong in spite of conditions which seem calculated only to add to the global uncertainty of the past two years. Against Vladimir Putin's savage act of cowardice, our Ukrainian employees, and the Ukrainian people more generally, have presented us with an example of all that humanity can be.
As a global business, we continue to stand for democracy, freedom, and self-determination for the nations of the world. Our organization's bonds are stronger than ever, and our response to this horror has only made us sharper, smarter, and swifter in responding to uncertainty in the future.
We analyzed millions of data points on our performance enablement platform.
In 2022, we delivered millions of notifications (212 million, to be exact) and provided millions of resources (10.7 million, to be exact) to millions of users (2.3 million, to be exact). Our platform adoption increased by 8% this year, and we saw a 15% increase in the number of average sessions per user.
All of the activity in our platform produced 21% sales growth for active users, who are located all over the world and speak 70+ languages!
To see how Rallyware's industry-leading performance enablement platform can increase sales productivity by 21% at your organization, sign up for a demo here.
News and Insights on Workforce Training & Engagement
We're among top-notch eLearning and business engagement platforms recognized for effective training and talent development, helping to empower distributed workforces
Subscribe