What's Plaguing Retail? 3 Pain Points for Retail & How to Fix Them
Retail has changed. The pandemic, the gigification of the economy, the Great Resignation, the evolution of digital tech and customer preferences – these are some of the trendlines that have affected this age-old business model. On the other hand, retail management software and retail performance enablement platforms help the retail workforce accomplish more faster, pushing back against some of these headwinds.
In this post, we'll discuss three of the most important pain points for retail today, and how technology – the right technology – can help to solve for them.
What Is Retail Management Software?
Retail management software is a type of software application designed to help retailers manage their daily operations more efficiently. When it's the right software, it can transform operations to improve performance and drive more revenue. It typically includes a variety of features to help manage inventory, sales, customer data, and employee scheduling, and even stimulate performance.
Some common features of retail management software include:
Inventory Management: This feature helps retailers manage their inventory levels by tracking stock, setting reorder points, and generating purchase orders.
Point of Sale (POS): This feature allows retailers to process transactions, accept payments, and manage returns and exchanges.
Customer Relationship Management (CRM): This feature helps retailers manage customer data and preferences, as well as track customer purchases and behavior.
Associate Scheduling: This feature allows retailers to schedule associate shifts, track attendance, and manage payroll.
Reporting and Analytics: This feature provides retailers with insights into their business performance, including sales trends, inventory levels, and customer behavior.
Overall, retail management software can help retailers streamline their operations, reduce costs, and improve the customer experience (CX). The latter is hugely important in an age when retailers must distinguish themselves from each other. Providing a better CX is one way to push ahead of competitors. Retail management software helps retail get there through associates, optimizing their performance and productivity. It just has to be the right software.
1. 'E-tailers' and eCommerce  
This one will be obvious to anyone paying the least bit of attention to retail. Anyone who's shopped on Amazon or sought deals online will know instinctively that eCommerce has eaten into the margins for traditional retail. Often it's just faster and simpler – this was particularly true in the midst of the pandemic – to purchase goods online than to drive to a brick-and-mortar store. Though eCommerce is far from overtaking retail, there's no doubt that it remains a force to be reckoned with.
This is borne out by the data: Digital Commerce 360 noted in August 2022 that in Q2, the "increase in digital sales outpaced that of stores for the first time since early 2021. 20% of consumer spending from April-June occurred online."
How to Tackle It with Retail Management Software:
Software for the retail workforce – for floor reps, store managers, merchandisers, and other personnel – can help retailers regain lost ground.
How? MOOD Media research shows that consumers spend 11% more when shopping in store as opposed to online. In other words, once shoppers start buying products in store, they're more likely to buy more. The key is to get them to start buying and to help store staff start making more sales.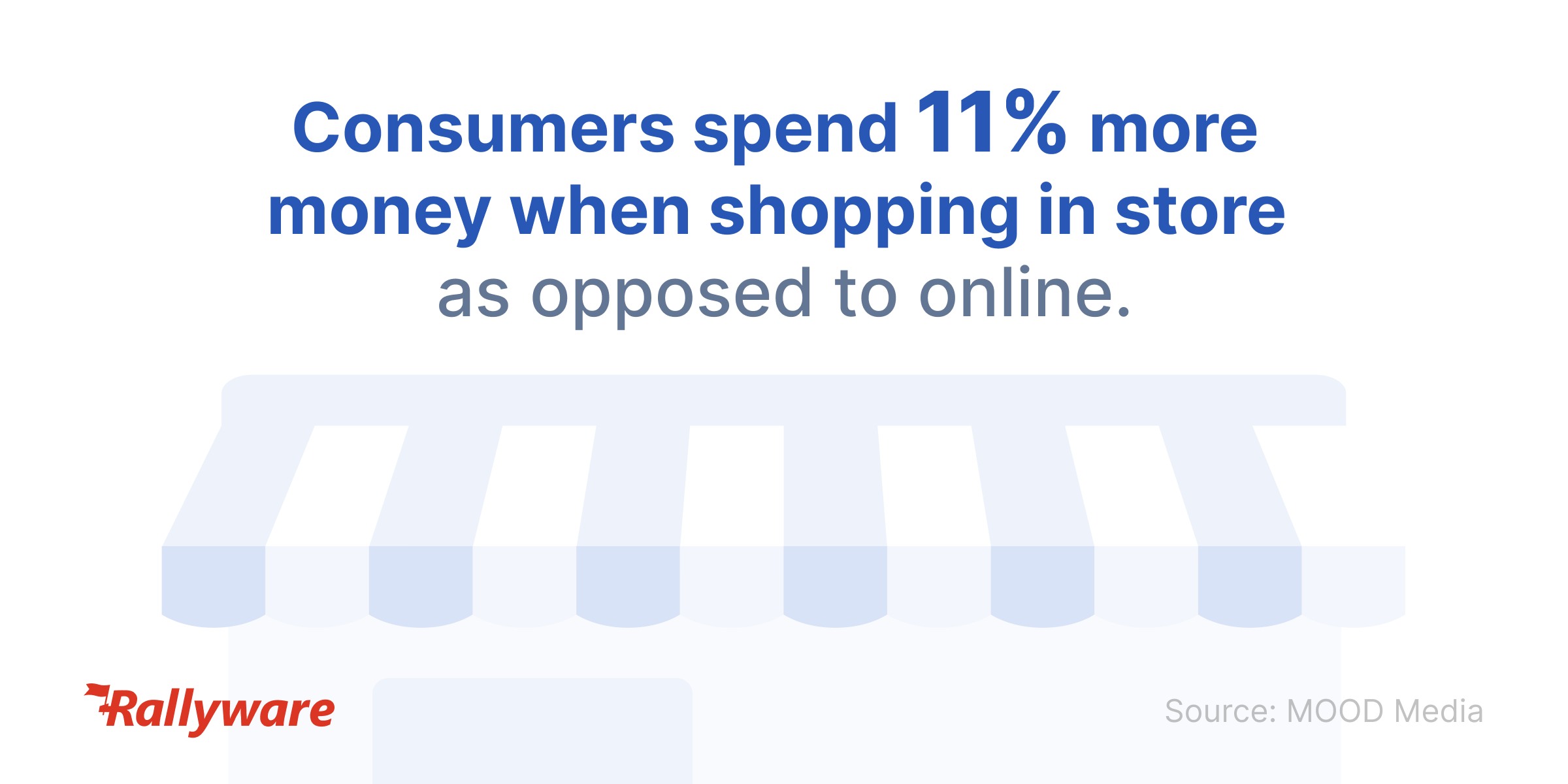 Retail workforce software can help drive sales floor activity in several ways – incentivizing sales with visualized progress markers for individual employees, leaderboards, and other forms of gamification; learning and development tools to help employees upskill; and other digital tools. So essentially, such software would be helping employees perform better in their day-to-day tasks – including making sales, so that more consumers are spending that extra 11% vs. e-tailers.
2. Workforce Retention
According to Zippia, the retail industry had a 4.7% quit rate in 2021. Let's round up to 5% and that means 1 out of every 20 retail employees quit that year.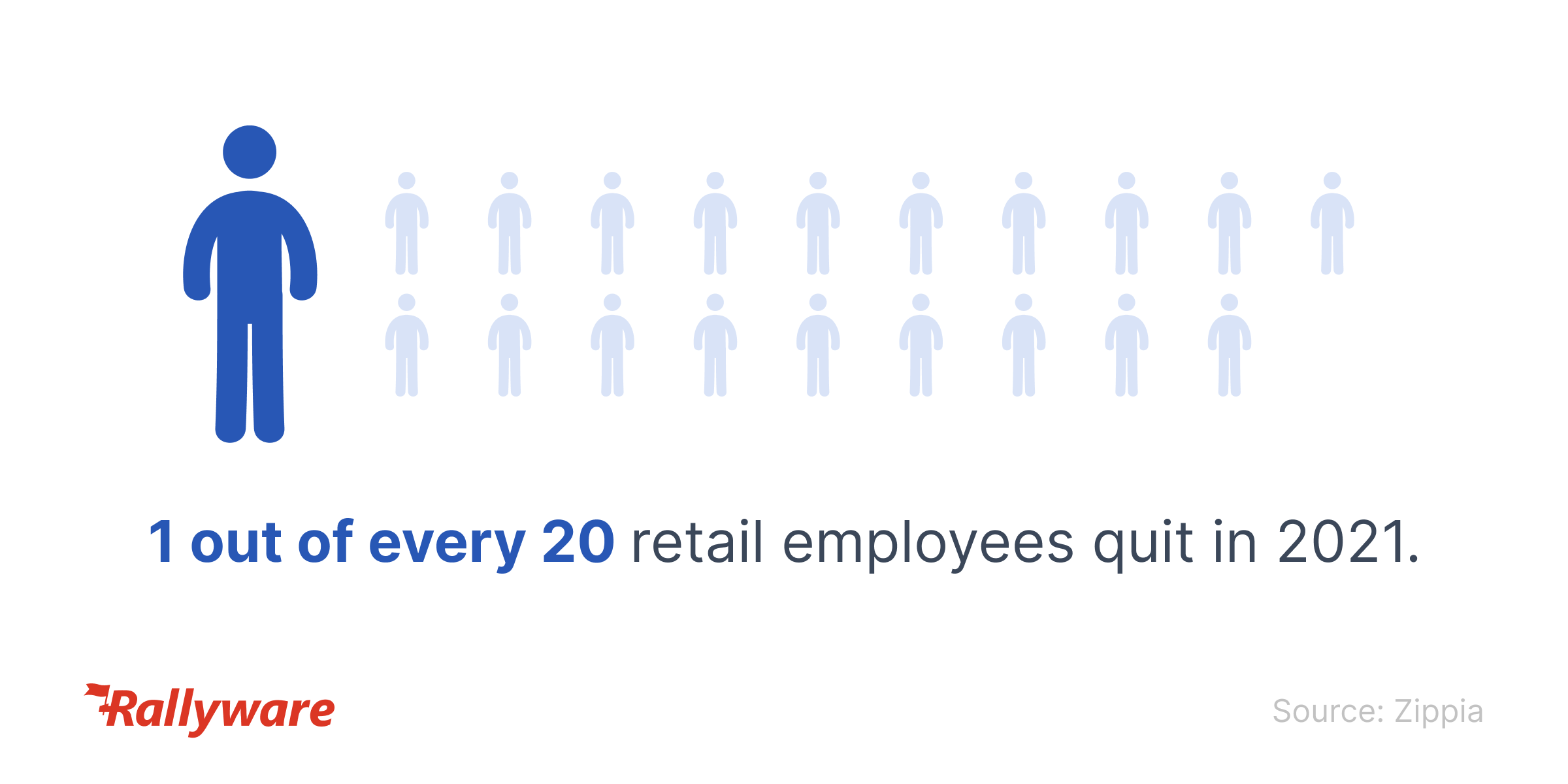 Anyone in the retail industry will know that that adds up when you're already short staffed. McKinsey's retail analysts further define the problem:
One out of every five workers in the US is employed in retail and hospitality, more than 30 million
Retail quite rate 2x as high as the national average in other sectors
30% higher likelihood that retail workers leave their jobs vs. other sectors
This has effects on store margins and customer experience
Two of the top five reasons for quitting: career development and health and well-being
Clearly attrition is an issue. If retail is losing significant employees over time for any reason this is going to make it harder to boost customer service, customer service delivery, and customer experience, key indicators for success. Just as retailers need repeat and reliable customers, they need consistent and reliable staff who are familiar with products and company practices and culture. That's key to providing the right store experience.
How to Tackle It with Retail Management Software
What are retailers to do?
Retail management software can help – by making onboarding, training, and sales practices simpler and more digestible. Take Rallyware, for instance. Our retail solution takes every phase of the retail employee experience, from initial training to the incentivization of promotion fulfillment, and makes it easier to perform via a digital platform in the palm of the worker's hand.
The whole experience is going to simplify what it's like to be on the sales floor, setting out merchandise displays, managing stores, etc. Such an app takes the disparate aspects of retail work – training, upskilling, sales, just to name a few – and condenses them into a single app that notifies the employee when it's time to perform the most relevant and helpful task.
With such technology in hand, the workforce is also going to be more productive, and proactive. Take Rallyware's customer Intertop, for instance. This retailer's sales force improved their goal completion 51%. As we've mentioned, a higher-performing workforce results in a stronger and sturdier customer experience overall.
3. Customer Retention and Experience
A whopping 65% of a company's business stems from existing customers, according to the latest data. Fit Small Business notes that retail's customer retention rate runs from 55-65%, far short of what it could be.
Customer experience is another pain point. 72% of customers will share a positive experience with 6 people or more, while 13% of customers will share a negative experience with 15 people or more, according to research.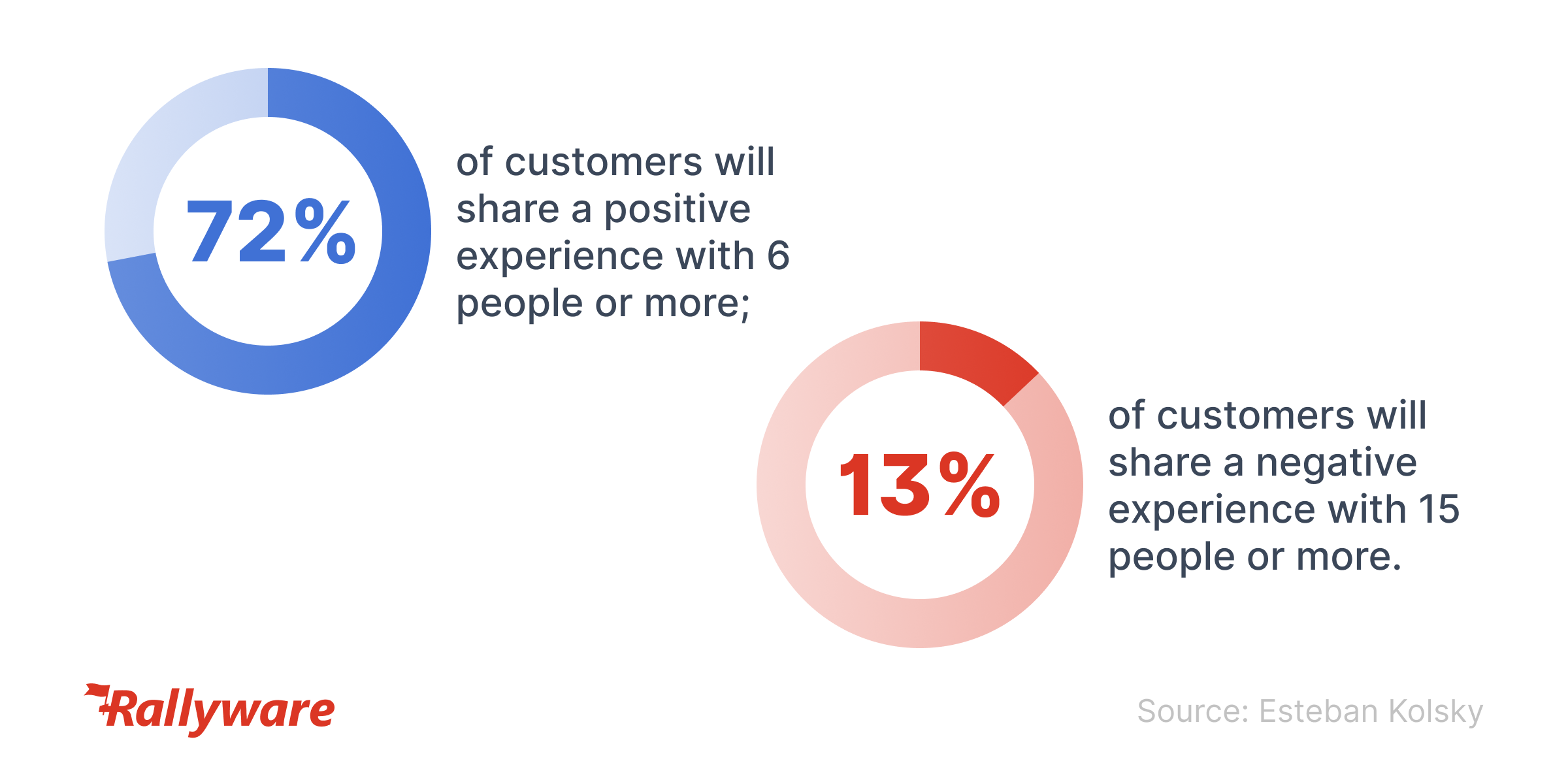 Retailers can't afford to deliver a substantial amount of negative experiences, at the same time that having some is unavoidable.
What retailers want to do is retain repeat, loyal customers while providing as positive an experience as possible to as many customers as possible.
How to Tackle It with Retail Management Software
To address this issue, retail companies ought to embrace Opportunity Management technology. Such tools will help companies retain customers by nurturing relationships and helping ensure that employees in high-touch environments can close sales.
However, legacy Opportunity Management and Opportunity Management-like systems won't do. Retailers often employ ancient, creaky systems that can automate promotional emails to customers, but that's about it. Such technology simply isn't living up to the potential of the digital transformation for retail.
Instead, we suggest that retail companies find technology that modernizes the sales experience. Rallyware's Opportunity Management & Communications solution for retail lets the workforce:
Track and manage relationships with repeat customers
Automate goal-setting and -tracking to help them stay on-task and ready to act
Build contact funnels to drive promotions and sales conversions
Optimize service delivery with customer and inter-departmental communication tools
Sharpen performance with real-time analytics fed directly to HQ
These tools feed directly into Rallyware's data streams, enriching our Incentives & Promotions and Learning & Development solutions with even richer and more robust customer relationship information. The result is a profoundly effective and easy-to-use digital experience for the retail workforce, helping frontline associates, store managers, and other employees raise their performance continuously as the platform acquires more and more relevant data.
Rallyware for Retail improves sales productivity, incentive fulfillment, customer retention, and more for retail companies. Click here to request your intro demo today.
News and Insights on Workforce Training & Engagement
We're among top-notch eLearning and business engagement platforms recognized for effective training and talent development, helping to empower distributed workforces
Subscribe