3 Business Leaders on Cost Savings Through Technology
From sales gamification to tasking automation, there are numerous ways to optimize workforce productivity today. The rise of digital transformation means that there are ever-more ways for companies to invest in productivity and performance enhancers. In fact, Gartner projects that in 2023, digital transformation spending will grow to $4.6 trillion.
Yet at a time of economic uncertainty and murmurs of recession, many business leaders are seeking ways to consolidate their tech stacks and cut costs, as we've covered before. That goes for industries like retail and direct selling as well as more traditionally structured white-collar, in-office jobs.
So whether we're talking about workplace gamification software or sales enablement platforms, leaders are looking to not only drive performance, but to cut costs. (We'll use gamification in this article to illustrate the ideas we're talking about.) This seems contradictory. If you're investing in tech, how can you cut costs?
Let's look at 5 business leaders' thoughts on cost savings through technology. You'll be surprised to learn that sales gamification and workforce productivity software can produce cost savings through their digital architecture–more on that later.
Quotes from Business Leaders on Cost Savings and Efficiency for Large Companies
1. Reducing Costs Is About More Than Slashing Expenses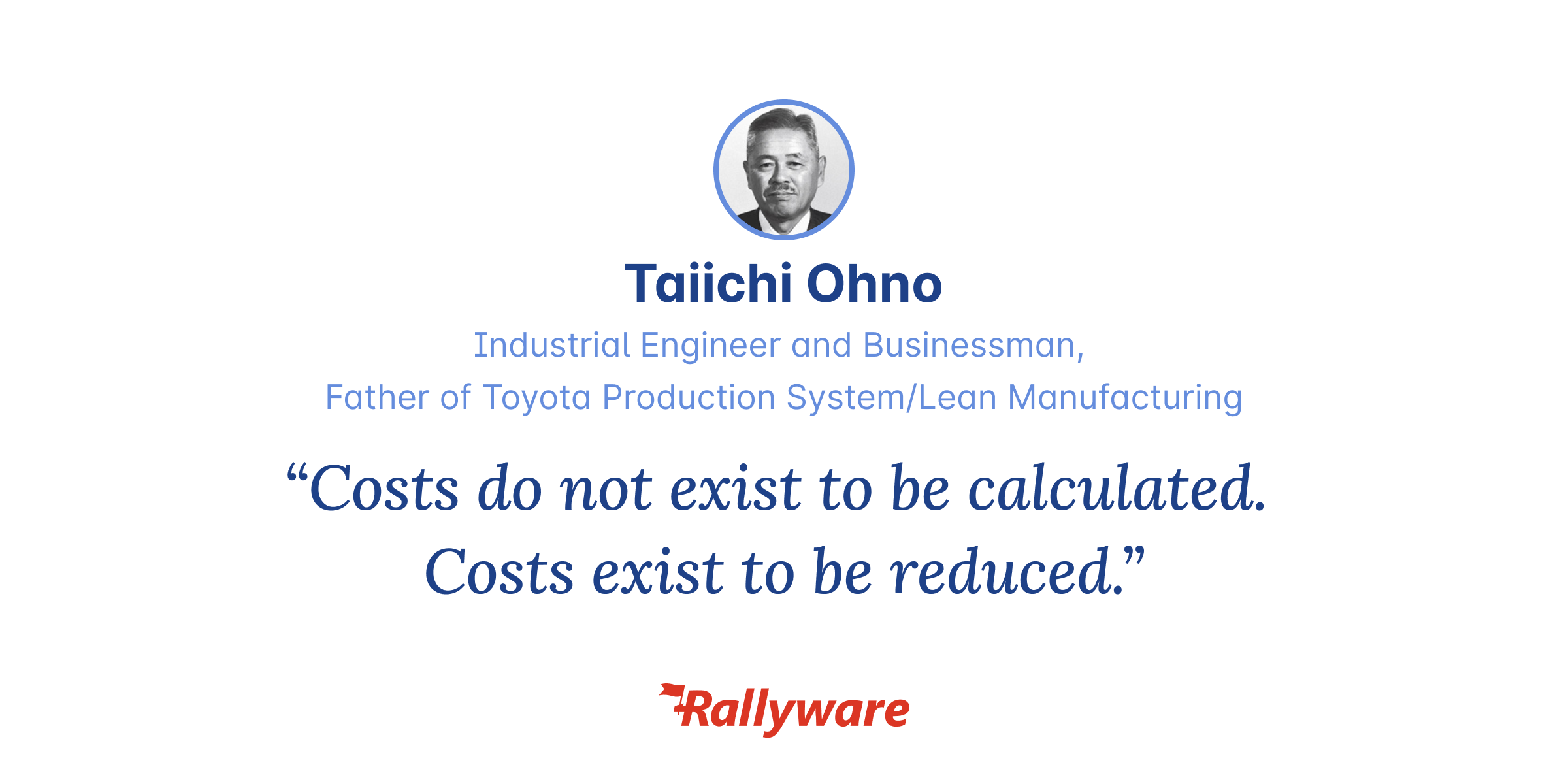 Taiichi Ohno was the famous innovator of the Toyota Production System, so it's no surprise he wasn't a big fan of costs in business calculations. Here, he's trying to say that one major goal of any business should be to reduce costs as much as possible, but not just through "cutting" costs, rather through employing efficient processes.
For instance, if your sales gamification software makes your workforce more efficient and productive by using your business data for better business outcomes, it could be said that it makes your business more efficient.
For those who need a refresher, the Toyota Production System (TPS) is an integrated socio-technical system that makes up the company's management philosophy and practices. The TPS is a lean management system that organizes manufacturing and logistics for the manufacturers, including interactions with suppliers and customers.
The TPS was founded on two ideas: "jidoka" ("automation with a human touch"). For instance, when a problem occurs, the equipment should stop immediately, preventing defective products from being produced. This is automation that requires some human input. The other essential idea is the "Just-in-Time" concept, in which each process produces only what is needed and no more, as soon as orders are placed by clientele.
2. Automation Won't Make Efficiency Out of Inefficiency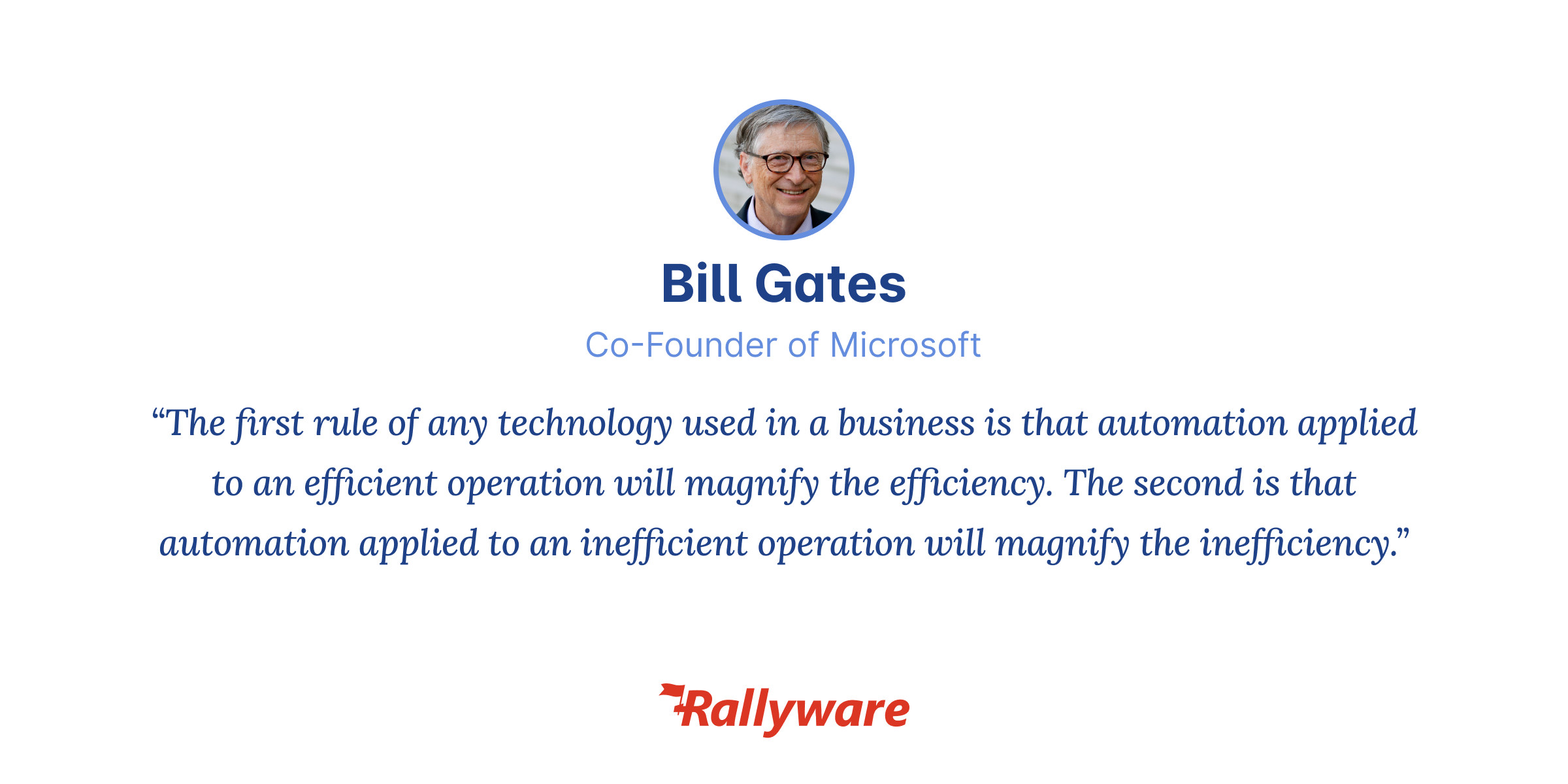 Famous business magnate Bill Gates is making a simple point here. No amount of automation will make an inefficient process efficient. It will only make the inefficiencies faster and more streamlined. For instance, if your sales force has no built-in incentive to sell, then the result will probably be inefficiency. In other words, if the frontline on the sales floor of a retail store does not have any immediate sales incentives, why would they make sales? The sales force will be unprepared for consumer relationship building and will be unenthused, disengaged, and disincentivized. No amount of automation will fix that. It will probably only make the sales force even more disengaged.
Sure, with sales gamification and workplace gamification software, this inefficiency can be eliminated, but first the company has to commit to providing some kind of incentive, whether that's:
Store credit
Weekly prizes
Monthly awards
Prize packages
Discounts and coupons
Thus, with inefficiency in the workforce, no amount of cost reduction through automation will help. First you need to implement strong, robust organizational planning, such as sales incentivization, to drive real results.
3. Value Investing Is the Thinking Person's Investment Strategy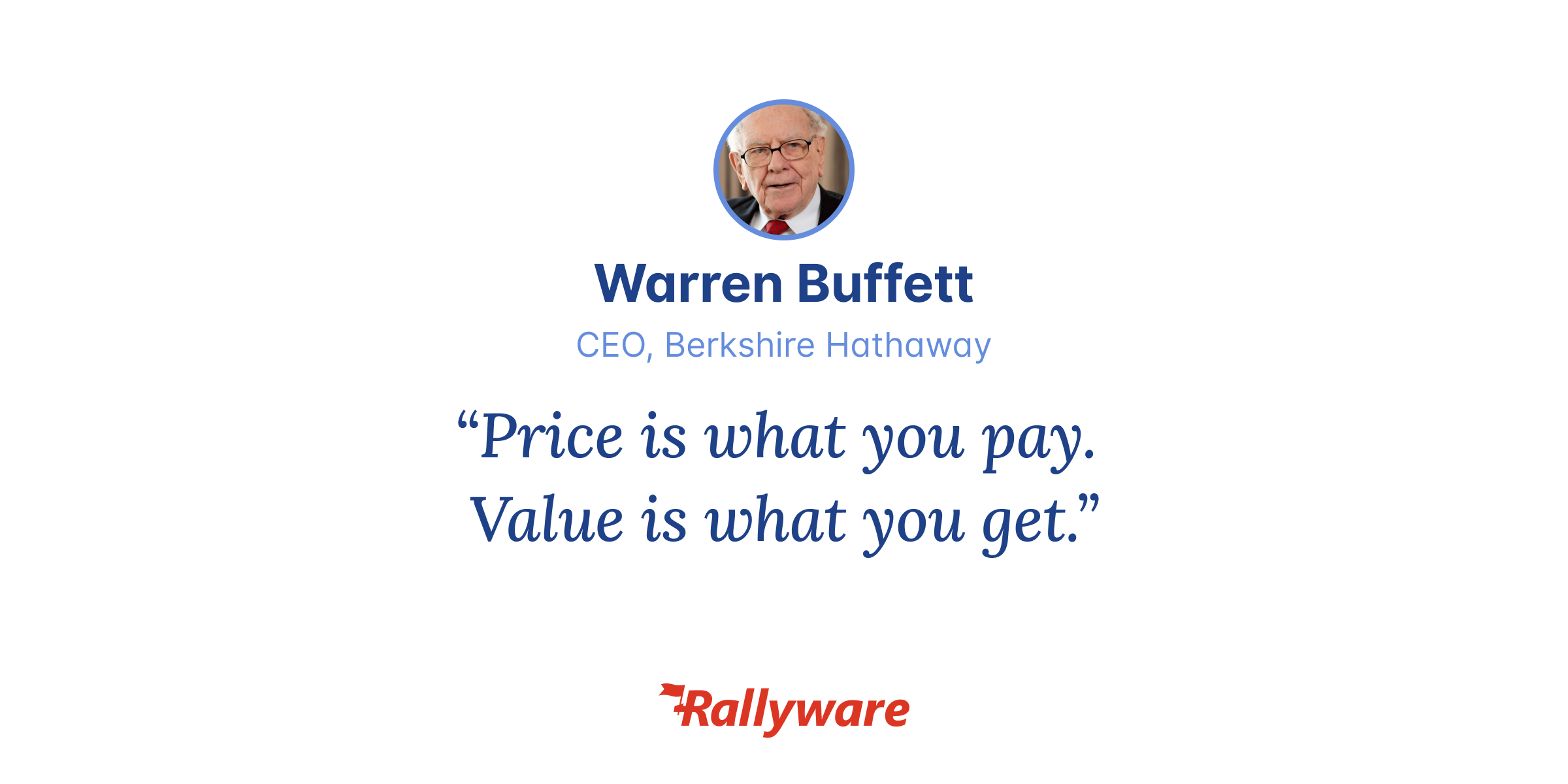 Everyone knows Warren Buffett, a household name in North America. Mr. Buffett is the Chairman and CEO of Berkshire Hathaway, a holdings company in Omaha, Nebraska. Buffett is a big fan of the so-called "value investing" method of investment, which instructs investors to buy certain securities that appear undervalued. So at the heart of Buffett's philosophy is the idea that price and value are separate ideas, though they're connected.
Here Buffett is trying to get across a basic principle, which is that sometimes price and value diverge. That is to say, some business costs are simply CACs or customer acquisition costs; spending that money helps you sell, increase order size, and retains customers. Other business costs have less value than their price and should be cut.
Still other costs can be thought of along the lines of "value investing," in that intelligent business leaders will see the value of an investment ahead of others, such as certain forms of technology. Think of folks who decided to invest in AI a decade ago. Those thought leaders are feeling pretty good today, suffice to say, because they saw the value of investing in such technology before it was a fad. Part of having a sound business mind is being able to distinguish high-value costs and low-value costs.
Value Investment in Action: Sales Gamification
To demonstrate the ideas we've been talking about, think about sales gamification. Sales gamification uses game-like elements to increase sales. Think about the DuoLingo app, but for sales teams, or the Uber app. Elements might include leaderboards, visualized progress markers, rewards and recognition systems, and other sales incentives.
Workforce or workplace gamification software might be a cost a business incurs, but when implemented in partnership with a smart, agile tech company, gamification can pay dividends. When your company provides the workforce a notably "fun," gamified experience, you start to see increases not only in productivity, but in recruitment, because you develop a reputation for that gamified experience. In this sense, sales gamification often provides value in excess of its costs. It's a force-multiplier, taking the workforce's skills and making it more engaging and interactive for them to use those skills in productive activities.
With over 10 years of expertise and innovation, Rallyware is led by a team of visionaries who understand the relationship between cost and value in sales gamification, sales enablement, and performance enablement tech for the workforce. Click here to talk to our product experts and request a demo.
News and Insights on Workforce Training & Engagement
We're among top-notch eLearning and business engagement platforms recognized for effective training and talent development, helping to empower distributed workforces
Subscribe