3 Best Practices for Consolidating Your Tech Stack to Boost Sales Productivity
As inflation and the threat of recession continue to squeeze consumers just as pandemic-era demand for durable goods eases, is the solution integrated performance enablement?
Combined with the ongoing labor shortage — over one million retail jobs remain unfilled — these economic headwinds ask retailers, once again, to re-examine their legacy systems and strategies to prepare for the challenges ahead.
Many retailers have already updated supply chains and inventory management structures in response to COVID-19 disruptions. What are industry leaders optimizing now to recession-proof their businesses?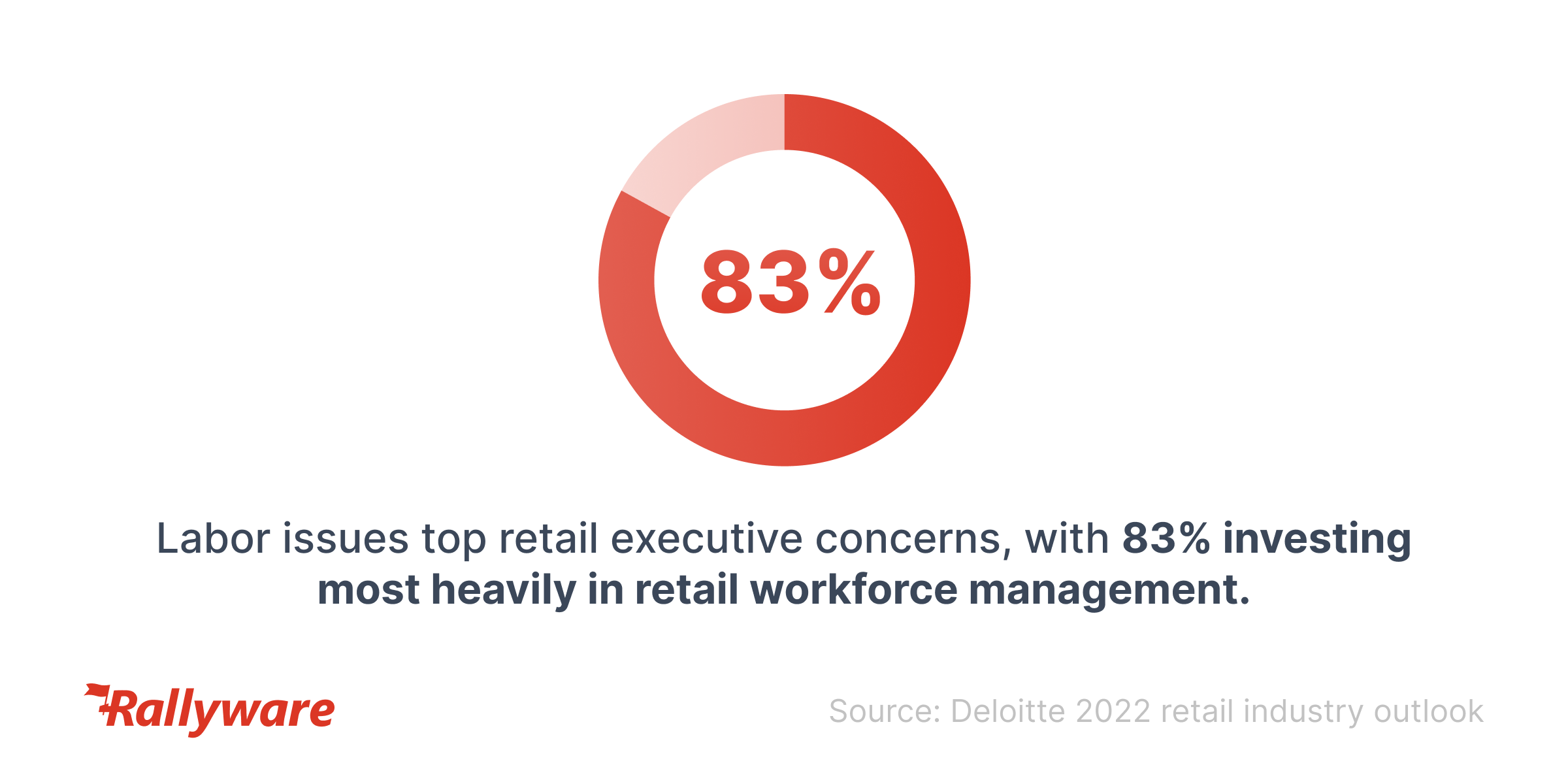 Well, labor issues top retail executive concerns, with 83% investing most heavily in retail workforce management. To stay competitive amidst so much economic uncertainty, companies seeking to transform their frontline workforce are consolidating and optimizing their tech stacks into all-in-one platforms like Rallyware's. Rallyware's performance enablement platform combines all the functionality of CRM, LMS, communication, and back office applications into one integrated, single-sign on experience.
Let's take a look at how industry leaders are cutting costs and optimizing frontline productivity by reimagining their performance enablement technology.
What Is Tech Consolidation?
Consolidating tech tools into one platform refers to the process of bringing together multiple technology tools or applications that perform different functions and integrating them into a single unified system.
For example, a retail company might use different tools for project management, communication, and file sharing. By consolidating these tools into a single platform, users can access all the necessary functionalities in one place, which can save time and increase efficiency.
Tech consolidation can also help to streamline workflows, reduce redundancies, and minimize the number of different tools that users have to learn and manage. This can lead to cost savings, improved collaboration, and better productivity.
If the tools can "talk to" each other, even better. The faster and more easily data travels from one tool to another, the smoother the UX is. This also further personalizes the single application for greater frontline success and engagement. Which in turn drives productivity even more while cutting costs. Just make sure the tools are integrated in the right way. Having a slow-to-adapt tech stack composed of programs that don't talk to each other can drag down an organization quickly. Digital transformation is essential today. But you have to make sure it's being rolled out the right way.
Cutting Cost Drivers: The Twofold Inefficiency of Legacy Tech Stacks
The term "tech stack" is conveniently evocative— it's the collection of frameworks, applications, programming languages, front and back end tools, and databases organizations layer atop one another to create an end-to-end application. In the frontline retail context, tech stacks commonly include CRM, LMS, back office applications, and communications tools.
Unfortunately, in many companies, "tech tower" might be more apt. After years of adding software applications and integrations to legacy systems, organizations often end up in a pretty wobbly situation. Between the number of applications and the programming workarounds required to allow them to talk to each other, one might imagine a tower held together with chewing gum and shoelaces.
It makes sense that many companies struggle with these outmoded and clunky tech towers. Until fairly recently, other options simply didn't exist; to equip frontline retail employees with the tools they needed, companies had to purchase individual applications.
The cost inefficiency in these legacy systems is twofold. The price of keeping these systems running and functional on the backend is significant. IT teams are kept busy plugging holes and staunching leaks.
But the most money is lost on the sales floor, where frontline retail workers, overwhelmed by the number of apps to manage, fail to reach their sales potential. Retailers hoping to attract and retain their workforce are certainly not doing themselves any favors by making the job more difficult than it has to be.
What's keeping retailers from cutting costs and boosting their employee sales productivity? According to Bain's report on the future of retail, the answer is somewhere between shortsightedness and confusion. The term Bain gives to these retailers is "legacy laggards."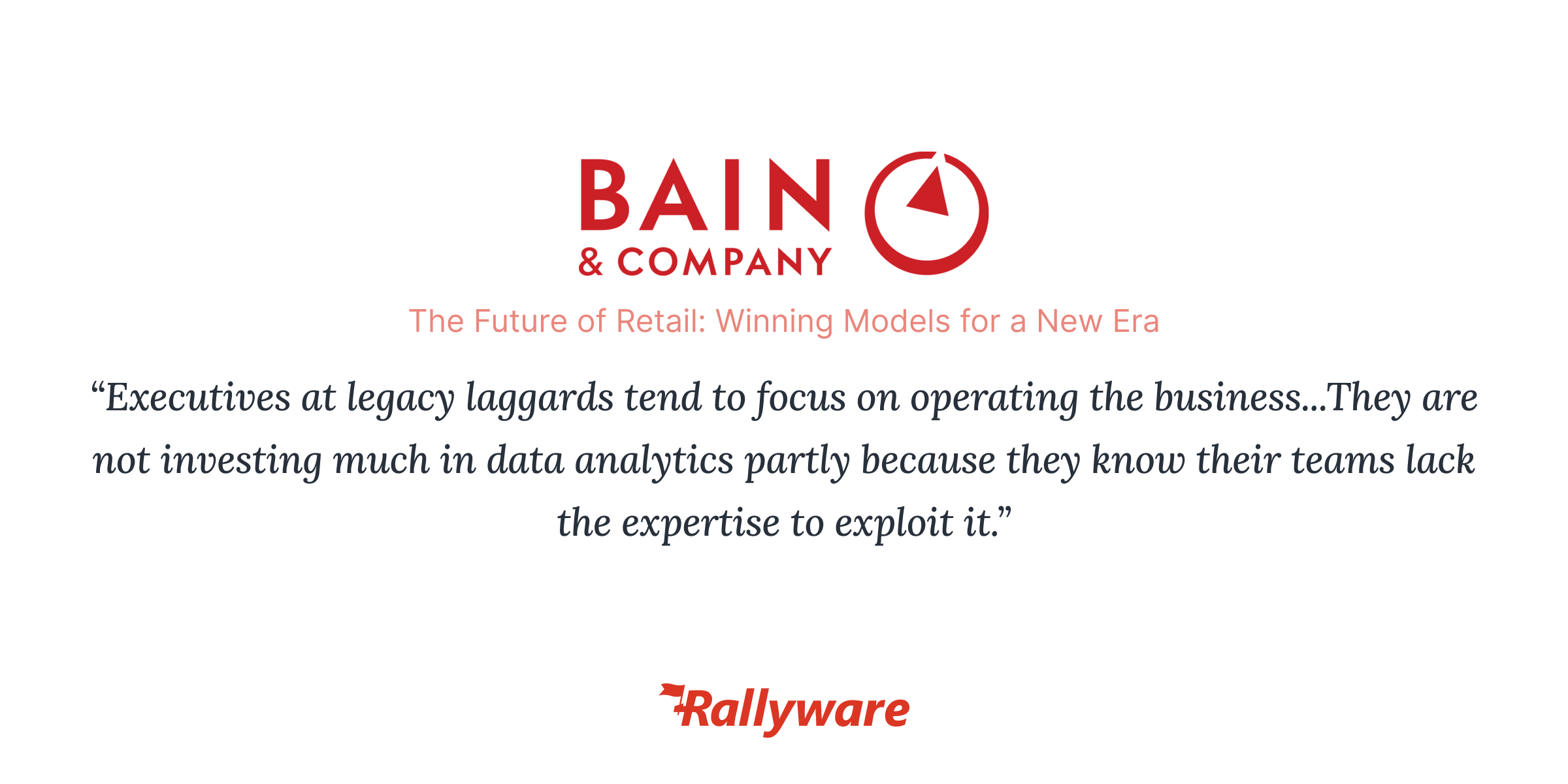 "Executives at legacy laggards tend to focus on operating the business, as opposed to innovating," says the report. "They come up with incremental improvements that don't keep pace with customer expectations. They are not investing much in data analytics, partly because they know that their teams lack the expertise to exploit it."
How can retailers avoid becoming legacy laggards by consolidating their software applications? Read on for 3 best practices.
1. Where, What, and Why: Understand Frontline Sales Productivity and Integrated Performance Enablement
The first step in consolidating software and optimizing frontline sales productivity is really understanding the requirements and challenges of the retail sales workflow. How are frontline retail employees engaging with existing technology? How can this engagement be optimized or streamlined?
Imagine you're a commission-based salesperson at a large furniture retailer. You begin your day by clocking in on an HR app, then briefly peruse the incentives and promotions fliers for the week. You head out to the sales floor and engage with a few browsing customers. One asks you for the fabric care information for a sectional— failing to find it in the digital library app, you go searching for a manager. By the time you return, the customer has left. Later that day, the store receives the first shipment of patio furniture for the season. You recall answering a phone call last week from a customer wanting to know if you had any available and wish you'd thought to take down their number. You sell a dining set but during some dead time check your corporate messaging app and see you missed a bundle promotion that would've increased your commission by 10%.
The scenario above describes an unavoidable truth of management; over time, as applications accumulate and systems expand, they begin to do the opposite of what they're intended to do— they begin to make workflows more tedious and less intuitive. The employee beholden to legacy tech stacks is overwhelmed by applications and decentralized information, and stretched thinner than ever by the demands of today's retail workplace.
The question is what to do about this. Legacy laggards continue to tweak broken systems incrementally, ignoring the reality of workflow demands, and losing both employees and customers.
Retail leaders recognize that to stay competitive, they need to equip their salespeople with the right tools to serve their customers. That means understanding the cadences of employee workflow and optimizing and streamlining technology to support the reality of the sales floor.
2. Take Stock of Your KPI's: What's Working (Or Not)
Inefficiencies lurk in what companies neglect to measure. How are retail industry leaders defining KPI's to ensure the highest ROI on their technology investments? They're not just measuring sales— they're measuring how well their systems are working to support sales (or not). Considering the following KPI's can help businesses understand where their legacy technology is incurring avoidable costs:
Time to complete onboarding
In an industry which sees as much turnover as retail, cost-effective onboarding is crucial. Yet many companies continue to throw away millions of dollars on legacy LMS purchased before data-driven personalization became the industry standard.
These outmoded systems offer a one-size-fits-all approach to onboarding, leaving employees bored, unmotivated, and without incentive to keep developing the skills customers are looking for.
Poor onboarding leads to poor sales performance; consumers rank low employee knowledge as one of their top reasons for leaving stores.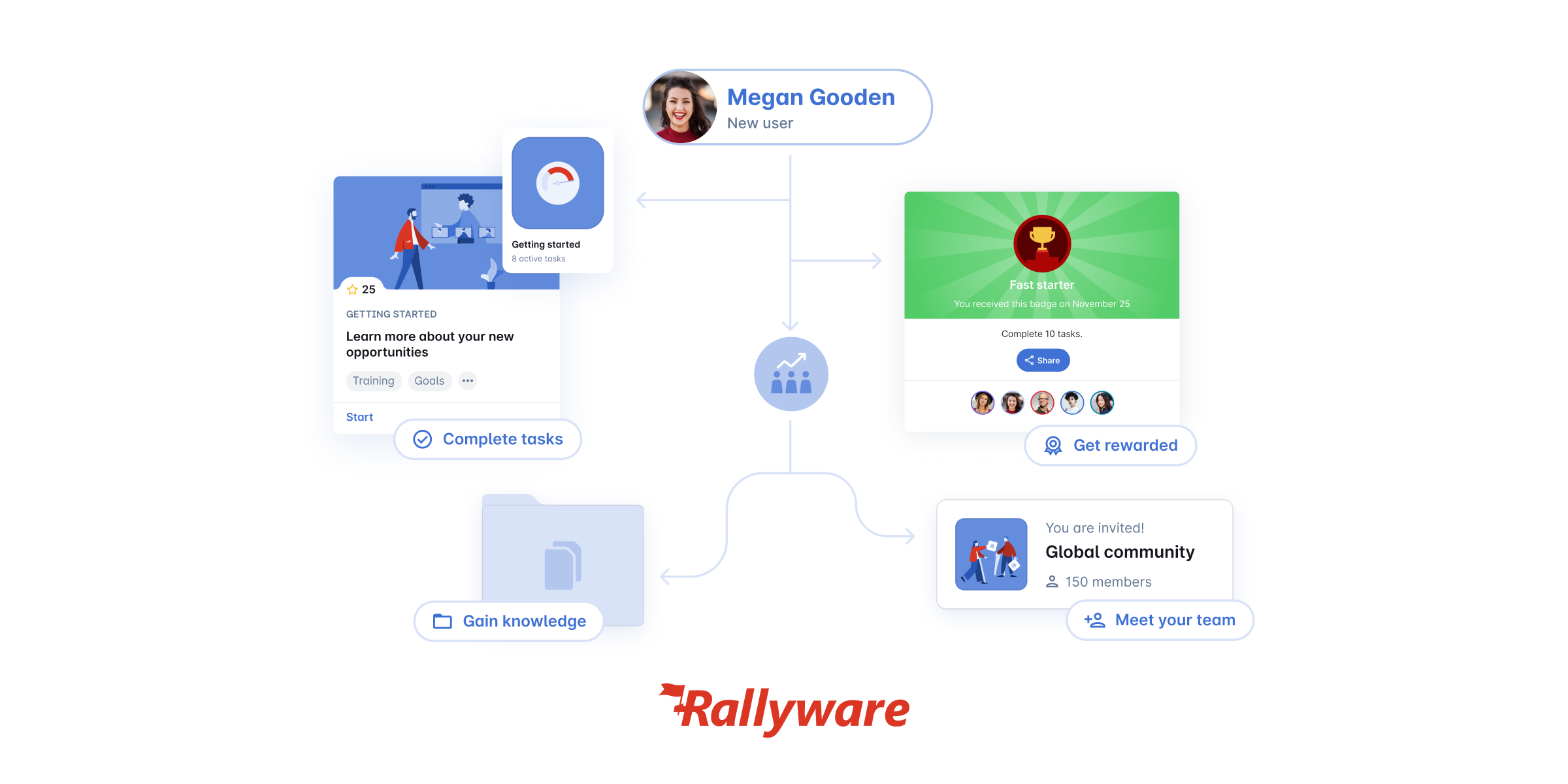 Time to first sale
One of the largest US home goods retailers has 35,000 employees and hires around 7,000 new people annually. On average, it takes 6 months for a new employee at this home goods retailer to start hitting their sales goals and 8 months to start making bonuses.
Additionally, this retailer is using 8 different apps with various logins to "enable" their store associates for success.
Legacy tech stacks slow down the time to first sale— a huge, avoidable efficiency gap that could be solved by consolidating software into a single, end-to-end platform like Rallyware's.
Rallyware's integrated all-in-one performance enablement suite personalizes upskilling so employees can take the right action at the right time, dramatically shortening the time to first sale.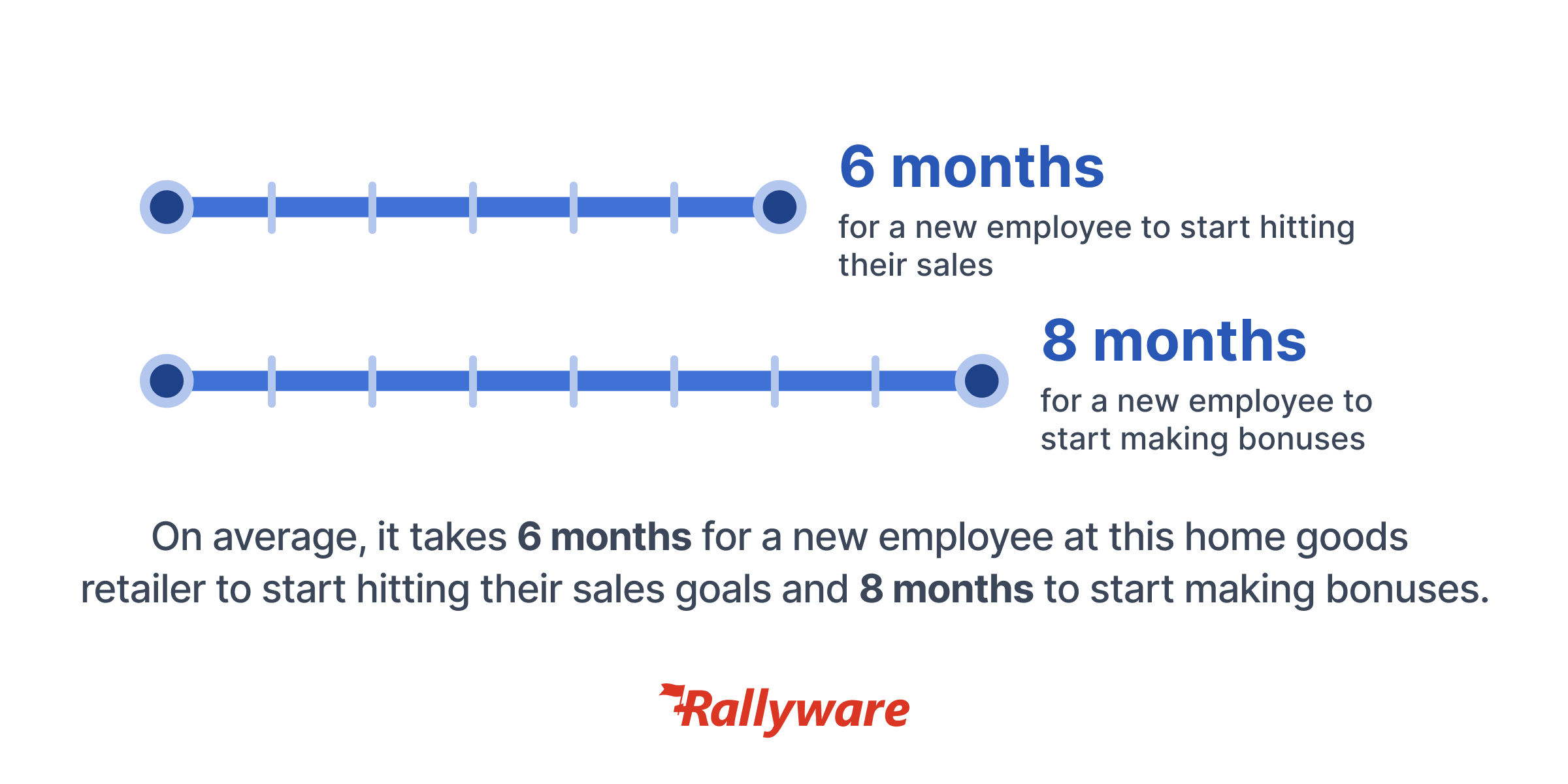 Time engaged in upskilling
Employee expertise is never more important than in times of economic uncertainty. Consumers on tighter budgets must be confident about product quality and value; that means store employees must be equipped to offer knowledgeable service.
How can retailers ensure their employees are delivering the customer service required to stay competitive in a challenging market? By tracking time engaged in upskilling.
Industry leaders maximize the ROI on employee "dead time" by investing in engagement-driven learning and development. Rather than watching the clock tick, employees are motivated to develop skills and product expertise.
The implications extend beyond sales numbers when it comes to learning and development. In the war for talent and retention, best-in-class L&D as part of a seamless single sign-on user experience, boosts both engagement and productivity, leading to lower attrition.
3. Invest In Your Most Valuable Asset: People and People Data
There's no getting around the obvious: retailers are playing a data game.
The winners are using data to enrich every step of the frontline worker experience, from onboarding to incentive and promotion management to upskilling and retention. The benefits of a data-enriched employee experience are transferred to consumers in the form of greater personalization and better customer service, leading to higher sales and revenues in a virtuous cycle of efficiency and sales productivity.
Of course, this cycle is predicated on integration. If the different tools that comprise your platform can talk to each other and pass data back and forth, the results are orders of magnitude more powerful.
Legacy tech stacks mostly forfeit the benefits of this integrated enrichment, making their data static. In favor of what? Maintaining indefinitely a precarious collection of out-of-date applications? The math doesn't add up.
When it comes to data and sales productivity, less is more— fewer apps equals more value. As the threat of recession grows larger with each passing day, retailers willing to seize the benefits of software consolidation in favor of integrated, single sign-on performance enablement will be in the best position to maintain market share.
Click here to request a demo of Rallyware's market-leading performance enablement platform for retail.
News and Insights on Workforce Training & Engagement
We're among top-notch eLearning and business engagement platforms recognized for effective training and talent development, helping to empower distributed workforces
Subscribe