The 15 Top Call Center Software Platforms for 2024
For call centers, the time is ripe to adopt cutting-edge solutions – AI, IoT, 5G – while boosting agents' Emotional Intelligence (EI). This combination will help call centers modernize operations, enable agents for more agile and capable calls, and help agents become more responsive and empathetic with callers. In terms of sales enablement best practices, virtual call centers and omnichannel customer experiences are also in the offing and important to consider.
In 2024, the ultimate goal is to cut costs and streamline operations as organizations use technology to improve agents' results, customers' experiences, and companies' returns. Whether a call center deals with sales, services, or support, it's essential to investigate the latest and most robust technology to ensure maximum agility and power. It's not only about efficiency – key KPIs such as revenue are on the line.
With so many options available, which one is the most suitable for your specific business needs? The Rallyware team has done some research, and narrowed down a selection of 15 top call center software for 2024.
What Is a Call Center?
A call center is a centralized workplace designed to handle a high influx of phone calls, often catering to customer service, telemarketing, and other technical support needs. Gone are the days of the old-school call center as we know it – traditional call centers have evolved significantly, now adopting innovative call center software that significantly streamlines operations. In adopting such technology, it's important to understand what the top call center software is as well as what the sales enablement best practices are.
What Benefits Do Call Center Software Provide?
Call center software offers multiple benefits to both agents and businesses, such as:
Enhanced efficiency: Streamlining call management and agent workflows, this increases operational efficiency and reduces wait times. These platforms often include a slew of time-saving features, such as real-time suggestions and shortcuts to agents during customer interactions.
Advanced analytics: Providing insights into call metrics, agent performance, and customer behavior, facilitating data-driven decision-making.
Integration capabilities: Integration with various customer relationship management (CRM) systems and other business tools allow for seamless data sharing.
Automation features: Leveraging AI and automation, the automation of repetitive tasks, call routing, and retrieval of customer information frees up agents to focus on more complex customer needs.
Multi-channel support: They facilitate customer interaction across various channels, including phone, email, and social media, ensuring a comprehensive support experience that also supports customer's channels of choice.
Cost reduction: These all-in-one platforms optimize resource allocation and reduce the need for extensive hardware, leading to cost savings. To maximize cost savings, it's important to follow sales enablement best practices, which we cover below.
What Are the 15 Top Call Center Software Products for 2024 and Their Sales Enablement Best Practices
1. Rallyware
This platform drives sales performance at scale, shaping the most productive behaviors with a personalized workflow. Overall, driving sales and performance, while boosting productivity and engagement, are the name of the game.
Key features:
Dynamic, highly scalable, and adaptive learning paths, that are personalized to each agent based on their goals
Data-driven gamification and engagement mechanics, to encourage some friendly competition among teammates and keep the agent journey fun and interactive
A variety of performance dashboards, metrics, segments, and trend reports to track KPIs, identify awareness and retention gaps, and measure impact of specific experiments and initiatives
Granular segmentation, distribution, and access control for documents and media files, to keep track of all key resources and ensure they are at-the-ready for individuals to use, any time
2. Five9
A leading provider of cloud contact center software, Five9 connects the dots for agents, empowering them to focus on their customers, rather than the technology itself. Founded in 2001, the company counts 2,500+ enterprise, mid-market, and SMB customers in more than 100 countries.
Key features:
Agent Desktop, providing agents with a complete view of the customer journey
Supervisor tools, empowering supervisors with tools to monitor and improve agent performance
Intelligent omnichannel routing, which routes interactions to the right agent based on context and customer intent
Automated Alerts, notifying teams when performance objectives are not being met to make proactive corrections
3. Talldesk
Talkdesk is an AI-powered cloud contact center platform that works for enterprises of all sizes, and across industries, from retail and consumer goods, to healthcare. It features seamless integration with other business tools, such as Salesforce and Shopify, and its Global Communications Network delivers the industry's highest reliability and call quality.
Key features:
Talkdesk Virtual Agent, which modernizes the self-service experience with generative AI and seamlessly handles common customer queries
Talkdesk AI Trainer, which enables non-technical staff to maintain and improve the Talkdesk Virtual Agent outputs
Talkdesk Interaction Analytics, which captures and analyzes all customer interactions, revealing key trends, topics, and sentiment
Talkdesk Agent Assist, a personalized AI assistant that listens, learns, and delivers automated answers and recommendations
4. Nextiva
Nextiva is a voice-over-internet-protocol (VoIP) company that provides unlimited calling across the U.S. and Canada. As an all-in-one communication, collaboration and customer management tool, the company also has a number of live chat features, allowing businesses to interact with customers and prospects in real-time.
Key features:
Interactive Voice Response (IVR), which sends incoming calls to the right call center agents
Automatic Call Distribution (ACD) to distribute calls based on business hours, technical support level, and more
Call Recording, allowing teams to record, pause, and listen to customer interactions any time
Call pop, which instantly displays important caller details on a screen, so agents know their customers before they pick up the phone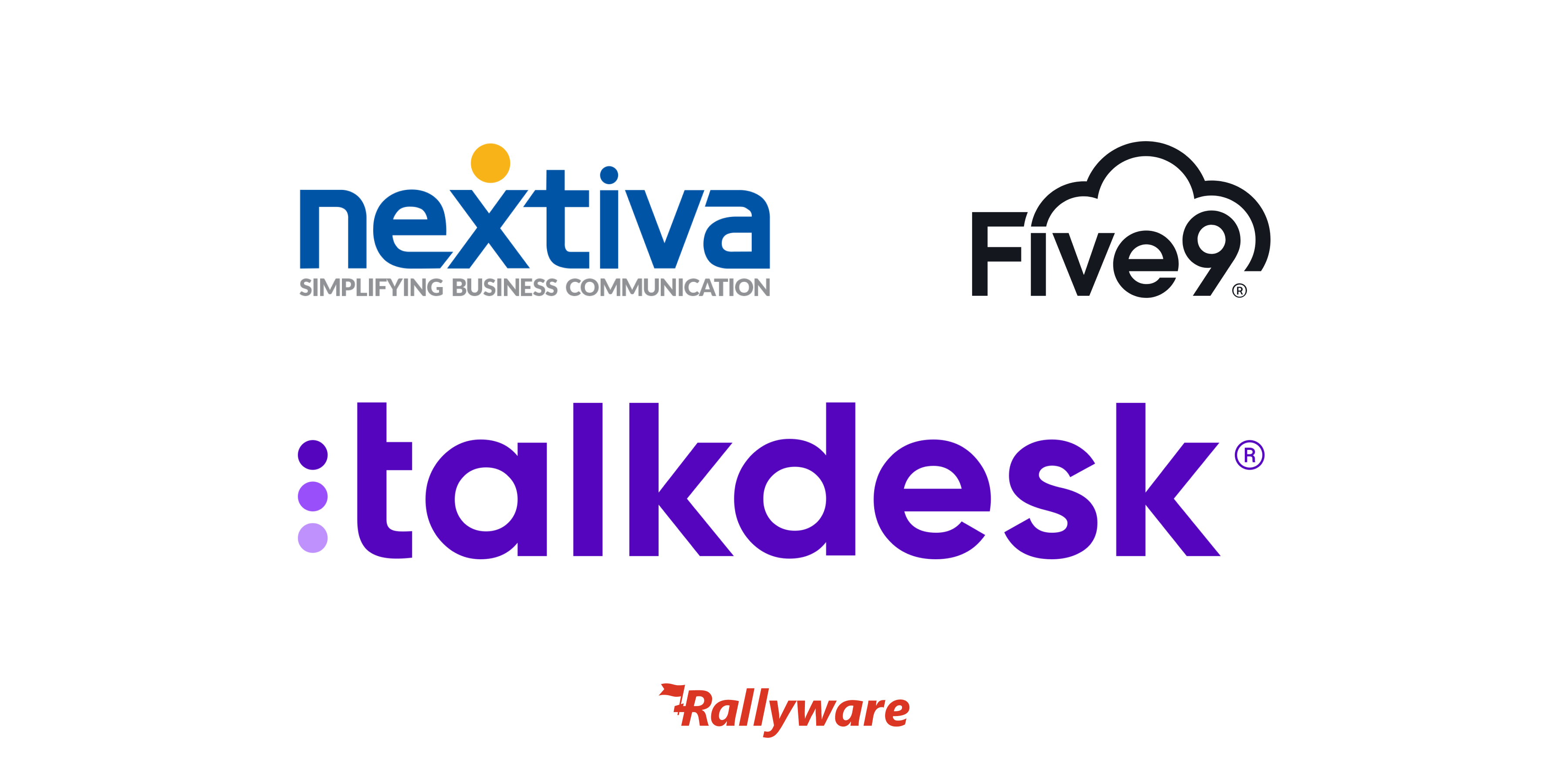 5. Nice CXone
NICE CXone is known for their innovation and comprehensive end-to-end CX approach. The company combines Customer Analytics, Omnichannel Routing, Workforce Optimization, Automation and AI, all on an Open Cloud Foundation, to power seamless experiences for every customer journey.
Key features:
Enlighten AI, embedded across the platform to easily operationalize and deliver immediate impact
Performance Management, designed to meet organizational goals and keep improving, while engaging employees through personal coaching and gamification
Interaction Recording and Management, designed to capture all omnichannel interactions and drive better performance
Knowledge Management, designed to empower consumers with speedy, accurate responses and give agents a boost with knowledge at their fingertips
6. Genesys
A leader for omnichannel customer experience and contact center solutions, Genesys orchestrates excellent customer experiences for organizations in more than 100 countries. The all-in-one Genesys Cloud CX solution unifies customer and agent experiences across phone, email, chat, text and social channels.
Key features:
Predictive routing, harnessing AI to match customers to the employees most likely to deliver the best services and KPIs, in real time
AI-powered knowledge management tools to provide the right information, every time
AI-powered voicebots that can recognize customers, understand history and preferences, and personalize interactions
Speech and text analysis to identify key events, ensure compliance and spot training opportunities
7. CloudTalk
CloudTalk is a VoIP business calling solution used by teams of all sizes around the globe, in industries ranging from financial services to education. CloudTalk has more than 70 features to streamline outbound and inbound calling, and also has a wide range of integrations with CRMs and helpdesk tools.
Key features:
Voicemail Drop, saving agents' time by allowing them to easily leave prospects pre-recorded voicemail messages
Call Notes, allowing agents to create and access notes taken during or after calls at any time, and use relevant data from past interactions to build better relationships with customers
Agent Reporting to access accurate performance KPIs for individual agents
Contact Tags to assign custom tags to contacts, sort them into categories and quickly identify them by their tag
8. CallHippo
CallHippo is the leading virtual phone system used by call centers, sales and support teams. The software helps with increasing agent productivity, automating workflows, tracking team performance, and reducing communication costs. Plus, with its easy-to-use interface, any business can set up its call center within less than 3 minutes!
Key features:
Call Barging, allowing supervisors to discreetly listen to ongoing calls and join conversations if needed, offering real-time guidance
Call Analytics to gain valuable insights into call metrics, patterns, and trends
Multi-line Phone System to manage multiple lines and calls simultaneously
Post-Call Surveys to gather valuable feedback from customers after each call
9. Power Dial
This customer intelligence platform, powered by AI, offers solutions for small businesses and enterprises. Dialpad offers a comprehensive suite of advanced features to help streamline business communications and boost productivity.
Key features:
Power Dial, which automatically dials the next phone number on an outreach list after hanging up a previous call, saving agents from having to click or select the next number to dial
A simultaneous ring feature that sends incoming calls to all connected devices at the same time
An Interactive Voice Response (IVR) system to route calls automatically
Call Park, a feature that allows agents to handle calls as a team by moving incoming calls to a "parking lot," and their teammates can then pick up the calls from another extension
10. LiveAgent
LiveAgent is an all-in-one help desk solution that enables businesses to connect with customers on all channels. The ticketing system helps customer service reps respond to inquiries from one interface, with a slew of other features also included.
Key features:
Agent collision detection to prevent multiple agents from working on the same ticket
Canned messages, predetermined text responses that are written in advance and are typically used to answer frequently asked questions
A Giphy integration that bring static conversations to life with animated GIFs that can be inserted into support tickets
A hybrid ticket stream allows agents to follow a customer's ticket resolution journey across multiple channels in the same ticket thread
11. Webex
A leader in collaboration and customer experience, Webex fuels hybrid work for businesses of all sizes, spanning industries such as finance and government. The Webex Contact Center is a next-generation cloud contact center solution, and is one solution in its large selection of product offerings.
Key features:
Routing and queue management, intelligently distributing calls across teams and agents in multiple sites, as well as remote agents
Supervisory features, including monitoring, coaching, and barge-in
Call recording, enabling authorized users to record calls and create recording schedules
An experience-focused, extensible agent desktop, optimizing agent productivity and efficiency
12. Zoho Desk
Zoho Desk is great for businesses of all sizes – from freelancers, to startups and enterprises. Zoho Desk's AI-powered assistant, Zia, enables teams to stay on top of all aspects of their customer service efforts.
Key features:
An advanced response editor to tailor responses to suit the situation, using customer context, and more
Time tracking to keep track of time spent on each ticket and task
Radar – a mobile app that gives managers an overview if real-time stats, allowing for agents to collaborate with their team while on-the-go
Integration with popular instant messaging channels such as Telegram and WhatsApp
13. Vonage
A well-known telecommunications company, Vonage also offers the Vonage Contact Center (VCC), a single, cloud-native solution with easy-to-manage omnichannel features. A powerful integration with Salesforce empowers teams to deliver personalized connections across every channel.
Key features:
Automatic Call Distribution (ACD) to connect calls to the best available agent with intelligent, skills-based routing
An AI virtual assistant that Provides 24-hour service with minimal human involvement, freeing up live agents for more complex queries
Conversation Analyzer, a complete speech analytics solution that helps transcribe, tag, and QA customer calls
Gamification capabilities to reward employees when they reach a personal or business goal
14. Ringover
Ringover was founded upon the concept of removing time-consuming manual tasks and replacing them with ultra-intuitive features that allowed the user to focus on optimizing their conversations. A 100% cloud communication solution integrating telephony, video conferencing, SMS and group messaging, Ringover provides solutions for both inbound and outbound call centers.
Key features:
Voicemail drop to automatically leave pre-recorded professional voice messages on the answering machine of prospects who don't answer calls
Custom greetings that can be tailored to a company's image and caller's language
An After-Call Work feature, is a time period during which users can perform post-call tasks without being disturbed
Advanced analytics to obtain important information on both calls and agent performance in clear, coherent diagrams
15. Bitrix24
Whether a solo entrepreneur, small businesses or enterprise, Bitrix24 allows businesses to replace a multitude of services and apps with a single ecosystem.
Key features:
A live chat widget that can be placed on a website to provide instant support and customer service to visitors
Robotic Process Automation (RPA), allowing teams to automate any standard business process such as document approval, purchase requests and save time on completing routine tasks
Integration with social media channels, offering a single hub where teams can easily monitor customer activity, reply to messages and comments, analyze data and collect stats
What are some other sales enablement best practices?
When it comes to sales enablement, providing the information, content and tools to help salespeople sell more effectively, sales enablement best practices include:
Targeted training: Providing comprehensive and targeted training programs that focus on product knowledge, customer engagement, and effective selling techniques
Content optimization: Developing high-quality and easily accessible sales content, including product information, case studies, and sales collateral, to support the sales process.
Technology integration: Implementing sales enablement tools and technologies that streamline sales processes, such as customer relationship management (CRM) software, communication tools, and analytics platforms.
Collaborative approach: Fostering collaboration between sales, marketing, and other relevant teams to ensure alignment of goals and strategies, as well as to create a unified customer experience.
Access to the right tools and resources can make a big difference, allowing teams to accomplish more, and at a faster rate. As we approach 2024, it's crucial to embrace a forward-looking perspective and consider the integration of these tech-driven tools, ensuring a lasting influence on your sales and support team, your business, and your customers. Just make sure you're following sales enablement best practices when you're using the top call center software. Rallyware's product experts can help with that, in fact.
Book your demo to see firsthand how Rallyware's Performance Enablement Platform can help you enable the most productive sales force behaviors and drive revenue!
News and Insights on Workforce Training & Engagement
We're among top-notch eLearning and business engagement platforms recognized for effective training and talent development, helping to empower distributed workforces
Subscribe