Sales Enablement vs Performance Enablement: Why You Need to Know the Difference
You've probably asked yourself: what is the difference between sales enablement and performance enablement? Both terms are floating around in the B2B tech ecosystem. They're both useful tools when composing your tech stack. That's true for retail sales enablement, for instance, and other verticals.
Yet it's not entirely clear where one ends and the other starts. Sales is a type of performance, isn't it? So how do they differ?
First, fair warning: All this is in motion. Performance enablement is still starting to take shape. Especially for deskless workforces like retail, sales enablement is developing and transforming.
Nothing is set in stone.
However, all of this is necessary to know. 
This is the case for business teams, IT professionals, operations specialists, and other decision makers.
In the near future, companies will have to choose between single tools for their tech stacks, and larger, composable platforms. It's essential to know what's what.
What Is Sales Enablement?
Enabling sales with tech is a complex process, but simple to understand. Sales reps need support. They need content, knowledge, information, trainings, etc., to help them close more deals.
That's why retail sales enablement exists – to have that info on the sales floor. That's also why, for instance, insurance sales enablement exists as well.
For verticals where the workforce is by and large independent, it helps to have tech to guide you towards the next appropriate steps.
As Gartner defines it, "Sales enablement is the process of providing the sales organization with the information, content and tools that help salespeople sell more effectively."
That's a succinct definition of sales enablement itself.
Sales enablement tech provides tools that help business teams do this. Basically, we're talking about tech tools that drive results by supporting sales efforts.
That could be retail sales enablement, it could be insurance sales enablement. The point here is that sales enablement helps sales reps do what they do best – sell.
These tools might boost learning with easily accessible content. They might be digital sales aids with fun animations. They might consist of tools that help reps distribute collateral, like OwnBackup describes.
All in all, sales enablement tools help reps sell better and more.
Sales enablement does not automatically translate to great boosts in efficiency.
Despite sales organizations investing in sales enablement initiatives, 77% of sellers report that they struggle to complete their assigned tasks efficiently, a Gartner survey found.
What Is Performance Enablement, Then?
Performance enablement tools might contain sales enablement tools in a larger ecosystem.
That sounds complex, so let's explain.
Performance enablement recently became a "thing" in response to the Great Resignation.
At least partly. Says SHRM, "Performance enablement is an emerging model that helps companies foster […] experiences that increase alignment, productivity and retention."
In other words, sales enablement helps drive conversions at point of sale. It's helping sales reps close. Performance enablement helps with the entire sales force lifecycle, boosting multiple KPIs at once. 
Performance enablement tech might include sales enablement as one set of tools. Yet that's only one side. A performance enablement platform (PEP) might drive sales with rewards.
It might help after the sale with customer retention. It might automatically show the sales rep training to help them reach their goals.
The point is this: performance enablement is about integrating the entire user experience, onboarding, training, rewards and recognition, customer retention, and more, all within a single platform. All while using smart to-dos to drive productivity.
It is also about encouraging the most productive, proactive behaviours, and scaling the efficiency of each seller.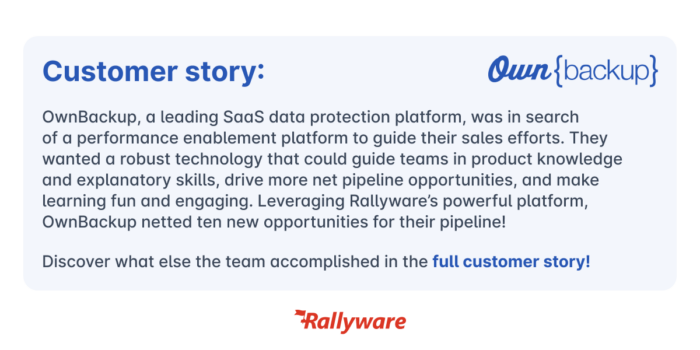 Why You Should Care: Smart Technology and Performance Enablement
A few things are worth highlighting.
While like sales enablement, performance enablement drives sales – and business outcomes overall – the architecture for doing so is much richer and more robust.
If you're an operations leader or CTO, you should care about this. 
At a time of smaller margins, with retail for instance having a downbeat outlook, it's important to invest in technology that optimizes business outcomes. (This makes retail sales enablement and performance enablement more important than ever.)
This means driving real revenue and returns – not abstract goals like "efficiency."
Sales enablement offers resources that the sales team or sales reps can use to help them.
On the other hand, performance enablement consolidates multiple tools into a single experience, smartly guiding the sales force toward their goals. (Rallyware, a PEP, is a great example of that.)
It's more comprehensive than sales enablement and ideally, has the following advantages:
AI-Guided Learning: Artificial intelligence should be able to suggest the sales force's next actions based on the company's best performers. Though sales enablement tools might have guided learning, it is generally not guided by smart systems, responsive to the user's goals and needs.
Consolidated Platform: The platform should have multiple tools linked together in one platform, with data from one tool flowing into the other tools to further personalize the sales force experience. This helps reduce expenses and drive corporate returns – everything in one UX.
Personalized To-Do's: In PEP technology, personalized to-do's show the individual user to do based on what they want to accomplish and how they have acted in the past. They change in the future based on present actions, as well. While sales enablement tools might show to-do's, these are generally not dependent on context and past performance. Additionally, sales enablement to-dos usually aren't informed by results from other tools, for instance CRM tools.
Goal-Based Incentives: PEP technology should incentivize the end user, for instance a retail associate or direct selling distributor, based on their goals and progress so far. The PEP might show the user a smart notification on their mobile device letting them know they only have to make $100 more in sales this week to receive an airline gift card. So what you're doing is integrating engagement and gamification into the other tools we've already discussed.
HQ-to-Sales Force Comms: It's important for HQ to be able to send the sales force new information in an instant – such as blasts about new policies, practices, products. This helps the sales force stay aligned, even across regions and time zones. That's a big advantage over sales enablement. Sales enablement generally doesn't have live communications tools, or doesn't integrate them into the app used by the sales force.
Performance Enablement vs. Sales Enablement: What's Right for You?
Whether PEP or sales enablement is right for you depends on your circumstances.
If you're a large enterprise with a complex sales force, PEP modernizes and simplifies operations.
A strong PEP platform integrates multiple functions in one easy-to-use tool.
If you're working with a smaller sales force, especially one that's in one location (like an office), lighter sales enablement tools might be the way to go. 
Reach out to Rallyware to learn more about why PEP technology might be right for your enterprise. Schedule your demo today!
News and Insights on Workforce Training & Engagement
We're among top-notch eLearning and business engagement platforms recognized for effective training and talent development, helping to empower distributed workforces
Subscribe