Insurance Enablement 101 for the Digital Age
Insurance carriers today are presented with a problem. According to the latest data, 30% of agents leave within their first year. On the macro scale, experts are predicting an economic slowdown that will redound on insurance, resulting in lower demand, more regulation, and the need for innovation. That's going to affect insurance sales in ways that are still uncertain. Today, focusing on technology for insurance sales enablement is crucial for agents to succeed in the modern era.
The good news is that we live in an age of digital solutions to problems such as retention, demand generation, and compliance. If there is a problem that lies within the control of a given industry, technology generally exists to enable solutions. The question is what that technology should look like and how it enables the industry, in this case, insurance, for success in a time of sudden shifts.
Let's go over the basics of how technology can enable agents, and thereby carriers, for growth in the headwinds of today's economic and regulatory environment.
Insurance Sales Enablement for 2024
How Technology Can Improve Insurance Sales: an Overview
It's 2023 now, and 2024 will be here before we know it. Digitalization has changed a lot in insurance, and technology can play a vital role in improving insurance agent training and insurance sales. It can provide agents with access to training, learning, sales aids, and resources and help them improve their skills and performance. What are some ways in which technology can improve insurance sales, more specifically?
Online training classes: Online courses can be accessed anytime and anywhere, making it easy for agents to learn at their own pace. That's especially true when these are stored in cloud-based software. These courses can include videos, simulations, and other interactive activities that can help agents to upskill.
Gamification: Gamification can be used to make training more engaging and motivating for agents. This can include the use of leaderboards, rewards, and badges to encourage agents to learn and improve their performance. Rallyware groups many of these tools under the Incentives & Recognition solution.
Virtual reality (VR) training: If you're really feeling futuristic, VR technology can be used to create realistic simulations of real-world scenarios that agents may encounter. This can help agents to develop their problem-solving skills and improve their decision-making abilities in a safe and controlled environment. Though this hasn't been widely adopted, expect it to become more normal in the future.
Performance tracking: Performance tracking can be used to survey agents' progress and isolate areas where they need extra support. This can help agents to focus on areas where they need to work harder and help managers to provide targeted feedback and coaching.
AI-powered chatbots: AI-powered chatbots can provide agents with real-time access to information and support. They can be used to answer frequently asked questions, provide guidance on specific products or services, and offer personalized recommendations based on the customer's needs.
By harnessing technology to improve insurance agent training and performance, insurance agencies can equip their agents with the skills, tools, and knowledge they need to provide excellent service. This helps to boost customer satisfaction, increase sales, and ultimately, propel business growth.
Streamlining Agent Onboarding
A whopping 63% of young agents believe that the insurance industry is too slow to adapt to new technology. We've also highlighted the high dropout rate for first-year agents. So let's connect the two. It's reasonable to believe that a better, more technologically proficient onboarding process will lead to higher rates of retention. It might also answer the question of how to boost insurance sales.
Onboarding enablement begins with ease of use. If agents feel that the onboarding process is all over the place, scattered across multiple points of entry, they'll feel exhausted and burnt out before they've even started selling. After all, the licensing process is often so overloaded with regulations, with such a high bar for clearance, that actually getting onboarded with a company should be easy.
That's where smart technology enters the picture. The right technology should enable the easiest possible onboarding process, comprised of getting agents up-to-date with regulatory requirements, basic company protocols, compensation plans, and completing their certifications.
What technology should you look at for remote onboarding enablement for agents in the field? The right, insurance-ready technology makes onboarding easy with an all-in-one platform under a unified user experience. Such an end-to-end platform integrates with multiple systems, feeding data from several sources into one centrally located onboarding procedure.
Working with trusted brands from Samsung to Mary Kay, Rallyware is a major example of such a platform, providing members of the workforce with a sleek, modern journey that moves from onboarding to continuous learning and development – and beyond.
Automate Training Processes and I&R Programs
Another way that insurers can improve their agent workforce is through the automation of training and incentives and recognition programs. These three ideally will work in concert together, in a unified lifecycle.
Equipped with insurance enablement technology, agents have continuous training available to them on a digital platform, along with learning modules that extend beyond initial, post-onboarding training programs. For example, this might be learning content about new insurance products or a read-up about a new market the agent has recently entered. These trainings can be designed from the ground up by corporate leaders, and then the smart technology can sense exactly when the agent will most benefit from such content, notifying her that it's time to complete a fresh learning exercise.
Essentially, what insurance leaders are doing here is: automating the training process and allowing the agent to complete relevant learning content on her own time. Insurance enablement technology like Rallyware's can even use robust data feeds to sense exactly what a specific agent needs to be presented with at this precise moment to best further her development as an agent.
For instance, Anna, an agent at a state carrier, receives a notification to complete Training #3 on Lead Nurturing while on-the-go. This is the training she needs because she's having difficulty closing deals after contacting potential clients. If your technology is available via a branded mobile app, all the better for its usability – after all, agents are often on the go, selling policies that the carrier is responsible for undersigning. If agents feel like it's easy to learn more about how to be the best agent possible, it stands to reason that they are more likely to stay agents. They will have a clearer path to success.
Fast Company found that most agents leave because they don't feel recognized. Insurance enablement technology – the right kind – solves that problem by embedding recognition processes right into onboarding, training, learning, and selling insurance.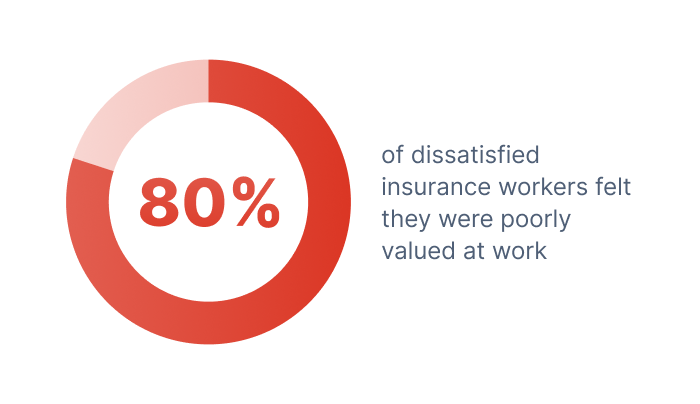 At the very same time, incentives and recognition (I&R) technology ought to be able to prompt the agent's engagement with training and learning content. Such technology might notify the agent on her mobile app when a new training module is available; when they're nearing their weekly sales target; or when their position on a team leaderboard has risen. Perhaps if the agent completes her training for the day, she receives a badge or reward she can show off to her teammates.
This is what is popularly known as smart gamification of the training process – making training feel like a game, in which the agent is constantly leveling up. There's been a lot of research on gamification increasing participation, and insurance is no exception.
Insurance carriers would do well to capitalize on this trend, rather than falling behind on the potential of digital technology. Tech trends are transforming insurance, such as AI, cloud-based solutions and the metaverse. Accessing the right tech could help answer the question of how to improve insurance sales, helping insurers stay at the forefront of this highly competitive industry.
All in all, incentives and recognition tech should create a positive feedback loop with training and learning modules. This should be core to insurance enablement technology. The carrier's tech platform should be encouraging the agent to complete onboarding, training, and learning modules, so that she can be the best agent possible and build her line of business. The platform should make it easy to build that line of business, cutting away many of the barriers to becoming a highly skilled, long-term insurance agent – many of which are simply barriers of difficulty.
Incentives can, of course, go beyond simply encouraging agents to complete training and learning. Carriers can use their technology to offer prizes, like free trips or airline gift cards, for those who sell the most in a given month or quarter. In this sense, incentives and recognition apply to not only agent development, but agent productivity.
Why not use insurance enablement tools to upskill agents and help them sign more clients? To tell the truth, in a crowded market, what other option do carriers have? Either you're making the most of a new technological landscape, or you're falling behind in an industry with tight margins. Rallyware, which as mentioned partners with some of the leading sales workforces, provides a full-scale platform for training automation and incentives and recognition enablement.
Insurance Sales Enablement: Investing in the Right Technology
The bottom line is this: insurance enablement technology should support your bottom line, and your agents' bottom line. Platforms that enable the whole agent should also include opportunity management technology to help them, for instance, visualize sales funnels, optimize communication templates, and nurture leads.
The fact is, once your agents have been onboarded, trained, and have continuous learning available, they also need technology that will enable them to sell insurance on a day-to-day basis. Having opportunity management technology as a part of her insurance enablement suite is going to make sure our theoretical agent, Anna, has the tools to sell as much as possible, then track her sales and follow-up with her clients.
Overall, you're going to want to invest in technology that helps you better manage:
People and processes are deeply interrelated, and the ideal digital technology automates and facilitates both of them at once. In other words, truly end-to-end insurance enablement technology, as delivered by Rallyware, helps you manage people and processes at once. Rallyware optimizes what agents can do and the processes by which they sell policies – helping you solve for crucial pain points around agent retention, productivity, and performance.
On average, our data shows, companies experience a 305% increase in retention, 320% increase in sales, and 637% increase in recruitment as first-year ROI for Rallyware.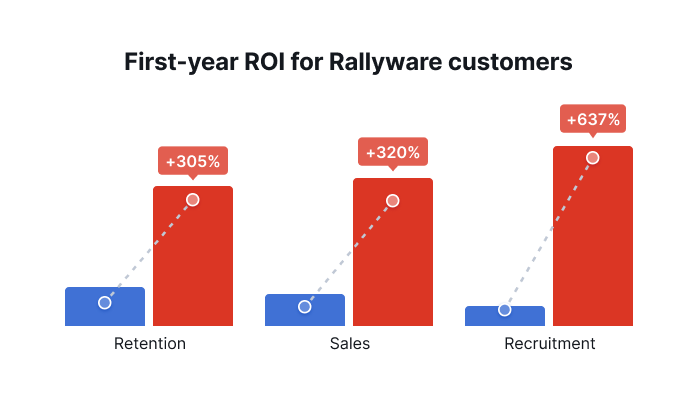 That's because at a time of economic slowdown, companies that are embracing an evolutionary approach enable their workforce to do more, become more, and sell more. They help their workforce ensure a profitable future for themselves, their families, and the carriers for whom they sell policies (no pun intended!)
Rallyware provides performance enablement technology to drive results for insurance carriers nationwide. Book your demo today!
News and Insights on Workforce Training & Engagement
We're among top-notch eLearning and business engagement platforms recognized for effective training and talent development, helping to empower distributed workforces
Subscribe