3 Tips to Boost Enterprise Digital Transformation
For many, digital transformation can appear to be daunting. How to boost digital transformation – taking it one step further to be prepared for the future and retain a competitive edge? Aside from the large amounts of time and energy required, transformation also requires bold steps such as a vision, roadmaps, process development, training, as well as trial and error. According to An Enterprise Guide to Digital Adoption, a report from WalkMe and Futurum, nearly half (42%) of organizations point to the lack of technical knowledge and skills as their top barrier to successful digital transformation, and as many as 54% of companies have reported resistance of employees' to digital adoption. Here are some tips from Rallyware on how to drive digital transformation.
Harness the power of data and people analytics
According to LinkedIn's Global Talent Trends 2020 report, being able to comprehend and capitalize on analytics is becoming a must-have skill for HR leaders, with a 242% increase in HR professionals with data analysis skills over the past five years.
At Rallyware, we are all about harnessing a strategic and data-driven approach, as taking such an approach enables managers and supervisors to concentrate their efforts more on individualized coaching solutions. Throughout the years, we have become critical partners to multiple CLOs, training and business leaders by not only collecting data about people, but also in interpreting it and putting it to best use. This allows them to identify problems by way of collecting real-time feedback, analyzing live performance data, as well as monitoring training results and other key metrics.
Having in-depth knowledge of analytics may not be essential, but being open to collecting data, and asking the right questions, can set your organization up for success. This is where having the right technological tools available on the back end is key. How are all the employees performing? Who may need some extra coaching and assistance? In terms of the training process, what sort of opportunities are there for growth and improvement? Data and people analytics paint a cohesive picture, and allow you to answer these and other critical questions and make better macro and micro decisions, faster.

Additionally, integrating a personalized learning and enablement systems also allows for managers to get to know new hires on a much more individual level, as they come to understand more about an individual's goals, early progress, as well as daily routines and working styles.
Focus on your people (employees), and design with them in mind
Aside from being useful for management and senior leadership, having access to data is also critical from the standpoint of employees – as they are provided with dashboards that display their progress and achievements, in terms of their goal progression. A Performance Enablement tool – such as that offered by Rallyware – eliminates the uncertainty of what to do and when. Think about it – what if, as an employee, steps were clearly laid out in front of you? For instance, it is currently the middle of October, and Anthony has completed 80% of his sales targets for the month. Additionally, upcoming tasks clearly display the next steps for him to take in his journey to achieve those goals.

​​Findings from a recent Rallyware analysis pointed to the power of such visualization – as simply being provided with clear visibility into their progress served as powerful motivation for users. This, in turn, converted to an increase in business results.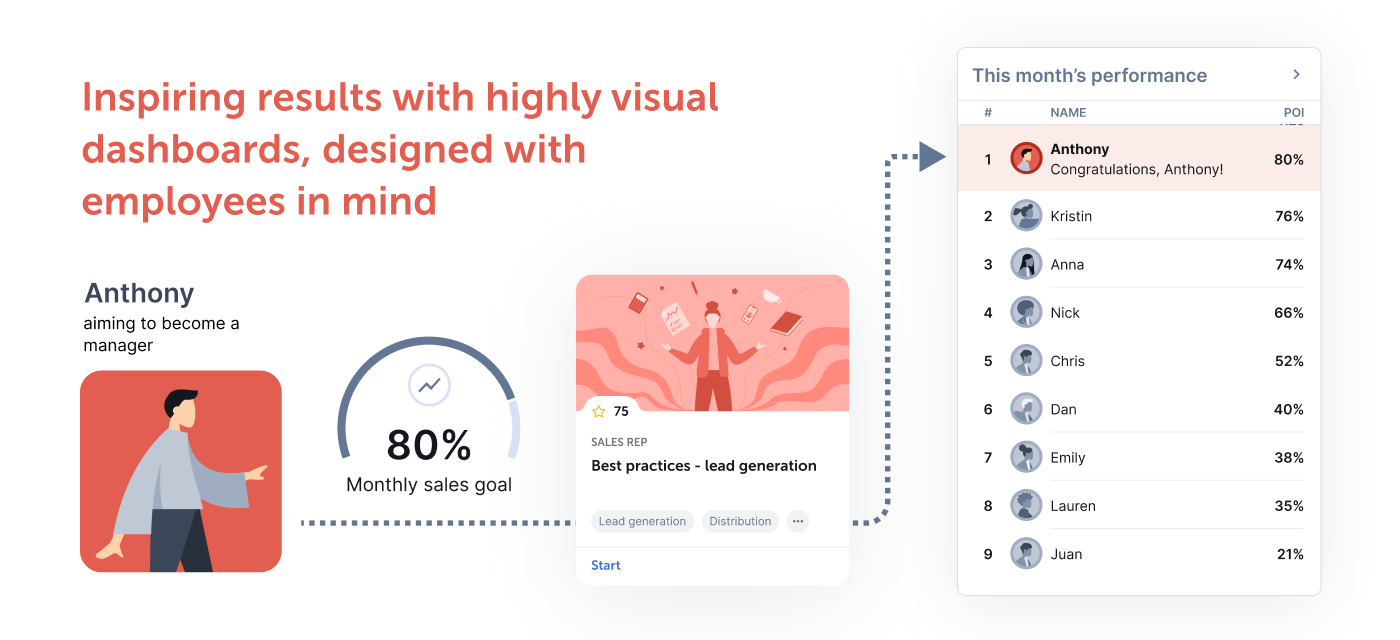 A recent survey pointed to career transparency as a means of retaining members of the workforce, particularly the younger team members, finding that 38% of Gen-Z employees are looking for jobs with more transparency surrounding job path and development. A Performance Enablement platform offers this sense of transparency. It provides insights into where they are now, and where employees need to be, on their path to achieve their goals.
New technology solutions may overwhelm new users, so the trick is to mitigate the friction that may arise. When planning to introduce new technologies, conduct a skills assessment of members of the workforce (this is where data and people analytics come into play). What is their comfort level? Do they have the necessary skills required to keep pace? If many express a lack of knowledge, perhaps additional training courses will need to be developed. "When COVID-19 hit and many organizations became virtual, it exposed a gap between the haves and have nots, those who are more comfortable with technology and those who are not," Angela Champ, Senior Vice President, Human Resources at Alpine Building Maintenance, told Rallyware in a recent interview.
Look at the bigger picture, and how various parts of an organization work together
Digital transformation is a joint effort – it cannot happen in a silo. "Indeed, assembling the right team of technology, data, and process people who can work together — with a strong leader who can bring about change — may be the single most important step that a company contemplating digital transformation can take," noted the authors of a recent Harvard Business Review article.

The average enterprise manages over 200 "mission-critical" apps, authors highlighted in WalkMe and Futurum's report. Furthermore, the report pointed out, the user experience inside these apps frequently changes as well, often without warning, adding an additional layer of friction. How can employees keep pace with an evolving toolkit of solutions and processes? There is a need for the consolidation of the employee experience into one place, for the ultimate mobile-first and personalized experience.
Rallyware previously found that the combination of four performance improvement tools (learning + business activities + timing + social engagement) was the most efficient in increasing workforce productivity – increasing this by +38%. We also found that companies often have either the wrong mix of tools to address specific challenges, or an outdated way of handling productivity issues. Take a step back and consider: how can your people, processes and tools work together in a more holistic way? When we work together, powerful things can happen.

With some coordination and strategic thinking, digital transformation can be in the cards for enterprises in 2022. Learn how Rallyware's Performance Enablement Platform can accelerate your digital transformation – schedule a demo to see its powerful features in action, including learning & performance analytics, interactive tasks prescribed to each individual just when they need them to be most productive, and much more!

News and Insights on Workforce Training & Engagement
We're among top-notch eLearning and business engagement platforms recognized for effective training and talent development, helping to empower distributed workforces
Subscribe