A Hospitality Workforce Reboot: How to Drive Employee Engagement and Customer Satisfaction
The COVID-19 pandemic has disrupted many industries around the world – from retail and education, to airlines and hospitality. How can the hospitality workforce be re-energized and motivated? How can employee engagement be boosted in order to drive the ultimate customer experience? How can we empower employees and bring out the best in each of them?
Today, many hospitality leaders are struggling with retention – finding that, in the pandemic's wake, some of their previous employees sought employment elsewhere in more stable industries, or in search of educational opportunities that provide further personal and career growth.
Desperate to keep their staff, various hotels across the U.S. are offering perks – one New York City Hotel providing senior staffers with connected-fitness machines upon their return to work, while Omni Hotels and Resorts is gifting kitchen staff a free set of knives as well as weekly sit-downs with executive chefs.
As the economy reopens and visitors resume travel, there is an opportunity for a reset – to rethink how we connect and engage with hospitality employees. To consider implementing new technologies to help us become more effective, and that can reduce the load on management. To effect small, personalized touches that offer an enhanced employee experience, and successfully rebuild the workforce.
Here are some tips on driving engagement among the hospitality workforce.
Personalized employee engagement programs, and emphasis on community
The hospitality industry attracts individuals from all walks of life – from seasonal employees, to students and professionals. All are on different paths, with varying personal and career goals. For a high school student on summer holiday, for instance, this may be their first job, while for a seasoned front desk manager, this could have been a dead-end job for the last several years.
This is why personalization is key when it comes to onboarding and training of the hospitality workforce, as well as the entire employee growth journey. Accounting for these differences, a Performance Enablement tool, such as that offered by Rallyware, harnesses a personalized approach, and one that is data-driven. When data is collected related to individual goals, preferences and learning styles, tailored learning experiences can be delivered to employees. For instance, a skills assessment can be used to identify where there are gaps and where the employee would benefit most from training, whereas if the employee is showing signs of growth, the platform will put them on a personalized high-achiever path. What skills does the high school student have that would be easily transferable, such as skills related to problem solving or customer communications? The student may benefit from peer-to-peer coaching or mentorship, which a Performance Enablement tool facilitates automatically.
As the employee interacts with the platform more and more, it eventually learns to account for important dates, such as milestones and birthdays. Accomplishments are celebrated with virtual rewards and peer recognition. Such personalized touches are especially crucial for new employees, such as the aforementioned high school student, who may be completely new to the work environment. This helps integrate them into the existing community and helps them to feel appreciated and welcomed from day one, which, in turn, helps to maximize participation and drive tangible business results like improved Yelp reviews.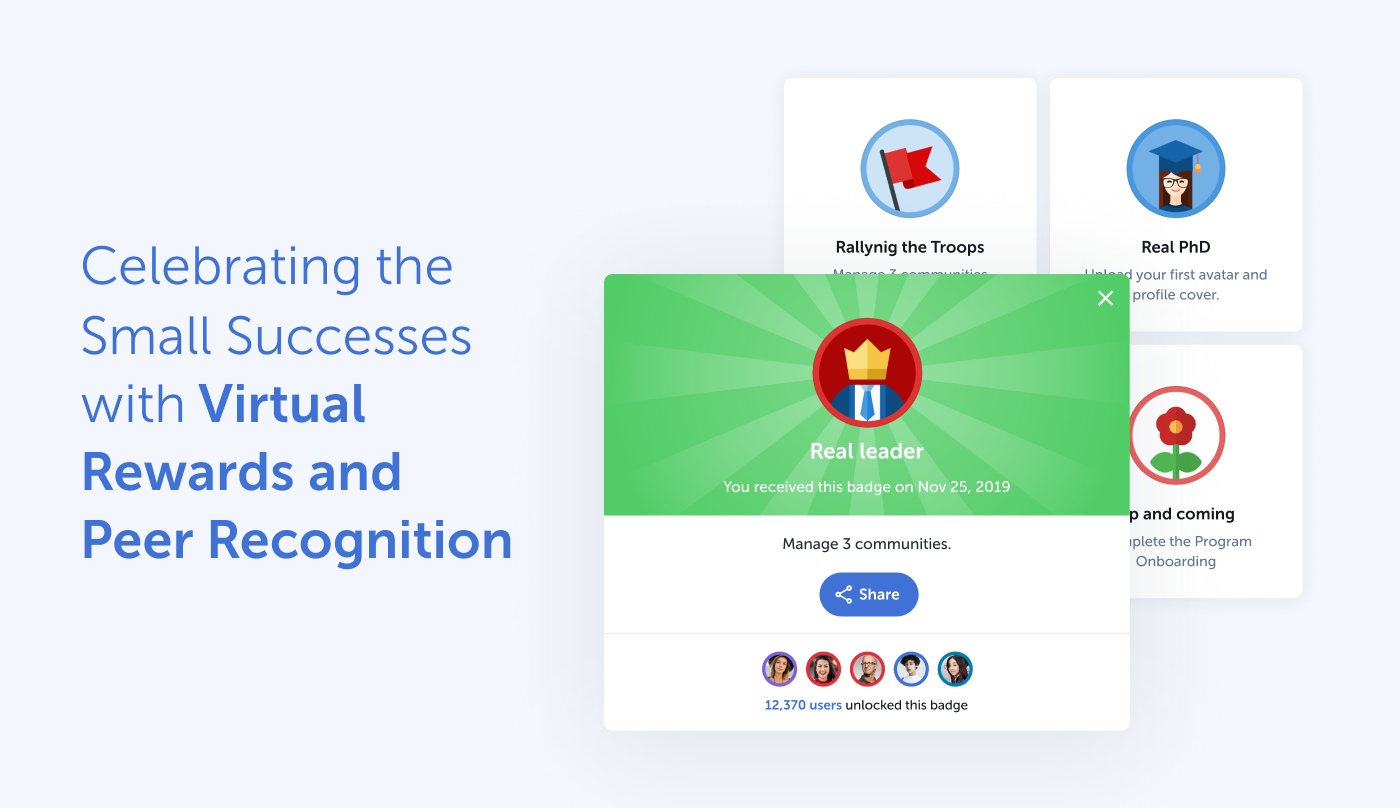 Recent research that crowdsourced ideas and solutions for the industry highlighted the importance of connection and communication, suggesting that it is crucial to encourage employees within the hospitality workforce to connect over shared interests and hobbies with those of different ages, locations, and job titles. This is especially important today, as employees need to feel supported, heard, and understood. At Rallyware, we have seen how powerful communities segmented not only by geographies but also by shared interests are in fostering a strong and supportive company culture.
Reskilling and upskilling for a future-ready hospitality workplace
In the hospitality industry of the future, new skills will likely be required. Employees in the travel industry will need to be re-educated on what's expected of them to better serve their customers, as many standards will have changed or heightened in intensity upon their return to the workplace. For instance, employees may be required to learn how to take guests' temperature and become well versed in stronger sanitising and cleaning protocols.
The shifting work landscape provides an opportunity for employees to expand the scope beyond their existing roles and capabilities, and acquire new skills. A bartender does not have to solely concoct drinks, nor does a concierge just have to solely assist guests with restaurant reservations and travel arrangements.
Companies and governments around the world are taking note of this shifting landscape, and the need for fluid job roles that can be facilitated through personalized reskilling and upskilling. Research has highlighted that opportunities for personal development are among the most important factors for job satisfaction.
Cape Resorts, which has properties in New York and New Jersey, is providing staff with complimentary board and accommodation, alongside a hospitality training program so they can learn new skills such as marketing and accounting. Meanwhile, Expedia Group Academy's new education program is meant to help displaced or furloughed travel workers broaden their skill sets, develop professional networks and open up career opportunities. The Academy's online courses are related to enhancing business skills in areas of high demand such as data science and marketing, as well as developing interpersonal skills. Meanwhile, in Ireland, two national upskilling programs for employees in the hospitality and tourism sector were recently launched, centering on crucial areas such as customer care, people management, sustainability and digital skills.
When it comes to employee reskilling and upskilling, taking a data-driven approach is key. Supporting individual workers based on their specific needs not only boosts productivity, but also results in a more confident and engaged workforce. Having performance data available also allows management to identify talent and see what strengths the employees have that might best be suited in other positions.
Real-time insights for hospitality leaders
A Performance Enablement tool also emphasizes real-time reporting and people analytics – offering metrics related to employees' work satisfaction and progress with the learning and development curriculum. Armed with this knowledge, HR professionals and business leaders can easily track the performance and ROI of each and every engagement or training initiative. Having the right insights is key, in order for management to make decisions. Which tactics are most effective at improving employee engagement? What are some potential areas of improvement, or gaps in knowledge or skills? For instance, upon discovering that some front desk staff are struggling with learning how to navigate a new software, management may decide to offer additional courses in a different format to boost software skills.
The hospitality industry is at a critical point: a time to reconsider how hospitality leaders connect with their staff in order to boost engagement, satisfaction and productivity. To implement new technologies that will allow them to track performance, gain vital insights and be more efficient. The reboot begins now – are we prepared?

Prepare your hospitality workforce for the changing realities of today – and tomorrow. Learn more about boosting employee satisfaction, performance and engagement with a demo of Rallyware's Performance Enablement Platform!

News and Insights on Workforce Training & Engagement
We're among top-notch eLearning and business engagement platforms recognized for effective training and talent development, helping to empower distributed workforces
Subscribe