Building L&D for Big Companies? Segment Training to Scale Operations and Introduce Innovations
The adoption of learning and development practices is often anything but simple for companies with multiple departments. To make training efficient, organizations have to turn their training platform into a scalable, collaborative network that provides individualized learning tied to every employee's performance. Moreover, in big companies, training platforms also ensure the smooth and quick adoption of new products, practices, technologies, elements of the culture and business direction.
That is a rather challenging list. To make your business flexible and ensure effective L&D strategy, we propose to address these pain points with segmented training.
Carefully designed segmented training prepares businesses for the disruptive effects of internal and external changes.
Within training segments — communities — you can deliver personalized learning, driven by people analytics and current or planned business initiatives based on who employees are and what they should do.
Segmented training is both personalized and business-oriented.
In this article, we cover types of training segmentation that are built around data about employees' demographics, their performance, and planned operational initiatives that need preparation.
So, how can you segment training and how can it help you in scaling and facilitating your employees' learning and your business activities?
By location
: Focusing on local initiatives
Generate separate content by location: consider using cultural or business references of the targeted area and examples that will be personal and representative for employees who live in that area. This will allow you to introduce new products to your sales forces and incorporate new business activities or processes locally or globally throughout the company.
Example #1: Help employees to understand and adjust to new laws and regulations specific to different states or countries.
By language
: Speaking with employees in their language
Language segmentation is good to have even in one country. Surely, your employees know English even if they're not native speakers. But people understand and retain information better if it's written in a language they've spoken from birth. Keep in mind that segmentation by language is a necessity not just for safety training if there are national minorities among your employees, but is applicable in many other cases.
Example: Employees from Canada have an opportunity to study common emergency cases in the manufacturing process in English, French or Russian within their online community.
By the age of employees
: Addressing generational differences
Different generations have their learning specifics. Segmentation by age allows you to present training for employees of different ages in the clearest way possible and personalize not only the learning delivery but also the way these groups communicate and collaborate.
Example: Older employees can learn more about installing new business software if they have a hard time with it as well as discuss best practices on how to use it with peers in their own community.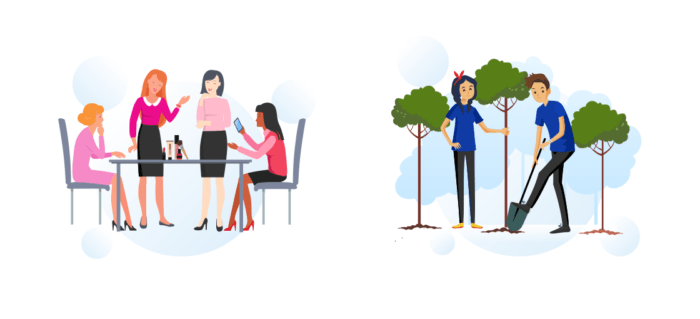 By seasonal business activities
: Introducing marketing campaigns
It's segmentation via marketing initiatives. Communities of employees involved in these activities receive instructions, reminders, or recommendations during a set timeframe to deliver products or services for a specific seasonal initiative.
Example: St. Patrick Day's coming up. You need to prepare a small marketing campaign in Washington D.C. The plan is to introduce new dishes, give temporary bonuses for loyal clients during these days, and do a little rebranding in social media. You set up the community with all employees who need to be involved in the transformation. They then receive marketing, sales, SMM training, learn a new temporary brand language for customer interactions, and the like.
By skills:
Filling skill gaps
Communities revolving around specific skills training are grouped on the basis of what skills employees need to improve or develop. The main idea here is to connect skills with performance via training. Segmentation can be used to upgrade workforce emotional intelligence or focus more on business learning, such as training about the product line, developing better skills in understanding product features, applications, and best sales practices, or filling skill gaps in working with new technologies.
Example: The time for the technology upgrade came. You want a few of your employees to try working with the new coffee machines, which operate a bit differently than the previous ones. They receive training that targets these differences by delivering only information that your employees didn't know previously.
By level of proficiency
: Facilitating onboarding  
This is a form of old-school segmentation that, despite all odds, still exists and even helps with talent development and retention due to the gamification upgrade. It's based on various levels of performance.
Segmentation by level of proficiency helps newly recruited workforces not to feel alone and confused—because there will be a lot of employees of a similar level in their community. Managers and mentors, on the other hand, can then carefully monitor how employees learn, grow and communicate.
Example: A newbie is asked to sell ten flower arrangements during a training segment. When he's done, he "jumps out" from the Freshmen level to the Junior one. Segments might be presented as levels of the game.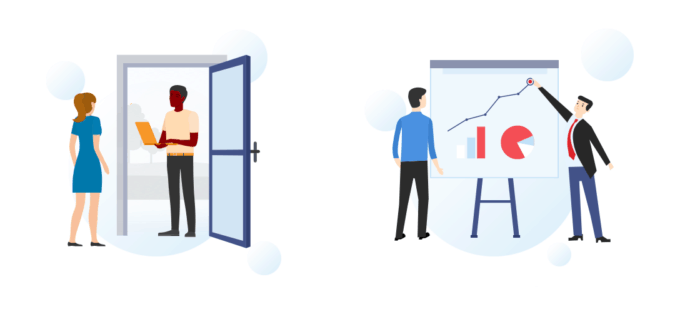 By role
: Scaling innovations  
Role-based training segmentation groups employees according to their position, the department they work in, and the responsibilities they have in terms of achieving business objectives. Through these groups, it would better prepare whole departments for a new business direction.
Example: Fast food restaurants want to introduce a delivery service. The operational workflow would be different for every department. Role-based training ensures that each will adhere to the new guidelines for a new project.
The types of training segmentation vary. But when carefully implemented, training segmentation can solve three important challenges that businesses face.
Segmentation provides easily scalable training.

Through personalized learning, content segmentation accelerates the process of knowledge and expertise transfer to different parts of an enterprise

.

Segmented training allows businesses to implement innovation and adapt to changes

.

It acts as a great tool for transformations in businesses by easily deploying personalized training to groups of employees regarding new technologies or any other business changes.

Communities help to engage, retain and develop talent

. Training is personalized and it helps employees to integrate into the company on multiple levels, collaborating and communicating with each other to build stronger ties within the internal network and become more engaged around business goals.
In our time, large businesses have to be flexible and proactive to stay on board when the future of work is just around the corner. Segmented training is a tool that helps them to do this—so don't hesitate to implement it.
Check out Rallyware learning solutions with training segmentation and subscribe to our blog below to get more practical insights and tips for your talent development strategy!  
News and Insights on Workforce Training & Engagement
We're among top-notch eLearning and business engagement platforms recognized for effective training and talent development, helping to empower distributed workforces
Subscribe