How to Shift Your L&D Focus Towards Performance Based Training in 2022
In recent years, as many organizations worldwide have embraced remote and distributed teams, ​​many jobs have changed significantly in the process. For instance, rather than salespeople connecting with prospects in person or taking clients to lunch, the majority of interactions are now taking place online or over the phone. Therefore, L&D leaders must ensure that their employees are prepared to succeed in this new normal, and a large part of navigating these changes should include shifting focus beyond learning and towards performance. How can L&D leaders strategically plan for a future of learning – a future that consists of not only learning, but learning that drives performance? Here are four ways to refresh your 2022 learning strategy, and to integrate performance based training into the workplace of tomorrow.
To Sustain Learning Throughout the Cycle, Focus on Performance Based Training
Consider your employees' needs and their overall experience
Today, employees desire opportunities to learn, opportunities to grow (76% of millennials think that professional development opportunities are one of the most crucial aspects of a company's culture). Today, providing opportunities for reskilling and upskilling is critical, to equip employees with the skills they need to succeed in the rapidly changing world of today.
Based on what we know about employees' needs and preferences, we need to shift focus away from learning, and towards performance based training. Of course, learning is critical, but it is not the only piece of the puzzle.
For instance, Julia has completed her training as a new business development manager. Armed with knowledge of how to succeed in her role, she is ready to tackle new challenges and opportunities. She is provided with an opportunity for additional training in best practices for social media marketing. Perfect, she has a new avenue for connecting with existing and prospective clients. Yet what happens after learning takes place? After class ends? How can we ensure that the learning is successfully applied, and that knowledge reinforcement is tied to performance growth – that Julia continues along the high-performance track?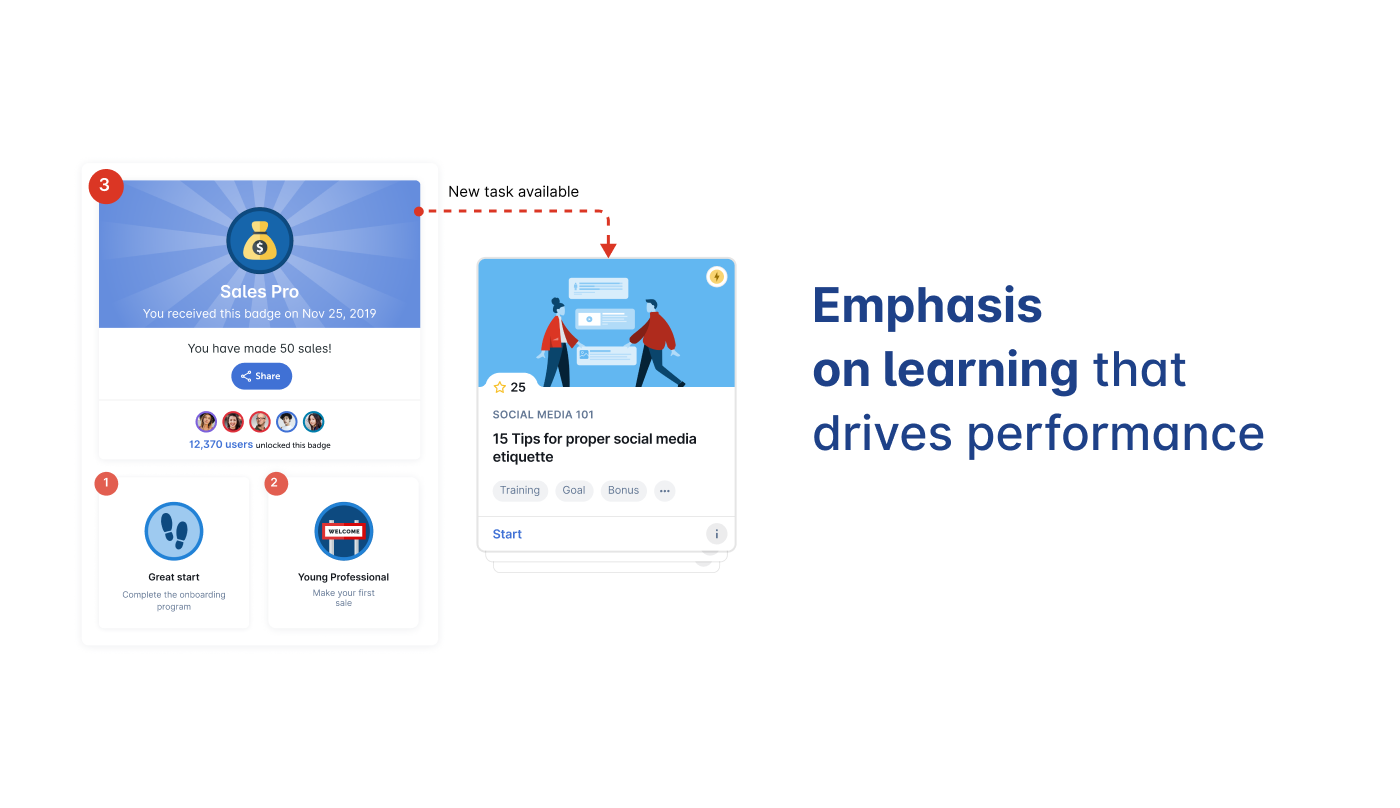 "L&D pros are often excellent at launching big programs, yet where we often fall flat is sustaining that learning through the adult learning cycle," Sean Speake, Senior Manager, Learning Design & Development at BMO Financial Group, told Rallyware in a recent interview. "And large organizations under leverage and underestimate the power of learning. If a skill or behaviour is important for an organization to meet its goals, then time must be made to acquire, build, and sustain that skill."

We know that learning is not a one-and-done process. Far from it. So the trick is coming up with new and innovative ways to sustain learning throughout the cycle, engaging and empowering learners in the process.
2. Integrate Incentives and Recognition into your learning strategy
Hone in on the little things, and how the day-to-day contributions of each individual can make a difference. Julia successfully mastered a new sales technique? Excellent, she just received a badge. Surpassed her sales goals for the month? She is rewarded with a virtual high-five. It is these moments of recognition that can make a big impact – when recognition is embedded into an organization's culture, members of the workforce are 3X more likely to report an exceptional experience. Why not revamp the employee experience by creating a culture of recognition, one that celebrates everyday achievements?
As part of their learning journey, employees need to have some indicator of performance, of their progress to-date. This is where dashboards with progress visualizations come into play. Inspiring results, such tools allow for individuals to clearly measure their own progress and standing. Each goal and each widget on a dashboard are accompanied with suggested personalized next steps and encourage each individual to go the extra mile, in their path to achieve their goals.
3. Bring learning into the flow of work
While many employees desire opportunities for learning and development, between juggling work and life amid today's changing landscape of work, any sort of formal learning may seem like the last thing on employees' minds. That is, just throwing more learning and training at employees may not be the ideal approach – there is a need to take a more strategic approach.
Getting employees to make time for learning is one major challenge. This provides L&D leaders with an opportunity to rethink how they are providing opportunities for employee learning and development, and engaging employees through the platforms where they are spending their time. The solution to this is to make the learning process as seamless as possible, by integrating moments of learning into the day-to-day. Leaders must strike a fine balance between providing just the right amount of resources to support the performance of employees on the job, without overwhelming and distracting them.
As the authors of a recent Chief Learning Officer article wrote, "the right size is bite-size." Devise short, focused modules or resources to avoid cluttering your learners' memories with non-relevant information, by focusing on what they need to know most. This content should be easily accessible, and be firmly integrated within day-to-day working life, which brings us to our next point…
4. Deliver boosts of encouragement via smart notifications
We also know that a mobile-first mindset is driving the user experience, with many users favouring mobile apps over websites. With mobile usage so ubiquitous, think about how technology can be used to accelerate the learning journey.

For instance, spurring performance growth through re-engagement, smart notifications drive sales productivity – an analysis from Rallyware found that the percentage of completed tasks among users who received but did not open notifications was only 0.1%, while for those who viewed more than one notification, this percentage increased to 29.4%. Such reminders have proven to enable individuals to gain the necessary knowledge for their career growth at just the right time, getting them one step closer towards reaching their goals.
With such notifications a key part of their learning strategy, companies can drive their entire sales force to take specific actions that result in performance improvements. What if, following her initial training, Julia's performance was tracked over time? Perhaps she has an initial goal of connecting with 400 prospects on social media. Once she reaches this goal, she receives the following notification: "Well done, social butterfly! Follow this guide on how to craft the perfect introductory message to your new connections."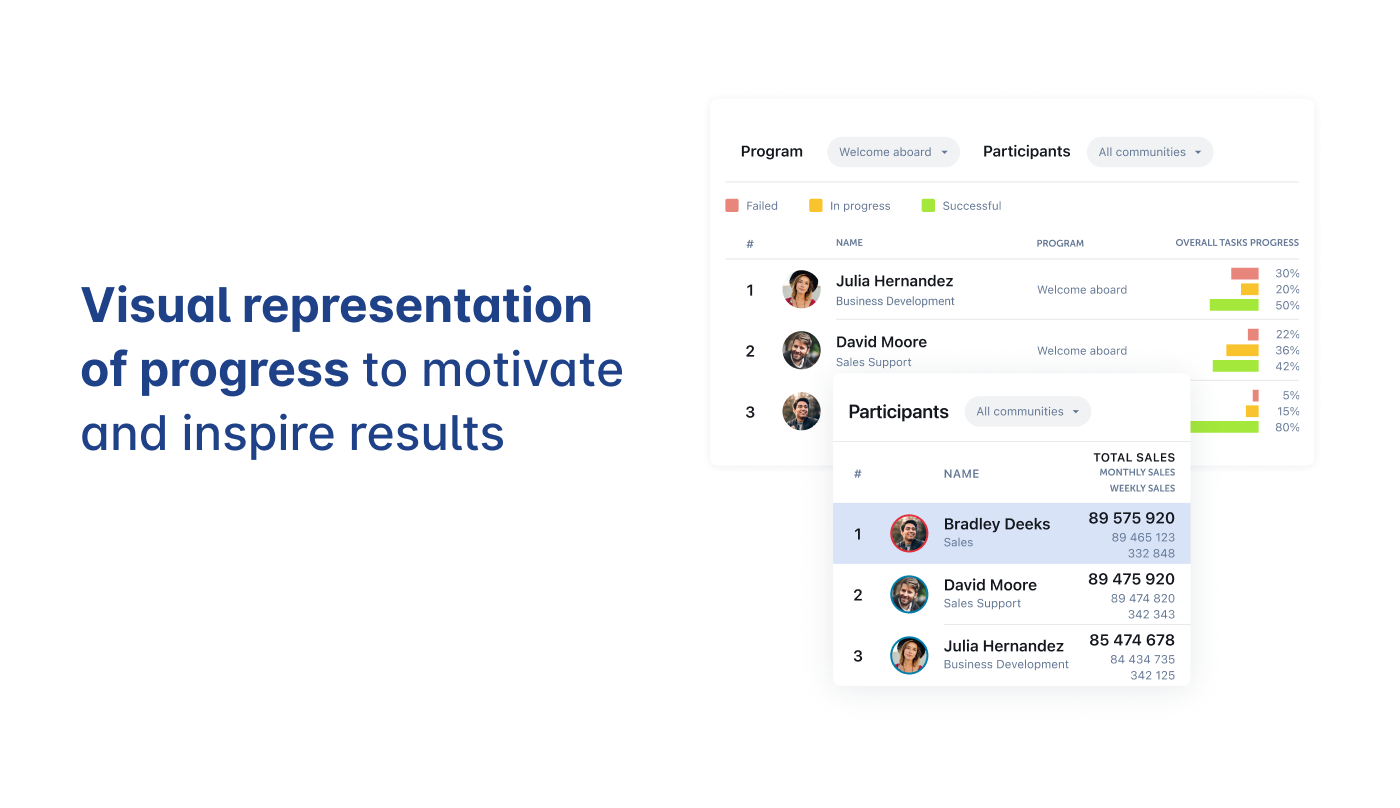 These are just a few small ways to rethink your learning strategy for 2022 – some additional elements that can be layered onto any existing learning program and strategy. This new year, we all deserve a refresh – why not kick the year off with a new and revised approach to employee learning and development? Your employees will thank you for it, and will be engaged, productive and happy as a result.
Schedule your demo to see how Rallyware's Performance Enablement Platform offers a personalized experience for all members of the workforce that drives real behavior change and real results, with a focus on performance based training.
News and Insights on Workforce Training & Engagement
We're among top-notch eLearning and business engagement platforms recognized for effective training and talent development, helping to empower distributed workforces
Subscribe