L&D Leaders Share Secrets to Designing Ultimate Experiences for Employee Learning and Development in 2022
As our economy transforms and continues to be shaped by technology and other external forces, the indispensable takeaway is that members of the workforce will need to acquire new skills to thrive in this new world of work. Additionally, there is a strong need for companies to keep pace – reskilling and upskilling their workforces for a transforming economy. Workplaces around the globe are prioritizing employee learning and development to ensure that employees remain happy, productive and engaged, and that they are well-equipped with the tools they need to succeed in a landscape of work that is ever-evolving. L&D leaders today need to design training and learning experiences to support the development of the required skills for now, and into the future. Yet how can this successfully be accomplished amidst a time of continual change?
We turned to several leaders within the industry for their practical tips for designing exceptional learning experiences and how they are planning to get ahead in the coming year. We asked them: looking towards 2022, how can L&D professionals ensure continuous employee skill development for remote and distributed teams?
Offer Learning Roadmaps as Part of the Employee Learning and Development Journey
Chuck Hamilton, MeetAmi Innovations Inc.'s Chief Learning Officer, believes that, while continuous learning has always been a part of the professional journey, today's professional learners are challenged to do even more.

"COVID has given us a glimpse of the future of work, something we can leverage to our advantage," he said. "As we bounce back post-COVID, I see one of the most significant learning opportunities in our collective history – the opportunity to learn whenever, whatever and wherever we need."
At MeetAmi Innovations Inc., a Digital Asset investing platform headquartered in Vancouver, B.C., Chuck and his team are planning a variety of learning initiatives for the months ahead.
This begins with transparency. For instance, the creation of end-to-end learning roadmaps based on the company's products, services and marketplace will help every employee better comprehend both where the company is headed and where their roles and skillsets are needed to succeed. Mentorship credits will also be on offer, pathways to external industry mentors with the aim of expanding employee's understanding of the future of work and how they might prepare for what is coming next. Pick My Brain, a knowledge marketplace that serves as a platform for bright and passionate minds to connect, is a prime example of this.
He also emphasized searching, gathering and structuring data from numerous sources regarding emerging roles, skills and future jobs, in order to help employees plan for roles that have yet to be imagined. The shifting landscape of work has also given rise to new roles, for instance, in the past six months, the role of 'Director of Remote Work' has been created, while such a role did not exist prior to today.
The concept of learning roadmaps is key – automatically developing roadmaps to success, roadmaps that are both personalized and based on an individual's goals and performance.
Remember That Learning Takes Time, But Do Not Underestimate its Power
For Sean Speake, Senior Manager, Learning Design & Development at BMO Financial Group, dedicated time, as well as an emphasis on micro-learning and sustainment are all key, when it comes to ensuring continuous employee skill development for remote and distributed workforces.

"L&D pros are often excellent at launching big programs, yet where we often fall flat is sustaining that learning through the adult learning cycle," he said. "And large organizations under leverage and underestimate the power of learning. If a skill or behaviour is important for an organization to meet its goals, then time must be made to acquire, build, and sustain that skill." One large area of focus, Sean explained, has been reducing the length of elearning modules.
We previously highlighted the importance of making learning a key part of the everyday by concentrating on the small moments and on the job training opportunities – building learning into our solutions and experiences to allow employees to learn 'in the flow of work.' After all, learning research tells us that individuals learn better when content is personalized, offered in smaller bits and spaced out over periods of time, with immediate application. By providing personalized learning opportunities at the point of need, L&D leaders can boost the productivity time of their workforces and drive knowledge retention.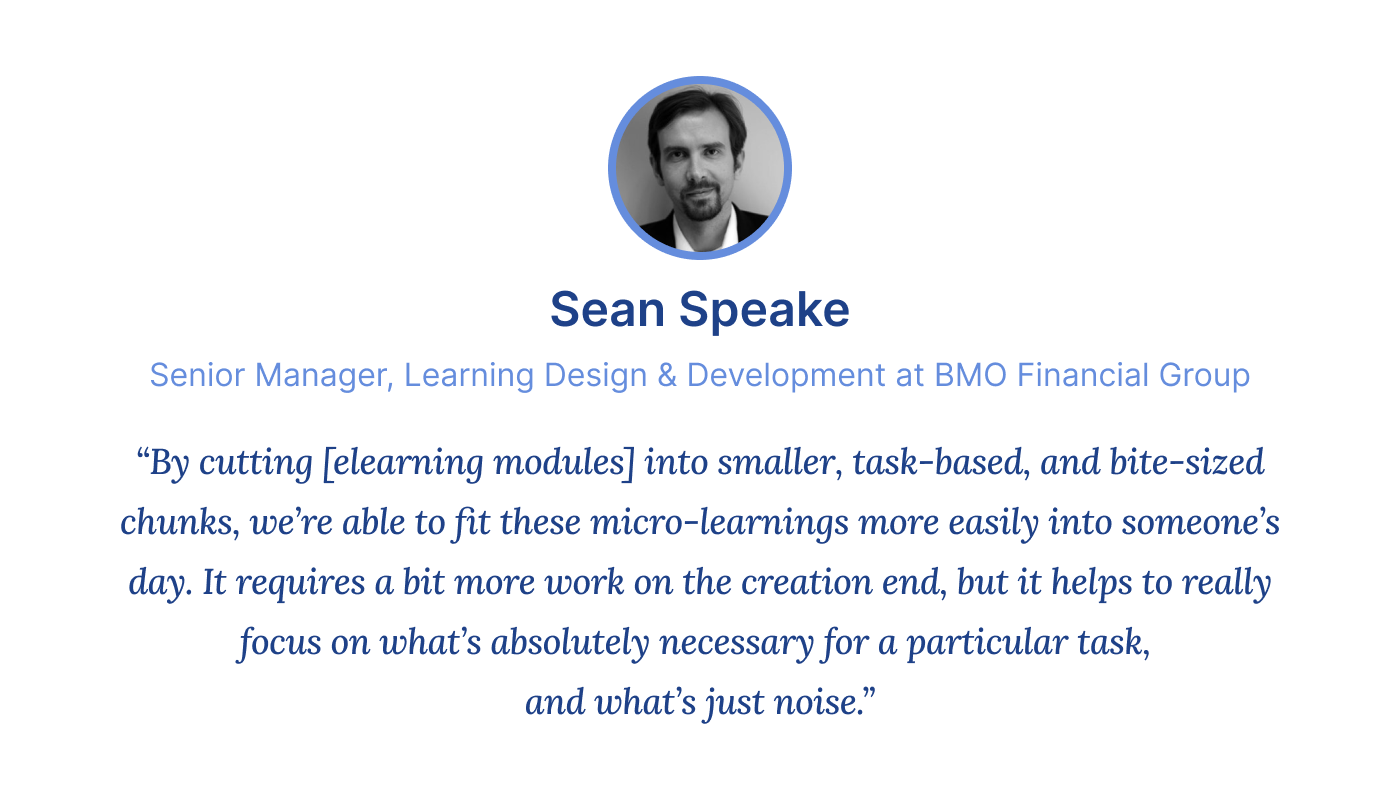 Additionally, when designing learning experiences, consider your audience – take time to uncover critical details, such as learning styles and preferences. "With a growing distributed workforce, we're also seeing more diverse employees which makes getting accessibility right in our courses more important than ever," Sean noted. "Understanding how people learn, and how we can make it happen in ways that appeal to the broadest audience possible is a big part of what we do."

While Sean's team at BMO has several projects in the pipeline, including a complete re-design of their onboarding program for Customer Service Reps, they are always looking ahead to what the future might hold. Yet his team always prioritizes working together, combining their backgrounds and skillsets from varied domains, including needs assessment, learning architecture, multimedia and UX design, to create the best possible experiences. "Learning Experience Design is, by its very nature, a collaborative experience," he stressed. "One of our core principles is to never design alone."

"Behind the scenes, we're also trying to imagine what learning will look like in the future, and how we can position what we do now to fit into that plan as cleanly as possible," he said. "If the pandemic has taught us anything, it's that you've got to be ready to turn on a dime…you need flexibility in your systems to be able to deal with rapid and sometimes colossal changes to not only your workforce, but to the world."
Book your Rallyware demo to see how a performance enablement platform can drive positive behavior change, offering personalized learning, engagement programs, performance analytics and more!
News and Insights on Workforce Training & Engagement
We're among top-notch eLearning and business engagement platforms recognized for effective training and talent development, helping to empower distributed workforces
Subscribe