Digital Strategy for Direct Selling: Paul Jones on Digital Transformation and Adaptability
For September's Rallyware webinar, we discussed digital transformation and strategy for direct selling. We did this with Paul Jones, CEO of Commerce Operator, who is a longtime direct selling and digitalization guru. Paul has worked with major organizations like Rodan + Fields, Mary Kay Global, and MillerCoors.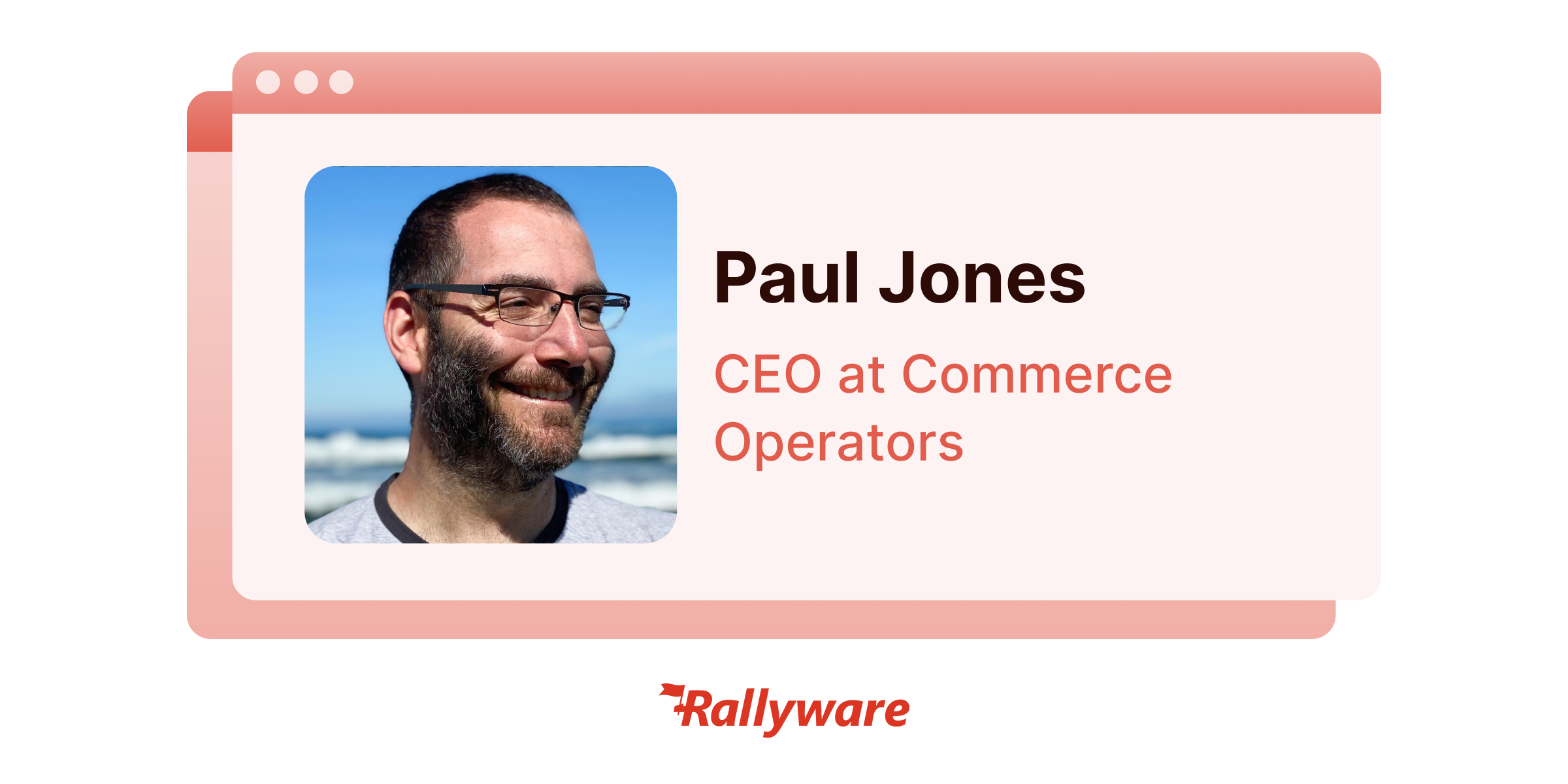 We didn't just want to discuss tech for tech's sake. As always with Rallyware, the focus was on how technology drives company KPIs – the real effects of digital transformation. In this article, we summarize the insights and best practices shared in the webinar, which you can watch in full below:
Setting the Stage: Digital Transformation and Direct Selling Success Statistics
First, Rallyware's own Rich Schubkegel, VP of Business Development, set forward some of direct selling's present opportunities and challenges.
First, he shared some of our internal findings, available in the 2021 Direct Selling Industry Report. In our research, we saw that 2021 saw:
14% growth in user adoption over 2020
3.4x business task completion over 2020
Distributors more focused on L&D and effective business-building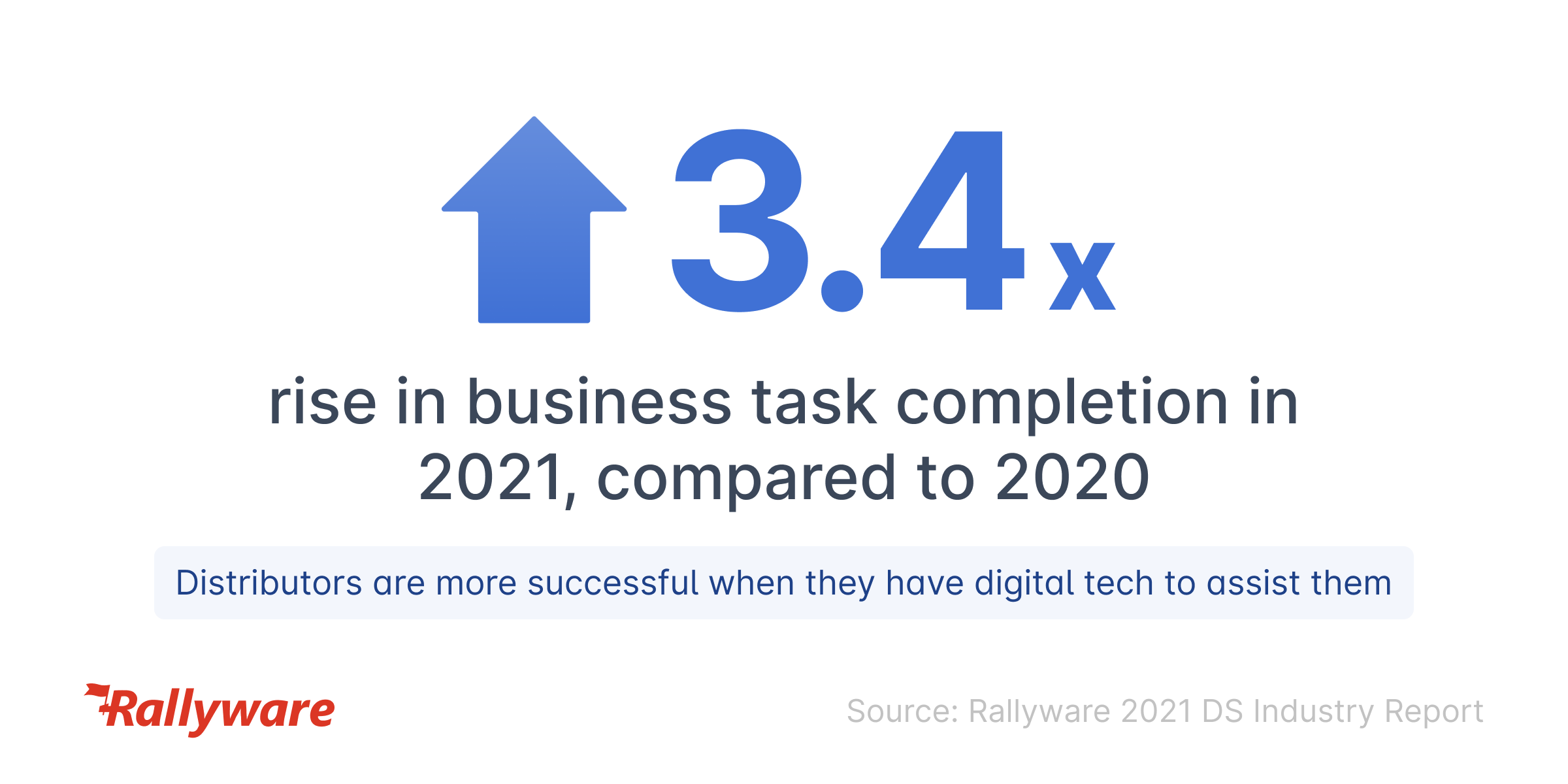 All in all, distributors were more active and committed in 2021 than 2020, which was more of a year for recruitment and retention than productivity – according to our data. Distributors were more effective and more active when they had the right digital tech to support them.
The second piece of the puzzle was gamification. We used some findings from John Fleming of Ultimate Gig to talk about the growth of the gig economy – around 66% of gig workers are engaged in multiple gigs, with more of them in 2021 than 2020. On the other hand, the number of individuals calling themselves direct selling distributors declined in this year. John has also noted that in 2021, gigs were more likely to happen over online platforms than in 2020.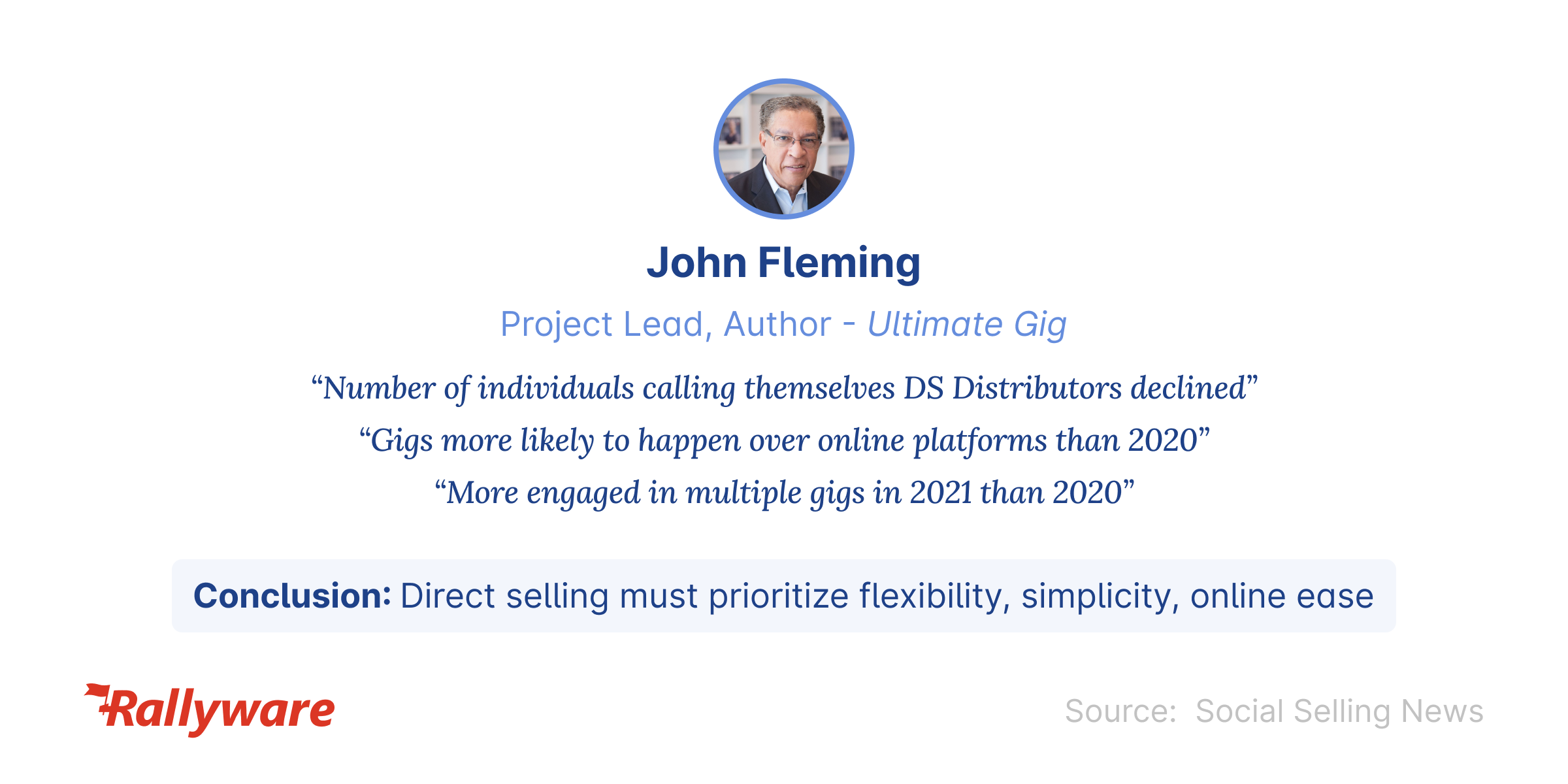 This shows us that direct selling is losing participants to large online gig platforms, which because their work model is so similar, compete with direct selling for the same individuals. The lesson is that by embracing a digital-first strategy like gig companies, direct selling can regain some of that lost ground.
Immediate Payment and Rewards
Next, Paul and Rich discussed direct selling's "cyclicality."
Previously, direct selling leaders assumed that theirs was a cyclical industry by nature. That is, in times of recession and retrenchment, individuals will turn to direct selling to make extra income. Now, however, with the rise of gig work, that cyclicality is being threatened. Paul made the point that the gig economy is set up for immediate rewards, whereas direct selling's income is more delayed, often including an initial investment cost.
Paul clarified that if direct selling is going to challenge large gig platforms, they have to make it so that when one makes a sale, one sees a payment. Immediate gratification led to the question of seasonality.
What if I, a distributor, want to jump in and out of direct selling? I can do that with Uber but not as easily with, say, a beauty products direct selling company. The ability to jump in and out is going to be key. "It's just very challenging to set up and organize a way you can effectively pause people's activity," Paul said. The individual's role and goals might also change over time, from a basic seller to a consumer to an advocate, just for example. The business logic in direct selling needs to adapt to this – to make it easy to sign up, easy to come and go, and get my payment fast.
Paul suggested that companies use technology that lets them break up their initial payment into micropayments, reducing the barrier to entry for new distributors. That was one idea, but speaking generally, direct sellers have to think harder about nurturing distributor success. It's not just about getting individuals into the organization, but about nurturing their capacity to build a business. Technology can help them do just that. "And the great thing about Rallyware as a product like few others, when I've worked with them," Paul added, "is that they say to the customer, 'Here is what you do to be successful.' [They] don't just churn and burn because eventually you'll run out of people."
Digital Transformation for Direct Selling: Best (and Worst) Practices
Next, Paul discussed needs in digital transformation for direct selling that should be addressed but aren't now. He mentioned simplifying back-office tools and having a strong data foundation. Paul emphasized that the organization must be able to respond to rapidly changing market conditions, and if back-office tools are archaic, that's not going to be doable. You're not getting the level of granularity of data that you want in today's world.
Paul did underline that in terms of technology, direct selling organizations need data lakes – a "centralized repository that allows you to store structured and unstructured data," according to AWS. However, data lakes are pointless if that data isn't channeled into predictive analytics for automated tasks and actions.
When speaking about best and worst practices for direct sellers in procuring digital products, Paul discussed the RFP process. Large organizations will have internal procurement help, where smaller organizations should partner with a neutral third-party vendor to help them make the right decision out of a number of options. He also suggested that companies have their tech vendor involved in architectural design, rather than just providing the solution; they should be an active ongoing partner in transformation.
One worst practice he mentioned was related to social advertising. One company he worked with was investing in Facebook heavily for advertising purposes, and the results were tremendous. But once Apple changed its data privacy rules, the metrics for social advertising dropped off. The company denied this situation for a long time and refused to change their strategy; meanwhile, they continued to sink money into a losing enterprise. They didn't adapt or act dynamically. Paul stresses that this is the wrong way to react to losing investments – what economists call the "sunk cost fallacy."
Digital Transformation for Direct Selling: Real-World Results
Rallyware's Rich Schubkegel shared proprietary data for the digital transformation results of Rallyware customers, which can be seen below. These results show that having a direct selling partner that actively works side-by-side with you to implement a digital transformation strategy can bear significant results.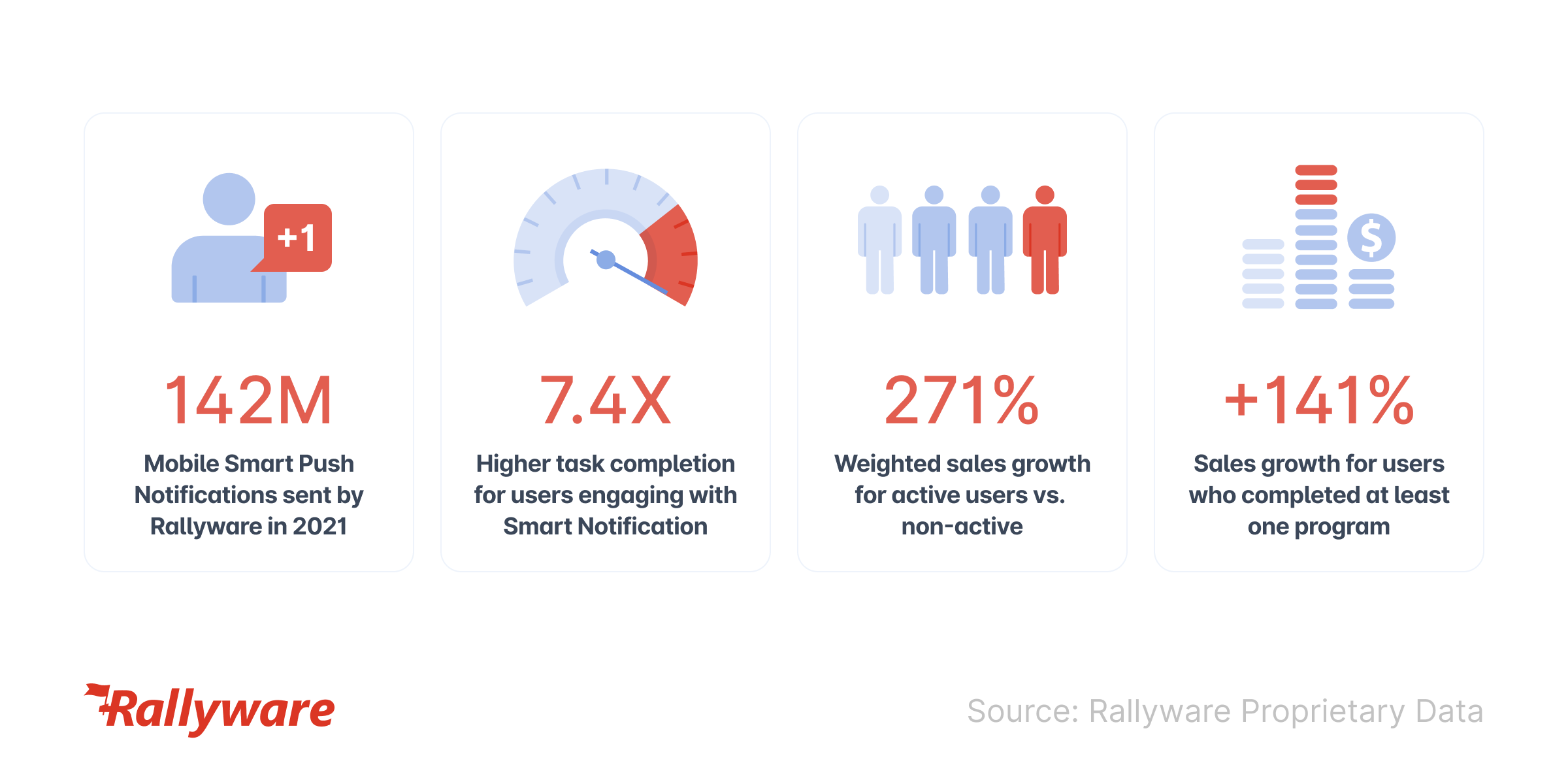 Paul and Rich discussed much more than be covered in a single article – make sure you view the full webinar to glean the many, many insights they shared.
Rallyware is the key technology partner for direct selling, with 30% of the industry leveraging our performance enablement platform across the world. Click here to request your demo today.
News and Insights on Workforce Training & Engagement
We're among top-notch eLearning and business engagement platforms recognized for effective training and talent development, helping to empower distributed workforces
Subscribe