Rallyware's 2021 Direct Selling Industry Report
2021: Social, Economic, Digital Transformation
2021 was a year of transformation – social, economic, digital. The direct selling industry was no exception.
The COVID-19 pandemic did not end, but it abated under the influence of vaccines. The economy did not change fundamentally, but underwent trends that we have seen extend well into 2022, such as the Great Resignation and growth in the gig economy.
In the realm of digitalization, we've seen a few trends play out. The metaverse, as Deloitte describes, has become more of a reality than ever (which begs the question: how will it play out in entrepreneurship and direct selling?). Second, as we've covered before, mobile apps further solidified their dominance over the web in terms of usage statistics. And in 2021, remote work – which often relies on digital platforms – continued to make waves in the job economy. As Gartner research indicates, the office of yesteryear likely won't return for a long time, if ever.
In direct selling, Rallyware's analysts compiled customer data from 2021 to discover how these and related trends affected the direct selling industry. As we know from the Direct Selling Association's industry fact sheet for 2021, the industry grew 6.4%. The relevant question for us is: what powered 2021's direct sales industry growth? How can it be explained?
Our analysts compared 2021's results against 2020's customer data to see how direct selling – company, distributor, and customer behaviors – changed over time. Rallyware's analysts cleaned these data prior to analyzing, purging irregularities and abnormalities.
Below, we go over some of the results of the direct selling software usage research. You can also download the full report here if you want to see our conclusions in full detail or present some of our research to your team.
PEP Adoption in the Direct Selling Industry
A recent McKinsey analysis found that COVID-19 sped up the process of digitalization. The combination of a much more remote, distributed workforce and a need to fill talent gaps on the fly has led to a greater pace of digital transformation in many industries than was expected.
We see this borne out in direct selling as well. As you might know, Rallyware is a Performance Enablement Platform, or PEP, to drive productivity, sales, and overall performance for the field workforce. Rallyware helps companies modernize and provide a new, app-based digital framework for their workforce. Rallyware saw 14% more users logging into the system over 2020, a steady increase over a year that itself showed a massive increase (30% over 2019).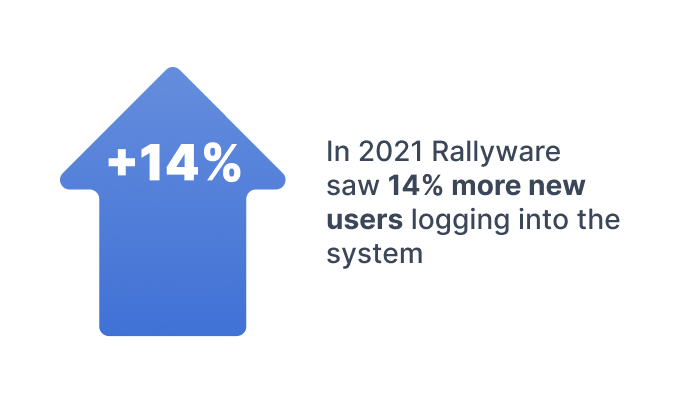 This shows us that 2021 saw an increase in direct selling PEP adoption, even as the pandemic lost steam and life returned – a little bit – to normal. Expect this trend to continue in coming years. Once digitalization starts and people start seeing results, it's hard to stop.
Workforce Learning and Recognition in the Direct Selling Industry
In 2021, Rallyware rolled out tools around progress visualization. We've previously written about the power of visualization. These tools help users see simple but data-rich models of their progress toward their goals. Direct selling distributors can see how they have progressed and which steps to take to reach their aims. Progress visualization makes it easier and more organic for users to see where they are on their entrepreneurial journey – and how to get where they want to be.
In part because of visualization tools, 2021 saw a marked increase in "badges" – that is, digitalized achievement awards in Rallyware – of 23%. We saw other numbers indicating greater engagement, such as an overall 9% increase in tasks accomplished, which are available in the full report.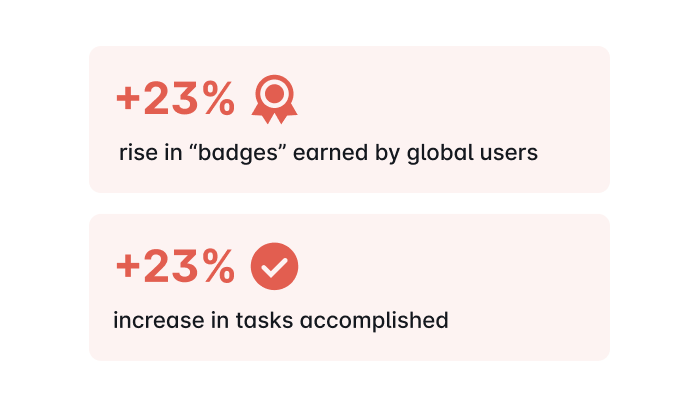 Learning tasks were particularly popular in 2021, signaling that if 2020 was a big year for direct selling workforce growth, 2021 was the year when new recruits dived in and learned their companies' products.
After a quiet 2020, much of which was spent at home, distributors were ready to start selling. Guided by visualization tools and informed by learning tasks, the direct selling workforce spent more time on business tasks and the achievement of their concrete, personalized goals. And this fed into overall direct sales industry growth.
Direct Selling Social Networking and Engagement in the Direct Selling Industry
Even if face-to-face interactions continued to prove rare in 2021, the year saw an uptick in online communication among direct selling industry reps. According to Rallyware's data, users sent nearly 50% more messages on the platform and made over 50% more posts. For context, Rallyware enables users to private message each other and post in segmented communities.
Rallyware promotes not only engagement between distributors, but between distributors and their own entrepreneurial goals. Rallyware automatically triggers smart notifications to show users the right information for business-building at the right moment for their individual needs. In 2021, almost 104 million smart notifications got sent to users notifying them of new information or learning related to their goals and actions to take to reach those goals.
These notifications utilized complex, rich streams of data – including cross-system integrations – to generate simple notifications for users. These personalized calls to action are engineered to matter to each user specifically, stimulate productivity, and speed up goal achievement. This is a great example of modern technology, in all of its digital complexity, resulting in easy-to-use and extremely helpful tools for the end user – ultimating driving company KPIs.
2021 saw an increase in user social engagement, as well as engagement with their own individual success journeys. Expect this to continue as digital transformation expands and direct sales industry growth carries on.
Conclusion: an Impressive Year for Direct Selling
Even as 2021 saw the COVID-19 pandemic continue, direct selling distributors saw their sales volume go up. A large part of this can be attributed to PEP adoption and a new digital experience. We break down numbers in detail in the full report, but suffice to say that our analysts found large increases in sales, perhaps the ultimate KPI for direct selling companies. This trend held true for every user group.
In our view, the most successful direct selling companies of 2021 behaved more like large gig platforms, using high-quality digital tools to drive workforce performance. PEPs helped distributors learn faster and sell at higher volumes – and showed direct selling a way to grow and redefine themselves in the 2020s. In spite of a pandemic, PEP adoption made it easier for direct selling reps to visualize and achieve their goals, network and connect with others in the field, and hit their sales targets with room to spare. It is clear to our analysts that performance enablement represents the future of the field workforce – the question is which companies will modernize first.
To see this data in detail, download the full 2021 Rallyware Direct Selling Industry Report. Then, after you're done reading, request a demo with our product experts to see how the recipient of 2022's DSA Industry Partner of the year award, Rallyware, propels retention, productivity, and sales in the distributed workforce.
News and Insights on Workforce Training & Engagement
We're among top-notch eLearning and business engagement platforms recognized for effective training and talent development, helping to empower distributed workforces
Subscribe