How To Deliver Successful Reskilling and Upskilling Programs: L&D Leaders Weigh In
To keep pace with changes in the workplace, reskilling and upskilling for employees is becoming essential, with ​​more than half of the global workforce needing both by 2022. How can leaders articulate the business case for reskilling? A January 2022 report from the UK's Financial Services Skills Commission did the math, finding that, by reskilling staff, organizations could save up to £49,100 per employee (around $66,000 USD), rather than bringing on a new hire or making a role redundant. For companies today, taking time to nurture their internal talent pools, and equipping employees with skills that are both relevant and fluid for the digital age, is key.
Reskilling and upskilling initiatives are a priority for various governments around the world, including the U.S., Canada, UK, Australia, and many others, but how can these seemingly major undertakings be implemented in the everyday workplace? We turned to several L&D leaders, asking them: How do we design and deliver successful reskilling and upskilling programs? What steps can we take to close the employee skills gap?
Reskilling and Upskilling, With A Focus on Agility
For Alison Hodge, AVP, Operational Learning & Performance, Business Excellence at financial services company Sun Life, it all begins with a discovery phase: assessing any skills gaps, and then designing and developing solutions to subsequently close those gaps. Working in an agile manner, training programs can then be created or updated. "We go through the steps of instructional design to ensure the training solutions/programs we are creating meet the needs of the learners in the business," she explained, "this can apply to new hires, existing staff returning to work or gaps identified both by the business and by the evaluation of our programs. We will conduct the training and evaluate whether what we designed bridges those gaps, while always looking for opportunities to improve and enhance the programs, as well as meeting the changing business needs to make sure we are aligned."
Returning to the concept of agility, as highlighted by Alison, we at Rallyware previously emphasized the importance of embracing a mindset of agility. Research from McKinsey found that companies that fared better with managing the impact of COVID-19 were those already with agile practices more deeply ingrained into their enterprise operating models, meaning that, prior to the onset of the pandemic, they had already implemented changes to their business processes and operations.
Closing the (Skills) Gap
Working towards strategically closing the employee skills gap, Alison noted, is an ongoing process. Along with changing roles and processes in today's ever-evolving world of work, learning programs themselves need to be subsequently updated, and Alison highlighted the need to leverage modern approaches in today's digital-first world.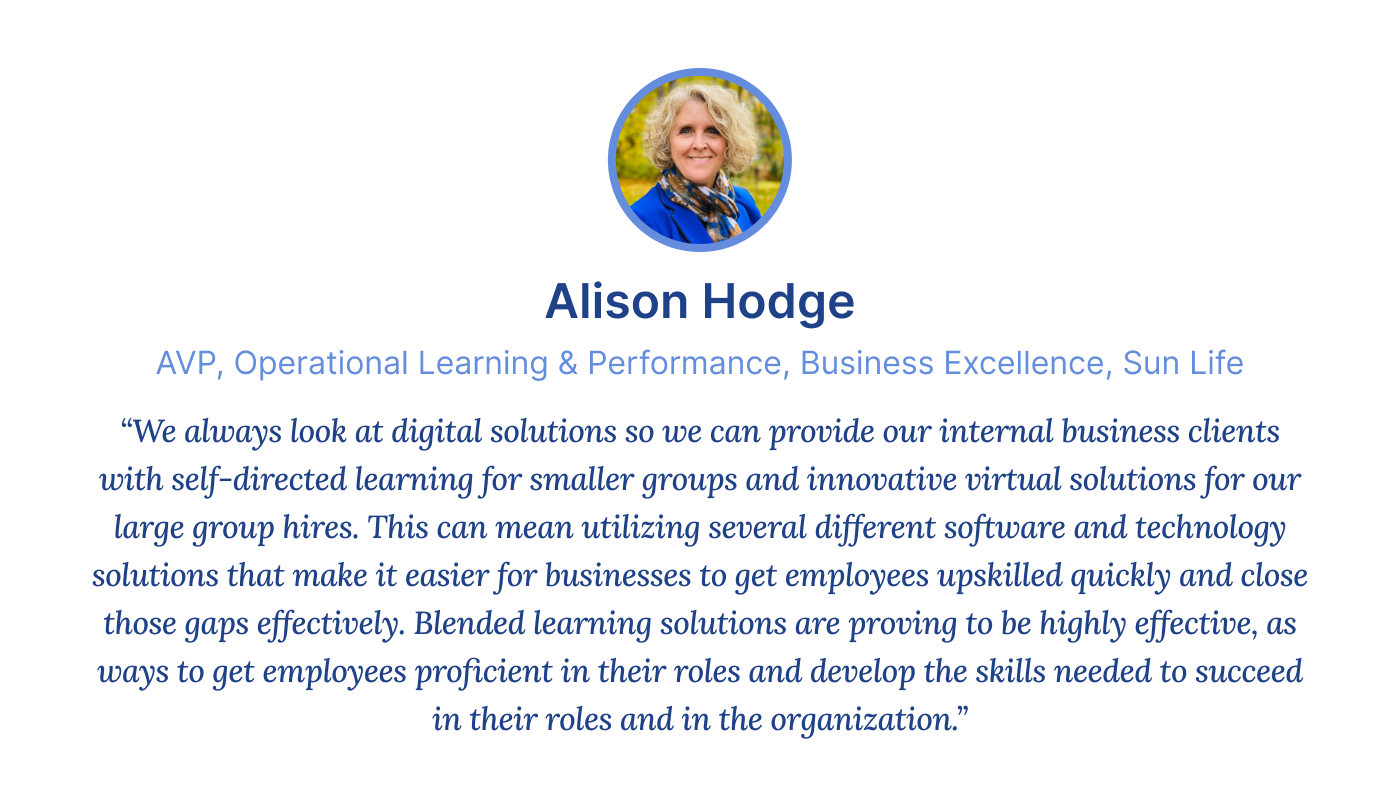 A strategy for keeping learners engaged through multiple methods, she pointed out, blended learning ​​encompasses a combination of learning methods, such as instructor-led learning, micro-burst e-learning, reinforcement/sustainment, as well as instructional videos. Meanwhile, job instruction training (JIT) is a form of simple, on-the-job training, whereby a new employee is trained step-by-step by a supervisor or an assigned co-worker. Commonly used for roles requiring manual skills such as factory workers, Alison noted that it is also applicable for various operations roles.
Tim Barnes, Sarnova's Director, Corporate Learning and Development, also favors a blended approach, with training serving as a step in a journey along the path of a particular job function."The best way that we've found to either reskill or upskill is to provide both in-person and elearning programs followed up by peer-to-peer mentoring," he said. "The design and delivery is offered in small chunks of information versus long time-consuming training modules, and these trainings are designed with specific job roles or classifications in mind."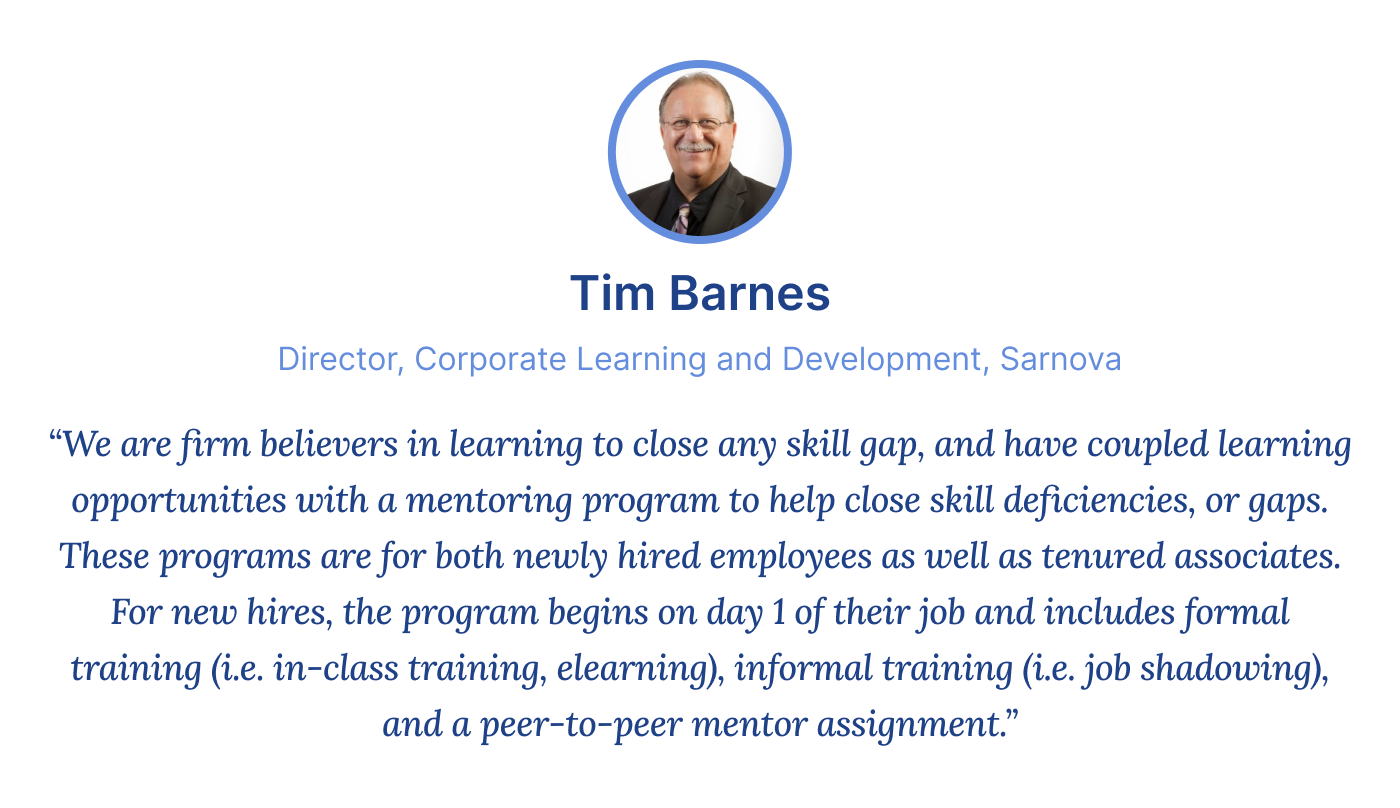 L&D Priorities for 2022
For these industry leaders, what does the year ahead look like?
For financial organizations with large distributed workforces, an emphasis on digital and virtual training will continue to be a key area of focus, going ahead into 2022. "We want to continue to do virtual training and keep enhancing it to ensure the learners are getting what they need within the timelines in which we train, to keep them engaged and help them learn in several different ways," Alison noted. Other priorities include decreasing the time of initial training in order to move along new employees through the training in a speedy manner, as well as converting instructor-led training into more of a blended style, which supports the practice of active learning opportunities.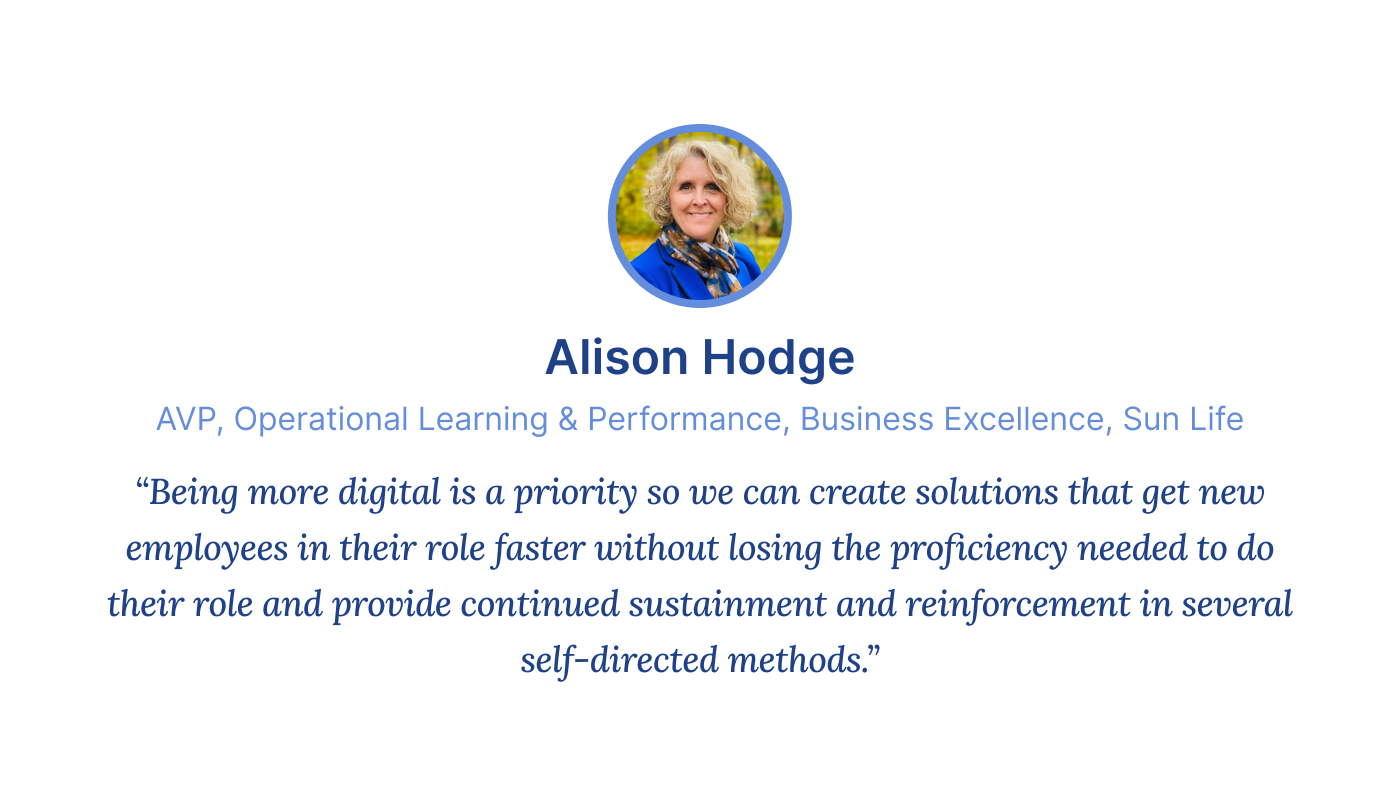 As part of his role at Sarnova, a distributor of healthcare products in the EMS and acute care markets, Tim is responsible for designing, developing and leading all Leadership Development learning programs. In 2022, focus will be on piloting a mentoring program for full roll out to the company in the year ahead, as well as a leadership program for managers. Implemented in 2018, the company's Leadership Academy program, suited for both new managers and existing managers, includes elements such as 'Leadership Learning Bites' (a monthly topic that delivers some quick tips and tricks for people leaders or potential people leaders, as well as access to previously recorded leadership academy trainings (available for new managers to learn new concepts prior to the formal leadership academy, or for existing managers to refresh their skills on a specific topic).

Thinking outside the box and coming up with new ways for learners to consume content and practice what they learned is critical, to keep learners engaged and actively learning. Schedule your demo of Rallyware's Performance Enablement platform to see how you can deliver a personalized learning and enablement experience to all members of your workforce, to drive behavior change and real results.
News and Insights on Workforce Training & Engagement
We're among top-notch eLearning and business engagement platforms recognized for effective training and talent development, helping to empower distributed workforces
Subscribe