2021's Great Reshuffle Highlights the Need for Reskilling and Upskilling at Scale
The COVID-19 pandemic has given us a chance to rethink current processes, and make room for new ones. To reset, to pause and reflect. However, it has put the onus on business leaders to ensure the members of their workforce remain happy, engaged and productive within their companies. What is clear is the need for swift reskilling and upskilling at scale.

"Right now, all companies, all CEOs, are rethinking the way their company works…they're rethinking their values and about what it means to work at their company," noted LinkedIn CEO Ryan Roslansky. "And on the other hand, you have employees globally who are rethinking not just how they work, but why they work and what they most want to do with their careers and lives." Roslansky's team tracked the percentage of LinkedIn's (nearly 800 million) global members who changed the jobs listed in their profile, discovering that job transitions have increased by 54% year-over-year. In this "Great Reshuffle," employees are in search of different opportunities, those that they mind find more rewarding.   

The Great Reskilling and Upskilling Push
The mass exodus of workers has been coined "The Great Resignation" – in the U.S., the Labor Department disclosed that 4.3 million Americans left their jobs in August of 2021, about 2.9% of the national workforce. Some companies might respond to this phenomenon by catering to demands for increased flexibility through remote and hybrid work models, while other companies in service sectors might offer higher wages or improvements to working conditions.
How can business leaders successfully navigate these turbulent times? Nurture their internal talent pools by building top-notch teams, and equipping employees with skills that are highly relevant and fluid for the digital age. Research shows that employees yearn for these opportunities to develop and hone their skills – 94% of employees have said that they would stay at a company for a longer period of time if that company invested in their learning. Today, an emphasis on reskilling and upskilling, and investing in employee learning and development, is critical. 
In a recent interview with Rallyware, Lauren Tedesco, Vice President, Learning & Development at Automotive Parts Manufacturers' Association (APMA), noted that, to target upskilling and training, a cultural shift needs to occur across companies both big and small. "The days of showing up to work to collect a paycheque are fading into the past as employees and job seekers focus on professional and personal development," she said. "Attracting talent means investing in their future so we have to ask ourselves: how do we help them grow and develop their own career paths in an ever-changing landscape?"
When Rethinking the Workplace, Focus on the Little Moments
This also begs the question: how can we design more moments of appreciation and integrate these moments within everyday working life? Moments that recognize and reward employees for their everyday efforts. Highly personalized, with emphasis on learning plus enablement, Performance Enablement platforms are allowing for such moments to occur.
Let's look at an example. It is nearing the end of the month, and, after sending multiple outreach emails to customers, Elizabeth is distressed that she has not met the sales targets she had expected for the month (closing five deals). One weekday morning, she receives a smart notification on her mobile device: Happy Monday, Elizabeth, see your current standing. Check out some additional tips for closing more deals! Upon logging into her company's online platform, she sees her current standing, in relation to her colleagues, and the prize (a pair of headphones). Encouraged by this visualization of her progress and standing, and guided by her newfound knowledge and insights, Elizabeth gets to work (and wins the prize on offer).
This is the power of smart incentives and recognition programs: engaging members of the workforce by motivating them to do more, encouraging them to do the right thing at exactly the right moment, as they strive to reach their goals. Inspiring results and incentivizing their activities, in their contributions to a business' growth and KPIs. For Elizabeth, the system detected a slight drop in performance, was aware of her goal for the month, and triggered for her a task at just the right time (studying a list of tips and best practices for boosting sales). Moreover, a personalized path to success may also consist of opportunities for reskilling and upskilling related to her current and future career path, such as training in analytics and automation software.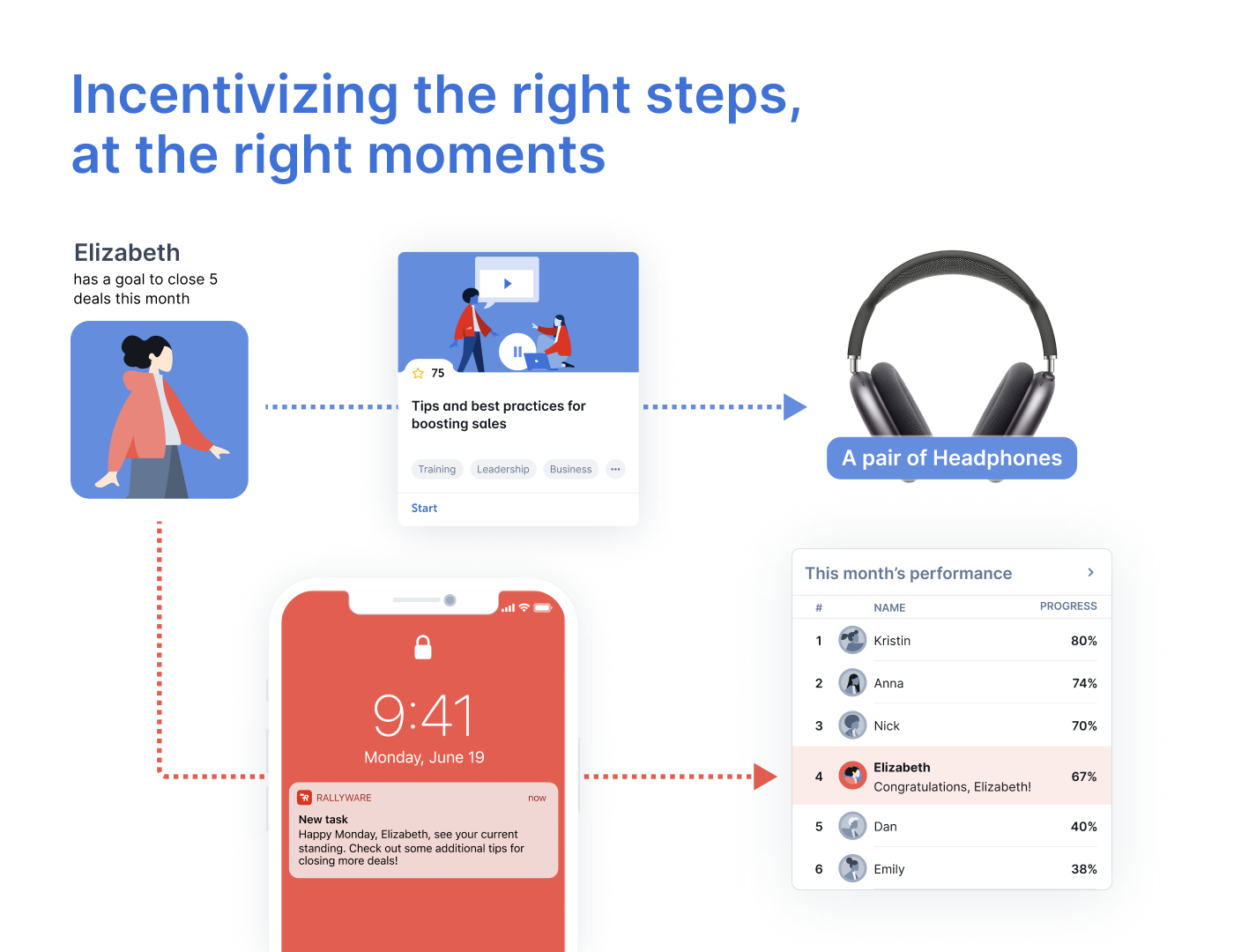 Such a case highlights the power of one moment – one moment that can make a big impact. Imagine if these moments were available for all members of the workforce?  
Prior analysis of user activity from Rallyware highlights the power of smart and personalized notifications such as the one Elizabeth received – finding that the percentage of completed tasks among users who received but did not open notifications was only 0.1%, while for those who viewed more than one notification, this increased to 29.4%. Moreover, we found task completion and platform visits to drive productivity, with more frequent interactions with the platform and the completion of even one task increasing the amount of quarterly sales by 12%.     
Today, people analytics has made it possible for business leaders to use data gleaned from the members of their workforce to truly connect with them. Without such insights, this level of personalization, as described above, would not be possible. What are their skills, habits and performance? So, looking ahead towards 2022, it is time to harness these powerful insights and data to give employees the incentives and recognition they deserve, to reskill and upskill at scale, and enjoy a more satisfied, engaged and productive workforce.     

Request a demo of Rallyware's Performance Enablement Platform to learn more about how your organization can provide meaningful everyday experiences for employees, for +32% increased workforce productivity, +43% higher retention, and +47% improved workforce engagement!
News and Insights on Workforce Training & Engagement
We're among top-notch eLearning and business engagement platforms recognized for effective training and talent development, helping to empower distributed workforces
Subscribe