Long-Term Workforce Upskilling and Reskilling: Creating a Growth Culture
Upskilling and reskilling are one thing in the short term. Onboarding and training content are great ways of kicking off the Workforce Experience (WX) and getting the sales force up and running quickly. Yet that's where many companies' training and learning cultures stop. Those initial steps are definitely essential, but soon after initial onboarding, the workforce is left high and dry. They don't know what to do, how to grow, and gradually, they drop out. What to do about this in 2023?
Workforce Upskilling and Reskilling and Attrition Metrics
That's exactly what you don't want to happen, especially at a time when sellers are quiet quitting. A recent Gartner survey says that 89% of sellers are burned out, 54% are seeking other opportunities, and 67% say that leadership doesn't understand the reality of selling today.
Though long-term upskilling and reskilling isn't the sole solution to these problems, it helps sellers feel more engaged with their enterprise. It creates a culture of collaboration, care, and community. That's important at this time when engagement and productivity are necessary to counteract lower margins. And when there's this need to cut expenses, especially for retail and related customer-focused verticals.
In other words, it's important to counter uncertainty in customer behaviors with increased certainty in workforce performance. Drive upskilling and increase workforce performance.
What Are Upskilling and Reskilling?
Upskilling refers to the development of new skills to further an individual's growth. This can be developed and stimulated by an organization's practices, technologies, and processes. Reskilling generally refers to older members of the workforce who learn new skills to ensure their continued success (such as learning to use new technology).
Creating a Culture of Sustained Upskilling and Reskilling
No matter the vertical your sellers work in, they most likely have to sell products to consumers of some kind. Most likely your company is affected by uncertain, shifting consumer behaviors, as well as rising interest rates and inflation pressures.Fundamentally you can't control customer reactions to these external factors, even though you can certainly shape the consumer experience and improve interactions at point of sale. Right now with such a blurry economic outlook, companies have to account for the fact that consumers will behave erratically. They're just going to. So what can you control?
The answer is workforce learning and development (L&D), upskilling, and by extension performance. You can increase workforce performance even if you can't change consumer behaviors.
You can actively control for these business factors with the right processes, operations, and technologies, such as creating a people-centric upskilling and reskilling culture. Developing such a culture helps the sales force be effective long-term, upskilling and growing over time. But it requires engaging the sales force's attention with upskilling tasks that responds to their real-time needs and goals as these develop. This requires flexibility and dynamism – personalization. Not a one-size-fits-all approach, which belongs to yesteryear.
LinkedIn's 2023 Workplace Learning Report concludes that 83% of organizations want a more people-centric culture.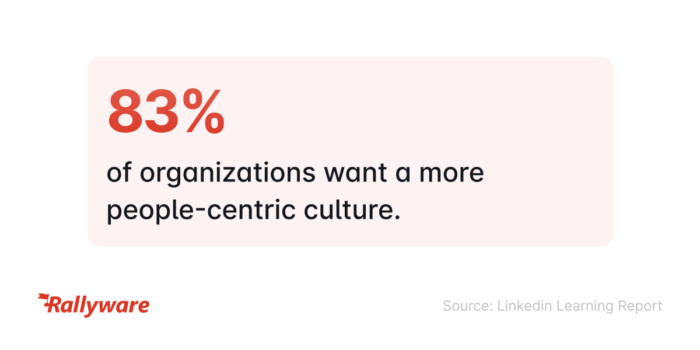 The question here is, how to create that culture as a learning and development/training department? It's one thing to say you want a people-centric culture. It's another thing entirely to realize it in a timely manner.
In our view, there are two keystones to developing a culture of sustained learning for 2023-24:
1. Technology – Having the right tech in place can actually automate the development of long-term workforce upskilling.
2. Implementation – Implementing technology and processes around the technology is of equal importance. All the technology in the world won't make a difference if you aren't rolling it out and utilizing it in the correct way.
Acquiring the right technology allows companies to organically embed and enable upskilling across the sales force, no matter where they are hierarchically or geographically. The right implementation makes sure that it gets adopted by users.
How Does Tech Build a Culture of Long-Term Upskilling and Reskilling?
Today's most cutting-edge tech automates long-term upskilling and reskilling, making admins' jobs easier, while personalizing learning to render the sales force more engaged and productive. It's a powerful twofold digital transformation, improving the lives of corporate administrators, CTOs, and other leaders, while driving results among on-the-ground sales force members.
Take Rallyware's performance enablement platform. Rallyware uses smart rules and recommendation engines to automate the surfacing of the right learning for the right person at the right time, based on their self-defined goals and progress so far. At the same time, Rallyware links up with your external data systems to calibrate learning content to your organization's KPIs. So the upskilling content that sales force members receive is tailored to their goals, and the company's business needs.
In fact, we've found that learning activities alone increase productivity by 8%. Combined with business activities, learning activities grow productivity 14%.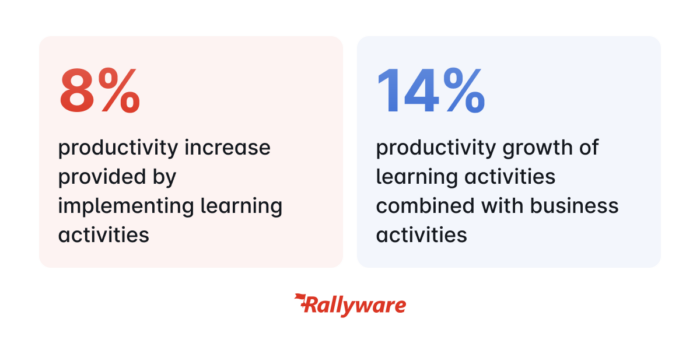 That's a marked increase in productivity at a time when productivity growth is seriously slumping. Companies need to be doing everything they can to drive productivity, engagement, and retention. Technology is a low-impact way of making that happen long-term, automatically, in a way that responds to the workforce's individual and team-based needs.
What About the Implementation of Tech for Long-Term Upskilling and Reskilling?
Once you've chosen technology for long-term upskilling and reskilling, communication is a big part of implementation. Develop a cadence around the communication and be clear about who's involved in the project and why. Implementing new technology without communication will blindside those stakeholders who are going to be using it regularly. Additionally, developing buy-in among administrators and on-the-ground team leads will be crucial. Buy-in and consent are vital here to increase workforce productivity.
Also important is partnership. Your tech provider shouldn't just be a passive vendor. They should be an active partner in developing strategy around learning for the global sales force. They should be able to map your business structure and develop a rollout plan, in collaboration with HQ, around it. They should view your success as their success. After all, they are one and the same. When a technology provider's customers succeed, they themselves succeed as well.
Sustaining Long-Term Upskilling from the Admin Side
Corporate administrators have a job to do in this regard. They have to make sure they're maintaining long-term learning. It's not an "set and forget" type of situation. However much automation is involved, admins have to make sure their content is up to date. They have to make sure their content is engaging and modern.
Digital transformation helps with that. How? By making it easier to refresh and update content. By making it simple to outfit the UI with smart widgets that customize the interface for every user. All in all, by facilitating the creation of a long-term upskilling and reskilling culture with intuitive, easy-to-use technology. Because tech isn't only about improving the experience for the sales force. It's also about making admins more efficient, making their jobs faster and easier to accomplish. It's about driving higher returns from both ends of the equation.
Embrace the Future of Workforce Upskilling – Today
That's what Rallyware does – drastically improving efficiency for admins while driving workforce productivity. Creating a long-term culture of upskilling and reskilling is about the easy creation of business rules, just as much as it is about the surfacing of the most relevant, engaging content at the right moment to change behaviors. In short, tech for admins and for the sales force are equally important, and Rallyware is built to optimize on both fronts.
To see how Rallyware drives sales force productivity, request a demo.
News and Insights on Workforce Training & Engagement
We're among top-notch eLearning and business engagement platforms recognized for effective training and talent development, helping to empower distributed workforces
Subscribe