Reward and Renew: 5 Ways to Increase Sales Performance Remotely
How do you increase sales performance in a world that is ever more remote? How do you drive productivity and enable performance with a transformed sales force? How do you adapt to a new world of productivity?
Today's sales teams are frequently working remotely or in a distributed fashion. That trend is set to grow. Upwork predicts that by 2028, 73 percent of all departments will have remote workers. In such a world, sales professionals who are micro-managed every step of the way won't be able to flourish. They have to develop their own contact lists, styles of outreach, methods of closing, and other signature trademarks to increase sales performance.
In our era, new remote-enabled technology allows sales teams to work more in sync while preserving salesperson independence. Digital technology can help sales teams be more coordinated while allowing them to do more and become more in their own outreach and follow-up.
SaaS Platforms and Remote Sales
Further, Software as a Service (SaaS) platforms allow them to work on the same projects without having to be in the same office or even the same location. Such platforms can even be delivered by mobile app and even increase sales performance.
In this way, remote or distributed sales teams can not only perform just as well as in-office teams, but even better. Salespersons can cover different geographies and time zones, working more independently for better results, while using technology to help their efforts cohere.
Let's go over some best practices and tips for increasing sales performance remotely.
How to Increase Sales Performance | Best Practices
Clear Communication
This one is going to be of prime importance to distributed teams. Everybody knows the feeling of being excluded from the conversation, of not being clear on what they're supposed to do. Whether you're dealing with the direct selling field, the retail frontline, or sales teams, communication is relevant. Messages have to reach the right people at the right time. This has long been a problem for many traditional organizations – the distributed workforce isn't an exception. If anything, communication is more important for remote teams, distributed teams, deskless teams, etc.
While many distributed sales teams might be based on individual efforts, goals, and enterprises, communication is still critical. Let's say that a newly recruited rep has a question on a key part of the sales process. It's important that she know who to ask and have the means to ask this question fast. On the other hand, leadership should be able to communicate marching orderly instantly. There should be an easy, intuitive way to distribute tasks, new announcements and policies, and so on. Without this organizations are hamstrung. There's a lack of internal cohesion.
Having the right communications technology in place can help you give this newly recruited rep a sense of security. It can show her that she's part of the team and increase retention. Not only that, but it also increases her effectiveness in an efficient manner. She can adapt to new policies, practices, or behaviors quickly. Which helps her to increase sales performance. Everyone wins.
Automated Incentivization
Sales and incentive programs are deeply intertwined. Commissions, compensation structures, and intrateam competitions are all part of the incentives that drive true sales results. And in a new age, one transformed by remote work, the growth of the gig economy, and COVID-19, traditional compensation structures should be revised.
To quote McKinsey's research into the topic, "Smart revisions of compensation models have been found to have a 50 percent higher impact on sales than changes in advertising investments," for instance, a shift toward social selling or social media marketing.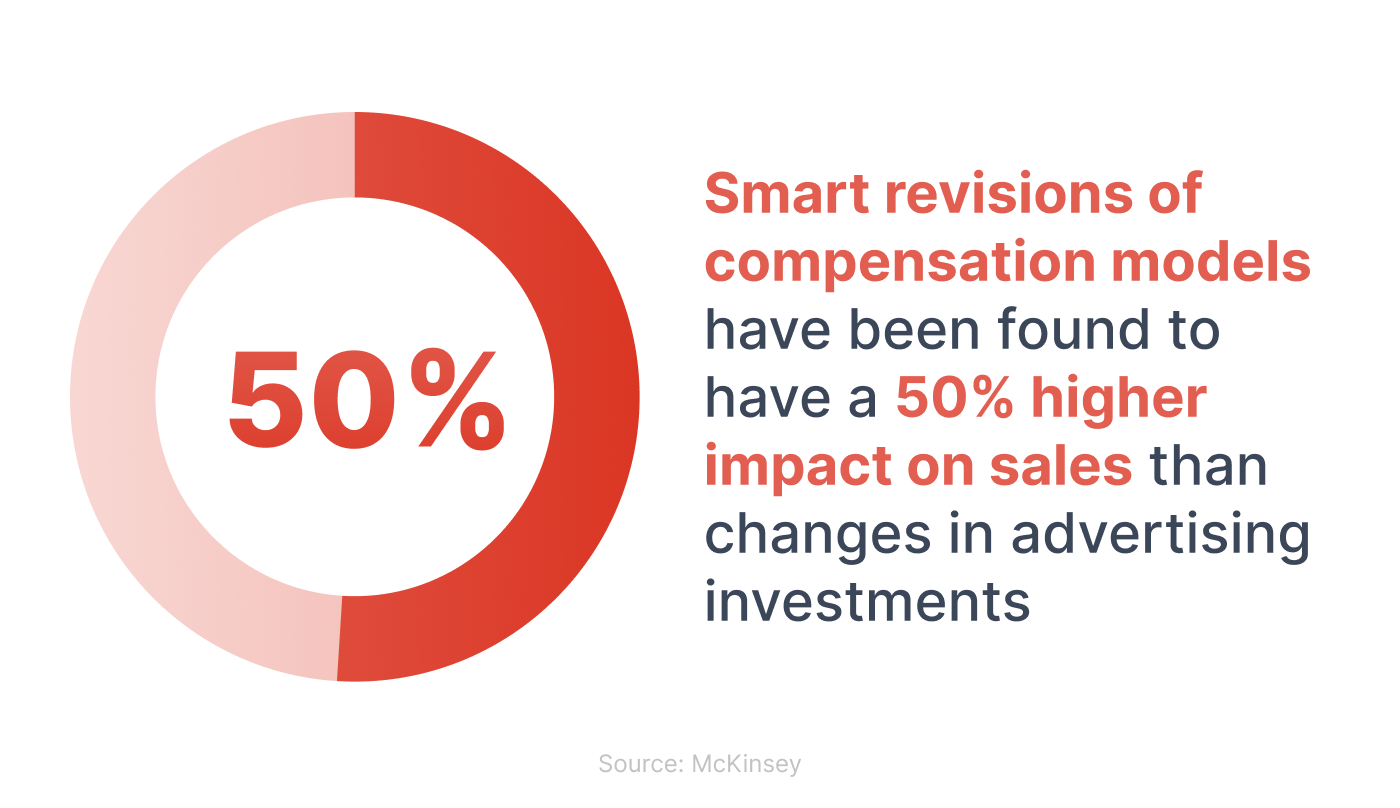 While these things are important, incentives and compensation for the salesforce might have prime importance in changing sales behaviors and increasing sales performance.
Consider finding technology that can take your incentive programs and automatically show the salesforce where they stand and how to get where they want to go – whether that's leaderboards or business tasks they ought to perform. The point here is that the technology smartly understands what the salesperson's goal is, how far they have to go to get there, and how to motivate them to reach that goal. Then it's going to notify them of what they have to do.
Much of this can be informed by the results of the salesperson's onboarding, learning, training, etc. For instance, a salesperson might need a course refresher on closing tactics to help her reach her goals. The technology might encourage her to take that refresher, reminding her that her goal is to reach X number of pipeline for the month, and that she only has Y to go. So learning data and incentivization data are transmitting between each other, reinforcing the right behaviors. Not only that, but the salesperson becomes more engaged in her productivity. She feels seen, understood. She even feels like she's having fun with training. Her technology meets her where she is. Not the reverse.
Tech has to be automated, smart, and able to integrate learning data with incentives and performance-related activities. Spending money on technology that can't do these things might be counterproductive, however. It can drag your organization down.
Smart technology, the right technology measured by the right sales enablement metrics of course, can incentivize the right behavior at the right time for the right individual.
Don't Be Afraid to Use Data to Guide Decisions
The age of big data has arrived. According to Statista, 181 zettabytes of data will have been created by 2025. For context, 1 zettabyte is equivalent to 1 billion terabyte, while a terabyte consists of 1 trillion bytes.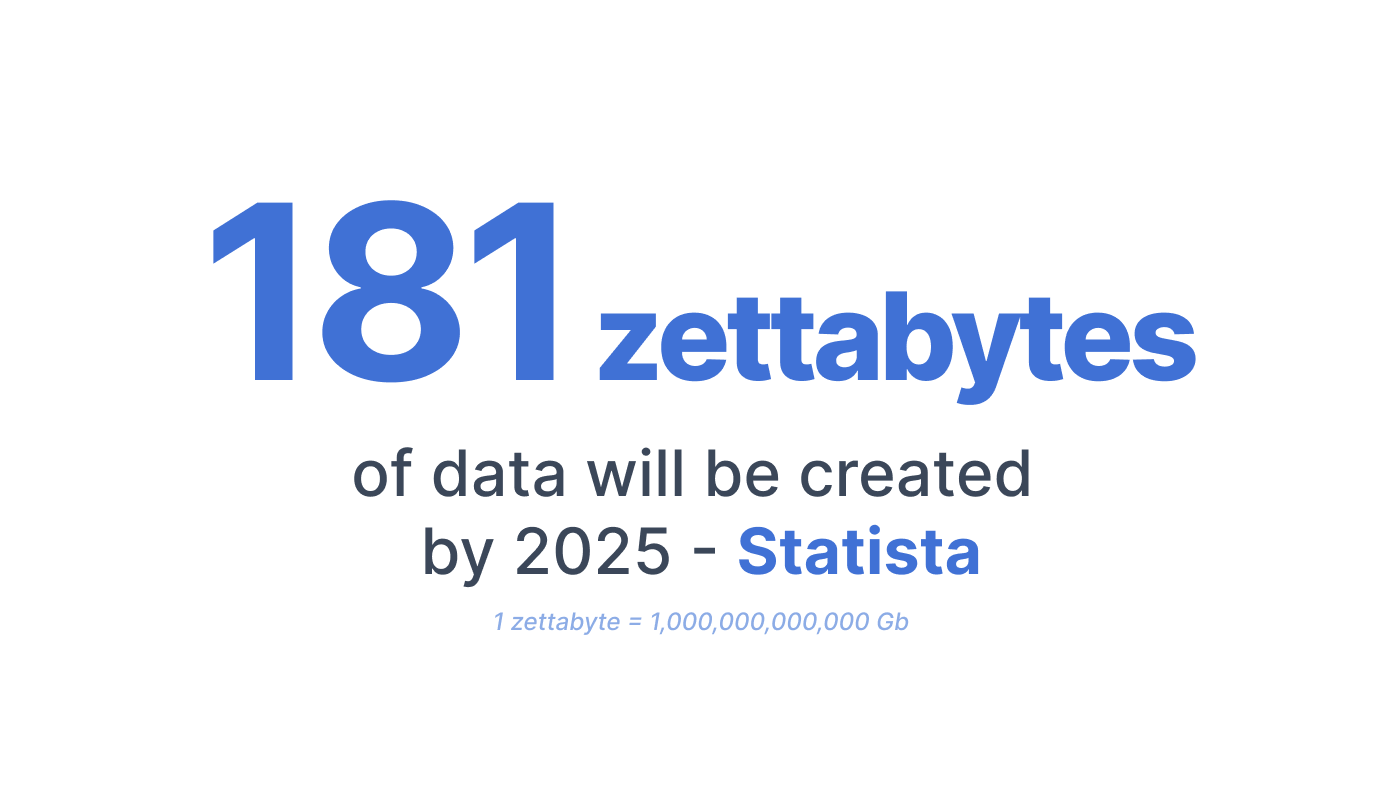 Make the age of big data work for you. Acquire technology that compiles the salesforce's progress and productivity into easily readable numbers, even using integrations with other systems to get the most accurate snapshot of sales metrics and increase in-person, deskless, or remote sales performance. The point isn't just to gather data. Too much data not used in the right way can be a big burden. No, the point is to use the data you have in the right way, integrating it with platforms that can interpret it to guide behaviors and decision-making (for admins and salespersons). But if you just have data for its own sake, you're doing yourself, your organization, and your team a disservice.
In the admin role, you can use that data to help you make decisions – even the nitty-gritty, small-scale data points that never would have come into play in earlier eras. We have the ability to see sales performance in greater detail than ever. Seize that opportunity and make sure you're using the technology that helps you get the most value out of your data. Rallyware, for instance, integrates with external systems to guide salespersons in line with your KPIs. So if your company needs to drive team performance on a particular product, the platform will read that information off an external data system, and start to shift salesperson efforts in that direction.
Find an App That Delivers Smart Notifications
This one is key. A huge issue for salesperson cadence – and ultimately, improving sales performance – is knowing which task to complete next.
Especially in their early days of working with a company, the salesforce can be overwhelmed by the amount of tasks to complete to land a sale, all of the onboarding materials they must complete, and so on. You'll find that smart onboarding can even drive performance. Later on, particularly for salespersons who work in a gig-like manner, the salesforce might become distanced from their work functions and consequently, might have to be reengaged.
That's where the power of smart notifications enters the picture. With smart notifications delivered right to the end user's mobile app, you're meeting the distributed salesforce right where they are. Rather than a traditional, top-down management methodology which pushes sales reps to perform specific tasks at specific times, alienating them, smart notifications show relevant business tasks to perform while letting the salesperson perform them when they're ready. They can engage when they have time, accommodating the different rhythms of the remote work style.
Smart notifications can take many forms – such as encouraging end users to find out how they can close the month with more conversions, as in the below example, from Rallyware.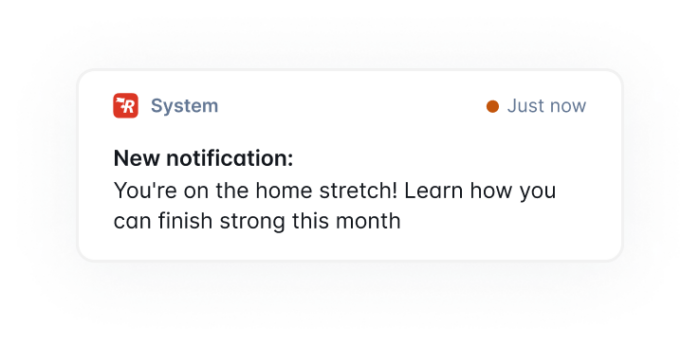 Review & Renew Your Digital Strategy Periodically to Increase Sales Performance
Every strategy, even a good one, needs at least an annual review. As ClearPoint Strategy phrases it, "Most organizations do a strategy review once a year, typically at the end of their annual cycle."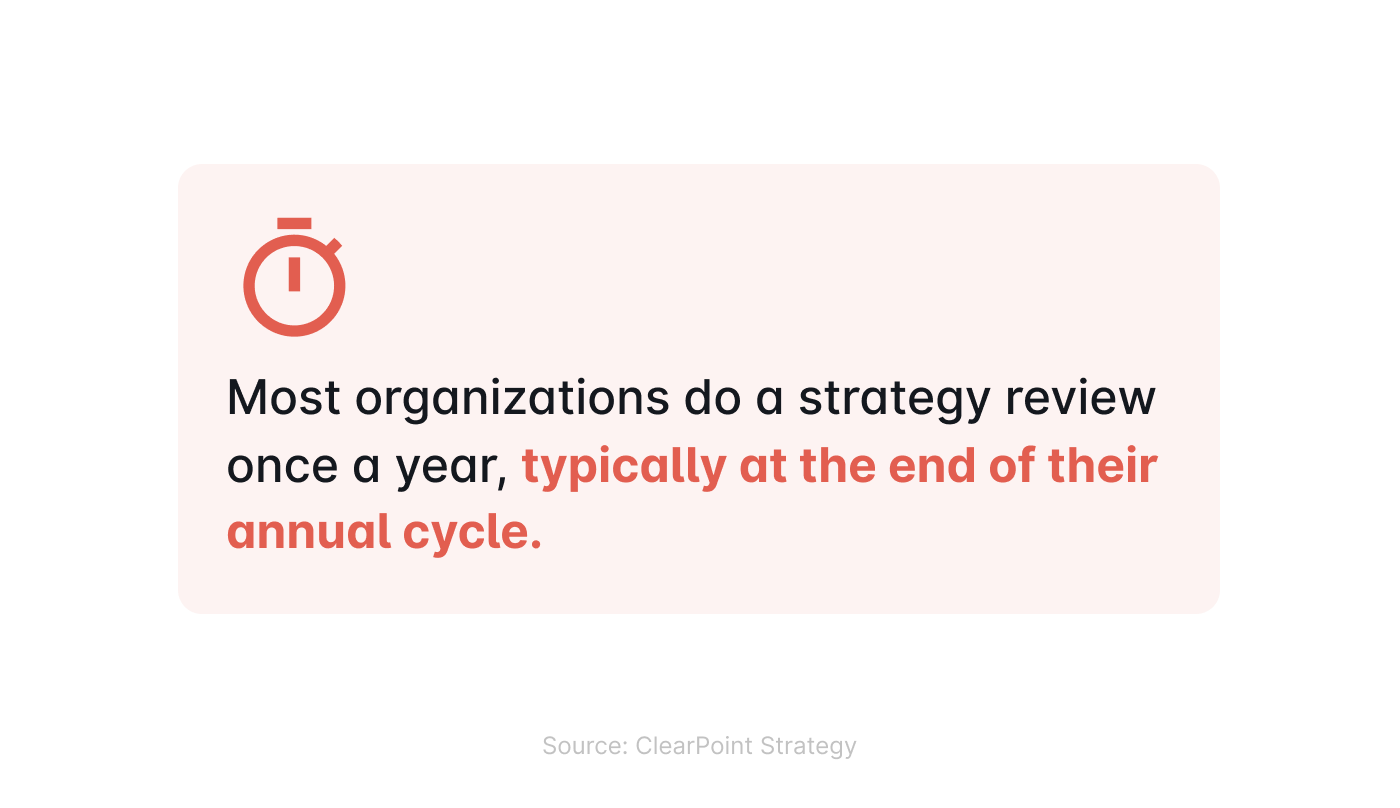 The idea is that your organizational strategy is responding to past successes and failures and the threats and opportunities of the next annual cycle.
This is true for digital strategy as well. Most every organization needs a digital strategy to accommodate the realities of today's digitalization and increase sales performance. But you can't coast on your digital strategy for two or even one years ago. Review and review your digital strategy, including the technology you're using and delivering to the remote distributed salesforce.
You're not going to want to switch technologies each year, for sure. Digital transformation can cost a large amount of money. The International Data Corporation (IDC) predicts that businesses will spend about $2.8 trillion on digital transformation in 2025.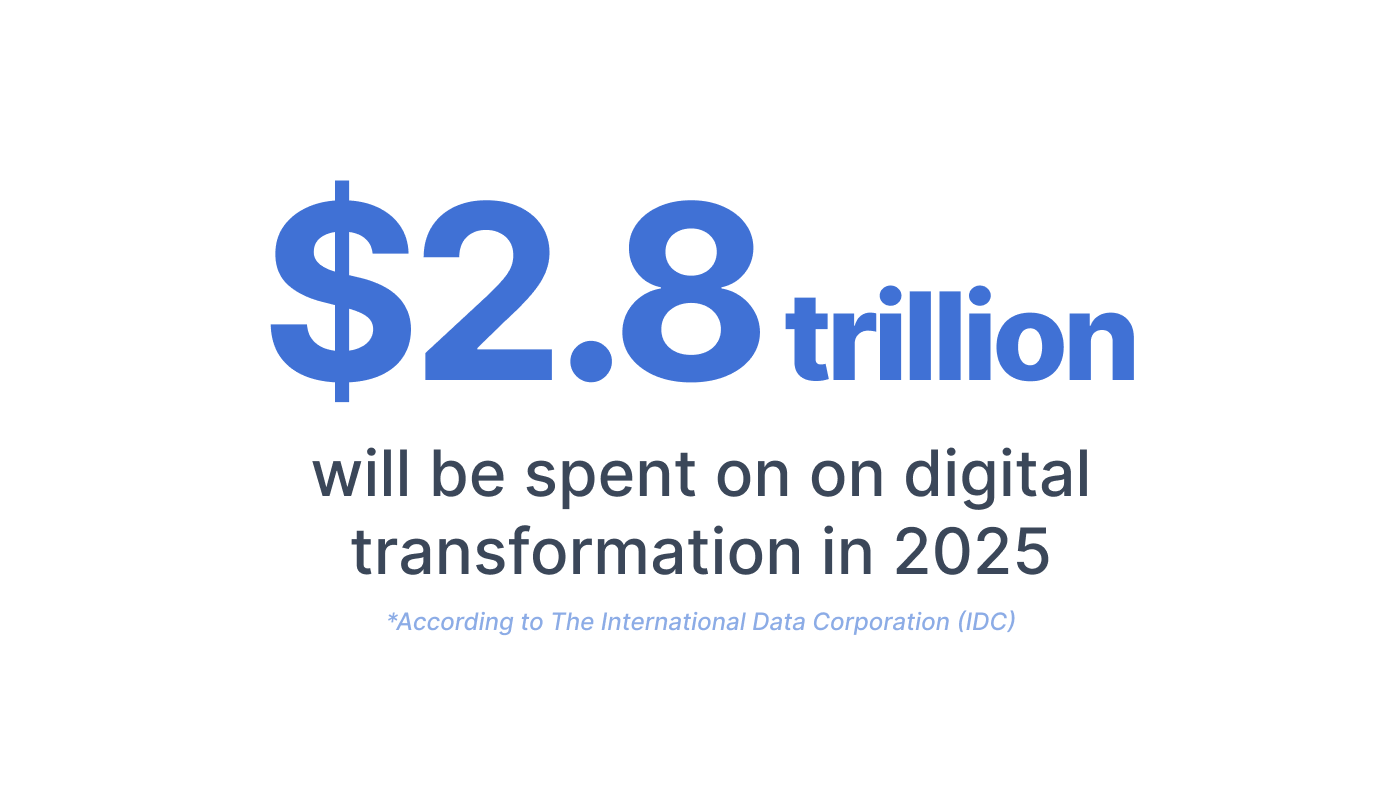 It's not cheap. But you want to make sure you're using the best technology for your purposes and that you're using it in the right way. If your technology provider includes a full-service customer success team, which Rallyware does have, then consult with them – about new features, best practices, or simply any data that might help you revise and renew your digital strategy.
Use Digital Transformation to Drive Business Outcomes
Interested in a digital experience that drives sales results for remote and distributed teams with average 24X ROI? Request your demonstration of Rallyware today.
News and Insights on Workforce Training & Engagement
We're among top-notch eLearning and business engagement platforms recognized for effective training and talent development, helping to empower distributed workforces
Subscribe