The Ultimate Guide to Implementing Performance-based Employee Training
Working as an HR specialist or L&D professional and being responsible for corporate training in your company is challenging, but keeping employees engaged and excited about training is even more challenging. Another level of difficulty is proving to executive staff that your training program is actually working and directly contributing to the business' growth.
As a company that has been working in the eLearning industry for years, we've come to the conclusion that the only possible way to make corporate training really work is to provide customized learning experiences for employees and a personalized approach to every client when working with companies from different industries. This way guarantees effective employee learning and development, meeting specific business goals, and ensuring that your investments pay their way. This is the bedrock of Rallyware's philosophy.
Make your employees tick with pertinent learning technologies
In the book In The Age of the Smart Machine, Shoshana Zuboff, Charles Edward Wilson Professor of Business Administration at the Harvard Business School, mention a critical mistake that doesn't allow edtech companies push the envelope, saying that "you will not get any improvement in the quality of work if you don't redefine the work, or change processes."
So, when you want to try out a learning platform, you should keep in mind that technology is not implemented for the sake of technology—it's not just a cool thing to have. It's a learning tool that fosters better knowledge absorption, retention, as well as collaboration and innovation.
Rallyware expands the technology-enabled learning horizons, offering a smart learning platform that leverages insights from behavioral science and connects company-specific learning activities with operational and performance data by utilizing AI, machine learning, and data-driven gamification technologies to meet any business goals.
Besides aligning a training program with your business needs, Rallyware's platform is an interactive hub for knowledge exchange and smooth communication that, in turn, contributes to a positive employee experience and talent retention.
Checklist for developing a smart learning program
When considering which learning platform to choose, you have to be sure that your training program design, development, and deployment is coherent, that it follows a definite structure and takes into account your specific needs.
Rallyware has been developing fully-customized training solutions for more than six years. We've been assisting companies around the globe in designing performance-based engagement programs and technical integrations as well as analyzing reports on learning progress, deriving insights and providing continuous support to foster KPI growth for our customers.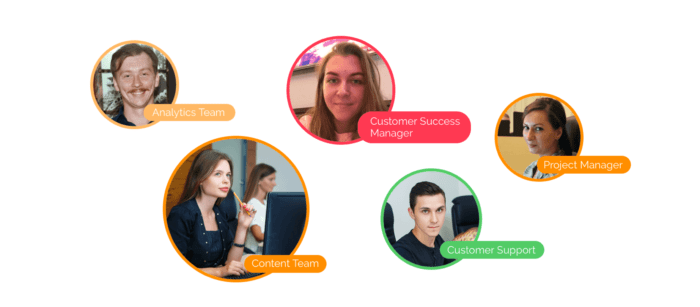 After talking with the Rallyware Customer Success team about the secrets of an effective learning program, we want to share with you critical steps on how to design, develop, and deploy it correctly.
1. Business goals assessment
Firstly, you need to set clear business objectives that you want to achieve with a learning solution as well as determine program success metrics and KPIs. Once you define your goals, develop a plan on how to achieve them. Make a list of skills your employees should learn and things they should be able to do upon program completion. Then define the tasks they need to perform to allow your company to reach these business goals and identify the activities and information that your employees need to know to be able to perform these tasks. When we are clear on the goals and KPIs, we can identify and offer data-driven activities that support the goal and achieve the best results. Thus the impact of training is even more beneficial.
2. Goal-driven program development
An effective learning program should be designed in a way that helps drive desired business objectives in various industries. Following our philosophy of a personalized approach to each customer and our long-term experience of enabling success through training, we found that fully-customized program development should consist of several substeps that include the following activities:
Learning activities map development
Based on learning program goals and predefined activities comes a program map design. It represents a program tree, consisting of:
– learning activities available to learners in a specific predefined order;
– points that learners earn for each completed activity; and
– badges or achievements that the learners unlock when they complete an important learning activity or set of activities.
When you see the whole picture of your employees' learning journey and the rewards they will receive on their way to the top, it's easier to notice any issues or spots that lack coherence between learning modules.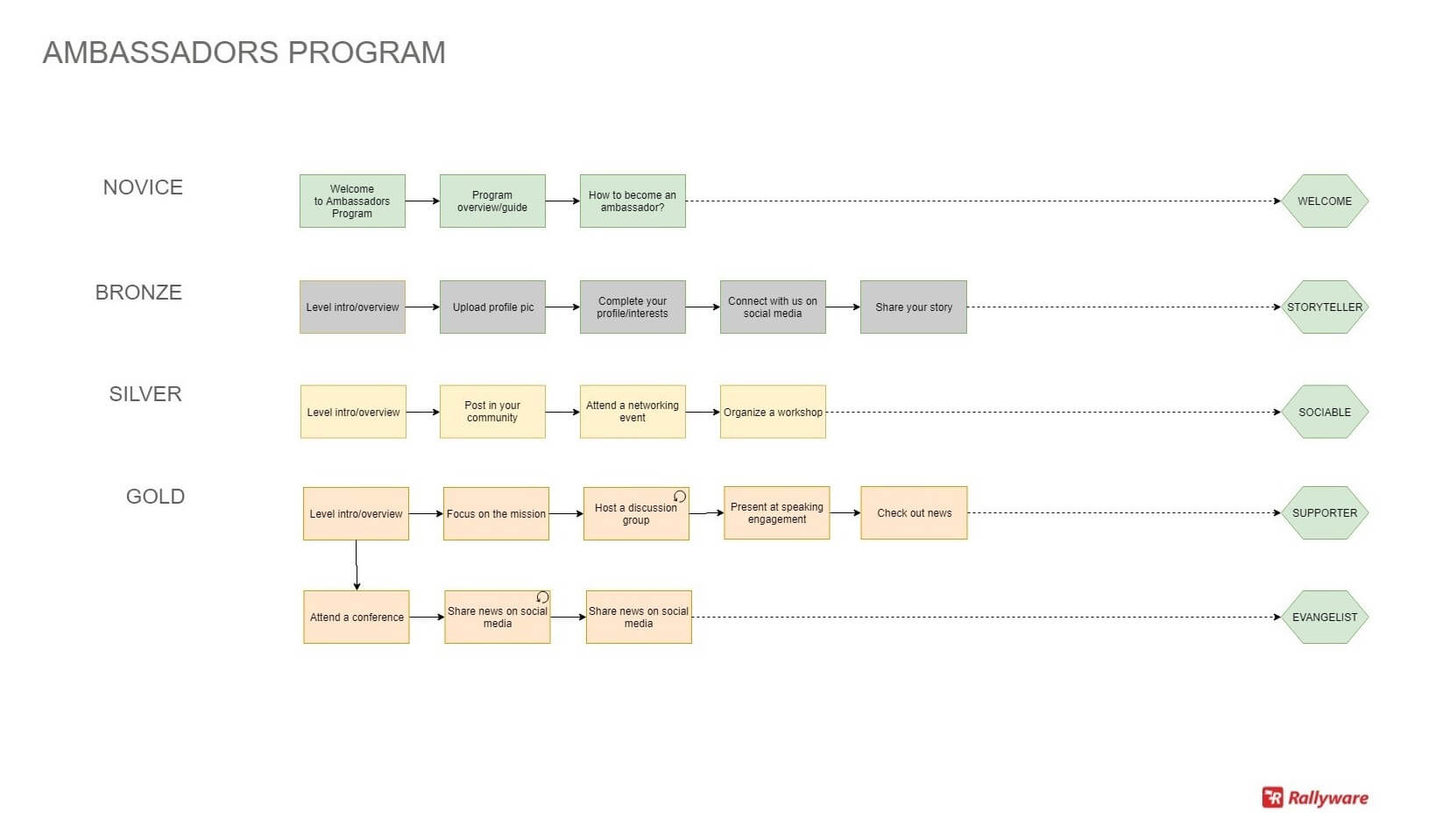 Program content development
While designing program materials, you should keep in mind different learning styles that can be more or less effective for your employees. Since Rallyware platform allows the incorporation of various content types, such as common file extensions used with text files and documents, videos, audio files, images, and slideshows, you can easily combine them to ensure better information absorption. Also, your program materials should be divided into small and easily digestible chunks of information to facilitate the learning process. Make sure that your learning content is relevant to learning objectives and that the theory can be put to work, because what's the point of teaching your employees how to use a fork and a knife when they need to eat soup?
This includes everything that is related to the look and feel of the platform: an image of your company's logo, backgrounds, layout and colors, main menu features, a signup page, etc.—everything that makes your training program look and feel like it's your company's internal tool. This is a very important step that helps to build an internal culture of continuous learning and growth.
Customized segmentation setup
How to ensure that activities go to the right people? How to help newcomers "navigate" through tons of corporate information? The answer lies in segmentation. For example, a company can invite all newly hired employees in a devoted group to effectively manage their onboarding process. Employees will have all necessary information on their hands, they will be able to interact with each other and share their "life-hacks" with colleagues about how to overcome challenges, and the like. Managers will monitor most FAQs and, in this way, create an easier and smoother onboarding process.
Such segmentation helps companies to foster collaboration and innovation around specific goals, improve employee morale by strengthening office culture and creating a safe environment for newcomers.
Pre-launch program implementation check
Before launching the program, there needs to be user acceptance tests. At this stage, a focus group (at Rallyware it's 20–50 employees, on average) uses the learning platform, performs tasks, and then gives feedback. They complete a usability checklist and share their opinions on what they like, where they encountered difficulties, and what should be changed. After all, adjustments are done and users' recommendations taken into account comes the final internal approval and the launch of the program. Make sure you deploy a training solution with as little bugs as possible otherwise you'll be having a very hard time in making sure that a new learning experience sticks.
3. Post-launch analysis and support
Don't forget about the post-launch support when choosing the right learning platform. For example, Rallyware will support you during all stages of program development and also afterwards. This is just one of the reasons why we have the highest score on G2 Crowd among other LMS platforms with ratings of 98% in ease of setup, 99% in ease of use, and 100% in quality of support.
This step includes an evaluation of program effectiveness based on defined success metrics and KPIs: a comparison of employees' performance levels after program completion as well as modification of the program based on the analysis results and employees' feedback. You will also receive monthly update calls and report reviews with a Customer Success team to measure the program's effectiveness and identify growth opportunities.
Keep in mind that upon choosing the right learning platform, you will receive an analytical, highly-personalized learning solution with ongoing support during the whole collaboration period.
Read our customer success stories to see how Rallyware can benefit your company.
Click here for your demo and see how Rallyware helps enterprises with large sales forces cut expenses, drive revenue, and transform operations.
News and Insights on Workforce Training & Engagement
We're among top-notch eLearning and business engagement platforms recognized for effective training and talent development, helping to empower distributed workforces
Subscribe