Performance Enablement Tools Became Critical for Enterprises with Remote Workforces in 2021
Just like that, it is a new year. 2021 was a year of empowerment – as part of "The Great Resignation," a startling 4.3 million Americans left their jobs in August of that year, about 2.9% of the national workforce. It was also a year that Performance Enablement tools have risen to the forefront – focusing on how workers can best be supported, so they can do their best work. To help remote and distributed teams thrive in the modern workplace of today, there is not only the need to equip them with robust learning programs, but learning that drives performance and productivity, at scale.
Why Performance Enablement Tools Have Become Critical
Faster and Effective Remote Workforce Onboarding
The COVID-19 pandemic has drastically changed the ways in which new hires are hired and onboarded, in the absence of face-to-face interactions. A critical part of the employee experience, onboarding represents the initial moments with a company, and first impressions matter.

An often overwhelming and cumbersome process, onboarding usually involves a barrage of administration and documents, with a lack of clarity and personalized paths to success.

Yet, what if an individual's goals are clearly laid out during the initial stages of the onboarding journey, and are focused on throughout? Even though two new hires may begin in the same position, no two individuals are alike, and carry with them their own unique set of skills and experience. Address the needs of individual employees by creating personalized experiences tailored specifically to them. With goals that are set out as early as Day One on the job, each new hire will be automatically offered a personalized path to success, complete with personalized touches, such as smart notifications and other personalized features and experiences, as described below…
Increased Productivity With Personalized Reskilling and Upskilling

Smart notifications are powerful – they might remind individuals to take advantage of their discount code on UberEats, remind them of an upcoming dinner reservation or inform them that a friend has recently posted a photo on Instagram. But what about notifications that help one incrementally drive their growth and success, encouraging them to take swift action? Notifications that are highly personalized for each individual and tied to business KPIs, and are delivered at the time of need?

Serving as powerful nudges designed to help individuals efficiently interact with the Performance Enablement Platform on a regular basis, previous research from Rallyware found that smart, personalized notifications overwhelmingly resulted in overall productivity boosts – our analysis revealed that the percentage of completed tasks among users who received but did not open notifications was only 0.1%, yet for those who viewed more than one notification, this indicator increased to 29.4%.

Additional Rallyware analysis towards the latter half of the year found that, during 2021, more than 142 million different notifications were delivered to users, with almost 80 million of them encouraging users to consume new information and take specific steps in their jobs towards achieving their goals. Powerful tools in driving a positive behavior change? We think so.

Decreased Attrition With Unique and Customized Dashboards
Similar to how smart notifications appear on our mobile devices and prompt us to complete a certain task or activity, unique and customized dashboards clearly display which goals matter most to each person, as well as how they can easily attain them.

Many of us are visual learners – we understand and remember ideas, facts and figures by sight. In the pursuit of our goals, goal visualization accompanied by actionable steps towards each goal completion offers context, and communicates information in a simple and hyper-effective way. Yet how does this look, in practice?
For instance, Caroline recently joined a large retailer as a sales associate, and is eager to become informed of how she can eventually transition into a managerial position, as well as her current performance and progress to-date. Where does she stand, in terms of some of her fellow team members? What should her next steps be, in her journey to achieve her goals? While gleaning such insights may have previously required a conversation with a manager, a Performance Enablement Platform features personalized leaderboards and dashboards that highlight results and overall user standing, so there is little confusion and unanswered questions.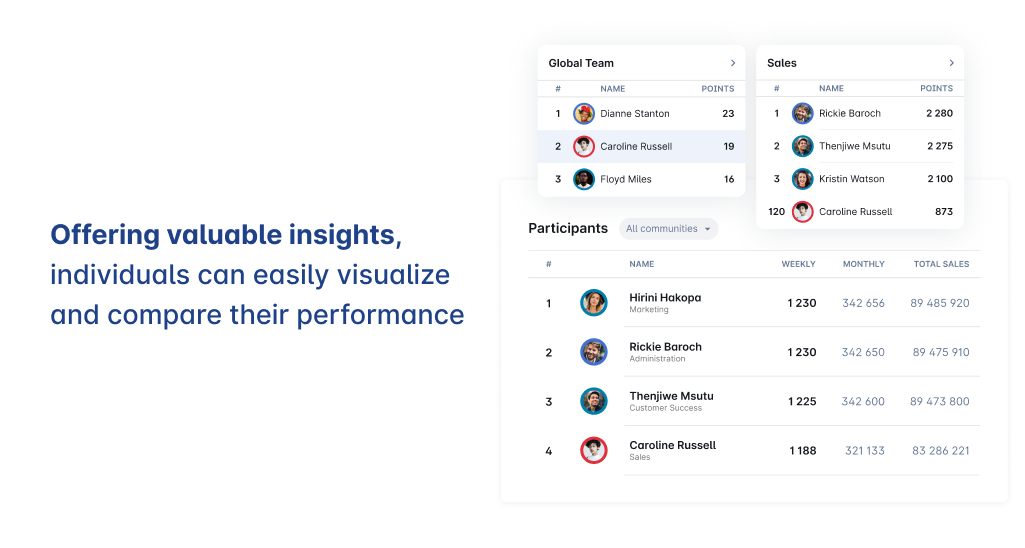 Rallyware's Predictions for the Year Ahead

What's in store for 2022?
Remote work is here to stay, and for many, it will become the norm. Therefore, when it comes to onboarding and employee engagement, it is crucial that companies shift their processes and procedures in order to adapt to this new reality of the workplace. With the rise of remote work, there is a strong need to engage and upskill distributed workforces, to ensure they are equipped with the necessary skills to thrive in the current and future workplace.
Streamlined actionable communications
We are seeing that streamlined actionable communications such as smart notifications will play a key role in this, ensuring that the right tasks are delivered to the right individuals at the right time, to trigger the right behavior changes. Encourage and inspire employees to want to learn, and make available the tools for them to do so.
Internal recruiting through reskilling and upskilling
As demonstrated by global phenomena such as the Great Resignation, it is becoming more and more difficult to recruit new talent. This is why ​​it is essential for companies to nurture, reskill and upskill their internal talent pools by building top-notch teams, and we foresee an internal hiring boom. Start with what you currently have. In a recent interview with Rallyware, Lauren Tedesco, Vice President, Learning & Development at Automotive Parts Manufacturers' Association (APMA), emphasized that a cultural shift needs to take place across companies both large and small.

"We see a war for talent taking place across industries and the demand for human capital is growing at an alarming rate," she said. "At 10,000 feet up, we need the culture to change so that every workplace can incorporate education into their business model," she said.
Focus on remote workforce culture development
The ability to successfully lead remote and distributed teams involves creating a culture based on communication and connection, and this will continue to be the case, moving forwards into 2022. Thus, we foresee continual improvements to be made when it comes to remote communications and collaborations between teams and peers – streamlined communication channels will drive improved remote collaborations.

Building a hybrid, or a remote-first workforce culture, will take the top spot in the minds of global corporate leaders, as this is not what has been done before.
Yet there is a need to also exercise creativity and think outside of the box – how can collaboration tools such as Slack not only be used to streamline communication, but also to keep employees engaged and connected, in a fun and interactive way? In a recent interview with Rallyware, Michelle Levesque, Shopify's Learning Lead, pointed to the importance of creating meaningful learning and engagement experiences. "Opportunities to practice newly learned skills with peers, or participate in discussion groups can be a wonderful way to inject some human interaction into an otherwise solo workday," she said.
Are you ready to drive learning and performance for your remote and distributed workforce? To see +25% faster onboarding, +43% higher retention and +32% increased workforce productivity? Book your demo of Rallyware's Performance Enablement Platform today, and get ready to see big results.

News and Insights on Workforce Training & Engagement
We're among top-notch eLearning and business engagement platforms recognized for effective training and talent development, helping to empower distributed workforces
Subscribe