Top Tips from L&D Leaders on How to Keep Employees Engaged
It is clear that continuous learning is crucial for a digitally mature workforce, the workforce of the future. Strategies to boost employee engagement include adding a personalized touch, and offering adequate tools for remote collaboration, while remaining mindful of technology overload (digital exhaustion is real). As remote and distributed teams are here to stay, a different approach to learning and training is required – one that emphasizes micro-learning and the just-in-time delivery of key training materials and concepts. How can we keep employees engaged and motivated? To gather some insights from some top minds in L&D, we turned to several leaders, asking them: looking ahead to 2022, how can L&D professionals ensure continuous skill development for remote and distributed workforces?
How to Keep Employees Engaged
1. Encourage and inspire employees to want to learn
When thinking about how to keep employees engaged, according to Michelle Levesque, Shopify's Learning Lead, Talent, the secret is to concentrate on engaging employees intentionally, so that they want to learn. "Provide tools to help them to identify skills they will benefit from developing so that they are active participants in their development, and then create learning experiences that are meaningful and memorable," she said. "Opportunities to practice newly learned skills with peers, or participate in discussion groups can be a wonderful way to inject some human interaction into an otherwise solo workday."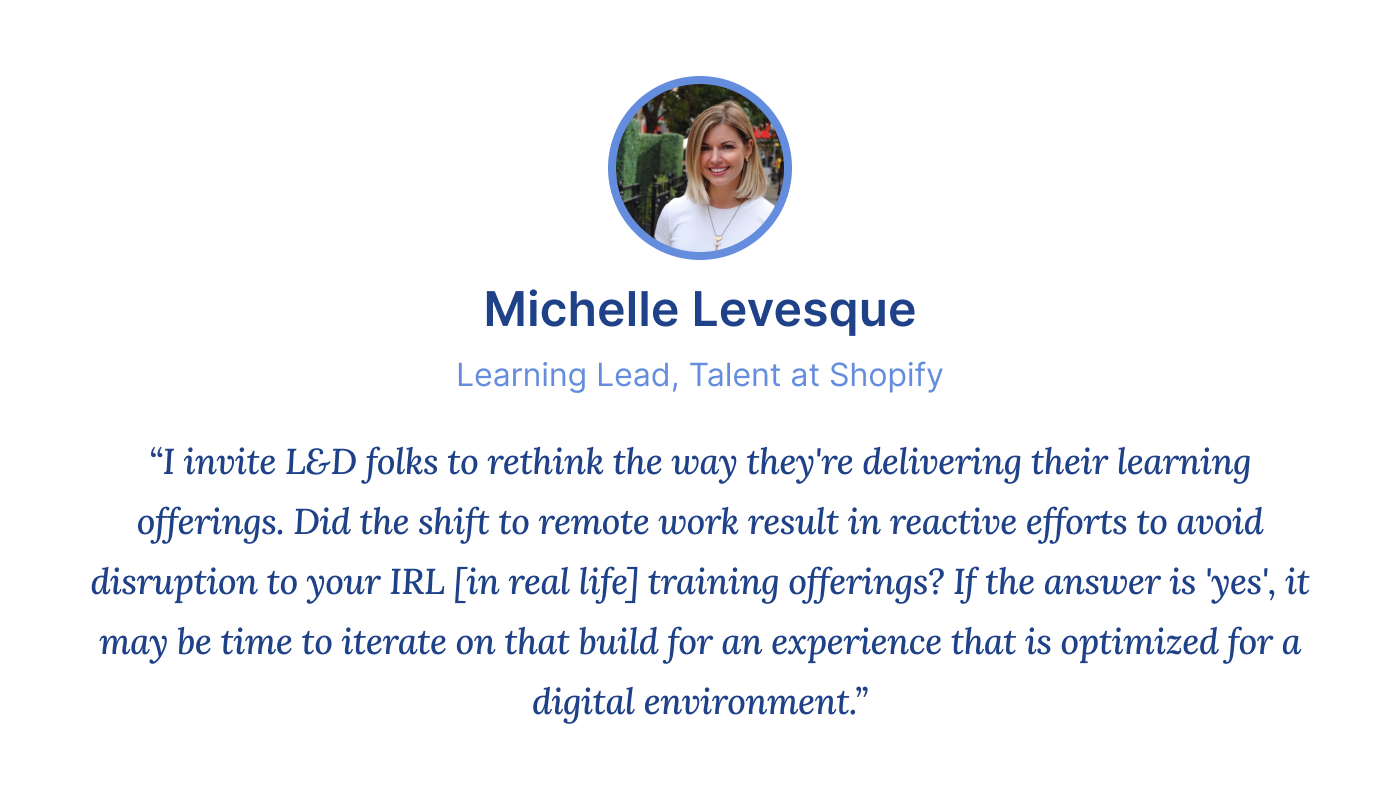 She encourages leaders to consider how they can offer an escape from the "same old" thing, such as offering a podcast rather than an eLearning module, so that learners can take a break from their desk and head outside for a walk (an excellent opportunity to multitask)!
When rethinking methods for employee skill development, be creative and think outside of the box, while being mindful of the realities of the modern workforce and the evolving expectations of employees today. "Are your offerings aligned with the skills needed to thrive in a distributed and remote workforce? Make sure that what you're offering your learner is modern and relevant to them," she emphasized.
For Susanne Carter, Learning & Development Consultant at Legal Aid Ontario, it's a balancing act that begins with engaging both employees and managers to discover what they feel are most important to their learning needs.
"It becomes a dovetailing of 'need to have' and 'nice to have' course offerings," she said. "We don't only want to spend our training hours on mandatory courses, so it's important to blend in the sessions that on the surface are more fun, and at the same time enhance one's understanding of their colleagues and deepen their connections with one another."
Like Michelle, she stressed the importance of intentionality – grasping the importance and purpose of your broader vision. "This is always more challenging with a remote or hybrid team so being intentional about how we connect makes a huge difference," she noted, pointing out that she has often found smaller groups or one-on-one interactions to have been more effective.
2. Adapting your programs to the digital age
When it comes to integrating new technologies and adapting your programs to the digital age, be strategic.
While digital transformation is crucial in order to remain relevant and competitive in the digital age (we previously found that a mobile-first mindset is driving the user experience), there is more to the story. No need to introduce shiny, new technologies for technology's sake – equip your employees with the right tools to do the job.
A self-professed "passionate and progressive digital learning nerd," when it comes to learning and adoption of new technologies, Michelle follows a more strategic approach.
"As passionate as I am about technology and learning fusion, I don't believe in integrating technologies for the sake of it, so I've had to become more creative with what I have available to me to adapt the use for learning," she said.
For example, Michelle and her team at Shopify have leveraged marketing software to encourage long-term ongoing learning opportunities through newsletter-like nudges, have used Slack to build community and automate opportunities for behavioral skill practice, and have created various immersive experiences using media and web design. Such learning experiences are designed in such a way as to keep employees engaged, in a fun and interactive way.
As educational technology trends such as gamification and immersive learning with VR and AR have risen to the forefront in previous years, they will only continue to see an increase in fame and following, in the years to come. Such technologies have been proven to deliver promising results – one graduate medical school found that surgeons trained using VR made 40% fewer mistakes than those who were trained conventionally, while Walmart reported 80% savings in training time when using VR to prepare their store managers for Black Friday. Learning that drives performance and results – this is what we like to see.
"If L&D Santa is listening, here's my wishlist: I am dying to use AI to create more customized experiences for our learners, VR to create memorable skill practice, and I hope to continue the use of broadcast level media to enhance our offerings," said Michelle.
Are improved workforce engagement and increased workforce productivity on your organization's holiday wishlist this year? Schedule your demo to see how Rallyware's Performance Enablement Platform can supercharge your workforce, to keep employees engaged and help them thrive in the modern workplace of today with personalized learning, engagement programs and more!
News and Insights on Workforce Training & Engagement
We're among top-notch eLearning and business engagement platforms recognized for effective training and talent development, helping to empower distributed workforces
Subscribe