Frontline Training Research Highlights: Learning in the Flow of Work Drives CSAT & NPS
The pandemic has proven to be radically transformative for many organizations. Lockdowns and other hastily enforced restrictions aimed at stemming the tide of COVID-19 forced many companies to change the very way they conduct business. At the least, there's been a huge increase in online sales and delivery – at a time when unprecedented demand has caused problems. For some, such adjustments got made in an effort to remain afloat, for others, it was a case of taking full advantage of opportunity. However, the spike in sales to home-bound consumers during the pandemic has perhaps compounded an already existing problem faced by many retailers. It seems the more dynamic the marketplace, we need increasingly dynamic ways to equip staff to deal with that. Frontline training powered by learning in the flow of work just might be the answer.
Increasing Sales Means Upping your Customer Service Too
It's not new, and it's certainly not a COVID-19 era issue. Finding, recruiting, and retaining customer-facing service staff has long been tricky to accomplish. While roles are often viewed as fair game by applicants short on formal qualifications, the truth of the matter is that effective customer service is a skilled and extremely demanding task. What's interesting, and maybe not so surprising, is that the pandemic has provided a tipping point. Shipping delays along with huge strains on supply chains have prompted many organizations to realize that the way they deliver frontline training can be crucial. When organizations are agile, that demands agility in the way they equip those on the front line. Get that bit right, and it can be an automatic driver of customer satisfaction and consumer loyalty.
How You Deliver Frontline Training Matters – Train Agile, Get Agile Staff
It's not like the issue of customer satisfaction has ever really been a new one; it's just that the pandemic created a perfect storm for many organizations, but the world of work has been on the change for a while now. The most significant reason for that? Technology. Automation in the workplace might be on the rise, but customer service still demands a human touch – and luckily it's not just robots, tech gives recruiters access to some pretty intuitive teaching tools too.
Nearly anybody will tell you that five minutes spent learning in the flow of work is usually far more effective than five hours in a classroom. The fact is that hands-on teaching just works. Whether your task is to streamline an order process or just to improve CSAT, training in any form will almost always produce rewards. However, performance enablement platforms offer some distinct added advantages.
Learning When it's Needed, Where it's Needed:
When success depends on flexibility, staff absolutely need systems that can keep up with demand – and that requires frontline training that's always-on, constantly available, and delivered as and where it's required. That means access to dynamic training, tailored to meet the needs of individuals based on their individual performance.
Learn it, Apply it, Retain it:
When frontline employees receive CSAT training that's delivered in smaller doses – right at the point in time when it's needed – the intervention isn't unwelcome, it's highly effective in terms of enabling staff to deliver better results. Study shows that the more often we use knowledge, the more accessible it becomes. Learning in the flow of work reinforces new skills, and is a more natural route to positive outcomes – creating confident, capable employees.
Be Better, Be happier:
That also pays dividends when it comes to frontline employee retention too. What's more, customized e-learning isn't just a way to increase productivity and sales. Promoting employee engagement is a vehicle for creating happier individuals. Staff are far more likely to be able to turn new skills to the task of solving specific organizational problems when they enjoy their work.
Go With the Flow:
Interrupting the operations of an organization with cumbersome chunks of downtime for frontline training is not only counter-productive – but it also allows for a less tailored approach to learning. Systems that can monitor each unique employee to formulate bite-sized interventions of empowerment and personalized knowledge enrichment serve to encourage and expose talents.
Meaningful Learning = Better Knowledge Retention:
When learning is personalized, the goals of an organization and an individual become one and training moves on from being a chore. It becomes something meaningful, and everyone benefits. Deliver frontline training in a way that solves a problem or addresses a specific issue for an employee, and you're likely to observe improved knowledge retention too. In fact, research shows that problem-based training produces significantly higher levels of recall.
Employee Learning Paths to Success:
Performance enablement platforms make companies more intuitive. Meeting the specific needs and achieving the goals of customer-facing staff can be a powerful motivator. Tailored employee learning paths built on performance-based training address the unique challenges each staff member faces – and targeted training solves more problems, faster.
The Case the Data Makes for Performance-based Training
The 36th Annual Training Magazine Report highlighted some striking benefits to performance-based learning. Not only did employees who went through performance-based training see sales increase, but those who completed more than fifty training tasks in a three-month period saw gains of 71%. What's more, workers who completed more than a hundred tasks during the same timeframe achieved a 161% increase in their sales.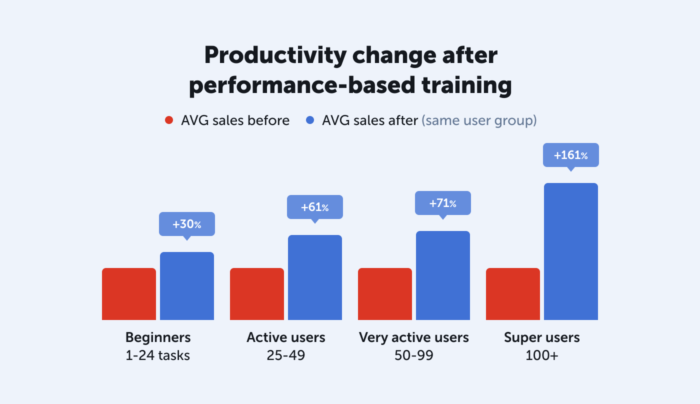 While tailored, targeted e-learning undoubtedly boosted sales, that's not where the positives stopped. When it came to CSAT, training also had a significant effect, and NPS improved markedly too. Performance-based frontline training produced an average NPS score growth of 70%, while CSAT grew by an impressive 152%.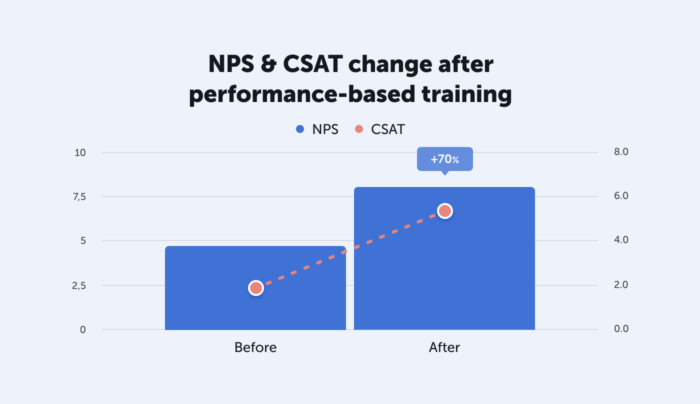 Customer satisfaction and frontline employee productivity go hand in hand. Recent trading conditions have presented many challenges, and rising to meet challenges is better when it's done smart. Make sure your organization is equipped for whatever 2021 brings, and schedule a Rallyware demo today.

News and Insights on Workforce Training & Engagement
We're among top-notch eLearning and business engagement platforms recognized for effective training and talent development, helping to empower distributed workforces
Subscribe