Act Fast & Adapt: How Embracing an Agile Mindset Can Help Maximize Employee Productivity
The COVID-19 pandemic has reinforced that we need to be open-minded and prepared for change, and organizations are no exception – they also need to adapt, or run the risk of being left behind. Today, workplace efficiency and employee productivity are key. So what are some secrets of those organizations that have been able to successfully absorb and adapt to the challenges posed by the pandemic? 
The answer: resiliency. According to McKinsey, agile organizations are devised to be fast, adaptable and resilient. Their research found that companies that fared better with managing the impact of COVID-19 were those already with agile practices more deeply ingrained into their enterprise operating models. That is, they had already implemented changes to their business processes prior to the onset of the pandemic. In the pandemic's wake, many non-agile teams struggled with the transition, reprioritizing their work, and maintaining productivity in the new environment of remote work. 
The events of this past year have given us the opportunity to embrace a mindset shift and consider adopting new organizational structures. At Rallyware, we are all for adapting to change through digital transformation of enterprises, and we recognize that, as the landscape of work is shifting and technologies are constantly evolving, companies need to keep up in order to thrive in this new world. Here is why it is important to embrace a mindset of agility, and a few tips to help you get started.
Using data and insights to make speedy decisions
Across several leading international and UK-based organizations interviewed by McKinsey, five common characteristics stood out. Among them was having in place structures to allow for rapid decision making, yet all information needed to make such decisions must be readily accessible. Rather than making large bets, agile organizations continuously make small decisions in quick cycles, test them in practice, and make adjustments as needed.  
A Performance Enablement tool, such as that offered by Rallyware, provides all necessary information for speedy decision making. Executives and managers are empowered with real-time metrics and analytics, allowing them to easily track ROI of each training and engagement initiative and how exactly it impacts their workforce performance progress over time, and in real-time. Its predictive capabilities allow for better planning – as companies can effectively optimize their budgets, and better plan for human capital needs. 
To gain the big picture insights needed in order for leaders to make high-level decisions, having readily available aggregated data is key. For instance, if a certain new product training of a sales team doesn't drive sales numbers, perhaps this training should be updated with new material, a refresher course, or be delivered via an alternate medium.
Teamwork makes the dream work?
Rather than the traditional hierarchy typical of many organizations, the agility model reimagines an organization as a network of high-performing teams – like 'mini businesses' that are all interconnected. It is in this structure that employees are given the freedom to flourish, as they are afforded a strong sense of autonomy, guided by a clear and common purpose. Having the right people working together, all with different capabilities, enables organizations to move with speed, which can increase employee engagement and productivity, customer satisfaction and boost operational performance.
---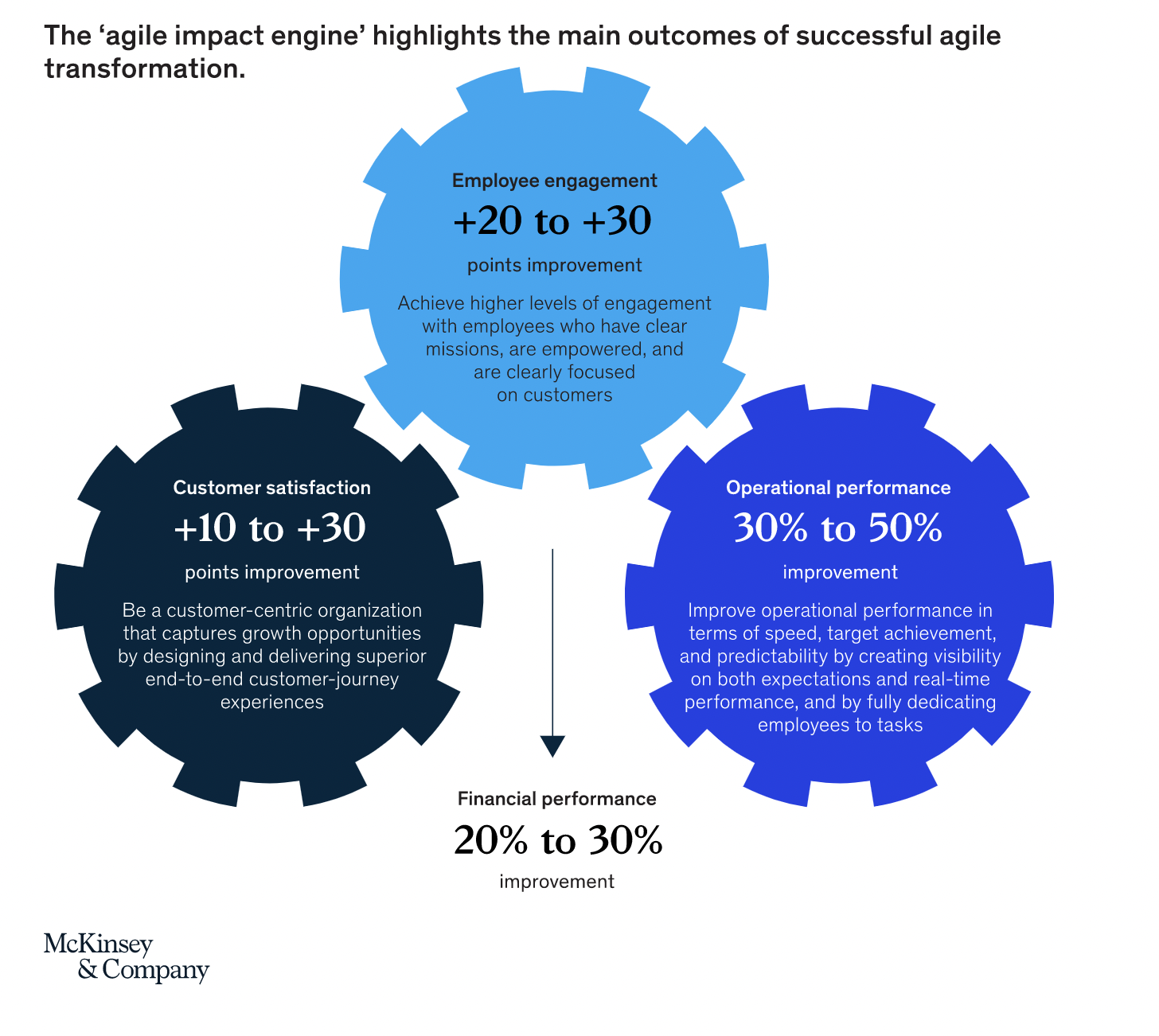 ---
A Performance Enablement Platform supports a team-oriented model, allowing for team activity to thrive. Rallyware's Community tool allows for various communities that can be structured around specific interests, initiatives, geographies or skill sets. Such a tool allows for companies to flourish – fostering strong communities which support and grow the company's culture. Teams can seamlessly connect and collaborate, and each community becomes stronger than a simple sum of individuals. 
A Performance Enablement tool: The hub of activity
However, in order to support and connect these teams, it is necessary to first have in place an effective and stable backbone – optimizing across structure, strategy, processes, people and technology.  
A Performance Enablement tool provides this solid backbone, serving as a centralized hub, with all resources organized into a single portal. Having a virtual space that shows employees their progress, provides access to necessary files and helps them navigate towards their goals will be critical, as this enables them to stay focused on the task at hand. 
Employees are provided with structured onboarding programs and task dependencies – ensuring clarity as well as role accountability. They are provided with a clear visual picture as to what is expected of them, and task flows display in what order tasks are to be completed. This clarity allows for maximum efficiency and productivity, as people can focus on getting the job done, rather than waste time and energy due to unclear or duplicated roles.
For instance, if a sales rep is tasked with selling a new version of a product, they will be provided with the appropriate actions to take, from becoming acquainted with the product, to learning more about its unique features, and eventually being knowledgeable enough to lead a demo. Additionally, personal activity triggers provide motivation and recognition for a job well done. When monthly goals are achieved several times in a row, for instance, the trigger will automatically suggest a leadership training program or another new growth opportunity. 
Putting people (employees) first
Finally, an agile model puts people at its centre. 
A Performance Enablement tool places each individual within the larger organization, recognizing that, as all have different goals and skills, taking a one-size-fits-all approach is not likely to work. With this unique personalization tool, companies can empower each individual in ways that are relevant to them, ensuring that nobody is getting lost or generalized. For instance, by getting a solid understanding of an employee's goals as they begin their journey with a company, they can then be provided with learning material tailored specifically to them. What do they hope to get out of the experience in order to progress, stay engaged, and be productive? 
In the COVID-19 era, there is the opportunity for organizations to pause and re-evaluate, and look inward to their current operating models. In pursuit of maximum employee productivity and organizational efficiency, evidence points towards embracing an agile approach and a digital transformation of the workplace, to be better prepared for the ever-evolving landscape of work, and the challenges of tomorrow.

Whether your organization follows a more traditional, top-down approach or embraces a team-oriented model, Rallyware can help you boost employee engagement and productivity. Schedule a demo to learn more about Rallyware's Performance Enablement Platform!

News and Insights on Workforce Training & Engagement
We're among top-notch eLearning and business engagement platforms recognized for effective training and talent development, helping to empower distributed workforces
Subscribe