8 Questions to Ask About Your Frontline Onboarding Platform
Sales force onboarding is more crucial than ever before, especially if you're using sales enablement, performance enablement, or performance management software. Particularly in industries like direct selling, retail, and insurance, if your onboarding experience is user-unfriendly, you risk building up low retention numbers. 
On the other hand, an efficient onboarding experience can lead to high retention. SHRM, for instance, estimates that with strong onboarding, 69% of workforce members will stay with a company for 3+ years.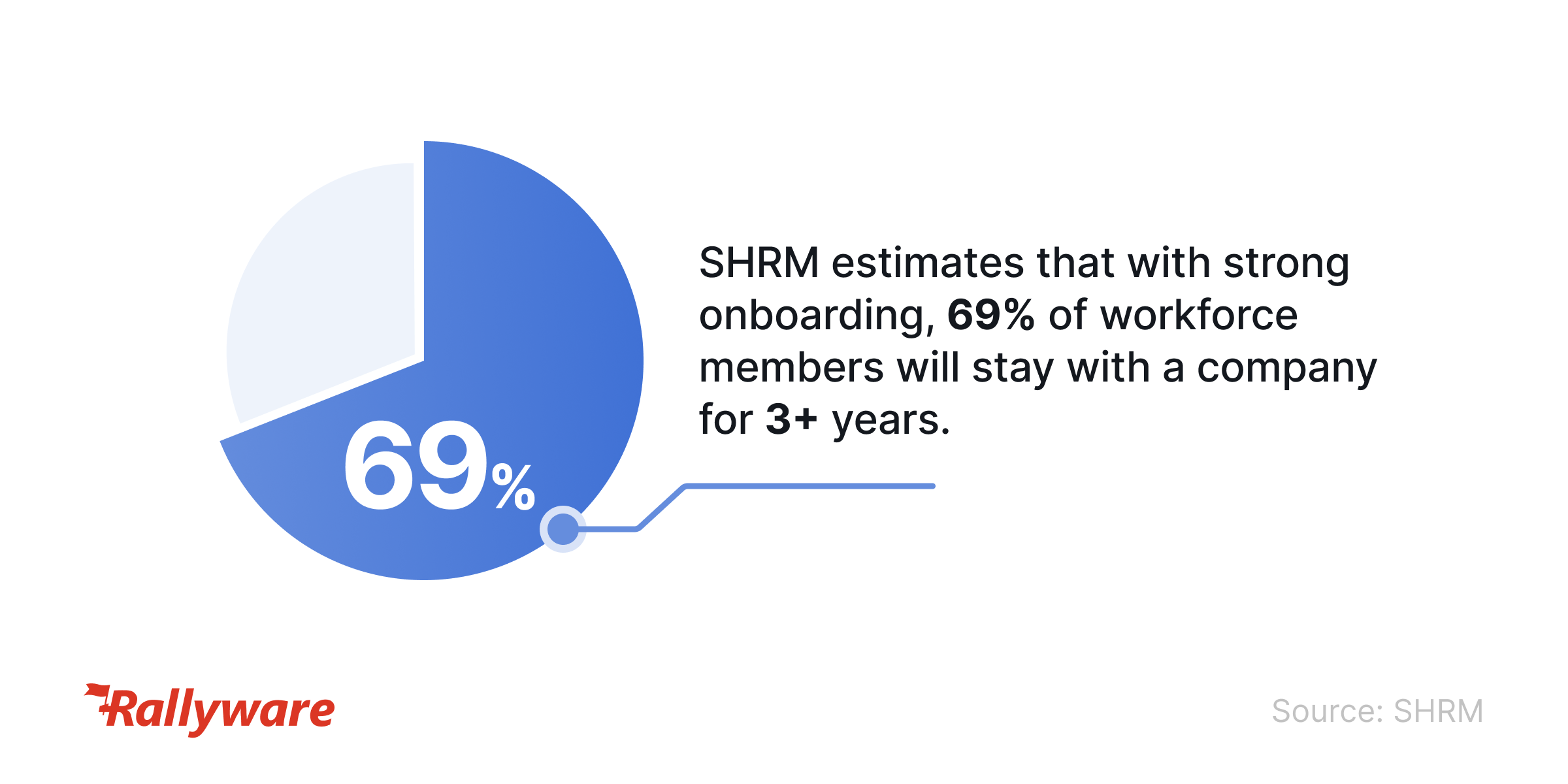 So when planning your digital frontline onboarding strategy, what should you look for in performance enablement, sales enableemnt, and sales performance management software? After all, such software should be able to optimize onboarding, particularly if it is an end-to-end solution. Let's look at some of the questions that companies should ask about the platform they're going to use for frontline workforce onboarding. 
What is frontline onboarding software?
A frontline onboarding platform is a software solution designed specifically to streamline and enhance the onboarding process for frontline workers. The frontline workforce directly interacts with customers, products, or services and are often at the forefront of an organization's operations. They can include retail store associates, restaurant staff, healthcare workers, hospitality employees, manufacturing personnel, direct selling distributors, and more.
A frontline onboarding platform aims to simplify the onboarding experience for this workforce, who may have different training needs, productivity goals, and work environments compared to traditional office-based workers. The platform, often part of a larger sales performance management software platform, should deliver solutions, functionalities, and features tailored to address the unique challenges and demands of frontline workforce onboarding. For instance, such onboarding might be remote in nature.
What should I ask my sales performance management software partner about onboarding? 
When evaluating a frontline onboarding platform for your sales force, it's important to gather relevant information to ensure it meets your organization's unique needs, challenges, and goals, as well as the needs and goals of your sales fleet. Below are some essential questions to ask your sales performance management software partner about the frontline onboarding technology they provide, which is most likely part of a larger end-to-end framework.
Mobile Accessibility
Is the platform accessible on mobile devices (smartphones, tablets, and other devices) to accommodate frontline workforce members who may not have regular access to desktop computers? By the same token, the platform should be accessible on desktop as well. In any case, we've discussed the pros and cons of mobile vs. web platforms before. Suffice to say, having flexibility between the two is crucial.
Content and Training
What types of onboarding content and training modules are available for frontline roles? Is the content customizable and configurable? As in, can you build your own training content and design a journey for each sales force member, based on their goals? Or is it more of a one-size-fits-all approach where each workforce members gets more or less the same journey?
Relatedly, are the training materials task-oriented and tailored to the specific goals of each workforce member? Do tasks trigger specific training materials, or are they chronological (i.e., triggered at certain points in time)? These are crucial questions, as training content is the "bread and butter" of the onboarding process.
Multimedia Support
Does the platform support various media formats, such as videos, images, and interactive elements, to deliver engaging training content? It's important that training content engage the attention–the "mindshare"–of the workforce. After all, for mobile devices, organizations are competing with social media, YouTube, and other interactive apps. Thus, you should confirm that the onboarding tools support a variety of media formats.
Checklists and Workflows
Can the platform facilitate the creation of onboarding checklists (these don't have to be literal checklists) and automated workflows to guide new workforce members through essential steps? Is onboarding built into the flow of work? Does the sales performance management software automatically suggest next steps after tasks are completed?
This is crucial because in order to be effective, platforms should blend seamlessly with productivity. Platforms that distract from the flow of work, or that do not apply to the tasks that are being completed in order to close sales, will likely prove to be inefficient. Each task or activity should prompt or trigger the logically subsequent task or activity.
Compliance Management
How does the platform handle compliance requirements, certifications, and documentation relevant to the frontline workforce? This is important because the workforce should come to understand intuitively the compliance requirements for being affiliated with the organization. At the same time, they should be able to refer to a digital library of documents detailing these requirements.
Real-Time Communication
Does the platform include messaging or communication tools to enable real-time communication between the frontline workforce and corporate headquarters regarding policies, practices, and products?
Is it easy to transmit messages from administrators to the workforce in real time? Particularly for workforce members who are less "techie," having an app that automatically shows new communications via push notifications will be helpful, so they don't have to go hunting in their email accounts.
Integration with External Data
Can the onboarding technology integrate with existing back-office systems, such as HRIS or commission management software, to sync frontline data and streamline administrative processes? This is crucial as it makes smart tasks and activities more targeted, more specific to each individual workforce member.
Gamification Elements
Does the platform incorporate gamification elements to incentivize learning and engagement during onboarding? Think about DuoLingo, an app that makes language learning fun with leaderboards and awards. Can the platform gamify onboarding progress to make this process more engaging? And do the gamification features have smart triggers? Are they auto-personalized for the individual user's goals and KPIs?
Asking these questions will help you gain a comprehensive understanding of how well the frontline onboarding platform aligns with your organization's needs and whether the sales performance management software overall can effectively support the workforce's onboarding process. Additionally, involving all relevant stakeholders in the evaluation process can provide valuable insights and ensure the selected platform meets their needs. Remember, the software acquisition process is dialogical and methodical, requiring companies to define their goals, pain points, and desires in advance.
To motivate and engage your workforce, you'll need the right technology – a platform using context and data to trigger the right activities at the right times for the right behaviors. Click here to see Rallyware in action or read more about our performance enablement suite.
News and Insights on Workforce Training & Engagement
We're among top-notch eLearning and business engagement platforms recognized for effective training and talent development, helping to empower distributed workforces
Subscribe