6 Steps to Successfully Onboarding a Remote Workforce
The COVID-19 pandemic has accelerated the need for alternate approaches to onboarding of new hires, when traditional approaches just don't cut it in the remote and distributed environment of today. It is key to leverage smart technology to pave the way for smooth and effective remote workforce onboarding, with emphasis on streamlined communication, custom roadmaps and personalized training that is hands-on. Today, companies worldwide are establishing their own individual approaches to onboarding new hires.
GE Healthcare, a global organization that operates in more than 160 countries worldwide, was aware of its inconsistent onboarding experience – across regions as well as sites. Varying technologies and systems, combined with different approaches taken by individual people leaders, was ultimately having a negative impact on employee engagement, retention and performance. So, in 2019, the company launched a global, personalized onboarding platform designed with GE Healthcare's people, rather than for them. The platform has since boosted retention and driven engagement, reaching 92% new hire engagement globally by Q1 2021.
When it comes to developing or rethinking your onboarding program, we encourage you to think creatively, not only about onboarding in itself, but the way that it will go on to enable sales. Consider: what type of experience do you want the members of your sales force to have upon beginning their journey with you to ramp up your time to productivity? Additionally, put yourself in their shoes and consider what type of experience they would like to have. Then, design your onboarding program accordingly and watch remote sales performance rise. Here is a comprehensive checklist from Rallyware of the 6 best practices for efficient remote workforce onboarding.
6 Best Practices for efficient remote employee onboarding
1. Encourage connections from Day One
Assign new hires an onboarding buddy to help them become adjusted to the company and its culture.
Beginning a new job can be stressful and overwhelming. According to research from Sapling, 87% of organizations believe that ambassador or buddy programs boost proficiency of new members of the workforce, while only 47% include it in their onboarding programs. For instance, with a fully distributed team, all new hires at social media company Buffer are paired up with three Buddies: a Leader Buddy, a Role Buddy, and a Culture Buddy, with whom they communicate frequently throughout their "boot camp experience."
2. Get to know your new hires
Take time to uncover their interests, as well as personal & professional goals.
Personalization is perhaps the most important element of the onboarding process. Address the needs of individual employees by creating personalized experiences tailored specifically to them. No two individuals are alike and carry with them their own unique set of skills and experience – Susan perhaps, may have majored in marketing, while Timothy only took a few marketing courses and is relatively new to the field. Based on their career goals (Susan aspiring to become a Product Marketing Manager and Timothy a Project Coordinator), the two will be offered differing onboarding experiences, even if they are starting from the same position as Marketing Manager.
3. Develop a structure
Complete a sound structure with rich media content to offer a diverse selection of training materials & activities.
Ensure your onboarding process follows a logical flow and has a sound structure, complete with well-timed stages so as to not overwhelm new hires. For many, poring through documentation related to product features and standard operating procedures may be dull, especially during the first days or weeks. It may not make sense to begin the experience by offering such dense and complex materials – why not mix it up by including videos showcasing demonstrations of the company's products in use?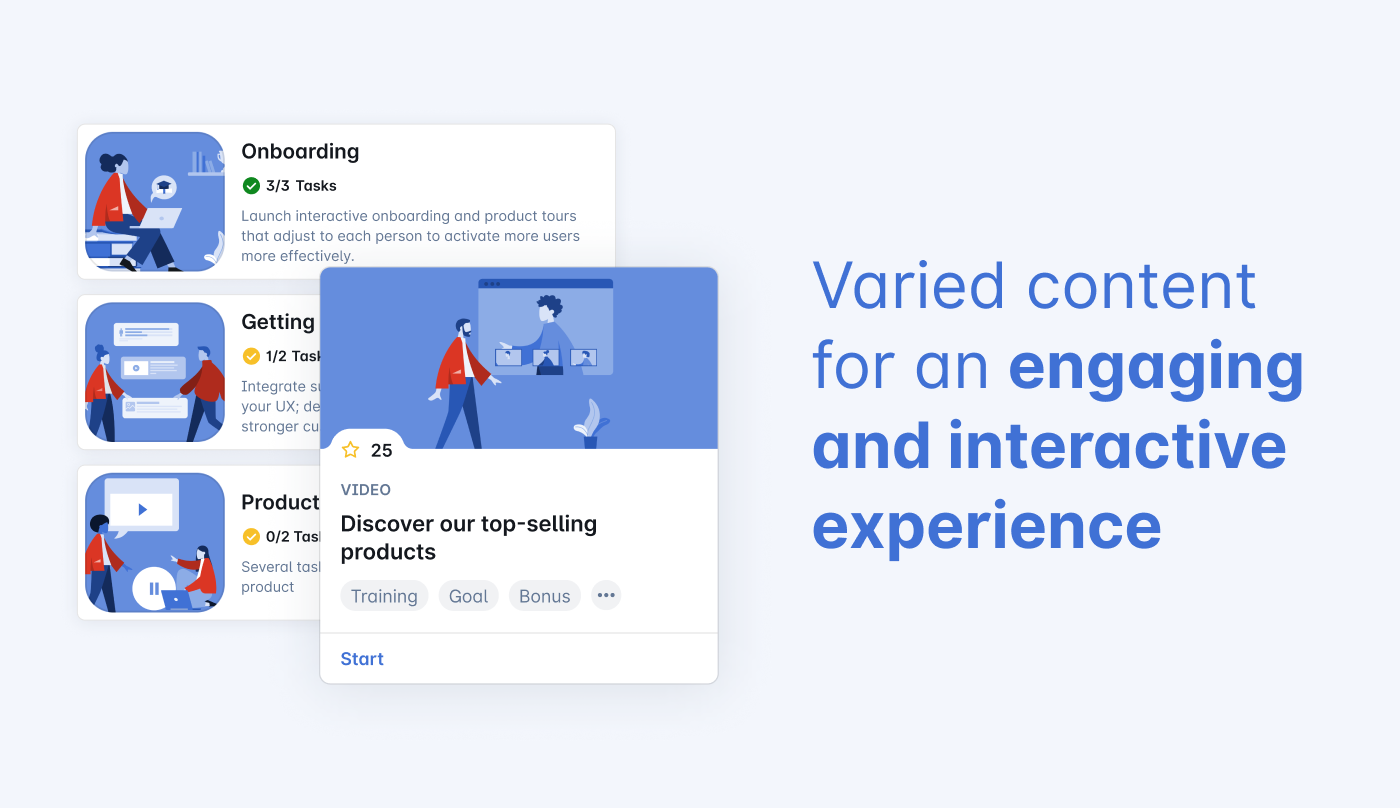 4. Provide a space for communication & collaboration
In a predominately virtual world, there is a need for a transformation of the onboarding process. According to a recent report from the Conference Board, 58% of TA (Talent Acquisition) and HR leaders report that the most difficult part of onboarding new employees is helping them to develop their networks. How can we boost and strengthen these connections? Just like it is essential to pair new hires with seasoned workers, it is important to keep up that momentum – and encourage communication to flow.
Social functionality is one robust feature of Performance Enablement Platforms, allowing for more streamlined communication, as communities can be structured around specific skills, regions or themes. When they are able to collaborate, ​​individuals learn more, are more engaged, and retain knowledge for longer periods of time, so why not provide the space for these connections to occur?
5. Provide easy access to key information
Be sure that individuals can access whenever and wherever they need.
What if an individual wants to redo or revisit a certain piece of content? It is important to have a dedicated space for all training material and resources, with intuitive search capabilities. Digital libraries, for instance, provide easy access to this key information, with content housed in various formats, so there are fewer questions, and more time to focus on producing results. Such libraries should be highly configurable, with the ability to tailor the availability of content to different users (such as different teams or individuals in different locations).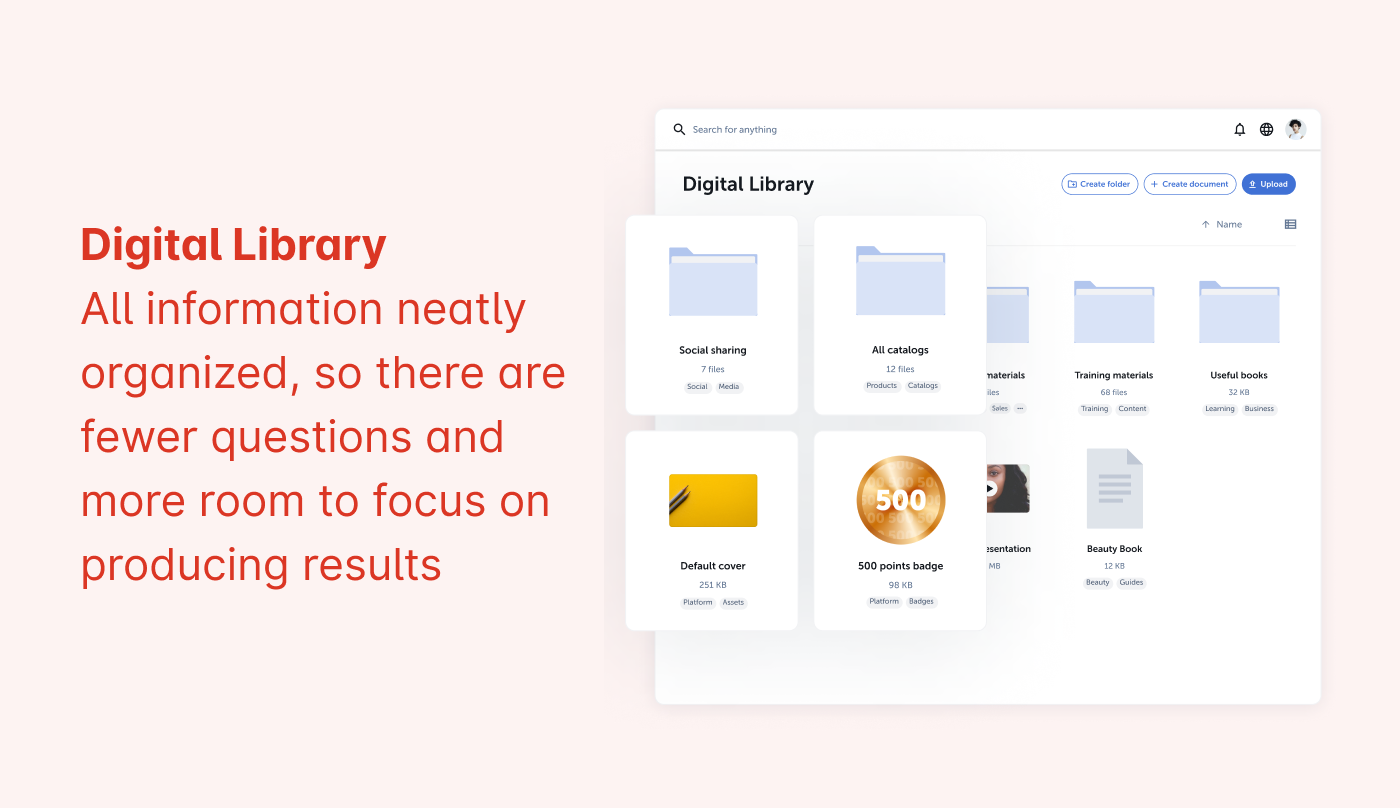 6. Collect the right data and analyze your virtual onboarding practices
This is where people analytics comes in handy, as this will allow you to answer key questions such as: how are individuals progressing from day one? How is your current remote workforce onboarding contributing to specific KPIs set by the company? Having the available data allows leaders to see the connections between system performance, user engagement, and business goals, which helps to quantify the ROI of their training initiatives. If individuals are not performing as well as intended, it may be time to rethink your onboarding approach. Additionally, encourage feedback and suggestions from members of the workforce, in order to improve processes over time.
Change your Virtual Workforce Onboarding Right Now
With onboarding out of the way, you are free to concentrate on whatever your organization does best, whether this be growing your business, driving sales or expanding your client base. To motivate and engage your workforce, you'll need the right technology – a platform using context and data to trigger the right activities at the right times for the right behaviors. Click here to see Rallyware in action or read more about our performance enablement suite.
News and Insights on Workforce Training & Engagement
We're among top-notch eLearning and business engagement platforms recognized for effective training and talent development, helping to empower distributed workforces
Subscribe