Maximizing Retail Team Performance: 3 Actionable Insights from Expert Gregory Beidler
Low frontline engagement, customer uncertainty and overstock are just several challenges that retailers today are facing. Rallyware's Chief Strategy Officer, Simon Turner, recently sat down (virtually) with Gregory Beidler, Director of Operations / District Manager at DICK'S Sporting Goods, to chat about retail sales enablement. Read on to discover 3 game-changing takeaways from the discussion!
Concentrate on building those crucial relationships
Gregory emphasized that, at the store level, the store manager-employee relationship is paramount. "If the manager and the employee are connected, the transformation then goes right to the customer, and there's a win there," he said.
He suggested that managers take a few moments to check in with employees before and after a day of work. What are some goals they can focus on for the day? How was their performance? "In the store on a daily basis, do you have a real process of connecting with your employees when they arrive and when they leave?" he stressed. "Is that a practice, and is it done with purpose or simply done as a task?"
"For engagement, it's powerful because in larger retail companies it's easy for an employee to feel left behind," he said. "You'd be surprised what you learn when you ask a simple question like "how are you doing?"
This commitment to establishing strong connections, Gregory said, also extends to brand partners.
The running industry is an excellent example. Consider a brand partner who visits a specialty running store to discuss several new products and their features. While this may be an informative session, it fails to go deeper to truly spark engagement.
Great brand collaborators consistently exceed expectations by ensuring the entire experience is highly interactive. After a practical demo such as showing the employees new running shoes, the brands would then give employees a chance to give them a test run (pun intended). Afterwards, they might revisit the product post-run, and dive more into the shoe's technical features. Employees are more likely to be engaged, and can relay that experience to customers the following day. Great brands are also there when the store opens, standing alongside employees to interact with and advise customers.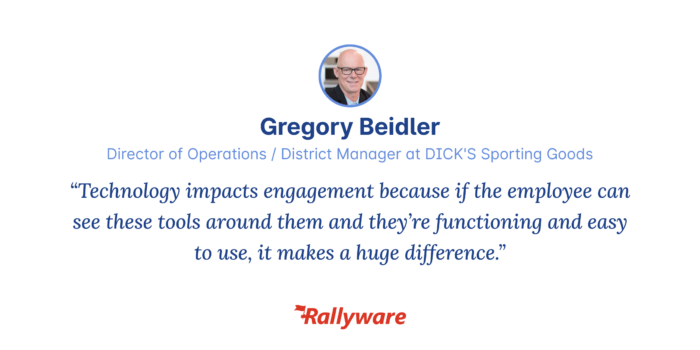 Create an outstanding onboarding experience
When it comes to onboarding, the days of instructing employees to "go watch a video or read through this manual" are behind us. In today's modern world, key questions to consider are: is the content relative? Is it easy to access? For instance, DICK's Sporting Goods may provide content that can be applied to every step of the journey, and customized to each employee.
"There has to be some commitment to the company telling the story – what is our connection to the community?" Gregory said. "If we invest in that at the beginning and don't rush…if we can be purposeful and take our time, employees have a better understanding of not just their role but the company, its products and mission, at every level, whether it's part-time or management, and the good companies do this really well."
There has to also be a commitment to allocating time to learning and training. Gregory offered an example whereby an employee may return to their role on the sales floor after taking time to complete a 3-hour long training session. Because this block of time was not planned for, the employee is 3-hours behind the rest of their teammates, and their engagement levels are down.
"You can have great tools, but if there's not a purposeful plan on how to and when to, you are probably not going to get the best use of your investment," he said.
Invest in the right technology for the ultimate employee and customer experience
It is crucial to incorporate modern and interactive aspects into the in-store experience for both the employee and the customer. In Gregory's eyes, it has become increasingly essential for several events to take place:
First, the employee has to be knowledgeable, and this goes beyond the basics of product knowledge. Do they have quick access to information in a live moment with the customer right in front of them, or immediately following an interaction with a customer? "That, on-the-fly is important, because your customer's attention spans are short," he said. "They want the basics, the facts, in a personable way, and to trust you as an authority."
Second, if customers are in a hurry and want to check out quickly, do retailers have technology in place, such as a mobile POS system, that allows them to do so?
Lastly, customers should be able to order the items they want, even if it is not currently available in the store. If a store does not have a desired item in stock, can the customer and the employee physically stand there together and order it by browsing through a store catalogue?
According to Gregory, retail sales enablement all comes down to 3 words: investment, inspiration and inclusion. Is there an investment in our teammates and who they are as a person? Are employees included in what the plan is for the store? "If you're really authentic, these three things come through loud and clear, and culturally, that can permeate and really grow," he said.
Ready to maximize your retail team's performance with a solid retail sales enablement strategy? Reach out for a demo to discover how Rallyware helps drive revenue-generating behaviors!
News and Insights on Workforce Training & Engagement
We're among top-notch eLearning and business engagement platforms recognized for effective training and talent development, helping to empower distributed workforces
Subscribe