Workforce Productivity Growth With Personalized Learning
The continuous slowdown in workforce productivity has affected the global economy and left businesses struggling to understand the reasons behind it. In an attempt to find a solution for the paradox of technological advancements and low productivity, we conducted an extensive piece of multi-year research. The participants of our study were global companies with large distributed workforces of 500+ employees. We divided their teams into distinctive cohorts to test five sets of performance improvement technologies. Our goal was to not only give companies a sense of direction on how to improve workforce performance but to also provide them with data on what actually impacts productivity growth.
Today, I'm excited to share with you Rallyware's key research findings on what underpins ongoing productivity growth for companies with a large distributed workforce.
Why productivity is slowing down?
As odd as this may sound, the exponential growth of transformative technologies for improving the way people work and learn resulted in a marked drop in productivity. Let's just take a look at the numbers. According to The Bureau of Labor Statistics, workforce productivity increased a meager 0.3% per year from 2010 to 2015. In comparison, productivity growth from 1995 to 2005 was characterized by an average of 2.5% increase per year.
A report from the Engagement Institute estimated that this productivity slowdown costs U.S. companies up to $550 billion per year. Why do we see a decline in productivity? Is it the dark side of technological advancements and business transformation?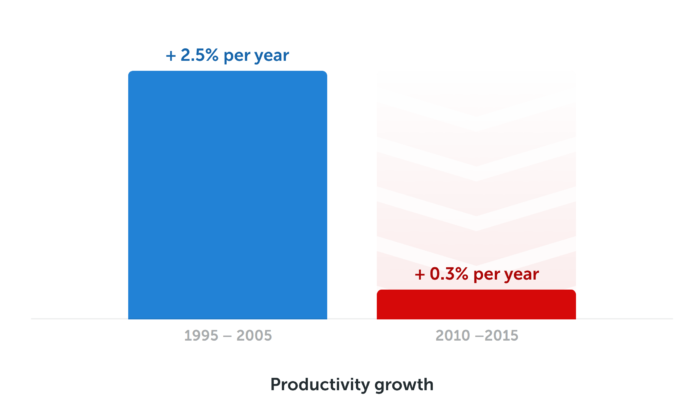 We can partially explain the productivity paradox by a mismatch between a large set of available technologies and the needs of a company. What I've noticed in my experience is that companies often have either the wrong mix of tools to address specific challenges or an already outdated way to handle productivity issues. Many bring the solutions of yesterday to the problems of today and tomorrow. Having collaborated with dozens of global organizations for years, we have identified three main challenges that hinder distributed workforce productivity growth and are directly related to the mismatch between needs and technologies. 
First, costly onboarding programs that take too much time to get new recruits up to speed. 

Second, wrong technologies are widely implemented to support personalized training for distributed workforces.

Third, lack of sophisticated tools that can turn data into actionable steps to apply learning at the workplace.
The question of outdated technology is quite clear. For example, if there's an eLearning solution that doesn't support mobile learning, it won't meet the needs of today's mobile workforce. However, it's not as simple as that – having a mobile-enabled platform does not necessarily guarantee results in productivity. So, what do we mean by the right mix of productivity tools? How are they supposed to address specific challenges of every company and every individual?
What is the essential productivity growth condition?
To answer the question above, we need to capture the essence of productivity in the first place. For workforces to be high-performing, productivity tools have to be smoothly integrated into every individual's daily activities and the overall workflow. 
Let me share with you a simple success factor: 
If people know how, when, and what they're supposed to do as their next step to contributing to the company's goals, their productivity will be on the rise.
In other words, the productivity slowdown comes from a skill mismatch, a lack of knowledge, and confusion in the processes and procedures of the workplace. 
Business growth and a high-performing culture are only possible when companies can maximize the contribution of each individual right from the first day. There's no room for inefficiency. So, in order to maintain a high level of workforce productivity and have a competitive advantage over others, companies need to have a robust workforce performance enablement tools that ensure personalization, scalability, flexibility, reliability, and easy accessibility. 
Which productivity growth solution is the most effective
Taking into account the productivity growth conditions and the challenge of technology mismatch, we decided to test five performance improvement tools and their combinations to identify which ones are the most effective. 
By the way, you can download a full version of The New Science of Distributed Workforce Productivity Growth white paper to read in detail how we tested each of these tools. But in this article, I'm going to focus on two crucial findings. 
The implementation of learning + social engagement contributed the least to workforce productivity.

To our surprise, one of the most widely-used approaches to performance improvement turned out to be the least effective. What's interesting is that when we measured the results of learning alone, it was 2% more effective in increasing productivity than when we added social engagement features. 
While social engagement features foster collaboration, improve feedback, and facilitate knowledge sharing across a company, they can also steal learners' attention. To eliminate distractions and tie each activity to specific goals, there must be some set of rules to direct the learner's attention to relevant activities. 
The implementation of learning + business activities + timing + social engagement was the most effective in increasing workforce productivity.

The combination of these four performance improvement tools proved to be the most impactful for a number of reasons. Each individual received personalized business activities at the right time driven by data that were supported by actual learning and social engagement. In a nutshell, learning was not for the sake of learning but for the sake of successful business activity completion. In turn, every activity was prescribed at the right time to the right individual, optimizing overall productivity, as a result. And the social element was restricted to the level of support, not the main focus.
The combination of the four performance improvement tools creates the perfect conditions for productivity growth since every individual is guided through personalized development paths derived from each user's performance data. 
It doesn't matter if your team works in one location or is distributed across the world, every individual receives support right when they need it most thanks to the prescriptive capabilities of the Performance Enablement Platform.
Just one last thing to remember: distance should never be a hurdle for effective workforce performance and ongoing productivity growth. The goal is to provide your distributed teams with the right performance tools that seamlessly integrate into their daily operations, blurring the lines between work and learning. 
Save your seat for a demo of the Rallyware Performance Enablement Platform to see how you can drive productivity growth in your organization!
News and Insights on Workforce Training & Engagement
We're among top-notch eLearning and business engagement platforms recognized for effective training and talent development, helping to empower distributed workforces
Subscribe