eLearning Technologies That Boost Employee Performance
An American cartoonist Charles M. Schulz once said: "There is no heavier burden than an unfulfilled potential." We fully agree with this statement, because only connected, engaged, and valued individuals can make a great impact on a company's bottom line, based on Rallyware's experience in the eLearning industry for more than 7 years. So, what technologies do we use to assist global companies in driving their workforce performance?
Modern technologies unlock full potential
According to Training Industry research, organizations need to adapt their processes and practices to changes in the business environment: "The training function must be at the center of this evolution, with skilled learning professionals leading the way."
The latest trends in the L&D industry have been microlearning, data and analytics, social and collaboration tools, mobile accessibility, adaptive learning, and smart gamification, among others. So, in order to future-proof themselves and achieve their business goals in 2020, companies should consider implementing a data-driven performance enablement strategy with all the above-listed features holistically integrated into one centralized platform. Such data-driven eLearning systems drive success for each and every individual and an organization as a whole.
What are CLOs looking for in eLearning technologies in 2020? 
Here are the current most in-demand features of eLearning and performance enablement systems:  
Just-in-time triggered learning

Data-driven business activities

Smart gamification 

Structured engagement programs 

Informative analytics dashboard
Each of the above-listed features is key to helping CLOs make their workforce training and talent development not only more enjoyable for the users but also more efficient. It drives learning engagement, knowledge retention and productivity growth with the help of smart technologies combined with the right data. 
Just-in-time learning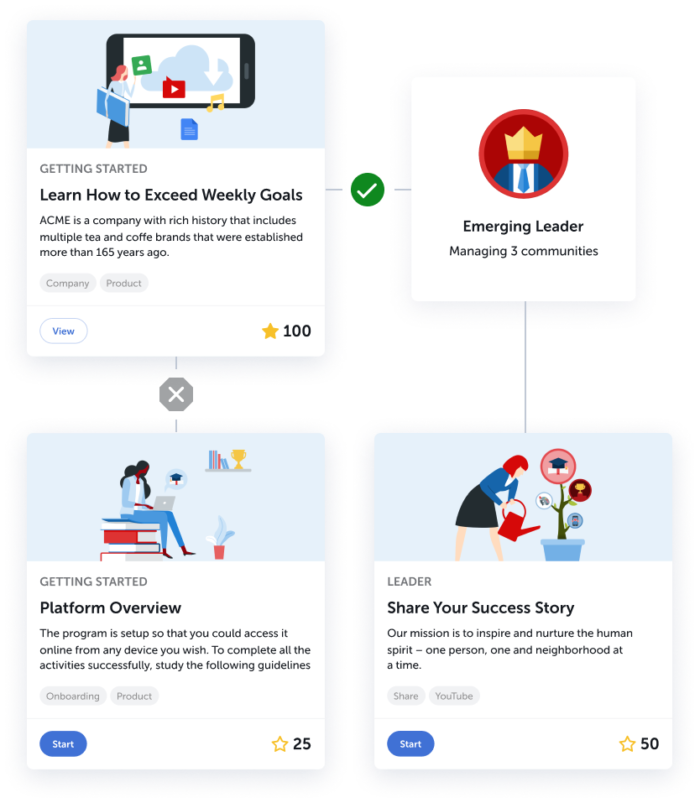 The Udemy study states that just-in-time learning gives workforces exactly what they need and when they need it. It helps with knowledge retention, saves time and resources, and makes workforces feel empowered. Just-in-time learning is based specifically on a company's business KPIs. eLearning platform algorithms analyze live and historical performance data to predict which learning activities are needed in a particular case and when they'll be automatically sent to a specific person. In such a way, every user gets personal recommendations on learning activities to bridge any knowledge or skill gaps.
This feature alone increases workforce productivity by 32% and reduces training expenses by 25%, study.
Data-driven business activities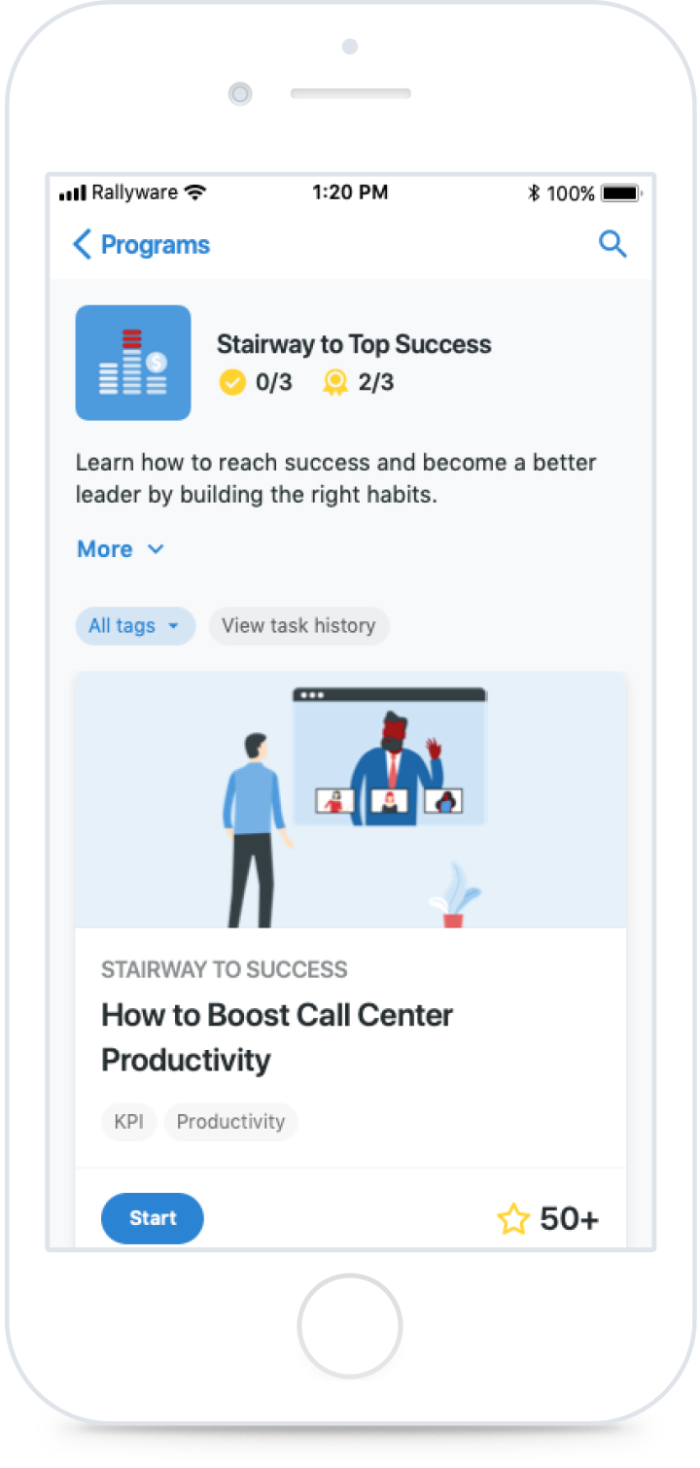 So, your eLearning platform automatically prescribes learning activities. Now what? Practice makes perfect, doesn't it? It is a proven method of effective learning to master previously studied materials. A wide range of online and offline tasks supporting each learning module is a must if you want to see positive changes in workforce training and development.  
Data-driven business activities come in different forms and shapes among which the most popular ones are: 
Customized microlearning supplemented by multi-mode surveys and quizzes

Uploading documents and media files as part of the study flow

Real-time picture and video recording for better knowledge absorption

Completing activities on external systems 

Various internal and external custom completion trigger types
With the help of just-in-time learning supported by business activities, your workforces are more likely to retain valuable information needed for them to succeed in their job roles.
Smart gamification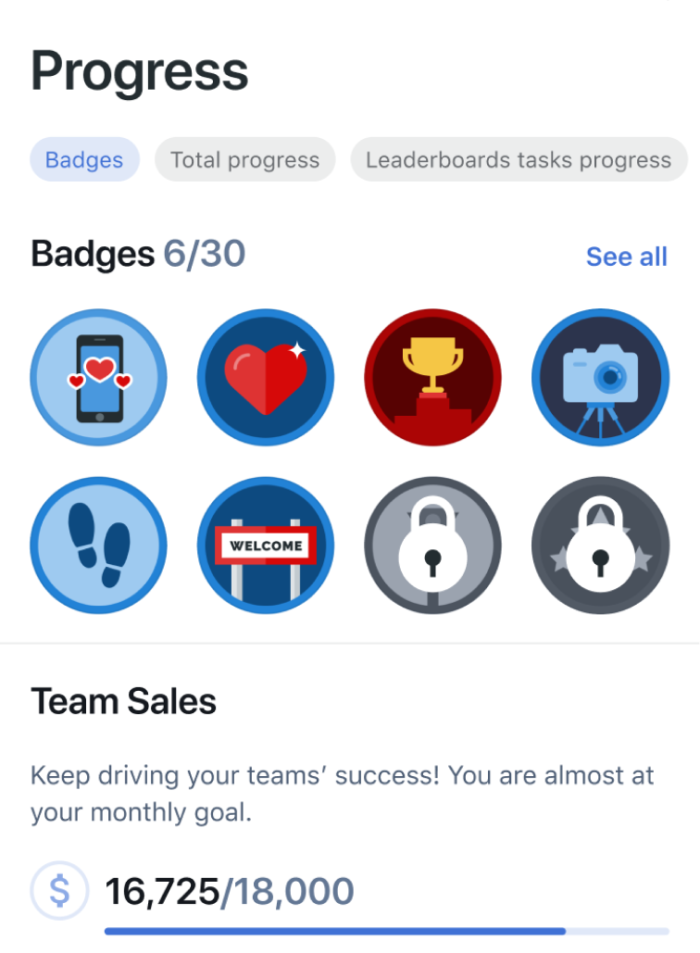 Learning – done! Practice – done! Is it enough? Do you always feel fully engaged in learning and motivated to constantly grow? Not always. So do your employees, especially when they don't see a clear path to success. To solve the issue of engagement, a variety of gamification techniques that range from instant gratification to leaderboards and smart nudges should be applied. Thanks to smart gamification, you can turn a regular workplace into a game-like environment with highly motivated teams. This is possible if the learning system is powered by algorithms that can predict who gets rewarded and recognized as well as when and how. As a result, your employees will be much more likely to participate in various corporate initiatives, collaborate with other team members, and build a strong bond with the company's culture. 
But don't forget about the rewards! According to a study by Cornell researchers Kaitlin Woolley and Ayelet Fishbach, people who received immediate, frequent rewards for completing small tasks demonstrated more interest and more enjoyment in their work. We highly recommend that you recognize your team members with both virtual badges and real-life rewards. Besides that, your high-achievers should have the opportunity to earn certificates for completing certain tasks, reaching critical milestones, or showing their leadership skills and other achievements.
Structured engagement programs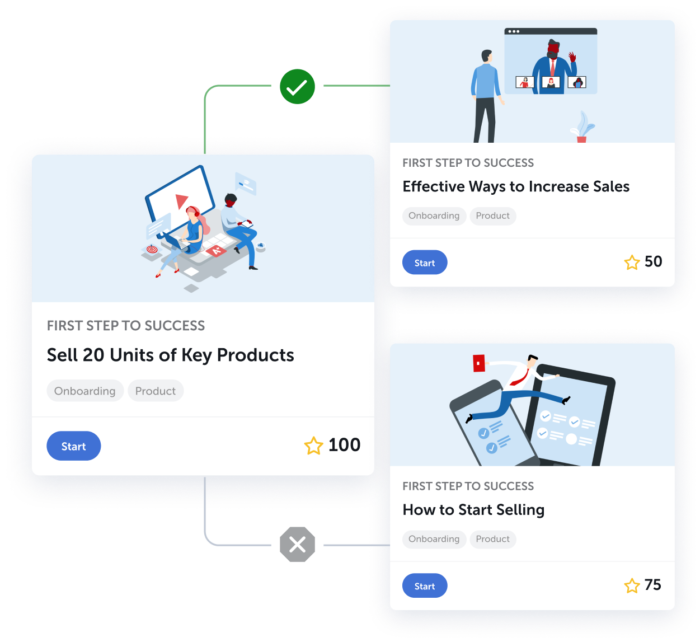 To drive business KPIs, today's CLOs should be using structured and data-driven engagement programs established on the basis of the best industry practices. We are seeing a strong trend of data being combined, where companies mix previously collected data on their unique workforce engagement with the industry's data to develop highly adaptive programs for their specific goals. So, how can this be done? 
First, a training leader defines the program goals: which areas of your business and operations require the most attention and improvements? The activities that will help to achieve those goals are then put together by a team of learning experts, and a learning activities map is created for a client. It contains sequences of learning and operational activities, the number of points earned for each accomplishment, and the rewards that will be unlocked at the end of the learning modules. Such an approach paints a big picture before the development of a learning system with all the learning task dependencies aligned to business KPIs.   
No matter how distributed or collocated your workforces are, the right activities will be delivered to the right individual at the right time for their personalized performance enablement. 
Informative analytics dashboard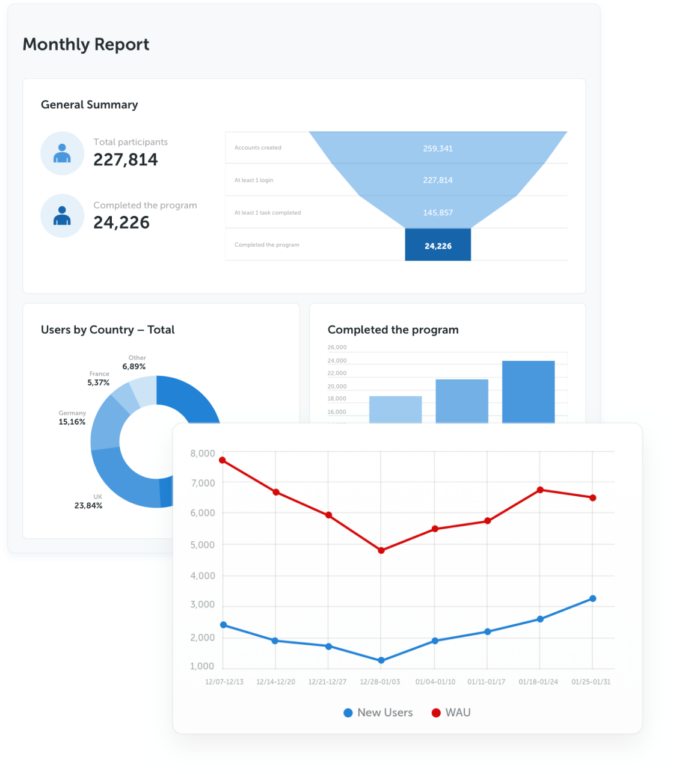 A learning solution of your choice should contain various dashboards with analytics for management and company stakeholders. Real-time learning progress, performance analytics, custom report digests – they will all help business leaders uncover critical insights into workforce success as well as predict possible shortfalls.
If you start seeing a drop in your teams' performance you can always dive deep into what's causing it with a robust analytics tool. By quickly spotting potential productivity issues, business leaders and CLOs can work together to avoid critical challenges by restructuring learning programs, adapting business activity flows, or using gamification to improve corporate culture and workforce morale. 
By leveraging the right technologies and integrating them into the daily operations of a company, the CLOs of tomorrow are making an impact not only on corporate goals but also on the lives of their workforces. 
If you're looking for a single solution to support your workforce and provide them with individual paths to success, request a demo of the Rallyware Performance Enablement Platform!
News and Insights on Workforce Training & Engagement
We're among top-notch eLearning and business engagement platforms recognized for effective training and talent development, helping to empower distributed workforces
Subscribe