Rallyware Acquires Myagi: A Brand New World of Performance Enablement and Sales Force Operations
Rallyware is proud to announce their acquisition of Myagi, a retail sales enablement platform. This move represents a profound evolution in what is possible for large sales forces, from retail sales training to brand sell-through and direct selling and beyond, transforming the way that sales persons operate.
At a moment when interests rates are increasing and customers are paring back purchases, sales force enablement technology that optimizes seller performance has never been more necessary, or more possible.
Merging Expertise: Creating the Ultimate PEP
As a retail branding training platform, Myagi has broad experience and expertise in influencing sell-through, driving brand knowledge, and ultimately helping salespersons sell better and sell more.
Synergized with Rallyware's Performance Enablement Platform driving KPIs for direct selling and retail sales forces, and expertise implementing digital strategy for such companies, the result is the ultimate platform enabling higher sales performance across the board for sales forces of all types.
With Rallyware's platform and Myagi's sell-through and brand training capabilities, companies have immediate access to a vast network of advocates, touchpoints for them to boost brand knowledge and sales results. Organizations like Nike, Gibson, Oakley, and other brands have used Myagi to boost associate sales ability and brand knowledge, leading to a more informed and capable network of salespersons.
Meanwhile, Rallyware's platform integrates with sales performance data to drive business outcomes in real-time. The result is a sales force with the equipment they need to sell more at a time of lower margins and uncertain developments in the market. With some of the best minds in their respective channels and technologies joining forces, customers implementing Rallyware will be able to cut tech stack by consolidating tools; communicate internally with sales reps at scale; automate retail sales training content; and much more.
Direct Selling and Retail Sales Training for KPIs: Performance Enablement for a New Era
Enablement for direct selling and retail sales training, along with other sales channels, is certainly part of the equation here. However, the value provided by Rallyware + Myagi goes well beyond training and knowledge into the enablement of sales forces toward the real-time boosting of sales performance to address core KPIs, whether those are inventory management, retention, revenue alignment, or other metrics. The platform sits on top of and integrates with organizations' systems to automatically transform the content and tasks sales persons are shown based on the metrics of the moment.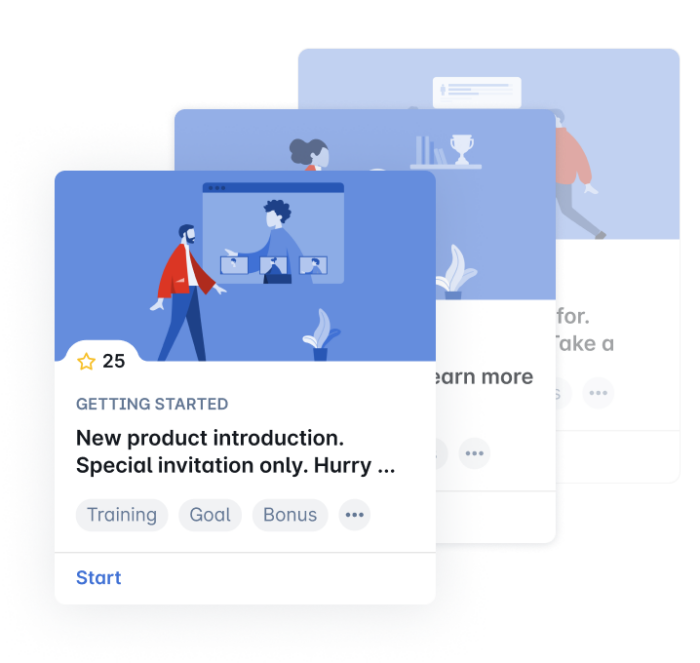 Thus, companies with large sales forces have the opportunity to drive brand knowledge and sell-through, creating better advocates, while propelling sales force performance with easy-to-use training, upskilling, rewards and recognition, and other kinds of tools, available with Rallyware.
That's partly what this evolution of Performance Enablement is all about–optimizing the whole sales rep experience in an automated fashion, while calibrating that experience to the sales rep's performance so far and company metrics.
Direct Selling, Retail, Brands, and Beyond: Optimizing Large Sales Forces
With this acquisition, brand and retail customers who use Myagi will get access to a platform that turns the sales person into a more independent, autonomous performance powerhouse–most needed at our time of change and uncertainty.
Meanwhile, direct selling customers get new expertise, capabilities, and tools. At a time when many brands have expanded into omnichannel sales, it's essential that companies embrace strategies and operations from similar channels. After all, today, some direct selling orgs are "retailizing," being influenced by retail. Similarly retailers are embracing direct-to-consumer models. Different channels have much to learn from each other, and as this cross-channel and omnichannel approach grows, the Rallyware-Myagi acquisition will only become more relevant.
Don't get left behind–start embracing the future today. Read the press release here.
Rallyware and Myagi are transforming sales rep productivity, knowledge, and productivity with an all-in-one digital platform for salespersons. Request your demo here.
News and Insights on Workforce Training & Engagement
We're among top-notch eLearning and business engagement platforms recognized for effective training and talent development, helping to empower distributed workforces
Subscribe