Research Shows Employee Engagement Stronger than Ever, Even Amid a Pandemic
While COVID 19 certainly dealt a blow to businesses around the world, there have been many lessons learned, new practices initiated, and outdated practices completely revamped—much faster than they otherwise would have been. One major trend that we've seen over the past few months is the incredibly powerful shift to an employee-centric mindset; in other words, CEOs and leaders are focusing more on their employees. They are thinking more carefully about their team members' well-being: mentally, physically, and emotionally. And accordingly, more managers are finding creative and meaningful ways to support employees. The result: employee engagement is soaring during one of the biggest crises of the modern era.
A recent study conducted by Willis Towers Watson demonstrates that without question, businesses are now all in when it comes to taking care of their workers. In fact, some of the numbers are actually rather eye-opening, considering the situation as a whole. Another study by Gallup shows that employee "disengagement" is at a ten year low. While a Quantum Workplace survey has employee engagement at near seventy-five percent. Why are the results so positive across the board—it's simple really, leaders and managers are taking the time to look at worker concerns and consequently, addressing those concerns more emphatically than perhaps they did in the past.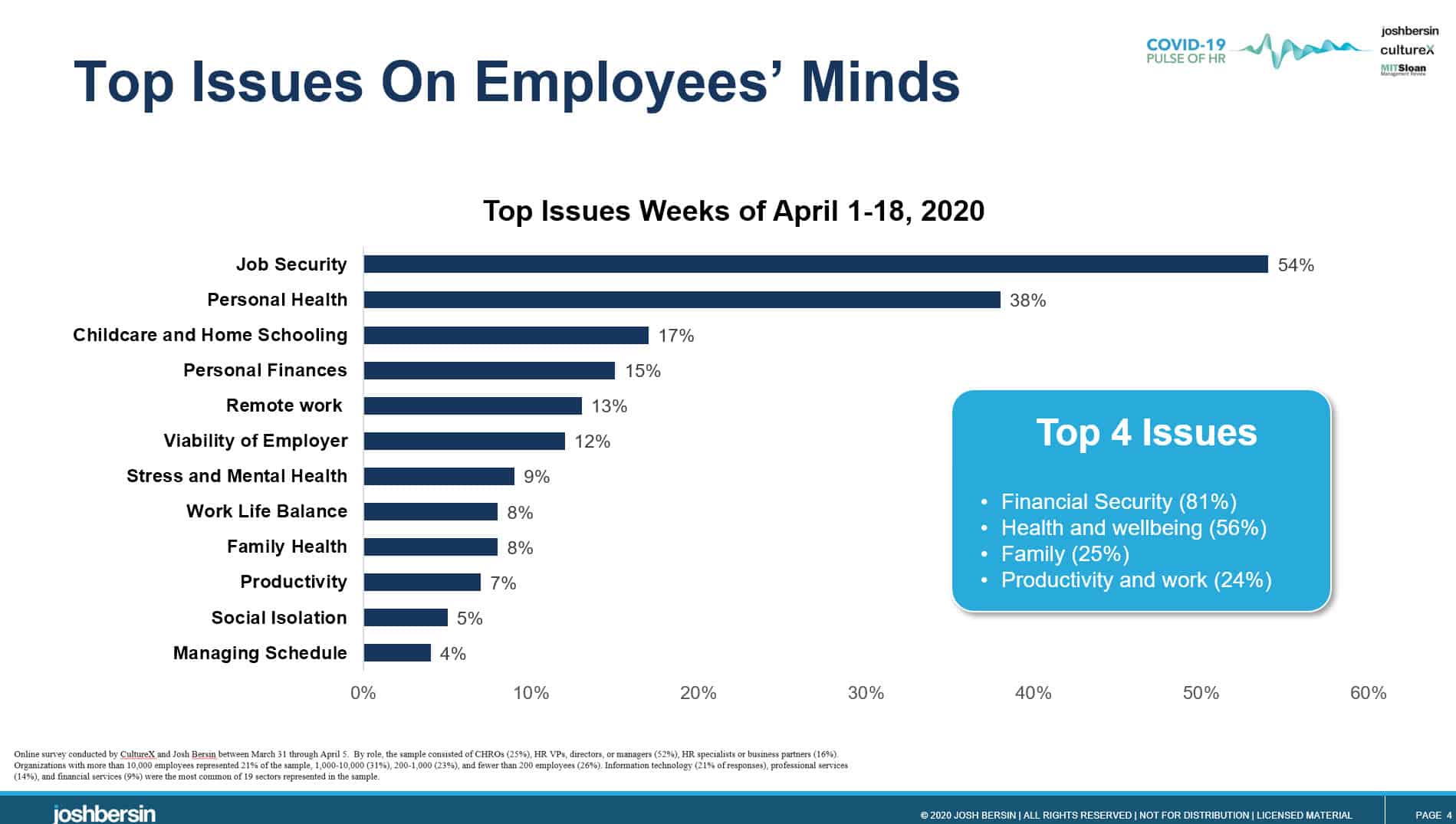 When surveyed, employees were open about their overriding worries in this crisis-driven atmosphere. As is apparent, the number one fear centers on whether or not they will have a job in the near future, and of course the lack of financial security that comes with that, followed closely by concerns over health and well being. Companies keenly recognize this and are thus approaching employee engagement in more flexible ways. The move to more work from home models has been a boon to many businesses. In light of this, remote employee training practices have been more vigorously emphasized, and productivity is surprisingly high when it comes to working remotely: only 21% of those polled said that productivity decreased somewhat upon switching to a work from home model.
Many firms are also encouraging employees to take paid vacation time. Not to mention, they are offering free wellness programs and education. From a job/financial security standpoint, the Willis Towers study determined that only 15% of firms were decreasing pay—good news all things considered. And some organizations have even gone so far as to help those employees who have been furloughed find new positions.
A Shift in Leadership Culture Equals Enhanced Employee Engagement
Beyond the flexibility, beyond the programs instituted to address issues of health and well being, beyond even the move to remote work, one of the key factors which have led to better employee engagement has been a rather dramatic shift as seen in leadership mentality. As some are apt to note, the CEO has become the Chief Empathy Officer during this crisis. That is to say, compassion and empathy are coming to the forefront as far as what a leader needs to exhibit. People are feeling unsafe, uncertain, downright frightened at times. And with the work from home situations, many feel isolated and confused. Leaders—CEOs and managers alike—are stepping up in big ways as they try and comfort their people and navigate them toward a productive future. The Willis Towers study revealed that in fact, 83% of those asked said they felt their employee experience has improved. While a whopping 90% say that the company culture, in general, is much better than pre-pandemic.
How Do You Keep Employee Engagement Growing?
With such positive trends surrounding the employee experience, the question is how can companies keep the momentum building? How can they maintain a culture that nurtures employees and promotes scalable growth?
Foster an inherent sense of belonging. Include employees in critical conversations. This is unchartered territory for everyone, even as the boss you don't know all the answers. Your team can be a great source of information. And keep those communication lines open. Especially with so many employees now home-based, ensure that you have ways of ensuring your team stays connected.
Facilitate teamwork. The tools are out there, the platforms are pervasive—use them. Get colleagues working together on projects. Encourage collaboration when it comes to solving problems and devising creative solutions.
Recognize and reward. In many instances, employees are pulling out all the stops. They are working harder to help the company overcome the pitfalls that COVID 19 presented. Recognize this, and when applicable reward their efforts.
Show them that their work means something. Don't hesitate to share those positive stories and widely promote the tremendous outcomes that your team achieves. They are working their utmost to help the firm; you need to demonstrate that you understand this and that the work is indeed paying off.
Give them the freedom to make decisions. Again, these are uncertain times. Essentially no one has been "here" before. Leaders are going to have to trust their people; they are going to have to let them have some authority and thus make decisions in accordance with their roles.
A Five Year Forecast in Employee Engagement
The shift to a more employee-centric work environment does not show any signs of slowing down. And actually, many predict that employee engagement will only continue to grow at a robust rate as many pandemic related trends and practices become permanent.
One thing we are certain to see over the course of the next five years, digital transformation will come to help define employee engagement initiatives. Automation will also come into play as far as how a company engages its workers–with each individual, yet on a large scale.
This is the moment right now and moving forward for companies to get strategic with their learning and engagement efforts. Being able to deliver just-in-time training to employees whenever and wherever for example, having a platform in place that stresses community, ensuring that achievements don't go unrecognized and/or unrewarded—and being able to offer these things in a scalable and automated way will ensure that employee engagement continues to skyrocket. At Rallyware we work with companies around the world offering cutting edge solutions when it comes to engaging their employees and distributed workforces. Schedule your demo today.

News and Insights on Workforce Training & Engagement
We're among top-notch eLearning and business engagement platforms recognized for effective training and talent development, helping to empower distributed workforces
Subscribe