Eliciting Desired Behaviors of the Distributed Workforce
The world of direct selling has grown exponentially over the course of the past ten years. And with the events of the first half of 2020, the industry has gained even more ground as many people, be it those looking to make more money or those simply wanting to purchase products from the safety of their homes, signed on as distributors. With more and more distributors throwing their hats into the direct selling ring, the key now for many companies is to figure out the best way(s) to drive the type of behavior that elicits optimal results while still factoring in retention rates and doing so under the pressure of a continuously changing socio-economic environment. In other words, how do these businesses get the most productivity out of their distributed workforce, set their distributors up for long-term success, and at the same time, foster a community culture that makes team members want to stick around?
Having worked with a number of national and international direct selling brands, Rallyware understands what drives performance. It's about focusing on that critical nexus where data meets science. Many leading thinkers and scientists have said time and time again that essentially, people are a "set of memorized behaviors." Any change, whether that takes the form of professional or personal change, must start with this premise. If you are going to instigate behavior change for the better within your distributed workforce, you must begin by transforming these "memorized" behaviors that don't necessarily serve an individual. You have to institute practices that encourage and support more effective distributor behavior—such that directs them toward the path to success.
Tips for Enhancing Distributed Workforce Productivity
As a result of our internal data and general observations in partnering with direct selling brands, we've discovered that more desirable behavior comes from a concerted effort to provide the right training at precisely the right time to the right individual. If it sounds a bit like a formula, that's because it is—a successful formula at that.
Just-in-time microlearning drives continuous performance growth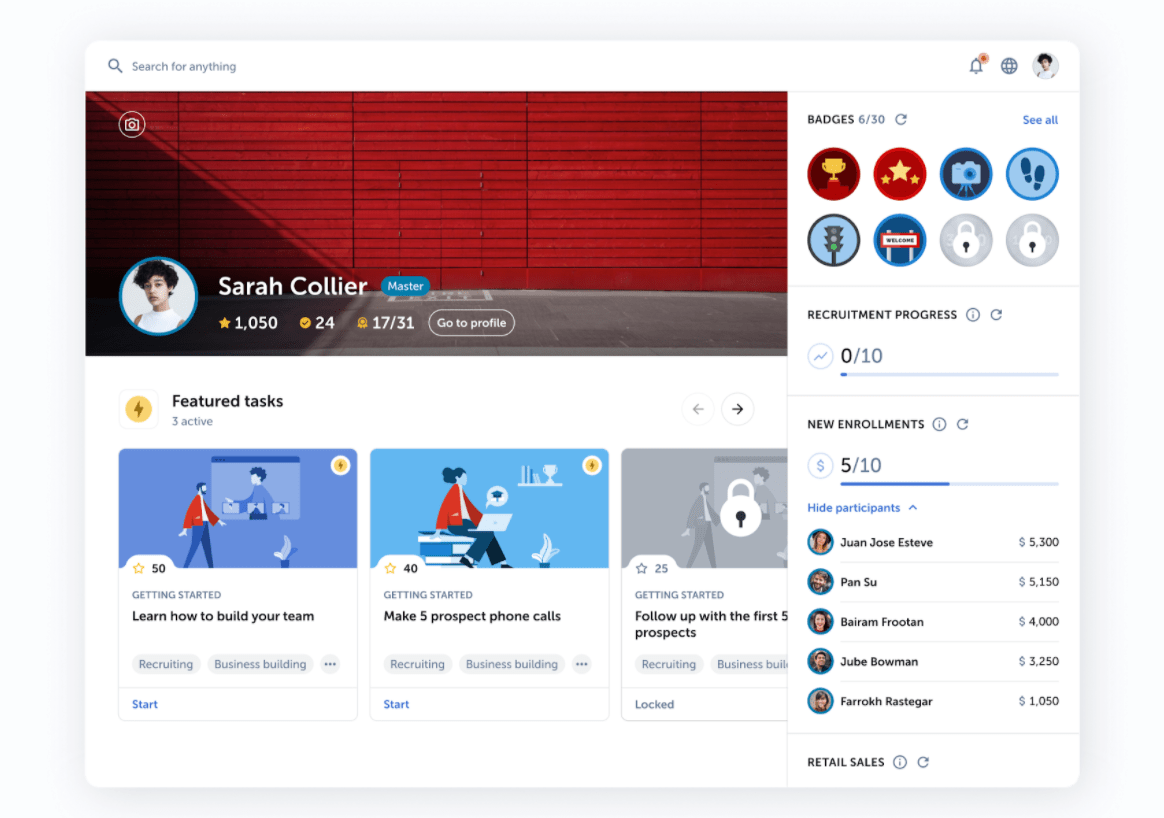 After the initial phase of training, it is not necessarily going to be "smooth sailing" as they say. Especially in the climate in which we now live, distributors are going to require additional support periodically. Sure, there is that distributor who right out of the gate may be a direct selling superstar, and then there are others who might prove to be slower starters. When you do notice a performance decline because you have that data at your fingertips, you can then provide just-in-time learning experiences and thereby help that distributor regain their confidence before the situation gets any worse.
What's more, such learning doesn't have to be overly drawn out; attention spans are shorter now than they've ever been. Microlearning and micro business activities are pivotal here. A company that cares about the success of each and every distributor can deliver the kinds of individualized micro activities designed to get that distributor back on track in an effort to drive KPIs.
Knowledge reinforcement makes distributed workforce training "stick"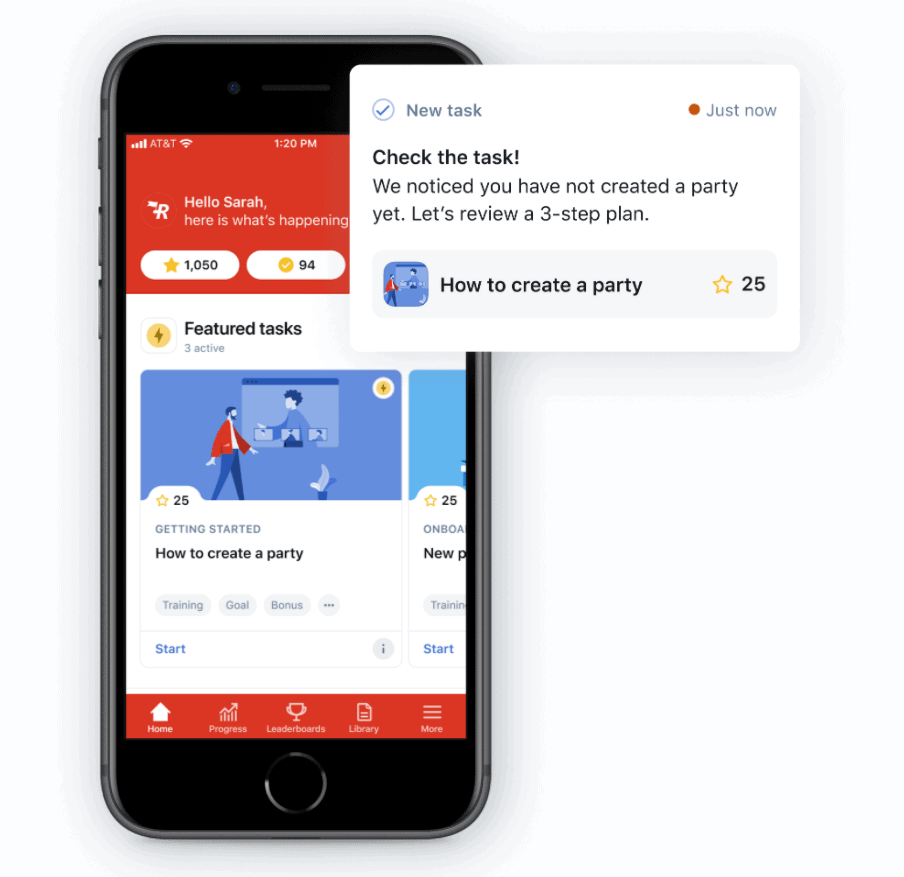 Just as people spend all of their lives memorizing behaviors and forming habits, when training distributors to adopt direct selling best practices it is also about forming habits—better habits, highly effective habits. Behavior change comes with learning new behaviors, and new behaviors need to be reinforced, it's as simple as that.
Given real-time performance data, distributors are more effectively able to reinforce knowledge gained as a result of training activities. Again, it comes down to that intersection between data and behavioral science. If you have the information available, if you're able to track a distributor's personal performance, then you have the capacity to influence behavior by reinforcing relevant knowledge.
Personalized learning helps faster achieve individual goals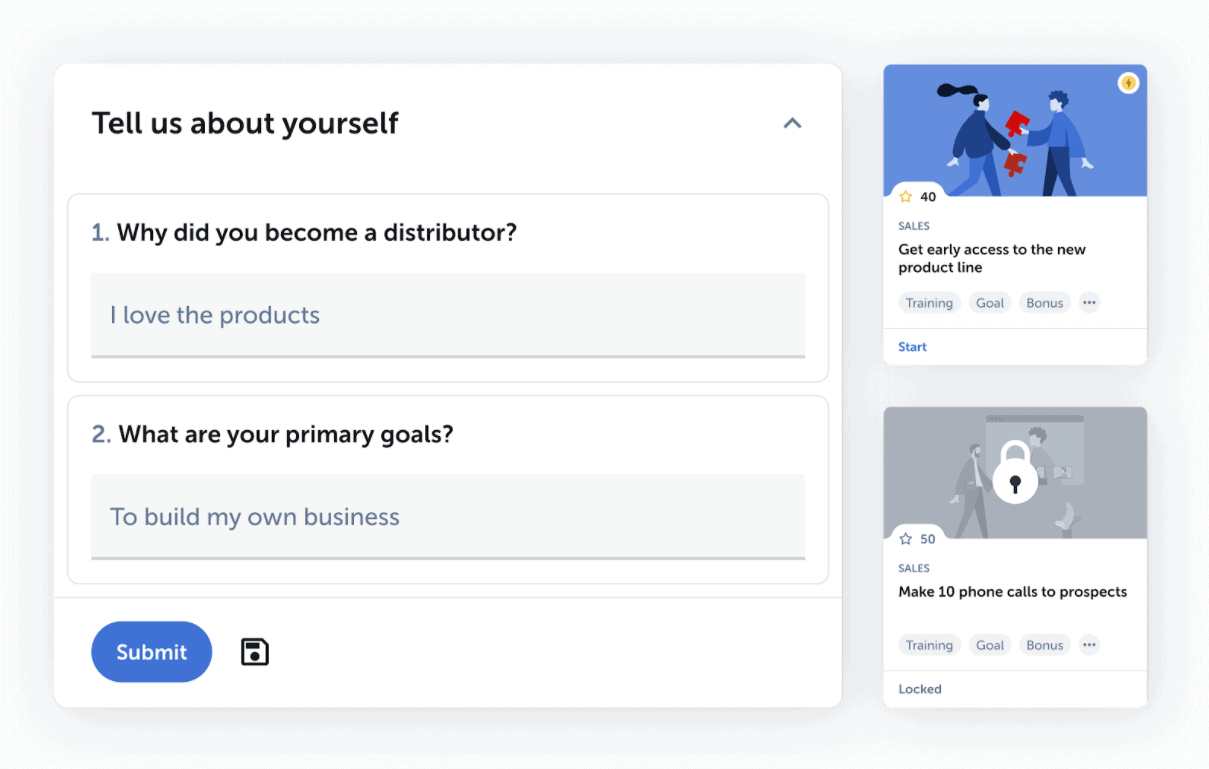 Our research has shown that more desirable distributor habits arise when training activities are inherently tied to an individual's goals and performance. Every person is different; every person has unique goals, and consequently, their own one-of-a-kind approach to achieving their goals. That said, having an in-depth understanding of this gives a company a more productive way to engage individuals.
The logic here is quite simple really…Will a distributor respond more positively to a training program that is intimately tied to what they hope to get out of the experience, be it building a business, engaging with the community, or having early access to desired products? Or, are they going to be fine with a learning experience driven by a one-size-fits-all approach? The answer seems pretty obvious.
Personalized activity triggers help underperformers overcome obstacles
As mentioned, within any distributed workforce there are going to be those rockstars who take to it immediately, and then those who are going to require help along the way. So what do you do when a distributor does show a notable drop in performance? This is where personalized activity triggers come into play.
There are tools and platforms out there that enable distributors to receive automatic alerts when their own, or their team members', performance lags. This is key. Having the ability to stay on top of a distributor's performance declines and then delivering personalized just-in-time learning experiences to address a given situation will not only help boost that individual's productivity but over the long term, help you to retain that distributor.
Activity triggers for emerging leaders motivate and inspire go-getters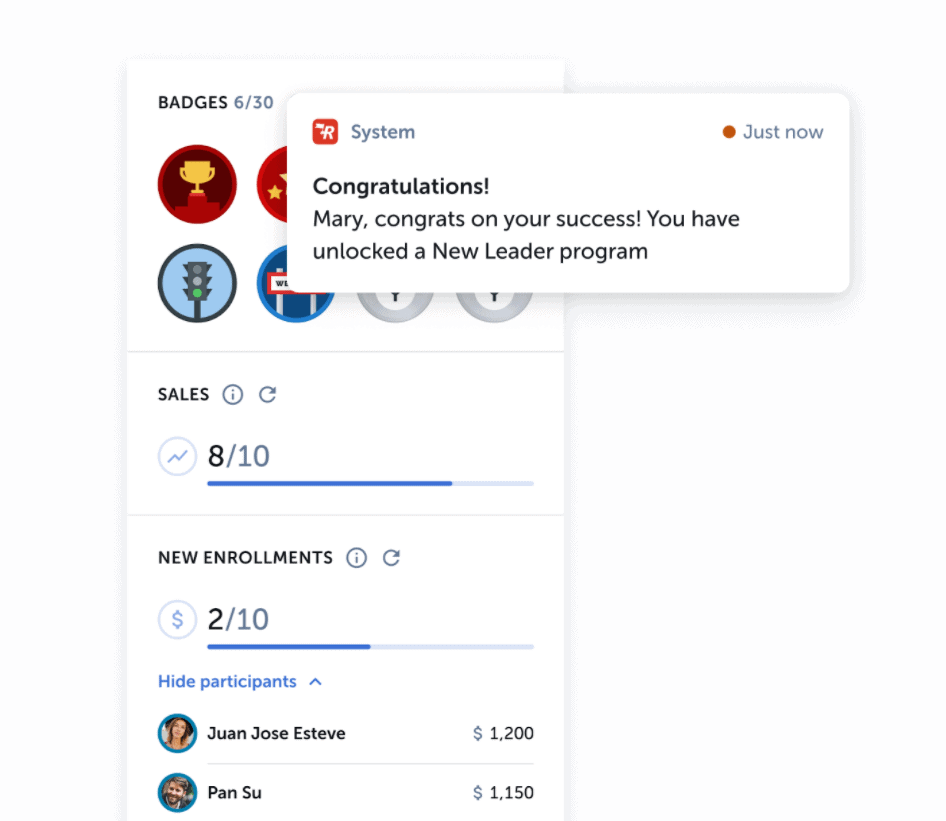 Let's go back to those rockstars for a moment…Sure, having the resources to help a struggling distributor exactly when they need it is absolutely important. But it is also worth noting that being able to support the emerging leaders is just as crucial.
Based on live performance data, you can see the successes unfold, you have a real-time view of goals achieved. And accordingly, companies are able to automatically acknowledge and reward those top performers at scale. Motivation is everything in the world of direct selling. When a distributor does overachieve, a personal trigger might suggest a leadership training program or some other new growth opportunity for example.
The science of behavioral change is an in-depth one, and without question, it is one that requires the use of data—if it's going to be a meaningful change that is. Are you ready for more meaningful behavioral change among your distributed workforce? Schedule your demo today!
News and Insights on Workforce Training & Engagement
We're among top-notch eLearning and business engagement platforms recognized for effective training and talent development, helping to empower distributed workforces
Subscribe