3 Must-Haves for A Direct Selling Digital Strategy in 2024
The global market for direct selling is projected to grow at a CAGR of 6.4% from 2023 to 2030, reaching USD 328.26 billion. It is clear that the future of this industry lies in globalization, in expansion across global markets – yet to stay compliant and uniform across regions, cultures, and languages, having an all-in-one field workforce management software is key.
The fact is that according to the data, 35% of the direct selling industry's leaders use Performance Enablement software (in the form of Rallyware) to drive both sales and recruiting. When deciding what tech is right for your business, there are questions to ask, points to consider and organizational buy-in to achieve. Heading into 2024, here are three must-haves to keep in mind when composing your direct selling digital strategy, for the ultimate distributor engagement program.
Essential Elements of the Optimal Distributor Engagement Program
Automation: embrace it, but find the perfect balance
Make sure you automate the right way – concentrating on empowering, not removing, the human touch, as direct selling thrives on personal connections. This was a key point that emerged from a recent Rallyware Roundtable, in which David Mulham, Chief Sales Officer of USANA, and Ryan Thompson, President of ACTIVZ discussed how their organizations are navigating the technology "pull."
Something to consider is whether the technology is going to simplify what a distributor does or is it going to complicate it? "Being able to interact with people in real-time if they are engaged in a social media contest for instance is critical," Ryan said. "You want real members of your marketing department recognizing, interacting with and congratulating them." When thinking about new technologies such as automation, it is important to also consider: where do we not automate? Some aspects of the direct selling world are highly personal.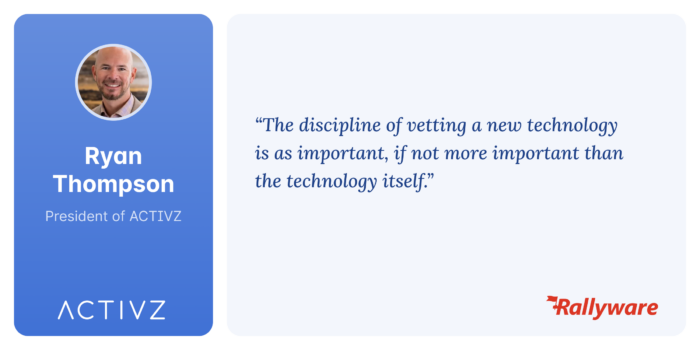 An all-in one platform that encompasses the distributor's entire day
Every field tool (such as onboarding and communications) centralized in one platform makes it easier for distributors who might have varying levels of technological proficiency.
A key point that emerged from the Roundtable conversation was the emphasis placed on simplification, relevance and speed. In the direct selling community, David highlighted the diverse group of distributors worldwide, encompassing multiple generations. For instance, some distributors have family legacies, with both fathers and grandfathers having been part of the same company. The presence of multiple generations inevitably gives rise to a digital divide, as different age groups bring different understandings of technology.
Ryan emphasized aligning priorities to concentrate on: what does the field need? Focus should be on simplifying basic business processes so that independent distributors can do their jobs best.
Returning to Rallyware's platform, this data-rich setting empowers distributors to maximize their effectiveness. Data from various tools converges into a personalized experience, ensuring that each action contributes to the distributor's business-building goals. Equally important is the concept of "smart to-do's" — delivering the appropriate tasks to the right distributor at the right moment, ensuring alignment with their individual goals and the overarching objectives of the company. These are tasks that hold significant value for the distributor.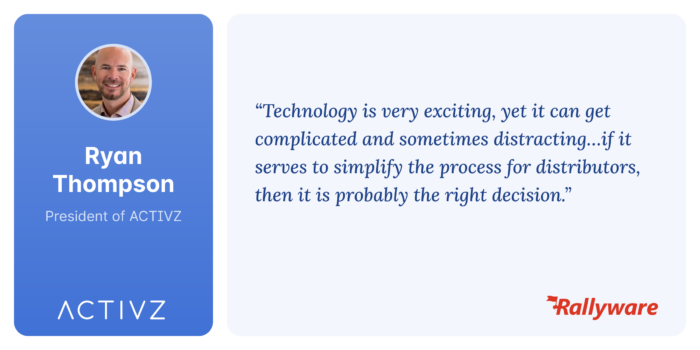 Direct selling often operates on a global scale, with distributors spread worldwide. Achieving global compliance is critical, necessitating direct selling companies to uphold consistent standards, best practices, and selling approaches across regions.
For instance, with a large, globally distributed team, one global beauty and wellness company was looking to provide a space for brand affiliates to connect across borders and cultures. Rallyware worked with the company to create a branded learning resource that serves as a centralized hub for all onboarding, training, and learning activities and materials. As a result, 67% of brand affiliates have seen a positive impact (read more in the full customer story)!
A platform that's helpful for administrators, not just the field
With a Performance Enablement Platform, admins can leverage business intelligence (BI) and analytics to identify the most effective behaviors among their top sellers and replicate those behaviors across all distributors. Among the questions that can be answered include: How can we tailor learning experiences to individual needs? Which training programs have the greatest impact on performance? Who are the potential future leaders within the organization?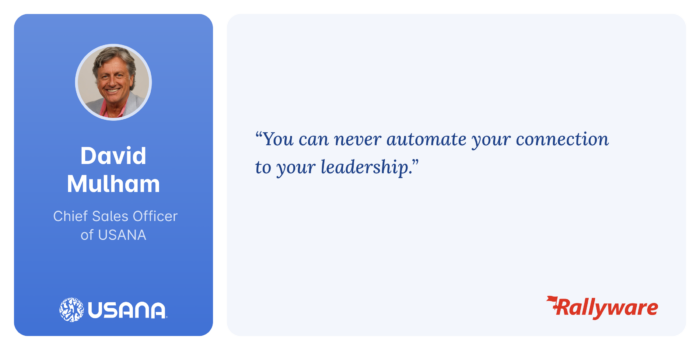 It's a win-win situation for all parties; distributors experience empowerment and autonomy, while HQ optimizes business results by fostering continuous alignment between individual distributor goals and corporate KPIs.
Adopt a robust distributor engagement program for 2024
As leaders shape their strategies for the upcoming year, considerations range from embracing automation to adopting comprehensive all-in-one platforms. With the right tools in place, direct selling companies will be equipped to face the challenges that lie ahead.
Book a free demo to see how Rallyware can help you deliver the ultimate distributor engagement program in 2024!
News and Insights on Workforce Training & Engagement
We're among top-notch eLearning and business engagement platforms recognized for effective training and talent development, helping to empower distributed workforces
Subscribe