Rallyware Raises $22M to Speed up Disrupting Enterprise Digital Transformation
We at Rallyware are of the firm belief that learning for the sake of learning is trivial, yet learning for the sake of performance boosts is where the magic lies. Solely providing members of the workforce with training is not enough – it is the combination of the right performance enablement tools and technologies that mix together to have maximum impact on a company's KPIs. A holistic integrative approach is what helped enterprises to drive digital transformation to a new level in 2021. 
A tale of digital transformation & growth
It all began in 2012, when a startup from MIT came up with the idea of automating and scaling engagement of distributed groups through technology. Even though we started with a political agenda, we quickly realized that Rallyware technology brings the ultimate value to large enterprises. Since then, Rallyware has reached significant milestones over the years, including scaling our platform to 60+ countries, 31 languages, with 15M+ lives impacted. In the meantime, our team has grown to 100+ members in five countries around the world.  
And, here we are today. We are pleased to announce that, with a goal of expanding the AI-driven capabilities of our Performance Enablement Platform beyond its current capacities of personalization, Rallyware has raised $22 million from PeakSpan Capital. This financing will fuel continued business growth in the enterprise performance arena, while our engineering focuses on further improving the platform's AI-driven personalized learning and enablement capabilities.
The value of Performance Enablement
The sheer number of tools and vendors that businesses are using today to support technology-enabled sales strategies (the average enterprise organization now uses 69 cloud-based tools for CRM/sales) has created an intricate technology stack. Having multiple and diverse solutions can be a challenge to manage.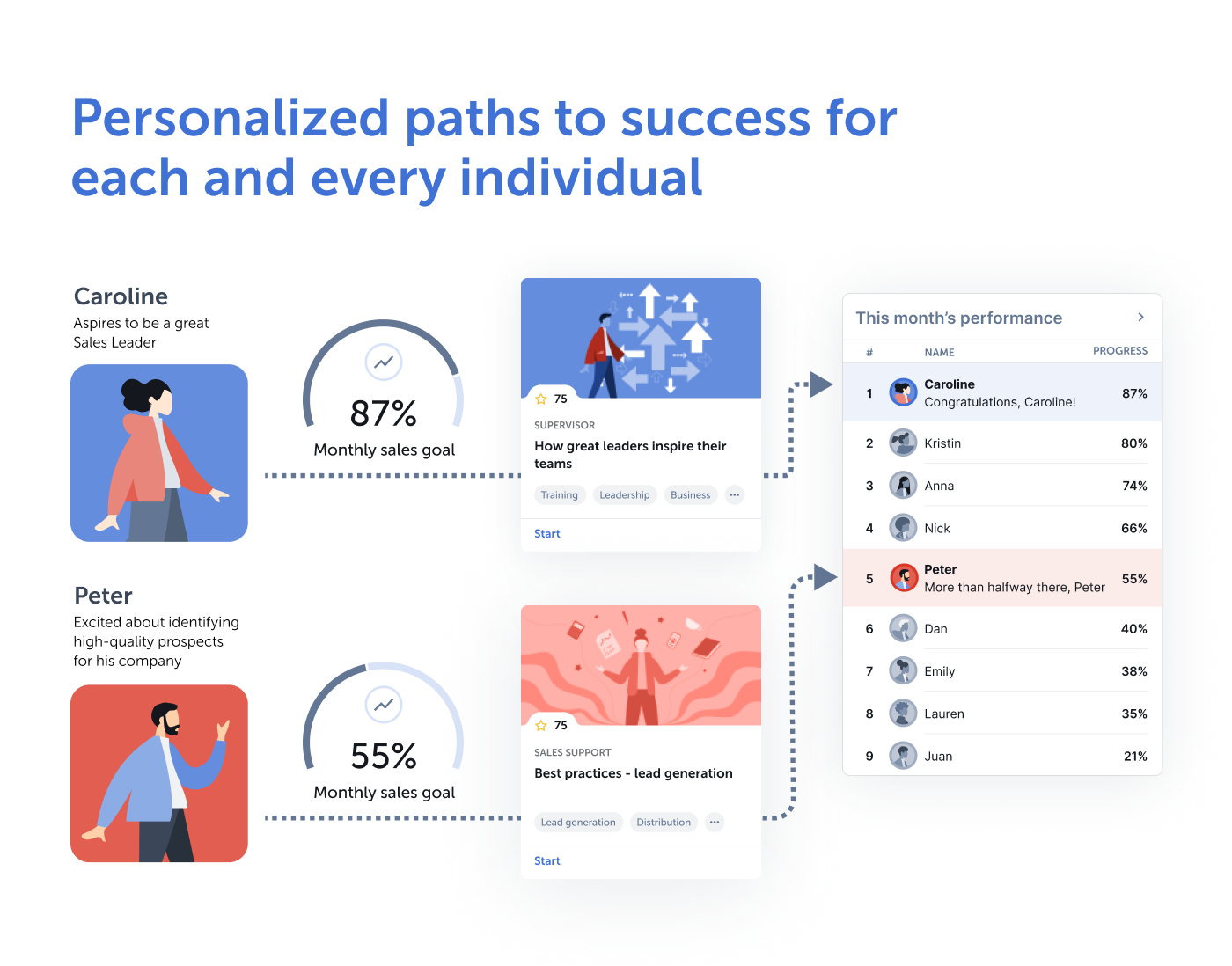 "As the ecosystem of vendors offering tools in the space has burgeoned, revenue leaders are not looking to blindly introduce more technology into their workflow, but rather are now focusing on leveraging strategic data-driven platforms that seamlessly integrate to drive clear, tangible impact and deliver better outcomes," explained George Elfond, Rallyware's Co-Founder and CEO.

When it comes to team collaboration, as well as personalized learning and training, there is a need for a consolidated experience that focuses on boosting performance and productivity in the workplace, whether it is remote, onsite or hybrid. Rallyware solves for this, with its offering of a single application available on multiple platforms, with emphasis on a mobile-first experience for all members of the workforce. With AI-driven profitability tools, Rallyware prescribes each individual the right activity at the right time, providing guidance and motivation and personalized paths to success for each team member just when they need it most. Rallyware offers a strategic approach, so critical for today's newly remote and distributed workforces.

"Sales will always be part art, part science, but the impact that software and the intelligent application of data has had on the sales function is undeniable."

– Matt Melymuka, Co-Founder & Partner at PeakSpan Capital
We at Rallyware are taking performance enablement to the next level, engaging and supercharging workforces across the globe to strive to be the best they can be. As we approach the end of 2021 and head into 2022, we look forward to continued digital transformation and to seeing what the future of work may bring.
From smart, personalized learning and business activities that drive real results, to performance analytics and much more, see for yourself the power of Performance Enablement. Schedule a demo to see the platform in action!
News and Insights on Workforce Training & Engagement
We're among top-notch eLearning and business engagement platforms recognized for effective training and talent development, helping to empower distributed workforces
Subscribe