The Evolution of Retail: Data-Driven Performance Enablement for the Next Normal
Retail — the sale of goods and services by frontline employees — has existed from time immemorial, and retail formats tell us much about the time and culture they exist in by reflecting one of the most foundational questions of a society; what do people want and how do they get it?
Insofar as retail formats mirror and anticipate technology, culture, and politics, the history of retail is the history of human progress. At the center of this history are retail workers. Even in the age of the gig economy, the frontline still stands tall.
Let's take a look at the evolution of retail, and how retail workers have adapted to serve the needs of a continually changing marketplace.
What Exactly Is Retail?
You might think you know what retail is, but the definition is a bit more subtle than many think. The retail industry refers to the sector of the economy that is involved in the sale of goods, products, and services to the end consumer. It includes all the businesses that are involved in the process of bringing products and services from the manufacturer or supplier to the consumer. Another way to put it is that retailers interface between wholesalers, who often supply or make the items, and the customer.
Retailers typically purchase goods in bulk from manufacturers or wholesalers and then sell them in smaller quantities directly to consumers through physical stores, online marketplaces like eCommerce sites, or a combination of both. Retailers can sell a wide variety of products, including clothing, household goods, groceries, electronics and more. Some major examples of retailers are Walmart, Target, Rooms To Go, and Best Buy.
The retail industry plays a significant role in the economy of many countries, as it accounts for a significant portion of consumer spending and employs a large number of people in areas such as sales, marketing, logistics, and customer service. Additionally, retailers often form conglomerates after acquiring other companies. Vertical integration is typical in the retail industry. Retails will sometimes have different divisions, like Super Target and Target, or Walmart Supercenter and Walmart.
Department Stores of the Early 20th Century: Customer-Centric Retail
The turn of the 20th century saw the continuation of rapid industrialization, population, and wage growth in the U.S. As the economy moved primarily from agriculture to manufacturing, new jobs created by the production of commodities like oil, steel, and textiles created a new class of upwardly mobile consumers and a market for luxury goods.
Department stores like Macy's, Bloomingdales, and Sears in cities like New York and Chicago ushered in many of the hallmarks which continue to characterize the retail experience for the modern consumer— convenience, curation, and high-touch, relationship-driven sales.
Department stores pioneered the "the customer is always right" ethos, setting the stage for a customer-centric retail experience facilitated by rich, personalized sales. Forbes quotes a Sears, Robuck, and Co. publication from 1905 describing, "Every one of our thousands of employees are instructed to satisfy the customer regardless of whether the customer is right or wrong."
The frontline employees facilitating this customer-centric experience were often women. Sales jobs offered white-collar respectability, relatively high pay, and the opportunity to develop valued skills. At the heyday of department stores, retail workers, especially saleswomen, were essential to cultivating the customer loyalty recognized as central to retailer success.
Postwar Shopping Centers: The Rise of Distributed Workforces
Post-World War II prosperity brought new consumers and demands to the marketplace, giving rise to a new kind of retail institution: the shopping center. As median incomes doubled and huge swaths of people migrated from urban centers to suburbs, a wave of consumerism swept the country, driven by a new class of middle and upper-class shoppers seeking the very best in consumer goods and services.
The development of the mid-century shopping center represented a major innovation in retail formats, meeting a new need for planned, self-contained, one-stop retail. Powered by a growing postwar economy, designers transformed formerly utilitarian goods into artful and expressive objects, and manufacturers unleashed an array of products to keep pace with demand, as stores expanded their inventories to include a greater variety of goods than ever before.
The suburbanization of retailing and the development of shopping centers were closely linked to major changes in corporate structure. Retail chain and franchise organizations expanded rapidly as sales for organizations with 11 or more locations doubled throughout most of the postwar period.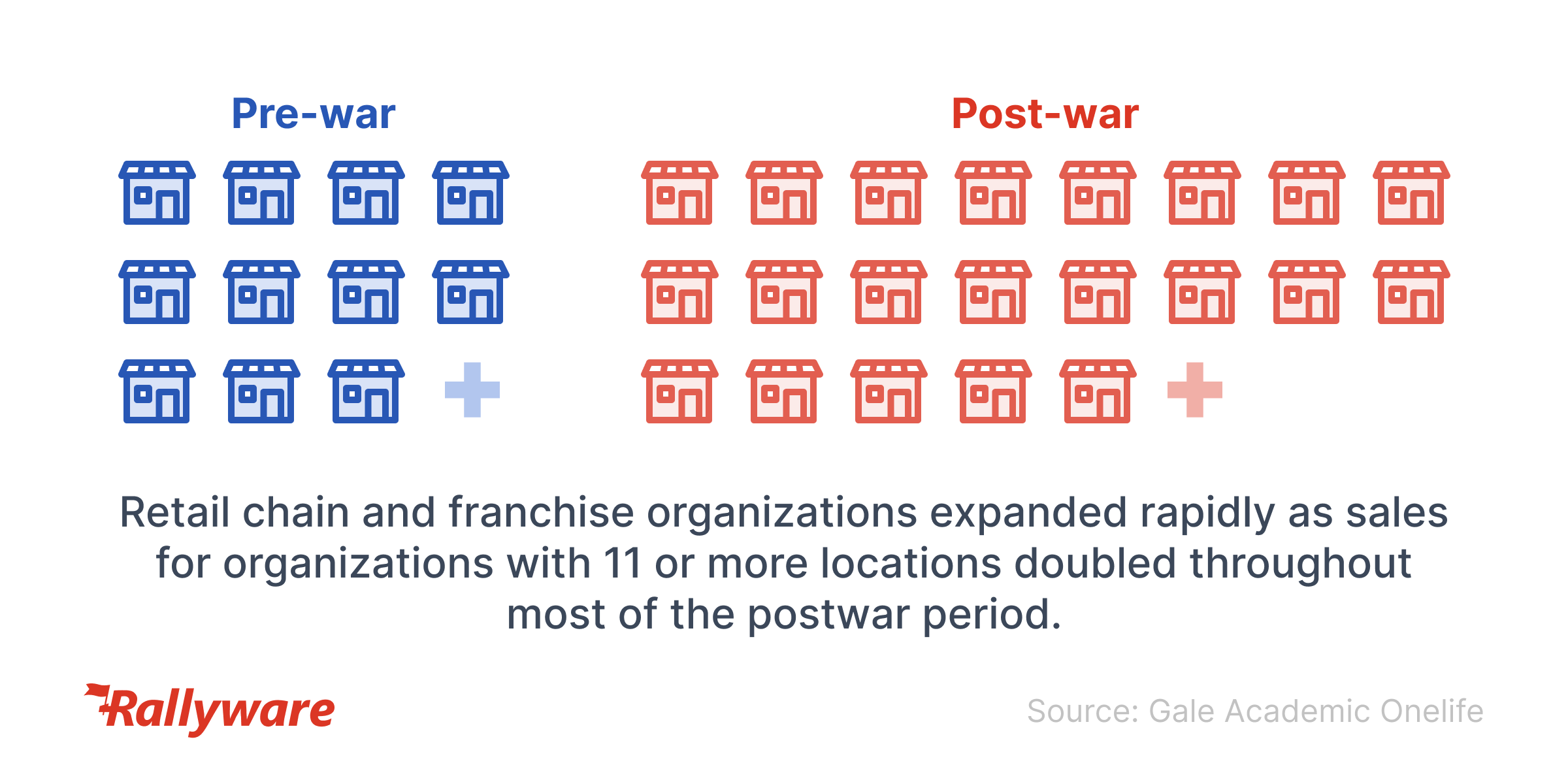 Buoyed by this growth, franchising spread to different types of retail categories to include fast-food restaurants, hotels, car rental agencies, and convenience stores. The post-war retail expansion and growth of shopping centers was thus accompanied by an increase in corporate control, either directly or through franchising.
This presented a number of opportunities and challenges in the management of frontline employees. Corporate headquarters faced training and onboarding questions of new magnitude. Managing a distributed workforce rose to the fore of organizational priorities.
The Dawn of E-Commerce: New Challenges for Brick and Mortar
The advent of the internet revolutionized retail from top to bottom; an infinitely expanding shopping center arrived in the homes of millions of consumers. Within 30 days of launching in 1994, Amazon had begun shipping internationally to 45 different countries. In 1996, with two full-time employees, eBay sold $7.2 million worth of goods, $95 million in 1997, and $52.5 billion by 2007, with 220 million registered users and 13,000 employees.
New industries rose to meet the needs of online retailers and shoppers; PayPal launched in 1998, offering the first trusted payment platform for online transactions, while in 2000 Google debuted AdWords, giving e-commerce businesses the ability to advertise through the Google search engine.
The scale and variety of changes the internet brought to the retail sector are difficult to overstate. The immediacy and accessibility of e-commerce wholly reshaped consumer behavior. Amazon especially set a new standard for retail, offering an unmatched personalization of the shopping experience by enabling consumers to search for goods by keyword, model, and brand, compare prices and features, and read buyer reviews.
Consumers were no longer beholden to the limitations of brick-and-mortar inventories defined by retail buyers and established sales cycles. The connected world enabled production to scale up quickly and significantly for products at many price tiers, and consumers embraced the vast flattening of the retail landscape, assuming a greater discernment made available by this democratization. By 2017, according to the Pew Research Center, many Americans shopped online as often as they took out the trash.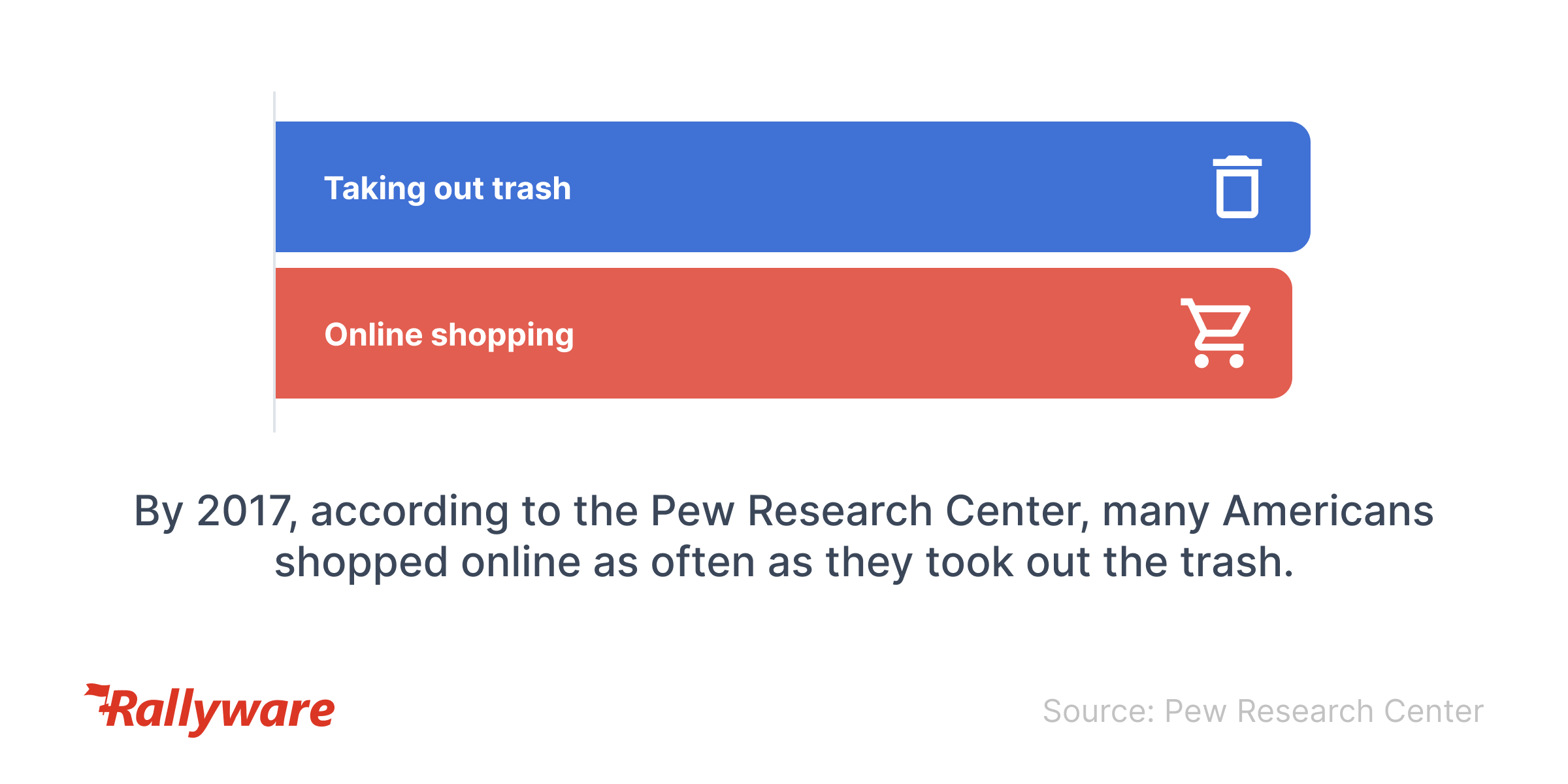 The new consumer presented unprecedented challenges for brick and mortar retailers and their workforces. Unable to match the endless inventory of the internet, companies quickly began to double-down on experience-driven in-store experiences and ramping up efforts to train frontline employees in delivering the personalized, high-touch sales that'd become, in the age of e-commerce, a primary competitive advantage over online shopping.
Retail in the Next Normal: Optimizing Frontline Employees with Data-Driven Performance Enablement
As paradigm-shifting technologies transformed e-commerce and consumer behavior, retailers struggled to find a foothold for their brick and mortar locations in the new normal. As Forbes put it bluntly, "The basic retail experience hasn't changed much over the years: go into a store, look for the right product and make a purchase."
For years, organizations struggled to reclaim wallet share from online retailers. Now, rapid developments in artificial intelligence stand to reshape in-store retail experiences, ushering in a new age of innovation for retail characterized by AI-powered personalization and workforce optimization. Research shows that the market for global AI in retail is expected to balloon from just under $5 billion to more than $31 billion between 2021 and 2028.
Data-driven performance enablement technology finally enables retailers to compete with e-commerce by equipping retail workers with the tools to match the personalization of online algorithms. With smart recommendations, brick and mortar retail workers can take the right step at the right time to hit sales targets and retain customers, creating the frictionless Customer Experience their clientele have become accustomed to online.
Corporate headquarters can harness the power of their data for fueling real-time brick and mortar interactions, ensuring the engagement with incentives and promotions, which drive sales. Retail workers are empowered with seamless, all-in-one platforms which aggregate all the relevant information they need to meet their sales goals.
As described in a new report from McKinsey, "The next normal is still taking shape, and customer expectations will continue to shift in response. Retailers that focus on customer experience and respond with agility and innovation in their omnichannel experience will fare better and strengthen their ties to customers." Retailers investing in AI-powered performance enablement will be in a strong position to meet the demands of the next normal.
Rallyware for Retail improves sales productivity, incentive fulfillment, customer retention, and more for retail companies. Click here to request your intro demo today.
News and Insights on Workforce Training & Engagement
We're among top-notch eLearning and business engagement platforms recognized for effective training and talent development, helping to empower distributed workforces
Subscribe