Quiz: Is Your Sales Enablement Technology Dragging Your Company Down?
Imagine having a cutting-edge sales performance platform at your fingertips, ready to empower your sales force with the tools they need, no matter the task. It's the key to delivering strong performance enablement from day one and making sure team members achieve their potential, as well as driving revenue. You might already have one in place, or you might be contemplating the idea. Yet, in a tech-driven world that never stops evolving, and a sales force that is overwhelmed, is your current method sufficient?
For instance, in the retail sector, turnover is up to 95%. That might be an unsustainable level of churn.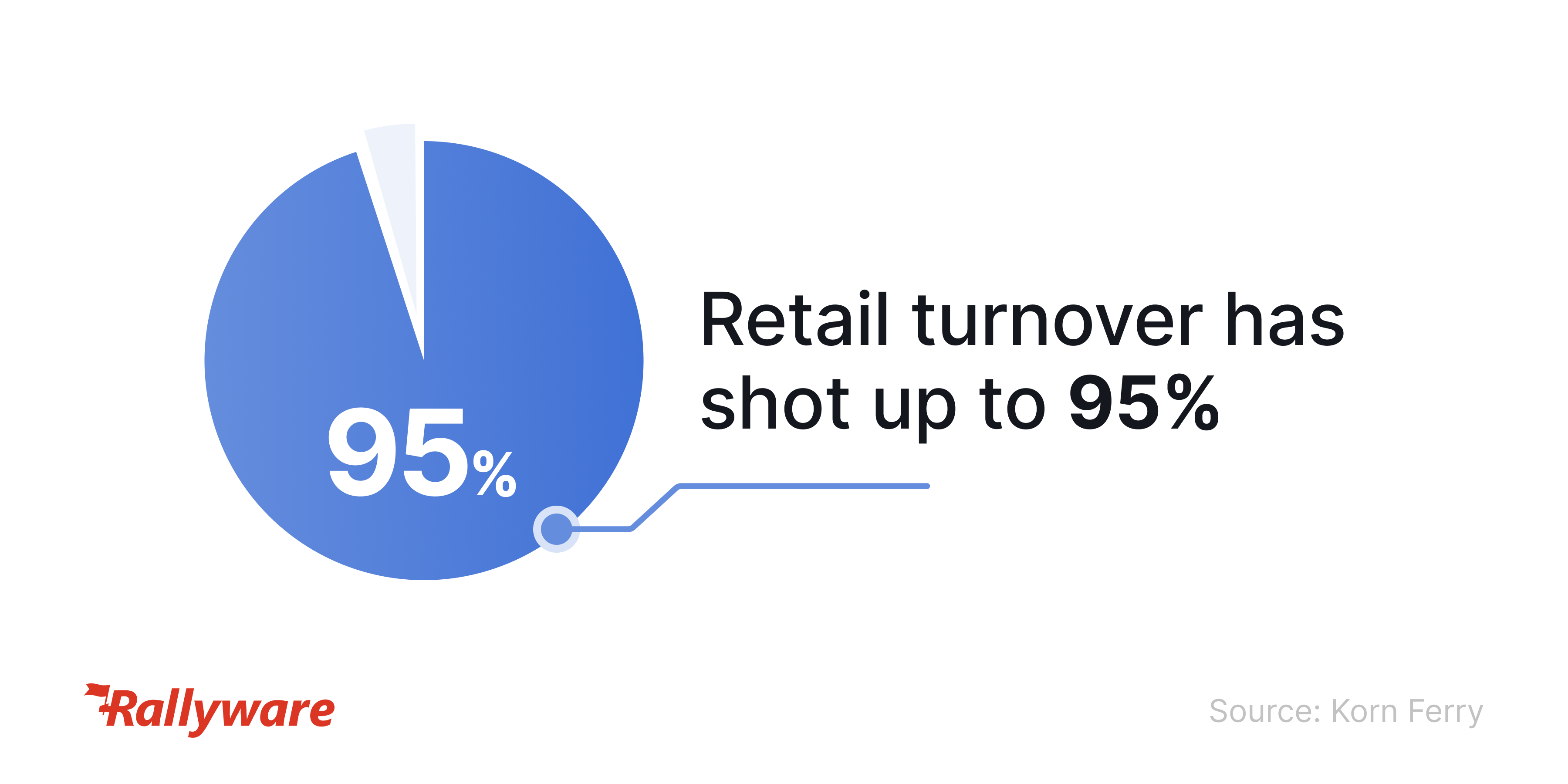 Lackluster technology just might be dragging your organization down.
What Can Go Wrong with Subpar Sales Performance Software?
Subpar sales performance software can lead to a number of issues, including:
Missed performance insights: The absence of unique insights into what programs of initiatives boost or hinder sales performance can lead to this.
Limited skill enhancement: When software lacks continuous learning tools or personalized training modules, sales professionals may struggle to enhance their skills and adapt to evolving market demands. This may lead to confusion and uncertainty about the appropriate next steps to take.
Stale content: Without a centralized content management system, sales materials and training resources can quickly become outdated, hindering ongoing learning and development efforts.
Lack of gamification: Interactive elements spice things up, keeping the learning journey fun and engaging. However, ineffective software may not include gamification elements that can inspire healthy competition and encourage continuous skill improvement among sales teams.
It is crucial to invest in a software that not only supports your sales processes but also empowers the members of your sales force to continually learn, adapt, and thrive. There is the opportunity to go above and beyond – to take your sales performance platform to the next level.
Quiz: Is Your Sales Performance Platform Dragging Your Company Down?
Ready for a little quiz? Don't worry; we won't be testing your knowledge of what's been covered in this blog. This quiz is all about you and your workflows. When evaluating your chosen software vendor and your current approach, consider the following:
Does your sales performance platform foster a sense of community and teamwork?
Yes
No
Using the platform, are the members of your sales force able to easily retrieve information about a customer's previous interactions and purchases?
Yes
No
Are there correlations between levels of individual engagement and sales performance?
Yes
No
Not sure
Does the platform include a robust search functionality that enables salespeople to quickly find the resources they need (such as product brochures, pricing guides and training materials)?
Yes
No
Does the platform track and recognize both individual and team learning achievements?
Yes
No
Are there opportunities through the platform for sales team members to engage in continuous learning and skill development?
Yes
No
Is your software effectively visualizing the progress of each seller and the steps they need to take as they work towards achieving their goals?
Yes
No
Do you have a structured onboarding timeline for new sellers to ensure a smooth transition into the role?
Yes
No
Do you tailor training content and assessments to the individual needs and progress of each member of the sales force?
Yes
No
Which type of content and material does your software deliver to users?
Learning only
Learning and sales incentives
Learning, sales incentives, and CRM
Not sure
Does your platform include robust sales gamification features?
Yes
No
What's sales gamification?
What's the software's average return on investment?
10X
15X
20X
Over 20X
Not sure
When the software delivers learning content to sellers, is the end goal of such content to help sellers sell more and provide better service?
No, it's to help the seller become more knowledgeable
No, it's to boost customer satisfaction
Yes, it helps the seller sell more
Not sure
Is your software vendor an active strategic partner in your success?
No, they take a hands-off approach
Yes, they actively collaborate with us in developing a road map and digital strategy
Not sure
Does the software have actionable reporting and analytics capabilities, so you can prove its profitability to executive leadership?
Yes
No
Not sure
Is the software's experience end-to-end, holistic, and personalized for each user?
Yes
No
Does your platform integrate seamlessly with other tools and systems used throughout the organization?
Yes
No
Are members of your sales force motivated to use the technology to improve their performance?
Yes
No
Sales Enablement Platform: a Modern Tool for the Modern Sales Force
If you did not answer the bolded options for 8 or more questions, then it is time to consider adopting a sales performance enablement software. This is an all-in-one platform that uses actionable data to drive sales results. It prescribes the relevant task or activity in the flow of work, with relevant supporting content, to the relevant individuals, for maximum impact. 
Can your sales performance platform measure up? If it's holding you back, it might be time to give it a lift to deliver those moments of 'wow' to members of your sales force.  
Ready to take your sales performance strategy to new heights? Schedule your demo of Rallyware's Performance Enablement Platform (PEP) today!
News and Insights on Workforce Training & Engagement
We're among top-notch eLearning and business engagement platforms recognized for effective training and talent development, helping to empower distributed workforces
Subscribe