New Research Shows Training Leaders' Strategies Change in 2020
In the world of digital disruptions and business transformations, nothing remains the same but the constant need for continuous, cost-effective, and impactful talent development initiatives.
Just think of how difficult it is to filter tons of information that flood our minds every single day. The facts speak for themselves: 1 in 5 Americans suffer from strong information overload. Transfer this data to the workplace and you'll get about 20% of the workforce struggling with decision-making, critical thinking, remaining focused on key tasks, etc. Things get aggravated when you realize that the majority of information is either irrelevant or becomes obsolete within a really short period of time.
That's why we've been seeing a huge shift in how leading companies approach their talent development strategies and what tools they invest in. ATD's State of the Industry report gives a clear overview of how training leaders' strategies have been changing.
Learning expenditures have become smarter
The first insight from ATD's report shows the changes in learning expenditures within five consecutive years. If we compare how the costs of learning kept getting higher every year, we'll get the following: 2014-2017 were the years when companies spent, on average, $22 more on every employee training. In contrast, 2017-2018 saw only a $3 increase in direct learning expenditure per learner. What do these numbers tell us about?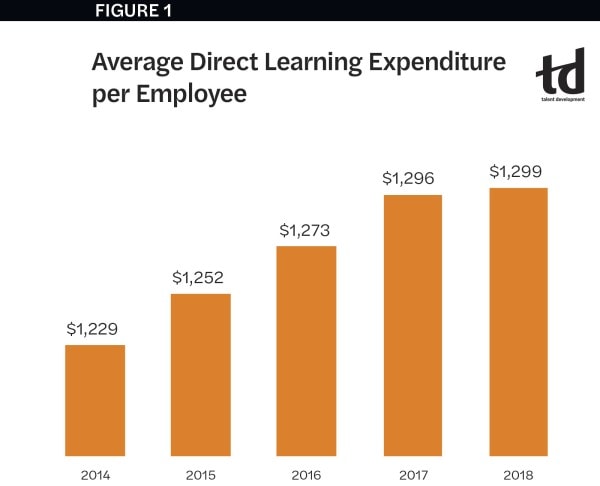 Training costs are finally starting to stabilize since companies pay more attention to what exactly learning tools can bring real business impact. In other words, training leaders have stopped chasing learning tools for the sake of having the latest technology on board. Instead, they search for smart, highly scalable, integrated solutions to optimize their talent development strategy and performance enablement.
Such solutions are highly personalized and data-driven which allows prescribing specific training content to specific learners at the right time to apply it straight to practice and avoid information overload. Thanks to delivered just-in-time learning nuggets aligned with business KPIs and each employee's performance, the whole training process becomes simple, clear and makes it easy for every individual to take required actions and succeed. Thanks to these smart learning tools, companies can easily calculate training ROI and see a real-time impact on their business growth.
Time spent on learning has shrunk
In spite of the increasing demand for continuous workforce upskilling and reskilling, companies are now spending less time on employee training. Specifically, in 2018, companies allocated a little bit more than four eight-hour workdays to each individual development. How come that average learning hours have decreased, unlike the volume of learning content?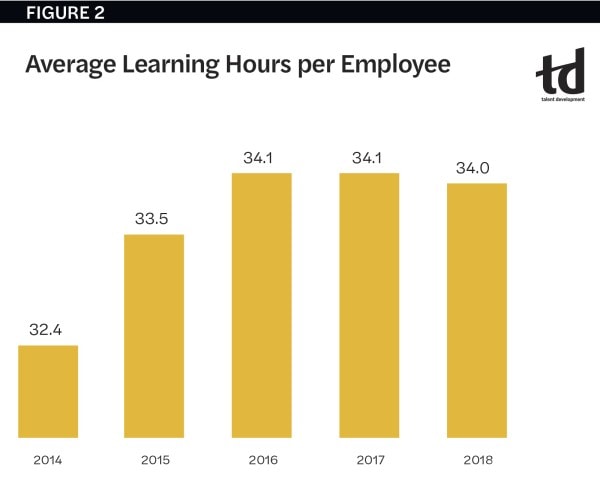 The thing is that in recent years companies have been approaching talent development in a more personalized way with the help of smart tools. By leveraging 'Netflixized' learning platforms, employees can digest large volumes of information but experience less cognitive load and spend less time on learning. How?
Netflixation of learning experiences implies the use of ML-driven tools that make personalized training content recommendations to every user based on their current skills and knowledge level, performance issues, learning preferences, possible work-related challenges, etc. This allows putting talent development in the hands of employees themselves. This way, every learning nugget addresses a very specific performance point at a time and enables employees to immediately apply new skills and pieces of knowledge to solve real challenges. As a result, employees don't waste a single minute on irrelevant training and don't see learning as disruption from the workflow.
Learning in the flow of work has become the new norm
As ATD's report showed, 55% of companies are highly focused on delivering on-the-job learning. More and more executives stick to the principle of combining learning and work without any irrelevant workflow disruptions.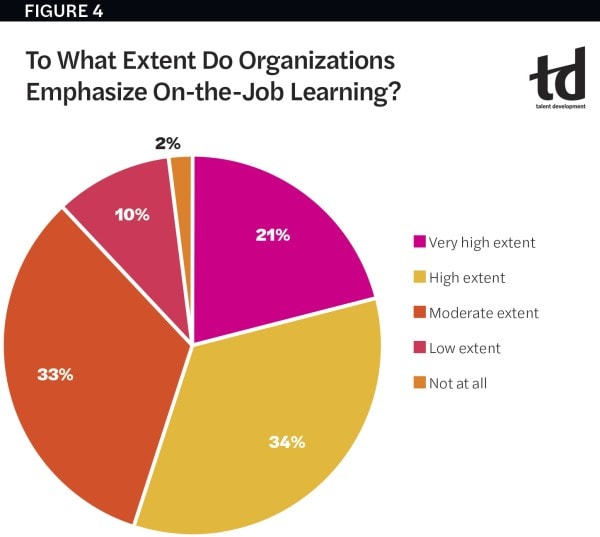 The key benefit of on-the-job learning is that in such a way employees get involved in just-in-time, personalized learning activities while performing their daily routines. They don't have to get distracted from their responsibilities to complete 'old school' training modules and then spend time trying to get back into what they were doing. In other words, learning happens naturally and is not perceived as some kind of a formal obligation or an obstacle to getting things done. Learning becomes a productivity tool.
As research shows, learning in the flow of work reduces the likelihood of feeling stressed by 47%, increases employee productivity by 39%, and makes them feel more confident and happy in the workplace.
Major factors that influence learning expenditures
According to the ATD report, companies spent 62% of direct learning expenditure on internal services in 2018, including in-house talent development, L&D professionals' salaries, and administration expenses. Only 27% were invested in external learning platforms.
These findings show that companies still don't fully realize all the opportunities that come with learning suppliers' partnership. Specifically, extensive L&D expertise and experience in working with a wide range of companies across different industries; the aggregated data that can power up personalized, just-in-time training for every individual; ready-made and tested scalable systems; 24/7 professional support that removes the need to spend more money on building whole L&D departments internally.
Another report finding deals with the company's workforce size that defines learning expenditure. As it turned out, the larger a company is, the more cost-efficient and beneficial it is to have a modern learning platform on hand. Larger employers can deliver learning activities at a reduced cost per user "because they can spread out many of the development and delivery costs over more employees." These are the so-called economies of scale. If we turn it into numbers, then we'll get the following: "Large companies (at least 10,000 employees) had an average direct-learning-per-employee expenditure of $707, compared with $787 for midsize companies (500 to 9,999 employees) and $2,412 for small companies (fewer than 500 employees)."
The last decisive factor among the report's findings is the industry a business belongs to. As we know, certain job positions require more training and higher skill levels (along with a higher frequency of trainings) than others. The same applies to businesses involved in different industries. For example, ATD found that "the average direct learning expenditure for manufacturers was less than half of the average across all industries." By contrast, software, information, real estate, insurance, and finance companies spent more than the average across all industries.
Having all these insights on hands, training leaders and executives can optimize their talent development strategies by investing in smart learning systems to supercharge every single employee at the right time before any business challenges arise. And they can do it at scale.
Try for yourself how it would be to operate in a smart learning system that caters to every individual's needs and goals to upskill and reskill your teams!
News and Insights on Workforce Training & Engagement
We're among top-notch eLearning and business engagement platforms recognized for effective training and talent development, helping to empower distributed workforces
Subscribe