Data Integrations Behind Digital Transformation: Driving Ultimate Personalized Experiences
"Data really powers everything that we do," LinkedIn Executive Chairman Jeff Weiner once stated. At Rallyware, we hold the firm belief that digital transformation is essential, and that data is key in driving business KPIs (such as sales volumes, customer service, customer support, and many others). Because by using the right data, companies can trigger the right activities for their workforces, just at the right time. Performance data sets the tone of your business, it allows you to identify what is working and what is not. It defines your training content, daily activities and overall strategy. Let's take a look at how this works, and what this means for distributed workforces and companies at large.
Digital Transformation: How Honing in on Individual KPIs can Make a Big Impact
The key, then, is to be cognizant of how members of the workforce are performing and then use this information to target those areas in which individuals may be underperforming (or overachieving). Insights from various data sources can trigger specific reskilling and upskilling initiatives, or even daily performance boosts. Who needs training, and when?
Driving Sales
For instance, KPIs (Key Performance Indicators) for Priya, a Sales Representative, would focus on her sales progress. Are her sales efforts hitting the mark? KPIs specific to her and her fellow team members may include number of deals closed, opportunities created and upsell/cross-sell rates.
It is one thing to select and track the right KPIs for your business, but actually acting upon them is crucial – how are you going to use them? Priya's performance data can then be used to send her a unique set of tasks, whether that may be in the form of a learning activity (such as learning more about lead nurturing through various ebooks and courses) or a learning enablement activity, one that puts her learnings into actionable practice (such as a nudge to follow-up with prospects).
Improving Customer Service
We can also look at KPIs from a customer service perspective, such as customer review scores, or customer retention rates. In this case, one individual might benefit from training on how to boost their customer service skills and how to improve customer experience calls more effectively, while another could be automatically placed on a managerial growth path, if their performance data indicates high growth potential.
Boosting Customer Support
We can also look at using data to drive customer support – how much time is spent online assisting customers resolve various support issues? One call center representative, for instance, may receive training related to boosting their product knowledge, while another may be placed on a mentors track, if exhibiting high KPIs. It all comes down to feeding the right data into a performance enablement system that will automatically build a journey to success and prescribe the right activities to the right person at the right time. 
The ideal scenario includes a combination of both activities – we previously emphasized that the implementation of learning, business activities, timing, as well as social engagement resulted in a workforce productivity boost of 38%. The fuel behind all of this? Data, and data that is strategically integrated with the right enablement systems, to really target those desired behaviors. ​​Data is the "fuel behind personalization and digital transformation," our CEO George Elfond emphasized in a recent Forbes thought leadership piece, pointing out that "data about an individual's prior accomplishments and what their goals are. Besides automated personalized learning and enablement, data also helps to make better strategic decisions — understanding where to direct an L&D or operational budget, seeing the big picture of future human capital trends, spotting individual and team wide performance gaps."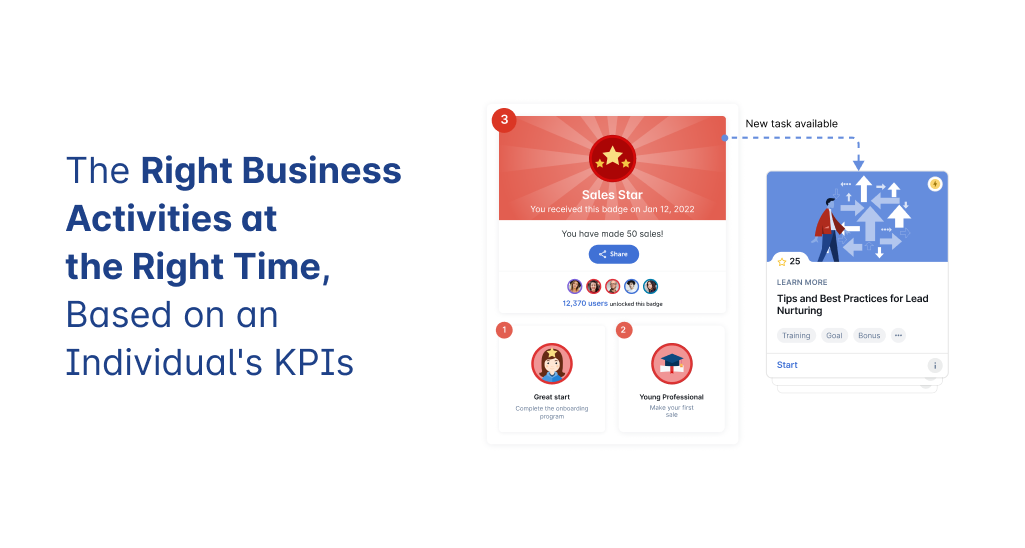 Performance Enablement Tools: The Key to Driving Business KPIs
Learning, Reinforced
As we saw in the examples above, performance enablement tools enable learning by subsequently reinforcing it with business tasks. A critical component in a company's digital transformation efforts, this relates to the concept of learning reinforcement, both in the workplace as well as educational settings: without such reinforcement, learners risk forgetting 90% of what they've learned within the first month after training.
Providing the Right Activities, at Just the Right Moment
Performance enablement tools also trigger the right learning activity to the right person, at the right time. By zeroing in on the issue at hand, companies can quickly remedy the issue, and boost the performance of the individual. What tools and resources do they need to succeed, at this very moment? While learning how to craft the perfect sales pitch may be more apt for her colleague Dylan, this may not be so relevant for Priya, who, after consistently following up with prospects multiple times, is still experiencing low conversion rates. In this case, Priya may be offered some coaching on how to nurture leads, or tips for sending more targeted and effective sales emails.
Then, a performance enablement system launches a cycle of continuous development, to ensure that each individual is growing and achieving their goals.
Yet what starts at the beginning of this cycle? Data. Data integrated.
Are you ready to take a data-driven approach to drive your workforce performance at scale? Schedule a demo with our team of experts to see how Rallyware's Performance Enablement platform can help you deliver learning and enablement experiences that drive very specific KPIs for all members of your workforce.

News and Insights on Workforce Training & Engagement
We're among top-notch eLearning and business engagement platforms recognized for effective training and talent development, helping to empower distributed workforces
Subscribe