Rallyware's 2022-23 Global Sales Force Report
2022 and 2023 have been years of transformation for sales forces across multiple verticals, in areas ranging from retail productivity to corporate communications. As the immediate effects of the COVID-19 pandemic drew to an end, consumers anticipated spending more money on services and experiences, while being confronted with spiraling inflation, and less money on products and goods.
Challenges and Transformations: The 2022-23 Sales Force Report
Market challenges like overstocking, workforce shortages, and consumer instability have touched even the most reliable industries. Industries like retail were faced with associate churn, flagging retail productivity, and under-delivery on earnings expectations. Other industries, among them direct-to-consumer sales, had rocky years in terms of lagging revenue, retention, and recruitment. Despite this, many businesses grew and transformed in spite of these challenges. What did these businesses do well? What trends were in evidence for these organizations?
Diving into how they succeeded in the face of such tailwinds is informative, in that in doing so, we can evaluate trends in productivity and sales performance growth for 2024, and beyond. For Rallyware's exclusive 2022-23 Global Sales Force Report, available here, we deep-dove into Rallyware's global data to tease out trends for the present and projections for the near future, so that enterprises can have a better sense of how to maximally enable their sales forces. Below, we provide a sample of the data and analysis readers can find in the full report.
This data was collected from Rallyware's customer base, who represent a significant sample of large enterprises with complex, robust sales forces. Rallyware's analytics professionals cleansed these data of any impurities and irregularities before extrapolating differences between performance in 2021, which served as a benchmark, and 2022.
Performance Enablement Technology: a Brief Summary
Rallyware's performance enablement technology is the lens through which this report's data is viewed. In other words, this Global Sales Force report assesses the business outcomes for sales forces using Rallyware's native-built technology, which in turn demonstrates larger trends about what sellers want and need in order to execute more sales better today.
Broadly speaking, this technology is (a) set up, implemented, and designed by Rallyware in partnership with customers' corporate administrators, who implement it; and (b) delivered as a cloud-based, all-in-one app directly to sales forces. The technology "enables" sales performance, meaning that the tools therein are used to increase sales productivity at scale.
Each individual seller's experience gets personalized by the technology for his or her business goals and real-time performance. Furthermore, the platform guides the seller according to business outcomes defined in advance by the company as most relevant to them, then teaching and motivating intrinsic behaviors that lead to these outcomes, such as increased revenue, higher retail productivity, or boosted retention rates.
The solutions that companies can choose to implement for their sales forces include onboarding, training, and continuous learning; sales incentives; opportunity management; brand training; and more. These solutions smartly determine the contextually relevant activities, tasks, and content that will help the individual salesperson achieve the sales goals that matter to him or her. In this way, the technology does not say, "Complete this task because the company wants you to." Instead, it says, "Here is a task that matters for your success based on your performance and behaviors."
Sales Force Productivity and Performance 2022-23: Exclusive Data
While last year negatively affected numbers such as retail productivity and workforce retention, companies using technology to enable higher performance saw different results. When using technology that used just-in-time activities to drive sales force productivity in targeted ways, many enterprises saw strong sales numbers.
In 2022, based on customer data, Rallyware saw among the customer community 25% more workforce members overall than 2021. 21% more members of the sales-based workforce actively engaged with the centralized app driving their learning, business management, and sales performance.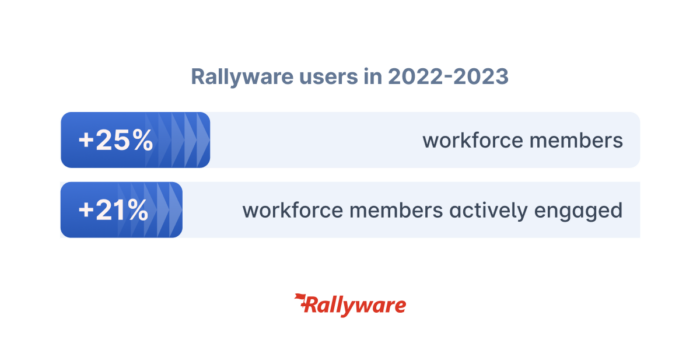 From this, we can conclude that the benefit of performance enablement technology (in this case, Rallyware) is beginning to be recognized at a larger and larger scale among business leaders with sales-based workforces, or "sales forces." Hundreds of thousands of sales force members, or salespersons, chose to engage with such technology to improve their sales results.
In terms of training and learning content, 9% more sellers than in 2021 became actively engaged with such content, with almost seven million learning and development tasks being completed among the sales force employing Rallyware's technology.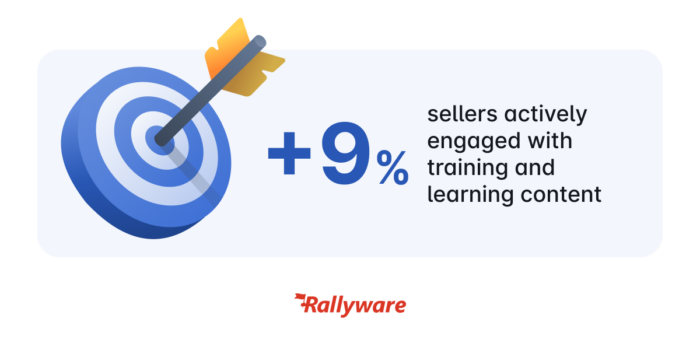 Beyond tasks, Rallyware's "Digital Library" files, which are searchable company-specific training materials, were viewed 11.2 million times – 63% more compared to 2021 – with 2.4 million downloads – which comes to 41% more than 2021.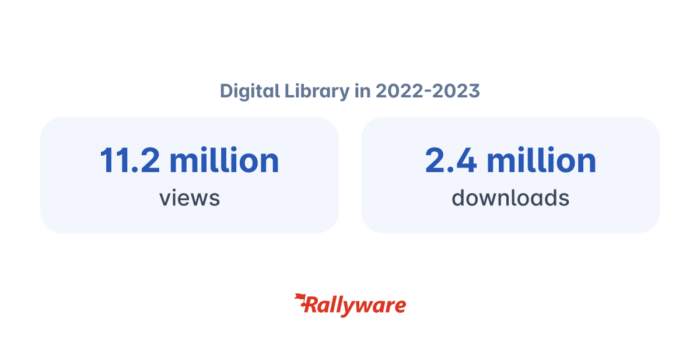 The frequency of the sales force's use of the Digital Library reflects the growing demand among salespersons for a single, reliable source of truth for the products they are selling, which comprise at least part of their livelihood.
Now ultimately, technology is only as good as the concrete results it generates, such as retail productivity and insurance agent sales performance. In this sense, performance enablement technology for the sales force out-performed in 2022, in spite of the obstacles that consumer-facing businesses had to overcome. Salespersons actively using their performance enablement technology, Rallyware's data indicates, had 21% higher sales than those less actively engaged with the platform.
Those 21% higher sales generated 24% of the total sales on average for the salespersons' affiliated companies. So we can conclude that the actively engaged users of workforce technology generated nearly a quarter, on average, of their companies' sales. Because this cohort tends to be far smaller than a quarter of a company's sales force as a whole, actively engaged salespersons far outperformed their "raw numbers," showing the elite force-multiplication effect of performance enablement technology.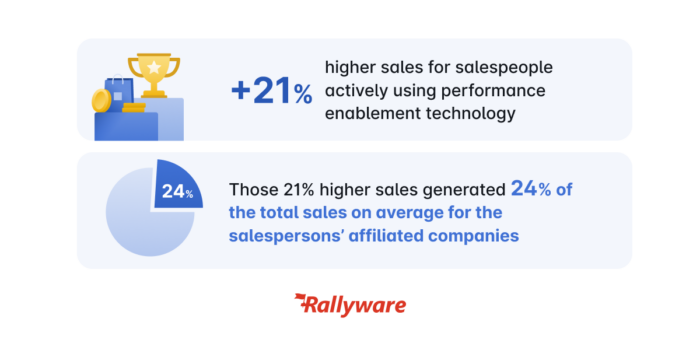 In terms of basket size, these salespersons had a 3X higher average order size than less-active salespersons. At a time when companies are figuring out how to get customers to expand the size of their spend, this is a critical metric to pay attention to. 
Why Did Sellers Respond Well to Performance Enablement Tech?
The "digital transformation" has changed what salespersons want. Now, they do not want to have to spend extra time searching laboriously for product information and other learning content.
They want that content surfaced for them; and when it is, this motivates them to be more productive, whether we're talking about retail productivity or field performance for direct sellers. Recent research in organizational psychology calls for "human-centered design principles" in the implementation of technology – technology that takes into account what matters to people, what drives them, and what they desire. Following this research, Rallyware's method of distributing learning content helps people sell more in an agile fashion is a great example of such design principles.
Ready to learn more about 2022-23 trends and projections for the sales force? Access our exclusive report here. Then should you wish to see performance enablement technology in action, request your Rallyware demonstration.
News and Insights on Workforce Training & Engagement
We're among top-notch eLearning and business engagement platforms recognized for effective training and talent development, helping to empower distributed workforces
Subscribe