PEPs as a Key to Success in Global Direct Selling Markets
In today's interconnected, globalized world, direct selling organizations face unique challenges as they expand into international markets. Geographical dispersion, cultural differences, diverse communication and linguistic barriers create complexities that can impact sales performance and overall business success. All of these factors can impede the success of a multinational workforce. While some businesses may be thriving domestically, they may struggle to gain traction and achieve the same level of success when expanding abroad. The complexities of international expansion require astute decision-making and a deep understanding of various cultural, economic, and regulatory factors.
Operations leaders and sales executives in the field of direct selling face a particular set of challenges when it comes to international markets. When looking to align and scale initiatives to new geographies, they must search for a centralized system for communicating timely and efficiently with brand affiliates, manage onboarding and training, and meet sales and business goals. Performance Enablement Platforms (PEPs) have emerged as a solution to unique global challenges.
We can see the success of PEPs in expanding global enterprises reflected in case studies for direct selling companies such as Avon, which adapted new technologies to streamline training of their distributed workforce. Not only did their salesforce learn more effectively, their learning objectives tied directly to the company's KPIs so that hard results could be measured and achieved.
With their seamless communication, real-time data analytics, and AI-powered sales enablement, PEPs empower leaders to streamline operations, drive performance, and overcome the hurdles of international expansion to build a thriving salesforce and optimize sales performance.
Let's dive deeper and explore the obstacles faced by companies expanding globally, and discover how Performance Enablement Platforms offer innovative solutions to help sales performance flourish globally.
The challenges in Direct Selling Global Market Expansion:
Some of the challenges leaders in direct selling face when entering new markets with many unknowns include:
Partner Selection
One potential challenge leaders face in expansion is in selecting the right tech vendor to scale to multiple global markets. Ideally, these vendors should not only "sell" technology, but be real partners, helping their customers develop digital strategy. When going through the early stages of working with local representatives, the nature of the tools you use can determine a company's success when entering a new market. An ideal tech stack will go beyond the simple task of training and selling to help you strategize and support growth as it aligns with the company's objectives. How do leaders ensure the company's brand and growth KPIs are most effectively furthered in these partnerships?
Working Across Different Time Zones and Cultures
Every country and region has different productivity hours, and styles of communication. Think of siestas in Europe or the longer workday in South Africa. How do leaders engage distributors in a personalized, targeted manner? How do you manage to incentivize and motivate a workforce across granular-level differences in social norms and communication styles?
Communicating your Brand Identity Globally
With a distributed workforce, how will you educate new markets about your brand? How do you deliver the right message on a global scale to different groups and segments? Having distributors who are more engaged and knowledgeable about your brand is inevitably more persuasive. They'll have the resources necessary to convey what the brand represents and can put forward the right value propositions to win sales.
Engaging Downlines
Research by Gallup shows that regular communication is necessary for globally dispersed teams. Providing continuous support and guidance to ensure a motivated and productive workforce becomes even more challenging across distances. In order for a remote, distributed workforce to maximize success and motivation, it's important for downlines to feel engaged with their tasks and that uplines have insights to make the right decisions on how to encourage and coach their teams with the end goal of increasing productivity.
How PEPs Overcome Global Market Challenges
Performance Enablement Platforms (PEPs) offer a new approach to tackling the challenges encountered in global sales efforts. Unlike traditional learning and productivity solutions, PEPs focus on targeted improvements in individual performance, rather than generic tasks for the entire workforce. They deliver the right suggestions for activities, to the right person, at the right time.
PEPs leverage smart push notifications for mobile devices, guiding users to take actions particular to them that drive specific behaviors and outcomes.
By personalizing the processes of enabling actions, learning, and activities PEPs empower the workforce to excel in their roles, enhancing overall performance and productivity.
In the case of Avon, the company began to see results within the first six months of using a specialized PEP. The average number of orders for those who completed the platform's training program was 124% higher than those who didn't complete the program. We can see here that the platform went beyond training to deliver results in sales performance.
Here are some of the areas where PEPs move the needle:
Seamless Communication
PEPs facilitate flexible and efficient communication across regions, upstream and downstream communications. Business rules engines deliver the right activities, at the right time, to the right user based on information accrued on performance data, individual progress, and the organization's goals and KPIs. Corporate headquarters can disseminate policies, product updates, and news to the entire sales force, while leaders can communicate directly with team members at lower tiers. This seamless communication flow fosters an effective, driven, and coordinated workforce in the absence of physical presence, no matter where they are located around the world.
Targeted Messaging
In direct selling, PEPs play a pivotal role in delivering customized messages to various levels of the workforce precisely when needed. Leveraging advanced automation capabilities, these platforms ensure tailored notifications reach users, guiding them on where, when, and how to take action effectively. The focus extends beyond merely "what" to notify users of, empowering them to comprehend the best approach to drive activity completion and boost productivity. Such personalized communication fosters seamless coordination, especially when direct sellers operate asynchronously across different time zones.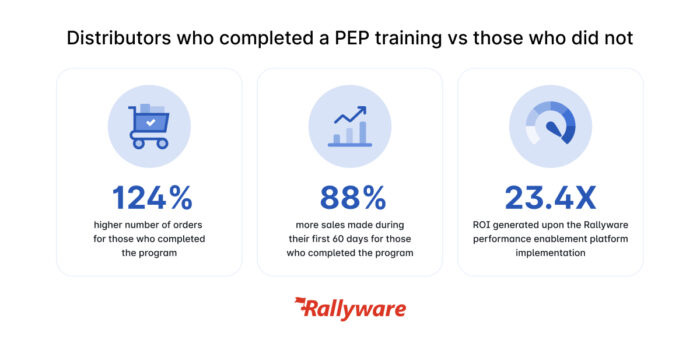 Sales Performance Enablement
PEPs offer comprehensive training modules and onboarding resources, ensuring that partners' teams are well-equipped and aligned with the company's goals and standards. They set highly individualized sales performance metrics, incorporating performance incentive programs, with gamification elements, motivating partners and strengthening their confidence and commitment to sales-related goals.
PEPs as the Bedrock of Global Expansion
Expanding globally presents many challenges, both exciting and daunting. We are already seeing an uptick in PEP adoption among forward-thinking industry leaders. Top direct selling companies are aggressively preparing for 2024 to be able to compare in global markets.
Surveys show that top direct selling companies are adapting these tools are seeing significant results in meeting sales objectives. PEPs become a strategic asset for businesses expanding globally, bridging cultural gaps and delivering personalized experiences that resonate with customers worldwide.
PEPs enable businesses to stay agile by embracing innovation with customized approaches. In this way, businesses can adjust their strategies to effectively engage downlines, creating trustworthy partnerships to convey knowledge of brand identity and ensure growth in sales performance. This is achieved through personalized performance enablement, including continuous, targeted training; streamlined communications; and gamified incentives and recognition to drive measurable outcomes in individual and group performance. The adaptability of PEPs ensures that direct sellers are always equipped to meet the ever-changing demands of voltaile local and global markets.
If you're looking to expand globally and enhance your international sales efforts to meet the full potential of your sales force, schedule a demo and explore how Rallyware's cutting-edge PEP solutions can meet your specific business needs.
News and Insights on Workforce Training & Engagement
We're among top-notch eLearning and business engagement platforms recognized for effective training and talent development, helping to empower distributed workforces
Subscribe