5 Examples of Gamification for Sales Teams
In today's retail landscape, trends such as workforce turnover, retail shrinkage, and unpredictable consumer behaviors have led sellers to feel demotivated and disengaged. This leads to crucial pain points for retailers, including slowing revenue and the need for cutbacks, which simply exacerbates all these problems. A survey from Retail TouchPoints found that store executives collectively identified their top store operations challenge: fostering an environment that ensures associates feel safe, seen and appreciated.
While retailers are responding with initiatives such as streamlining in-store tasks such as mobile payment and task management, one great solution to this is sales gamification, which uses game-like elements, delivered through digital technology, to engage and motivate sellers. Here, we delve into the fundamentals of using gamification for sales teams, along with 5 examples of how it can be implemented to generate a notable impact.
Gamification Example 1: Sales Progress Visualization
Meet Miguel, an associate at a sports apparel store. The problem he might be faced with on a daily basis is: does he have the opportunity to set his own goals and work towards them? Is he doing his part to increase sales? Miguel might feel as though he completes his tasks and generally performs well in his role as an associate, but has little visibility into his actual progress. This lack of feedback and transparency might lead to low motivation and a strong sense of purpose and accomplishment.
The solution lies in giving frontline employees like Miguel the freedom to define and achieve their targets, and continuously support them in meeting them. With a performance enablement platform, Miguel can effortlessly track and achieve his objectives. Where is he now, and where should he be going next?
Rather than working towards the lofty goal of 'you need to sell $500 worth of camping gear this Summer season', progress visualizations and incremental recognition would keep him motivated and informed every step of the way.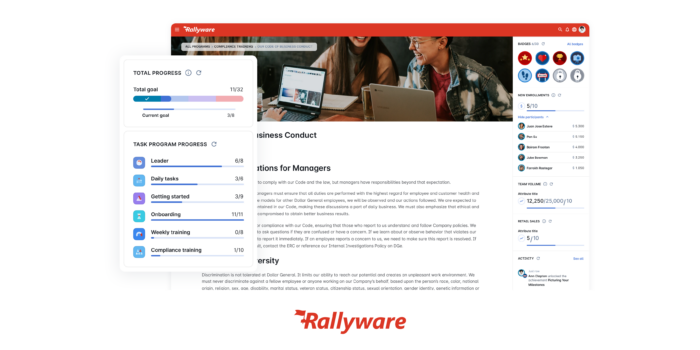 Gamification Example 2: Customizable Widgets
Simply, a widget is a simplified interactive view of a section or element of the platform that also serves as a quick access point to it (see the example of 'total progress', in the image pictured above). One excellent gamification retail example is Rallyware customer Intertop, a shoe and apparel retail company: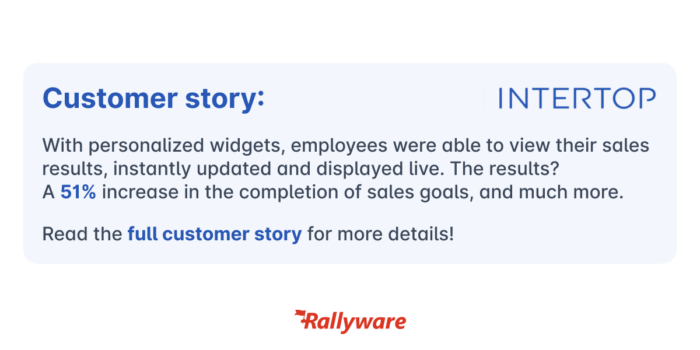 Gamification Example 3: Badges
Receiving an award is always delightful, even if it's not a tangible item that can be put on display. Rallyware's badges are another key gamification feature, and are customized to an individual's goals, fostering personal growth within the larger organizational framework. After all, wouldn't achieving a "high performer" badge bring a smile to your face? Wouldn't it inspire you to aim a little higher? The numbers speak for themselves: our research discovered that users of badges experience an average sales growth of over 400%, compared to non-users.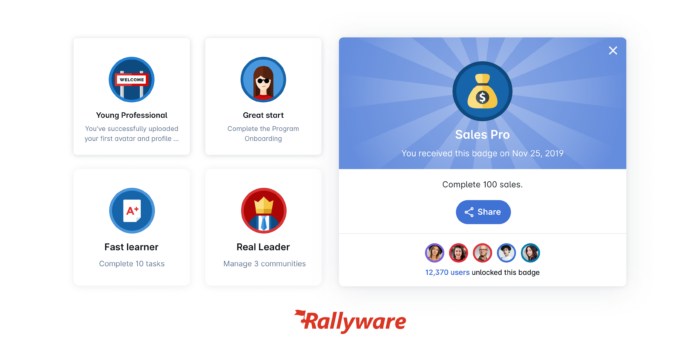 Gamification Example 4: Leaderboards
How does Miguel's progress stack up against that of his colleague Erin? Taking care not to be overly competitive or boastful, a bit of friendly rivalry keeps colleagues connected to one another, and also keeps them accountable.
In an analysis of three Rallyware partners, we discovered that the average increase in sales for those who employed leaderboards, versus non-users, was as high as 527%. This shows that leaderboards can help boost sales performance, big-time, and also points to the power of visualization.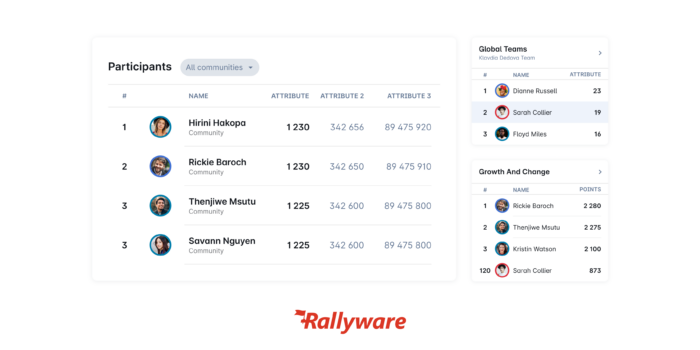 Gamification Example 5: Feedback Systems
Each of these components contributes to the concept of feedback gamification, which aims to guarantee that employees receive feedback in a meaningful, consistent, and captivating manner. Feedback is essential for growth – how can one improve if they don't know where they went wrong? Meaningful feedback fuels performance – data from Gallup showed that when employees agree strongly that they received "meaningful feedback" in the past week, they are almost four times more likely to be engaged than other employees.
At its core, gamification taps into key psychological motivators, empowering individuals with a sense of autonomy, competency, and relatedness. It achieves this by facilitating goal-setting, progress tracking, and allowing them to see how their efforts compare to others.
And, as highlighted in our 2023 Global Sales Force Report, data-driven sales gamification led to an 81% higher retention of salespersons, compared to those who were not interacting with gamified features.
Reap the Benefits of Gamification for Sales Teams
For frontline employees working in the retail sector, the day-to-day might often seem arduous, especially during busier times such as the holiday seasons. When it comes to boosting seller engagement and propelling overall sales, our research shows that gamification for sales teams is a real game-changer. Such initiatives are critical today, as hiring and retaining associates, meeting customer expectations in an evolving landscape, as well as dealing with an excess of inventory, are among the issues retailers are faced with. This all comes down to improving the frontline employee experience, boosting their capabilities, so they can strengthen relationships with your customers, and drive sales.
So why not strive to inject some fun into the experience? Make the everyday not only fun, but also purpose-driven, memorable and impactful.
Get into the gamification game! Book your free demo to see Rallyware's Performance Enablement Platform in action, and how this all-in-one platform increases sales force performance.
News and Insights on Workforce Training & Engagement
We're among top-notch eLearning and business engagement platforms recognized for effective training and talent development, helping to empower distributed workforces
Subscribe