69% of Managers Fail to Organize Communication with Their Employees: Here's How to Fix It
"The art of communication is the language of leadership."
James Humes
No matter how you slice it, Humes' quote perfectly describes a crucial attribute of any successful leader. The definition of leadership itself presupposes an individual's ability to effectively communicate with different groups of people, including employees, customers, investors, and stakeholders among others. Moreover, leaders need to clearly explain their company's vision and objectives, motivate people and direct them towards goals.
However, recent studies show that today's leaders extremely lack soft skills and, in fact, find communication to be the hardest part of their job responsibilities. Moreover, leaders often experience difficulty in finding the right communication supporting tools, have little or no data available to provide better feedback, and struggle in an established non-communicative culture. So, what's the likelihood of growing a successful business under such conditions? And is there any way to fix it?
Let's figure it out.
The latest data on the scope of the leadership communication catastrophe
When employees become stressed before their performance reviews, have yet another meeting with higher-ups, or need an explanation of personal circumstances that must be reported to their employer, everyone thinks it's okay. However, these worries are not one-sided. Leaders feel uncomfortable as well.
The fear of lacking support, hurting employees' feelings or facing discontent after the announcement of some news only tenses the situation and increases pressure on leaders. This doesn't contribute to the development of emotional intelligence at all.
The report by Interact shows disturbing figures which indicate the challenges on a number of communication fronts that leaders face in the workplace.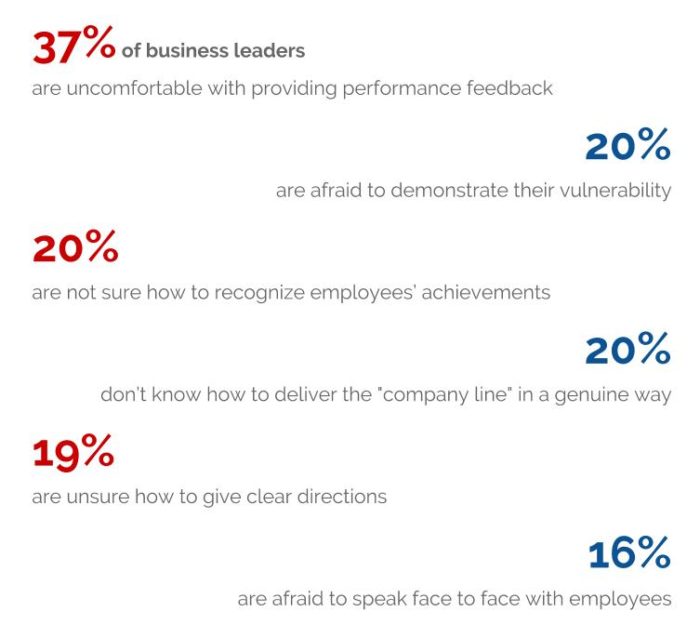 The most shocking finding was that 69% of leaders believe that it's something wrong with their role that makes them uncomfortable communicating with their employees.
Such a poor level of emotional intelligence among leaders gets in the way of creating genuine connections with their direct reports, results in even more dissatisfied responses from employees.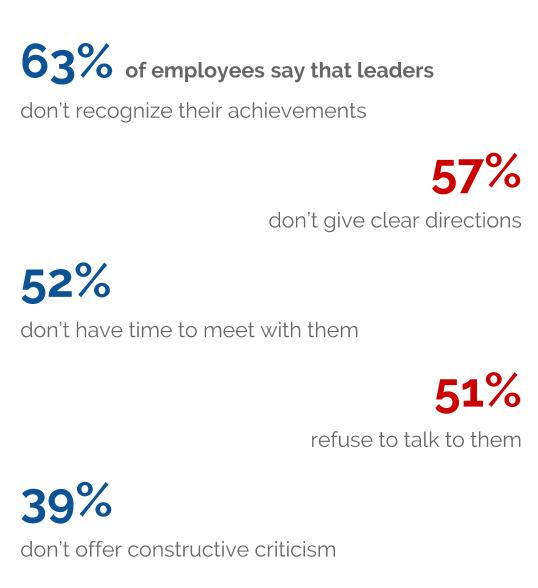 As you can see from the employees' perspective, communication challenges in the workplace are more even disappointing. Moreover, 91% of respondents say that leaders' inability to use soft skills in a way that streamlines communication can drag businesses down.
It is worthwhile to mention that the 13% of employees who said that their company's leadership communicated effectively and that they had the opportunity to discuss their goals and successes were 2.8 times more engaged at work. But that's only 13% out of all survey participants!
So how do the above-mentioned figures translate into workplace efficiency?
How leaders' poor communication skills affect the workplace
Since communication is at the heart of running the majority of business operations, its clarity, consistency, relevance, and timeliness affect the life of any organization.
What happens when there is a lack of communication in leadership?
Here are the five main consequences of poor communication.
96% of executives say that ineffective communication leads to workplace failures.
Misunderstandings, failure to keep in touch with what's going on and provide support via on-demand feedback…these are just a few examples of the leaders' communication challenges that can affect organizational processes. When employees constantly struggle to do their job because of unclear direction, a stressful environment, negativity and "the absence" of a manager, it's no surprise that constant failures occur, which can, in turn, translate into financial losses, customer attrition, business disruptions, and more.
75% of employees leave their job because of poor management.
Who would want to work at a dysfunctional company? Would you enjoy working in a constantly stressful environment? Probably not. Would you feel unappreciated if your manager didn't care about your contributions or didn't provide support when you faced difficulties? It's highly likely, yes. And this is the answer to why companies with poor leadership practices see high employee turnover. Yes, people do leave bad managers, not their jobs.
44% of employees miss deadlines or fail to complete a project.
Leaders should operate as guides. Whether it's about providing directions, giving updates, delivering on-demand feedback, setting new goals or transmitting a company's vision, employees need to know what exactly is expected from them. However, when poor communication comes into the picture, employees' productivity is in serious trouble. Poor productivity accounts for missed deadlines, increased mistakes, and failures in project completion.
31% of employers say that poor communication results in low morale.
Leaders with poor communication skills create an environment where low morale is considered to be the norm. In such a case, the workplace quickly turns into a place where gossip, stress, employee dissatisfaction, conflicts, a low quality of work, increased rates of absenteeism, disruptive behaviors, and safety incidents happen all the time. It's unlikely that any company would thrive under such conditions.
20% of employees say that poor communication hinders innovation.
"Every meaningful element of human progress has happened only because humans have shared ideas with each other and then collaborated to turn those ideas into reality," says Chris Anderson, the curator of TED Talk. Leaders who haven't heard about the art of listening, who don't know that out-of-the-box ideas can come from anyone, and who don't support open communication among teams and each and every employee miss out on innovation.
Companies fall short not because their leaders know nothing about business. The reason is that they don't know how to power-up, via effective communication, their main asset: people.
A social learning platform as a means to defeat communication challenges
With smart, modern tools that facilitate numerous operational processes, streamline workflow and make it more efficient, there's also a way to help leaders solve communication challenges.
Here are four features that a social learning platform can offer to help leaders fight communication issues in the workplace.
Soft skills just-in-time training tools
The best way to improve communication skills is to train them. A survey conducted by The Economist Intelligence Unit found that 62% of respondents believe that firm-wide training would have a significant impact on the improvement of communication. Also, 63% stated that having a wider range of communication tools to use would significantly contribute to streamlined work communication.
What does this mean for effective leadership development? Leaders need to receive personalized, just-in-time soft skills training that would cover not only ways to better deliver feedback and support, give directions, offer timely recognition, and transmit the company's objectives and vision but also develop the understanding of what communication tools to choose at what time. In other words, leaders should know what is more appropriate in specific situations whether it's a simple message, a video call or a face-to-face conversation.
A universal Learning & Communication hub for teams
On average, it takes 74 minutes for an individual in the office to contact their colleagues. That's a long time! In order to optimize workflow, it's crucial to streamline the flow of communication and foster informal, organic collaboration.
A user-friendly social learning platform that utilizes a variety of collaboration tools like discussion boards, direct and group messaging, communities, easy content- and idea-sharing options, etc. promotes a sense of connectedness, improves teamwork and drives innovation. While easily getting in sync with one another, not only can leaders provide real-time support on specific issues, but colleagues could also be experts in the subject matter.
Live performance and learning data for timely support and feedback
A social learning platform with robust analytics can help leaders track employees' progress in real time and ensure they get timely support when encountering difficulties. When leaders are connected to their teams and keep up with changes in their performance, it becomes much easier for them to create talent development plans and provide constructive feedback.
Such automatic tracking with smart notifications and reports saves a lot of time and effort, letting leaders have all important updates at their fingertips and address workplace challenges right away. Not only do they have employees' performance data but also learning data from a learning platform that can uncover a lot of useful information about their learning preferences. This data greatly assists managers in developing their people.
A seamless connection with the distributed workforce
According to the Interact report, 53% of employees who work remotely report that they have to work twice as hard as onsite teams to make connections within their organization. Moreover, 50% of those remote workers also say that they feel disconnected from their colleagues.
Collaboration tools built in your learning platform can solve this challenge. By having at their disposal real-time performance reports and immediate access to the distributed teams, leaders can offer timely help. Moreover, remote employees have 24/7 support from other colleagues, since a one-stop Learning & Communication hub allows for getting all the necessary information without the need to be present in the office.
Leaders who know how to develop and implement efficient communication channels drive innovation through engaged, high-performing teams and a team-wide focus on growth. This is why the LMS market is projected to grow 2.5 times bigger by 2023, while people analytics skills are becoming crucial for the leaders of tomorrow. Social learning technology is becoming a must for managers to grow their teams who, in turn, drive business growth.
Want to build a sense of connectedness and streamline communication across your company? Request our free demo to see how Rallyware's social learning platform can help improve your employees' productivity through efficient communications and performance-based learning!
News and Insights on Workforce Training & Engagement
We're among top-notch eLearning and business engagement platforms recognized for effective training and talent development, helping to empower distributed workforces
Subscribe