Rallyware Analytics Suite for Smart Human Capital Management
A new Rallyware Analytics Suite has launched and is already making an impact by helping organizations to connect learning initiatives with organizational KPIs. The live people analytics dashboards deliver actionable insights into workforce learning, performance trends, program adoption rates, and much more. Rallyware Analytics Suite reflects precisely which learning initiatives impact which performance goals as well as provides an overview of the past and future trends. Its predictive capabilities allow companies to effectively optimize their budgets, better plan for human capital needs, and develop a more agile workforce. Let's take a look at the implications of using people analytics in distributed workforce management for major industries such as franchise, retail, and insurance.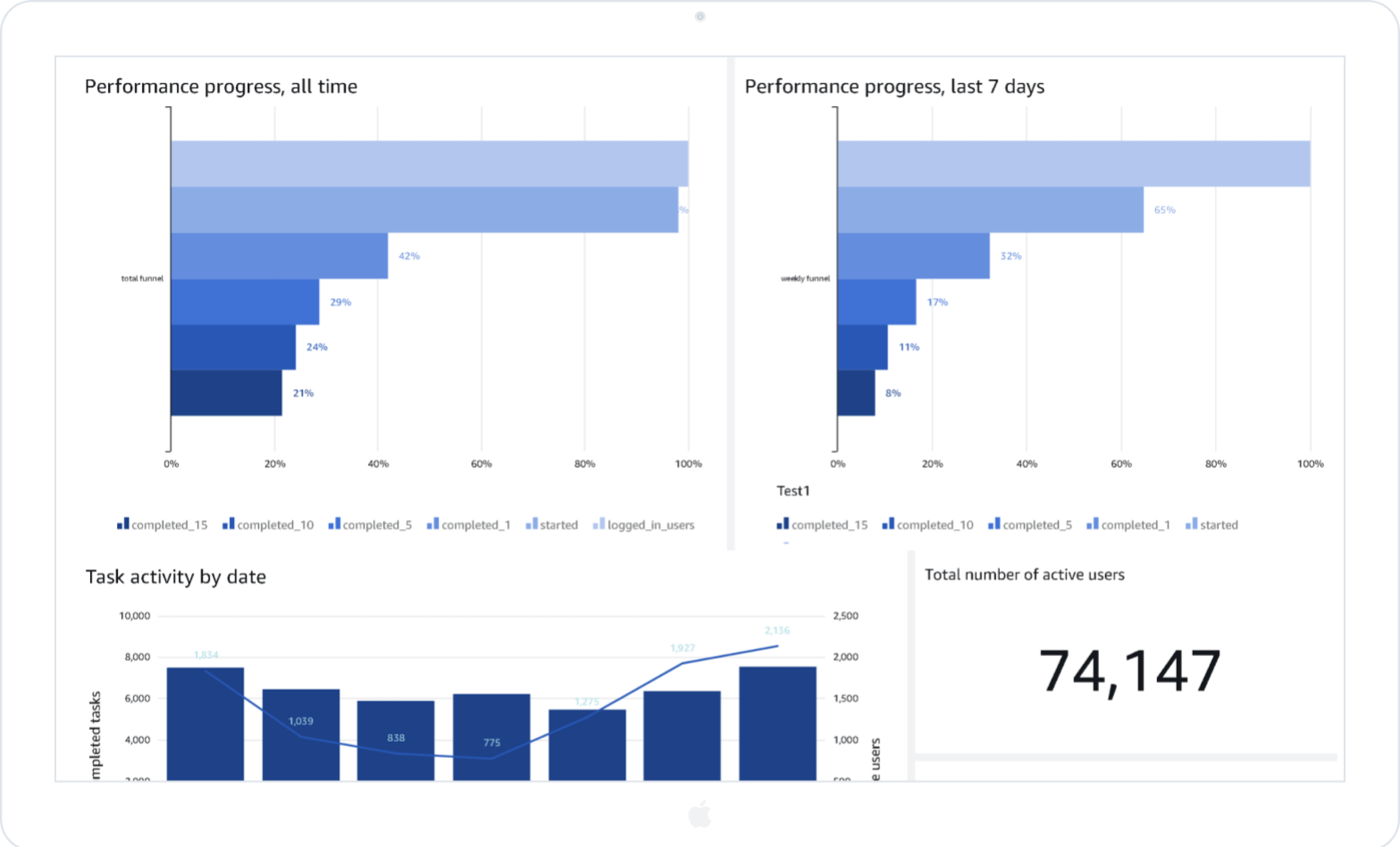 Application of People Analytics for Efficient Distributed Workforce Management
Whether we like it or not, distributed workforces are the future of work. During the Covid-19 pandemic, this workforce model helped organizations stay afloat and redefined the way both employees and management approach work. Leveraging people analytics in industries with large distributed workforces offers an efficient way to design powerful learning and training initiatives and promote better human capital management. Using people analytics in the most efficient way can boost workforce productivity by as much as 38%, and an engaged and productive workforce is the key to achieving any business goals.
How to Drive Retail Sales with People Analytics
Retail stores globally are expected to see a total loss of $2.1 trillion because of the Covid-19 pandemic, according to Forrester's forecast, which is a decline of 9.6% on average, and for the majority of businesses, it will take at least four years to recover. These statistics show that more than ever before retailers need to find an efficient way to drive sales.

For retailers, such data as the number of orders, sales volumes per period, and plan completion progress are crucial for gaining insights into a company's daily operations. By integrating a powerful people analytics tool, retail managers and training leaders can have a better understanding of which employee learning and engagement initiatives drive the most ROI and where to direct the company's budget, which is especially important now when stores are recovering after lockdowns and new regulations are coming in daily.

People analytics is a powerful tool that delivers insights into each employee's skills and knowledge, based on which companies can implement more efficient workforce management strategies. Moreover, personalized engagement tools and recognition programs that consider individual goals and preferences will significantly improve employee motivation and decrease voluntary employee turnover, and engaged and skilled employees are the key to delivering a great customer experience and increasing sales.
People Analytics Boosts Agents' Productivity for Insurance Companies
In 2020, the insurance industry has to comply with a number of data management, sales conduct, capital standards, and other US and international regulations, and with the current socio-economic and market changes, it is crucial to have a better picture of where the agents are in their current skill sets and where they need to be in the near future.

With the shift to remote work, insurers had to quickly learn new technologies integrated into workflows, but Deloitte's industry outlook showed that:
"79% of respondents believe the pandemic uncovered shortcomings in their company's digital capabilities and transformation plans. That rose to 87% among respondents with operations responsibilities, who were probably the most directly impacted."
The lack of organizations' readiness to use digital technologies brings up the need for more effective employee upskilling and reskilling initiatives to boost employee productivity. People analytics plays a crucial role here, yet among over 200 financial services organizations worldwide, 48% do not use analytics for making business decisions.

People analytics can help an insurance company gain valuable insights into claims closing ratio, the average size of sales, number of referrals, and customer satisfaction per employee. Based on these data, the business can identify skill gaps on a personal and organizational level and then leverage Rallyware's Performance Enablement Platform to automatically deliver customized learning paths for each employee, with personal rewards tailored to match their learning progress. This will also boost employee engagement and productivity – in a study of employee engagement, "37% of respondents said that more personal recognition would encourage them to produce better work more often."
Franchises Can Reduce Employee Turnover Thanks to People Analytics
One of the biggest challenges many franchises face is high employee turnover because managers often fail to implement recognition programs to improve talent retention. In a study by the OfficeTeam, 2 in 3 workers (66%) admitted that they would leave their position if they did not feel appreciated, but only 54% of managers thought that a lack of recognition could cause a worker to quit the job.

Not recognizing the problem and failing to address employee needs could lead to reduced workforce productivity, worsened customer service, high employee turnover, and high costs to replace employees, which could range between 25% and 250% of the employee's annual salary. Improving human capital risk management is a more cost-effective solution, and it can be achieved with live analytics data and predictive capabilities of the Rallyware Analytics Suite, which helps franchise leaders and local managers implement the most meaningful engagement programs while driving personalized rewards and recognition initiatives based on what matters most to each employee.

Besides, implementing a powerful people analytics tool can help franchises gain insights into daily operations, such as average sales data, customer satisfaction reports, speed to productivity ratio, and brand compliance. Rallyware analytics connects each learning initiative to the above-mentioned business KPIs and allows franchises not only to identify which daily activities drive the most ROI but also to spot individual performance gaps and training needs. Based on these insights, Rallyware's Performance Enablement Platform can automatically deliver more targeted learning or operational content.
How Rallyware Analytics Suite Connects Workforce Performance to Specific Learning Initiatives
People analytics is an extremely powerful tool for boosting the performance of your employees and improving the organization's bottom line. With innovative people analytics dashboards, organizations receive valuable insights into the performance of their employees and what drives it on a very granular as well as macro levels. At the core of Rallyware's Performance Enablement Platform is a powerful people analytics engine that could help your company improve employee retention, reduce turnover, drive productivity, promote engagement, and boost your organization's ROI. If you would like to learn how to achieve that, schedule a demo today.
News and Insights on Workforce Training & Engagement
We're among top-notch eLearning and business engagement platforms recognized for effective training and talent development, helping to empower distributed workforces
Subscribe