A Year of Performance Enablement Breakthrough: Rallyware's 2021 Year in Review
As a new year begins, we are reflecting on the year that has passed, and what a year it has been for learning and Performance Enablement! While 2021 has been proven to be demanding and full of change, it shone a light on the importance of personalized workforce experiences and skill development, and enabling each individual to thrive and achieve their goals. Check out a review of Rallyware's highlights from 2020, and read on for our top moments and milestones that defined 2021.
1. We launched our innovative Incentives & Recognition (I&R) Suite
How can you incentivize activities both small and large, rewarding those effective day-to-day activities that lead to professional and, ultimately, business success? A new addition to Rallyware's Performance Enablement Platform (PEP), I&R does exactly this – encouraging each individual to do the right thing, at exactly the right moment. "We're excited for this solution, which is already helping companies drive business results by changing distributed workforce behaviors in line with business KPIs," said George Elfond. This is a powerful and cutting-edge solution, and one that is poised to make a great impact in 2022.
2. We raised $22M to speed up disrupting enterprise digital transformation
This investment from PeakSpan Capital will help us to further invest in making our Performance Enablement platform more robust and AI-driven, doubling down on personalized experiences that Rallyware delivers at scale, from motivating, to learning, and enabling the success of each and every individual. This is the latest chapter in Rallyware's tale of digital transformation and growth – we are looking forward to big things to come, in the year ahead.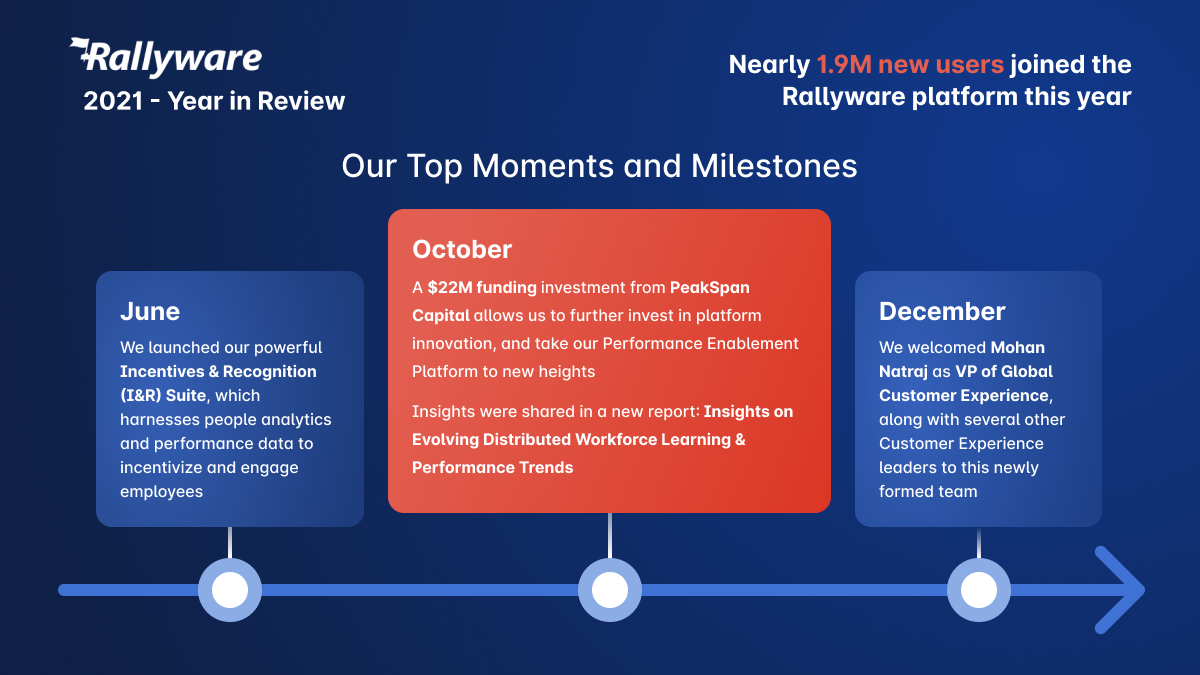 3. We introduced several new features, adding to the robust capabilities of our Performance Enablement Platform
With multiple modular widgets, Rallyware has become one of the most robust PEPs that each company utilizes in its own unique and powerful way. On all three of Rallyware's platforms (web, iOS and Android), various widgets are available, such as those that show attribute-based leaderboard ranking, program progress and level.
But first, let's take a step back – what are widgets? Widgets are small pieces of applications or UI (User Interface) components that perform a certain functionality of the Rallyware platform. They are flexible in a sense that they can be placed in different areas (such as on reports, sidebars etc.), providing companies the ability to build dashboards from any widget, hence building the unique workforce experience. Widgets provide fast access to information – such as displaying a users' progress towards achieving a goal, or displaying all badges that are available and waiting to be unlocked.
Among these new features introduced this past year include:
Various new widgets (such as frontline sales, baseline comparisons, and consecutive months history) – all of which serve the needs of I&R and L&D customers well by tracking different real-life KPIs. How well are your sales performing, compared to last quarter? What is the month-by-month comparison? What are the next steps for each person to take to reach their unique goals? These and other key questions are easily answered.
The ability to create multiple report pages, allowing for companies to display sets of widgets across multiple pages for different purposes (this is critical for companies that run multiple I&R rewards programs and need to display different KPIs in one place)
New integrations – allowing for the configuration of Facebook and Zendesk chatbots
CSV export of leaderboards that help to work with selected user lists and drive specific initiatives
As with any tech system and platform, there is always room for improvement. In order to provide the best possible experience for our customers, one that is user-friendly and seamless to navigate, we also made several improvements to existing functions, such as:
Improvements to the digital library (including a redesign, ability to add cover images, bulk operations with files etc.) A popular Rallyware feature, the digital library serves as a dedicated space for all important materials and resources, with intuitive search capabilities, providing easy access to all key information at the click of a button
A leaderboard redesign, for improved usability and maximum accessibility, resulting in an enhanced user experience and maximum clarity
Various security enhancements, making the system the most secure solution on the market
A homepage header redesign, for a modern and refreshed touch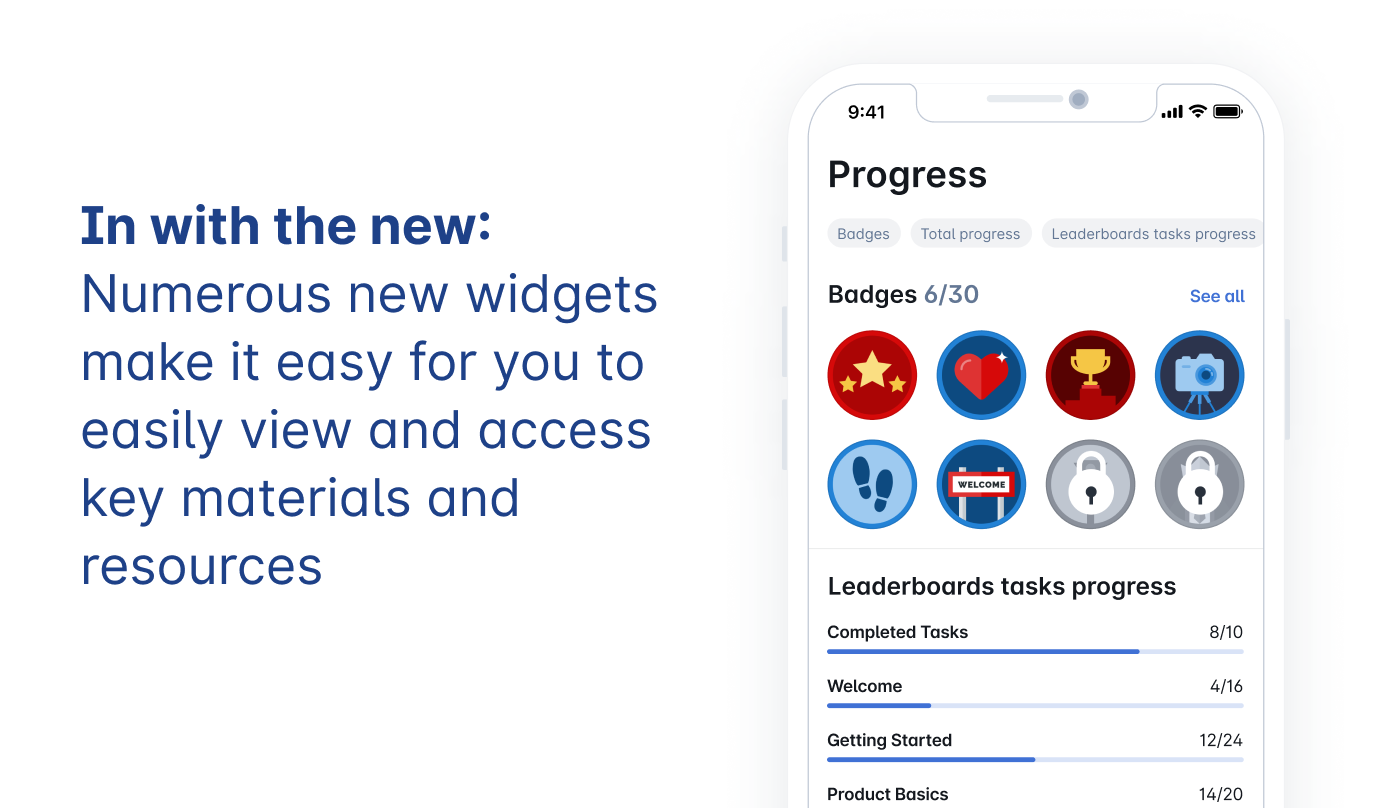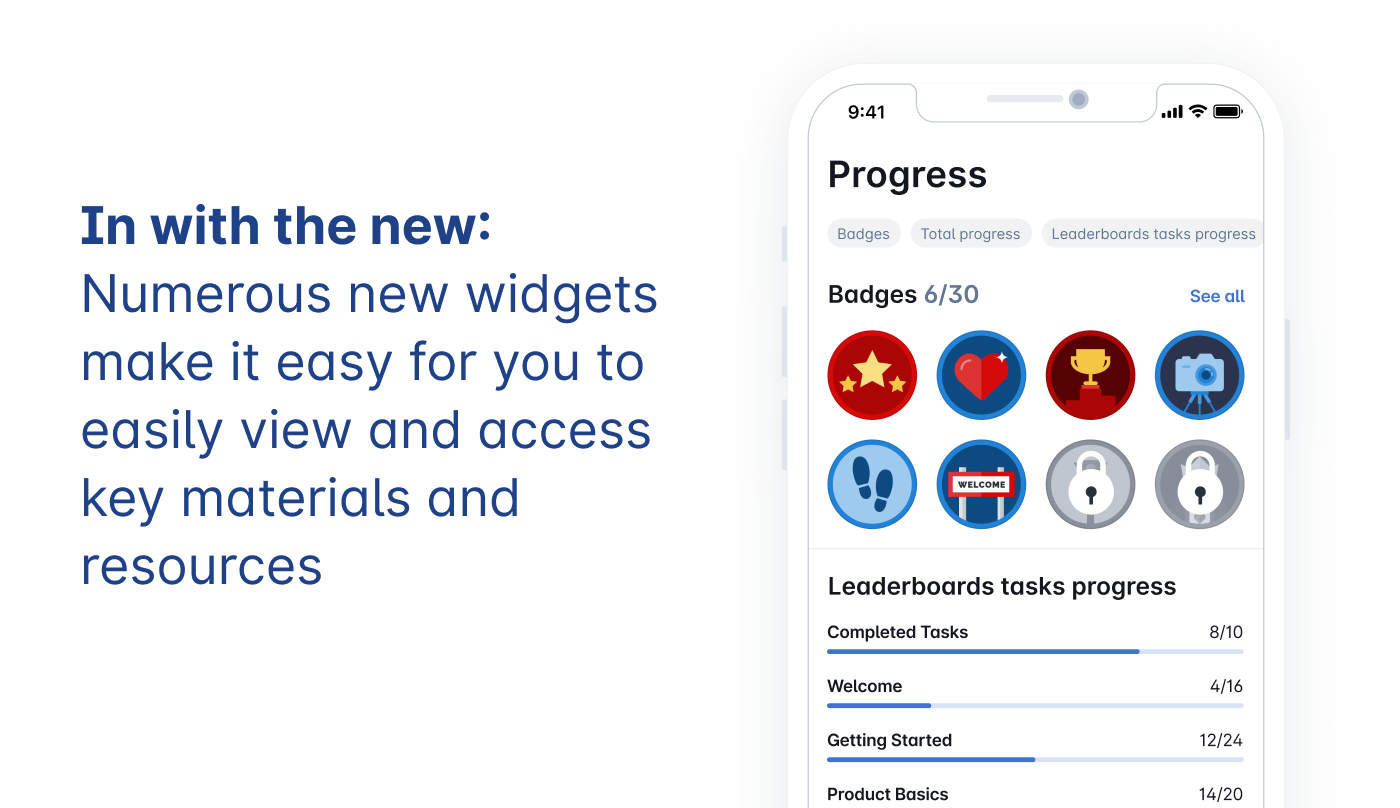 4. We did some research and digging, discovering that mobile-first approach has become even stronger in 2021
Amidst the rapidly evolving digital landscape of today, we were curious to discover how Rallyware's users are consuming content, and where they are spending the majority of their time. Our report, Insights on Evolving Distributed Workforce Learning & Performance Trends, dives into this. Among our key findings? When it came to the downloading of content, mobile was the preferable avenue – with downloads from both mobile and web accounting for 83%, and downloads from just web browsers accounting for just 17%. Such a finding emphasizes that mobile is indeed the way to go.
5. We expanded the Rallyware team, and doubled down on our emphasis on Customer Experience
In a move to support our mission of delivering the best possible experience to Rallyware's customers, we revisited our organizational structure to make room for several senior Customer Experience leaders. We welcomed Mohan Natraj as VP of Global Customer Experience – a leader with a strong background in customer experience in large enterprises and who is dedicated to leading customer success and enhancing the overall experience of our customers. At the helm of this department, Mohan is joined by Christina Olsen, Vadim Komukh and Victoria Nagornaya, who have proven to be a driving force behind the average of 24X ROI that Rallyware customers have been seeing.
The Rallyware team also experienced significant growth – adding 47 new team members, from countries including Canada, Argentina and Ukraine.
6. We scaled our Performance Enablement Platform around the globe, with increased user adoption
Two million new users joined the Rallyware platform this past year! One key area that has advanced significantly this past year is smart notifications – more than 142 million different notifications were delivered to Rallyware's users, with almost 80 million of them encouraging them to consume new information and take one step ahead towards achieving their goals. This emphasizes the value of such a feature, in that such alerts truly provide the right activity, at the right time, and encourage individuals to take swift action for continuous growth.
With our platform supporting more than 30 languages and users across 76 countries, we are proud to truly be a global company, one that supercharges remote and distributed teams for organizations worldwide.
We are looking forward to the year ahead, with lots of developments on the horizon. We also want you to get in on the fun, and join us on the path to digital transformation. To see our Performance Enablement Platform in action, schedule your demo, and we'll show you how it all works.
News and Insights on Workforce Training & Engagement
We're among top-notch eLearning and business engagement platforms recognized for effective training and talent development, helping to empower distributed workforces
Subscribe