A Guide to the NRF Big Show 2023 – What Trends Can Retailers Expect?
The 2023 NRF Big Show is around the corner – a major retail expo in New York City! This year, the agenda is quite exciting, with an Innovation Lab, a Startup Zone, and Exhibitor Big Ideas sessions all working together to create a high-octane experience for reimagining retail technology. In terms of the tech breakthroughs that will be on display – trends, developments, transformations – what can attendees expect?
eCommerce Overinvestment, Brick-and-Mortar Underinvestment
One question hovering over the NRF Big Show will be the question of in-store Customer Experience (CX) technology like AR/VR, along with online eCommerce investments by brands. After years of spending in these areas, are they bearing fruit? While eCommerce is poised to grow from $3.3 trillion in 2022 to $5.4 trillion in 2026, the fact is that in-store sales account for 60-80% of total sales.
Likewise, have investments in AR and VR, even in VM, paid off? Past research shows that 80% of consumers wouldn't use AR or VR if they were available in a store. They're there to make purchases, not play around – people simply don't have the time. Besides, it will be a while before AR and VR are advanced enough to be truly immersive.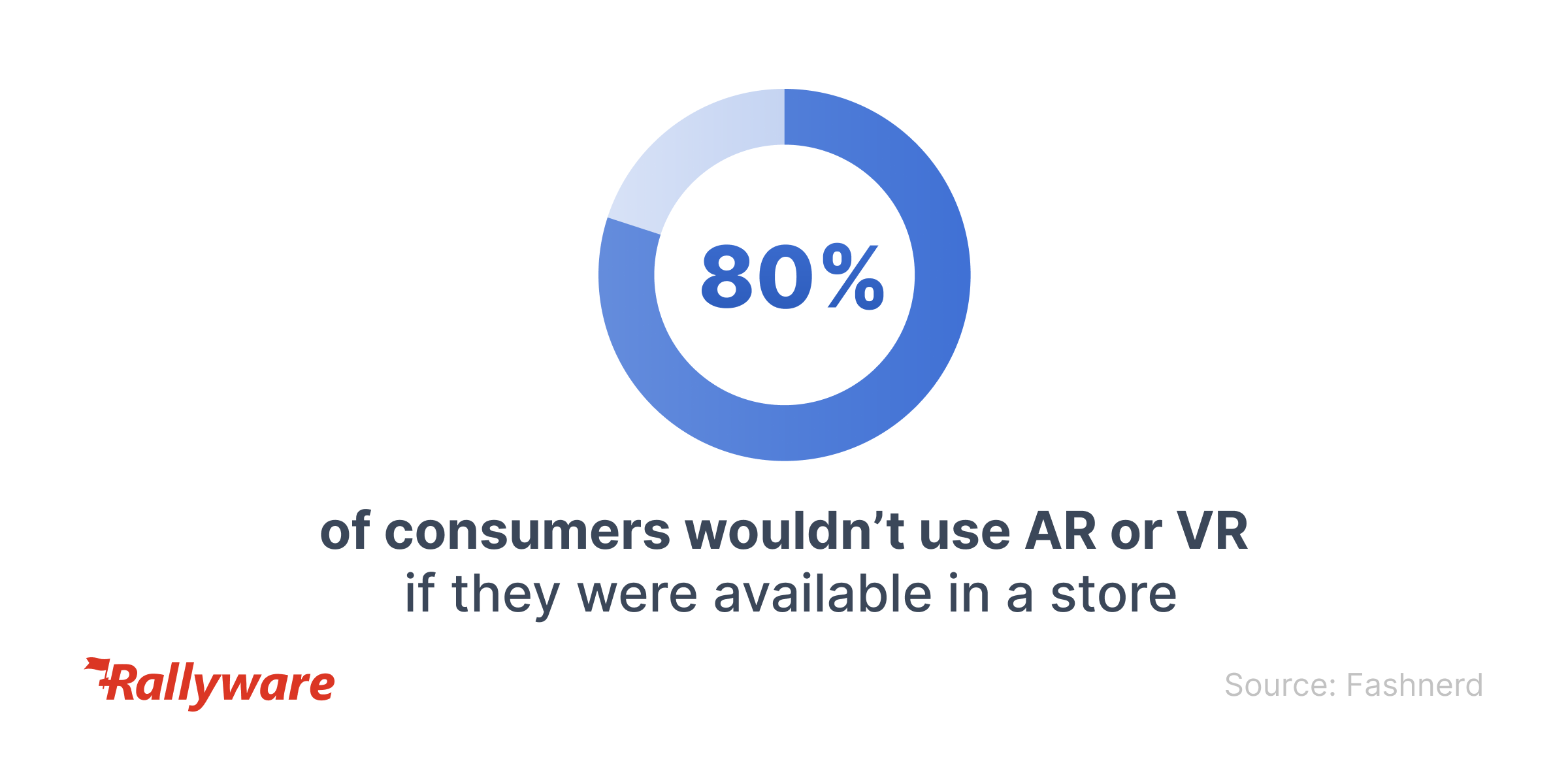 On the other hand, futuristic frontline enablement apps are available today. These will certainly be on display at NRF. If you want to go ahead and see frontline enablement tech ahead of the conference, you can request a demonstration of Rallyware's performance enablement platform right now.
Brand Consistency CX, Productivity Per Individual – How Can Technology Help?
One of the main challenges for retail in the coming year is going to be brand consistency in CX. Staff cuts are coming; for instance, according to Forbes, Walmart announced a drop in its hiring plans from 170,000 in 2021 to 40,000 in 2022, while a similar trend is in evidence for Amazon. Experts say a recession is looming. What companies can do here in spite of retrenchment is take hold of retail technology that enables the frontline to do more.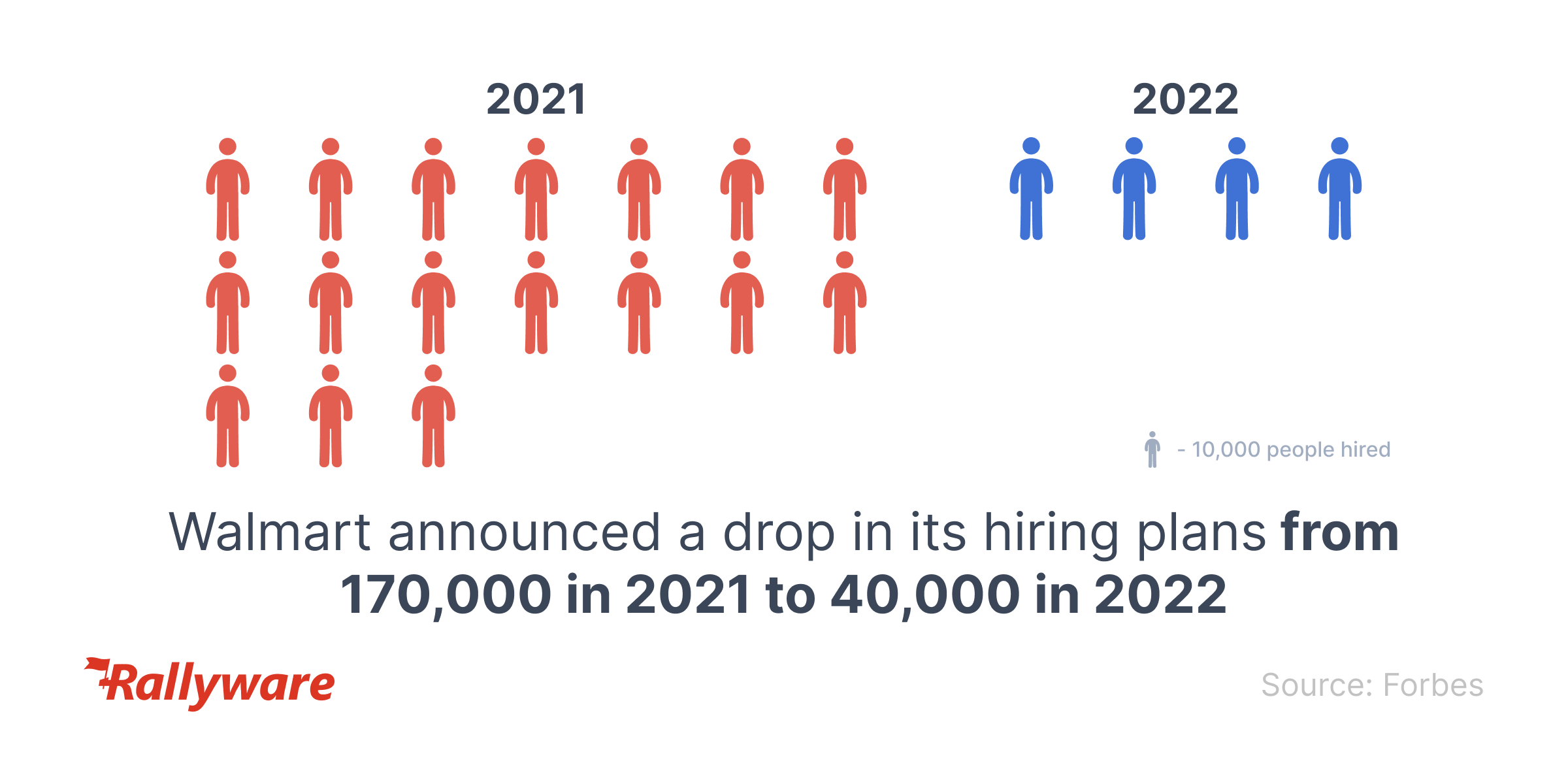 There are two questions at play, input and output. If retailers are shedding associates, they have to make sure the workforce they do have is receiving the right input, the right brand learning, and also that the uptake of this learning is effective. They have to be clear that this learning is being absorbed and implemented effectively and efficiently.
Then there's the output, productivity. Combined with staff cuts and recessionary pressures, wage increases and unionization efforts will push retailers to limit the number of people on the floor. In this case, they'll need to drive productivity per individual.
Booths on the NRF Big Show expo floor, in particular solution providers, will be focusing on these questions. How can technology enable a higher brand consistency for a better CX? Likewise, how can technology drive productivity to move inventory at a time of stagnation, even for companies like Nike?
NRF Sessions and Themes
This year's NRF Big Show revolves around transformations and development in retail technology – and how technology can help us deal with the interlocking challenges of the industry and the economy. Attendees should definitely check out the Innovation Labs and Startup Zones, where some exciting new tools and solutions should be on display for hands-on experimentation.
As you might know, the keynote speaker at the NRF Big Show will be Simone Biles, noted Olympic artistic gymnast. Ms. Biles will be discussing how she stays empowered and positive. She'll share her thoughts on how to motivate the next generation of women and girls for success.
Other sessions we suggest you check out include:
Composable commerce allows Chico's to deliver a seamless brand experience produced by Amazon Web Services
How T-Mobile is activating customer data to deliver personalized buying experienced produced by Adobe
State of the US markets and economy with Charles Schwab Chief Investment Strategist Liz Ann Sonders
Rethinking the company associate experience with PepsiCo Foods North America's CEO Steven Williams
Climate action required: A business imperative with actor, writer and producer Kal Penn
Building the foundation for superior customer experiences: How retailers can capitalize on customer and associate focused innovation
Rallyware will have a booth presence at the NRF Big Show! Click here to enter our NRF Big Show giveaway, and stop by Booth #873 to talk to our product experts and learn how the digital transformation of the frontline workforce drives topline business results at scale.
News and Insights on Workforce Training & Engagement
We're among top-notch eLearning and business engagement platforms recognized for effective training and talent development, helping to empower distributed workforces
Subscribe