L&D Leaders Weigh in on the Current State of Workforce Reskilling and Upskilling
In today's world of work, there is a need for reskilling and upskilling at scale, and major companies such as Verizon, Accenture, PwC, and Amazon are investing heavily in employee learning and development. In the face of tech trends and life events such as the COVID-19 pandemic, analytics, automation, and artificial intelligence, all of which alter the needs of businesses, there is a growing need for businesses to close the digital skills gap.
The Future of Jobs in the Era of AI report from Faethm and Boston Consulting Group found that, although the country's overall supply of labor is projected to rise, the United States (U.S.) will face significant deficits in essential fields. Talent shortfalls in crucial occupations such as computer and mathematics, are forecasted to soar from 571,000 in 2020 to 6.1 million in 2030. Also in the U.S., technology and automation is predicted to drive people out of work, especially in the field of office and administrative support, where the surplus of workers will rise from 1.4 million in 2020 to 3 million in 2030.
Additionally, 70% of employees have reported that they do not have mastery of the skills needed to do their jobs, according to Gartner.

Such findings emphasize the need to take action to build an adaptive workforce that is prepared for the future, and any challenges that may bring – by ensuring that employees maintain their skills, and continue to learn over time. It highlights the need for reskilling and upskilling opportunities, and the need to integrate these into everyday working life. There is not only the need to provide learning, but learning that is relevant to them – and delivered to the right person at the right time. This approach ensures that employees are more likely to retain information and also increases the likelihood of behavior change.
There is a need for employee training and engagement that is personalized – and for businesses to actively invest in reskilling, upskilling and training opportunities to keep their employees' skills relevant and aligned with each of their unique goals. For instance, training a new employee who has previously worked for 12 years as a retail sales professional on the basics of customer service is not necessary – resulting in a distraction to that employee and a loss of work time with training on unrelated subjects. Reskilling and upskilling opportunities should be offered, according to the employees' needs.
We turned to four thought leaders for their insights: as we contemplate the future of work and prepare for the return to work as COVID-19 restrictions ease, how do we tackle the skills gap at scale and make sure that employees gain the skills they need? How do we act now to build an adaptive workforce that is prepared for the future, and any challenges that may bring?
Investing in employee reskilling and upskilling – for today and tomorrow
When preparing for change readiness, it's a joint effort by both the organizations and their employees, emphasized Angela Champ, Senior Vice President, Human Resources at Alpine Building Maintenance. Organizations need to perform a gap analysis to identify what skills are needed, not just for today but looking ahead into the future, as the world is evolving so quickly.
Meanwhile, she said, employees need to assess their current skills, and whether they have the necessary knowledge required to keep pace. "When COVID-19 hit and many organizations became virtual, it exposed a gap between the haves and have nots, those who are more comfortable with technology and those who are not," she said. That is, some may struggle with working in a virtual environment, while others may be more well-versed in the technology needed to perform their jobs.
"No matter how good of an organization you work for, no one will care as much about your career as you do," Angela said. "It's up to each employee to see where they may be falling behind and take action, not just waiting for organizations to step up and provide training or courses." Today, learning resources are easily available, from books to online courses offered through platforms such as Coursera, as well as training content developed within the organizations through knowledge sharing.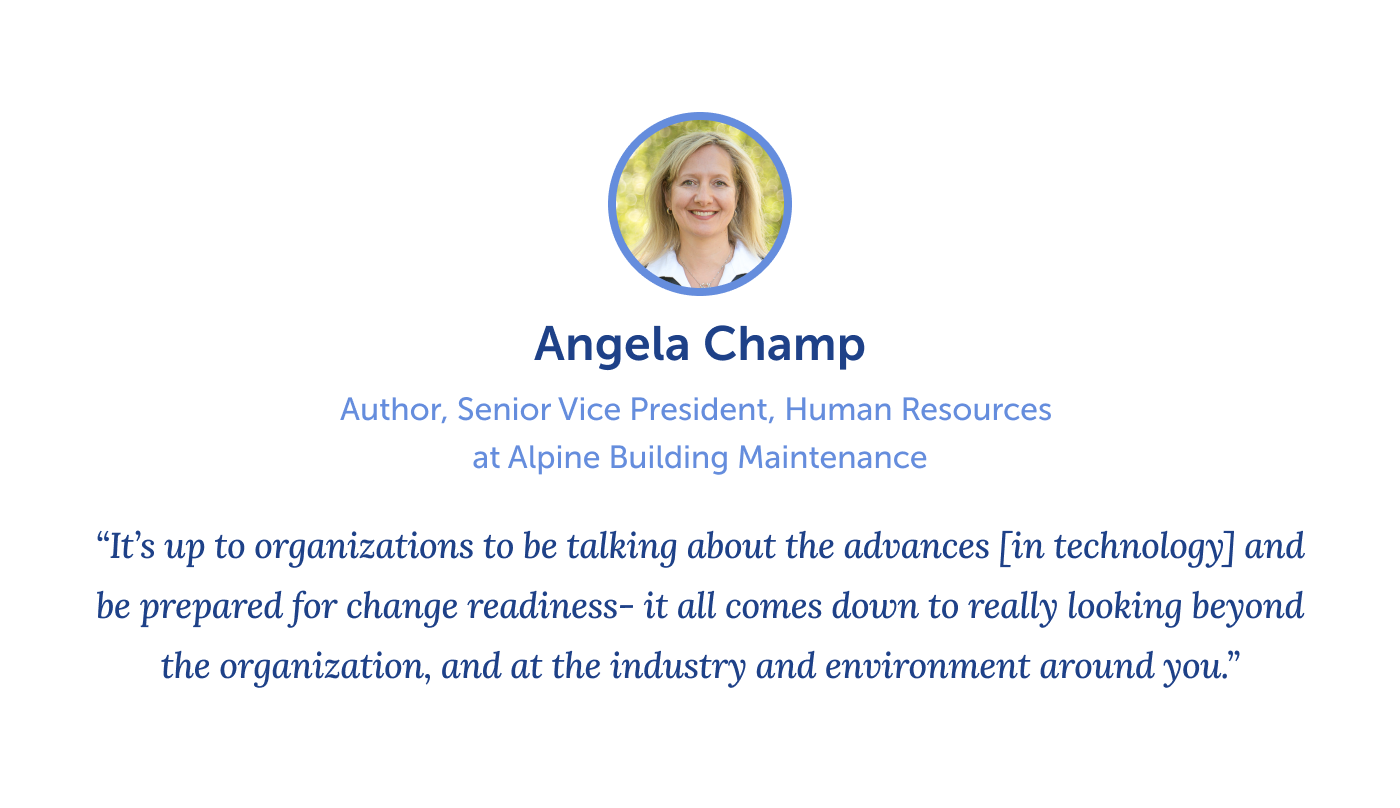 "At Alpine Building Maintenance, we're in the process of identifying the gaps in the technology needed for us to work efficiently," Champ noted. "We're re-investing in safety and on-the-job technical training – not just to help get people on a level playing field but to help get them ready for the way the world is changing."
Lauren Tedesco, Vice President, Learning & Development at Automotive Parts Manufacturers' Association (APMA), believes that, in addition to focusing on upskilling and training, a cultural shift needs to take place across companies both large and small.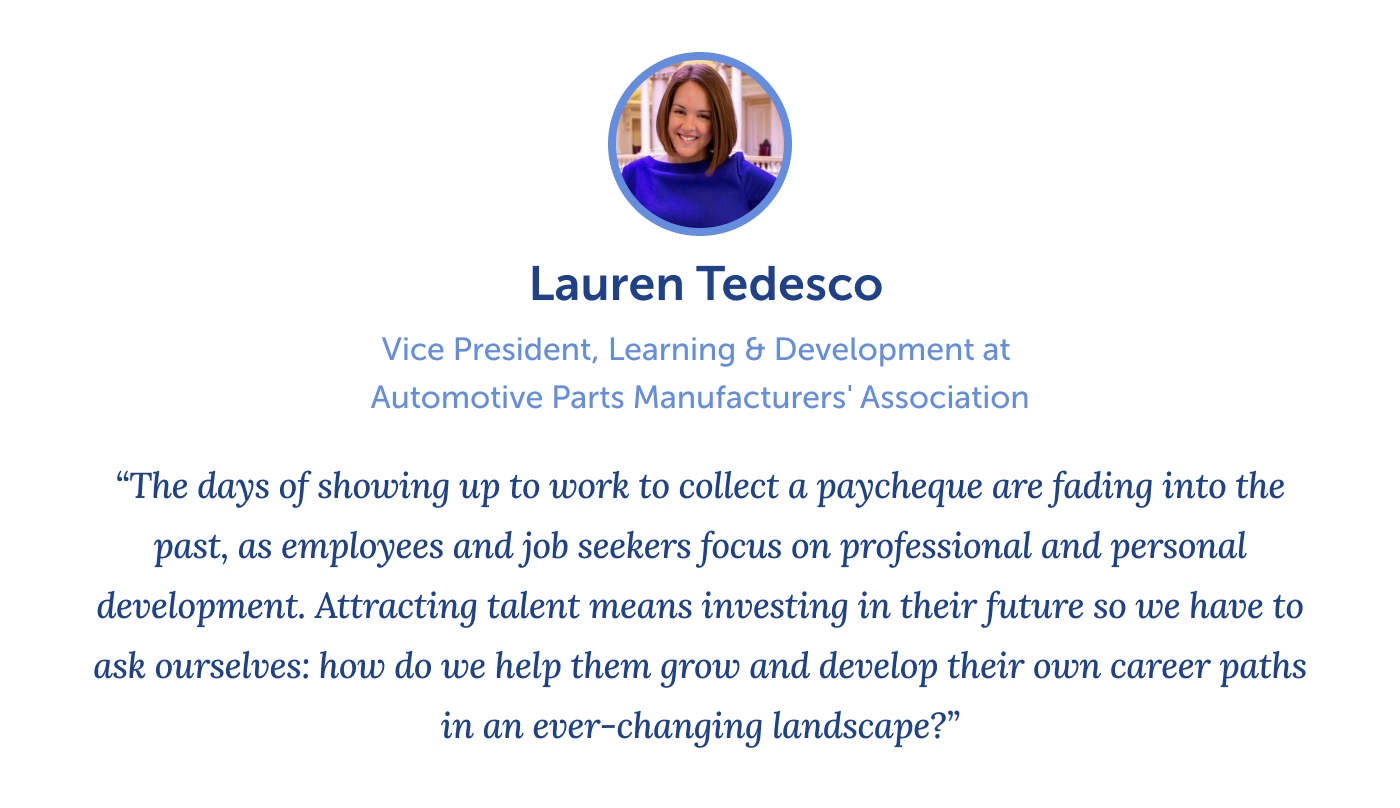 "We see a war for talent taking place across industries and the demand for human capital is growing at an alarming rate," she said. "At 10,000 feet up, we need the culture to change so that every workplace can incorporate education into their business model. At ground level, education needs to be accessible and we need to remove barriers for the small and medium-size businesses who are resource-strapped, these SMEs are the backbone of our economy so their wellbeing and success impacts all of us."
Mark Jefferson, Director of People and Organization Development at TransLink, noted that there are always individual skill gaps that all employees possess, and also often collective skill gaps within organizations.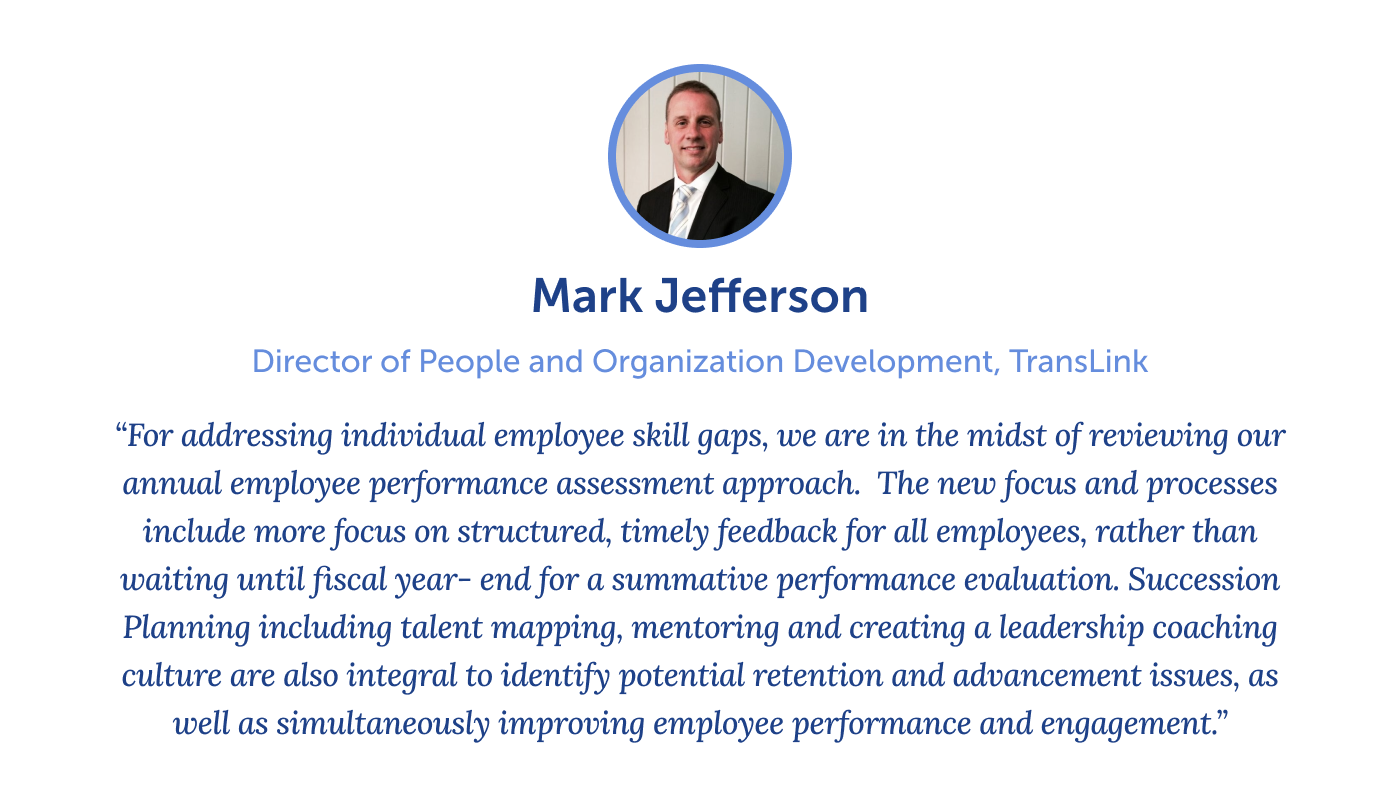 Mark's team at TransLink has undertaken this opportunity during the pandemic to create a structured and multi-pronged approach for employee development, with a number of those eligible employees working remotely. Initiatives include partnering with the University of British Columbia's Sauder School of Business to develop and implement a comprehensive Leadership Development Program – focusing on training for three cohorts (supervisors, managers, and senior leaders).
"​​At TransLink, we believe that learning and employee development are essential elements in developing, recruiting and retaining a productive and engaged employee workforce," he said. "We extensively research every project and program we undertake, and we need to ensure that our investments and priorities are strategically planned for initiation, implementation and sustainment."
Lauren explained that, as the auto sector shifts towards mobility, the APMA is building the first industry-wide digital learning program. "The shift towards zero-emission, autonomous or electric vehicles means those jobs of the future are here now, and the APMA's Digital Learning Program is designed to meet the immediate needs of the sector," she said. "Fully digital and accessible 24/7 across any device, these industry-recognized programs and certifications will upskill and train the current workforce and invest in the incoming one…our goal is to build a talent pipeline that will keep Canada's automotive workforce globally competitive."
Meeting employees in the middle with a hybrid approach to learning
Now more than ever, there is a need for modern Learning and Development (L&D) teams to consider both the personalization and scalability of employees' learning needs, Caitlyn Beattie, Director of Talent Development at Indigo, emphasized. "It's reflective of the macro scale at large where employees are seeking choice, autonomy, and flexibility in how they want to work, and where their values align to those of the organization," she said. "Similarly, how they choose to develop and engage with learning on the job needs to be equally as fluid, flexible, and personalized."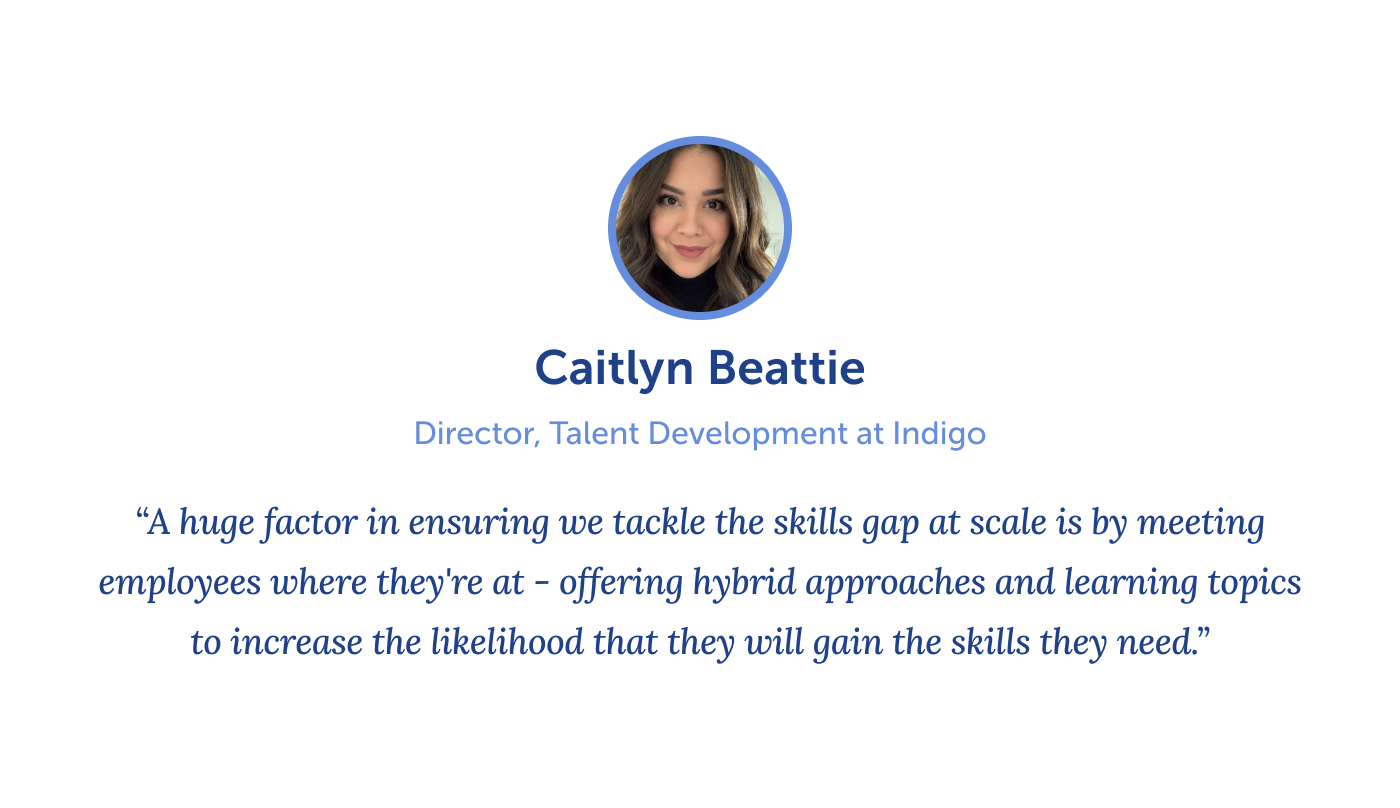 Caitlyn identified a trend that she is seeing today – which is a shift from learning needs that are employer-driven to those that are more employee-driven. "Rather than companies dictating what needs to be learned and how to learn it, employees have choice and will self-select what is of utmost importance to them, their role, and the skill set they are intending to develop," she said. While traditional L&D methods will not always meet the learning needs of an audience that is highly flexible, autonomous, and working in a mobile and virtual environment, offering bite-sized, useful and relevant learning that can be easily applied on the job is key.
For instance, expecting people to commute to a fixed location to sit in a classroom-based training environment may not suffice in today's world of work, nor will requiring them to sit in on a video call for eight straight hours. "People are choosing wisely about how to invest their time and energy, especially considering there are more competing priorities than ever before, so meeting those needs as L&D professionals is critical," she said.
From providing effective training and onboarding to personalized tasks and opportunities for reskilling, upskilling, and continuous learning and growth, Rallyware is here to help you prepare your workforce for the future of work. Schedule a demo to see Rallyware's Performance Enablement Platform in action!
News and Insights on Workforce Training & Engagement
We're among top-notch eLearning and business engagement platforms recognized for effective training and talent development, helping to empower distributed workforces
Subscribe