A Fireside Chat with Direct Selling Trailblazer Drew McDermid
Owing to changes in work dynamics and rapid technological progress, the field of direct selling is undergoing notable transformations. For instance, data-driven strategies can now be implemented for targeted and effective sales outreach, while teams can integrate digital technologies for enhanced customer engagement. Having the right field workforce management software in place is also essential, to engage and motivate teams, providing them with the right business-building activities to set them up for success.
We chatted with Drew McDermid, Vice President of Sales Southern Africa for NeoLife International, about his experience in the field. What's changed over the years and what's in store for 2024?
Direct Selling: Then vs. now
Drew, you grew up in a NeoLife home, grew a successful career in banking as an adult, and then turned away from finance to build a NeoLife business of your own. What did NeoLife business-building give you that banking could not? Why was it more fulfilling?
I initially looked at NeoLife as a way to build a business of my own and work my way out of the corporate world. The more I learned and the more I grew in the business, the more fascinated I became with the Network Marketing profession. An unintentional consequence and my greatest satisfaction from this journey was discovering the beauty of making an income while also making a positive impact in the lives of other people. I discovered that human beings are at their best when in a state of productivity and contribution, and this was something I did not experience in the corporate world.
How has NeoLife, and direct selling more broadly, changed since you were growing up? What aspects have stayed the same?
Direct Selling has become more professional and definitely more widely accepted by the younger generation as a viable career. I always tell my team the business building fundamentals remain the same: set clear and motivating goals, and take massive action while aggressively developing your skill set. Technology has played a positive role in our profession and changed the way we apply some of the fundamentals. It has massively expanded our training and exposure opportunities, but a successful and sustainable business requires people and strong relationships. This is the awesome part of our profession.
Technology's role in direct selling
How do you use technology in your role as VP of Sales? How does it help you be more effective, and how does it help the field perform better?
Technology enhances Network Marketing in so many ways. It gives NeoLife Distributors an opportunity to grow their business in over 50 counties from their cell phone and without getting on an airplane. At the click of a button or swipe of a screen, a distributor has complete visibility of their global business through reporting tools. Training and development sessions can be streamed into the living rooms of the entire organization, and the greatest benefit of all, when done right, the internet and social media are highly effective prospecting tools.
Technology will continue to play a big role in our profession, however, I do have an old school side to me that will never underestimate the power of in person events and building friendships and relationships face to face. I believe every organization and team needs to find their right balance that will promote growth and build their culture.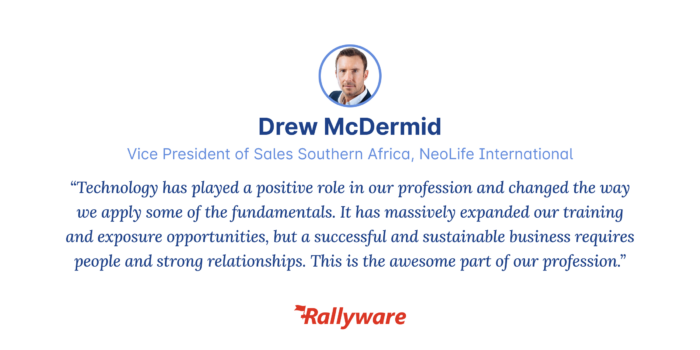 "Teaching people how to fish": Direct Selling Trends for 2024
What are your predictions for direct selling trends in the near future? What should leaders watch out for?
I believe leaders and companies need to look out for fly by nights and people who see our profession as a quick way to make money. To achieve maximum credibility and our full potential, we instead need to focus our future and growth around companies that have great product lines, lucrative and sustainable compensation plans, and good values with a long range vision.
It's the most exciting time in our history to be a Network Marketing professional! The global trend of financial stress is at epidemic levels and never has there been a greater opportunity or more important time for our profession to reach out and make a difference. I love the saying: "Give a man a fish and he eats for a day or teach him how to fish and he eats for life." For me that is Network Marketing, we are teaching people how to "fish" – how to create an income and take control of their future, no matter your age, education or past experience. Network Marketing has never been as relevant as it is today, and the time is right for us to step boldly into our communities with the heart to uplift and empower people. We have only scratched the surface of what we are truly capable of, and we have an exceptionally exciting future ahead of us!
The importance of field workforce management software
In a recent survey, we asked direct selling leaders what elements of their business could have been improved in 2022.
Enhancing field engagement and growth, along with refining recruiting and enrollment processes, emerged as key focus areas.
The survey also found that training, enrollment and onboarding were several aspects of field operations that leaders would like to be more automated and digitally transformed.
This is why having the right field workforce management software in place is key – to engage and motivate distributors, and enable learning so distributors can grow their businesses.
To learn more about how field workforce management software can help to drive positive behavior change among distributors, schedule your free demo of Rallyware's Performance Enablement Platform!
News and Insights on Workforce Training & Engagement
We're among top-notch eLearning and business engagement platforms recognized for effective training and talent development, helping to empower distributed workforces
Subscribe