3 Ways to Inspire and Engage Direct Selling Teams in 2023
Many folks these days feel uncomfortably like they've hit a slump. Some people are going 'goblin mode.' Others are losing their ambition. We're seeing a generational shift in work patterns, behaviors, and attitudes. This doesn't only apply to corporate and hourly employees, but also when it comes to direct sales team motivation and other workers in the gig economy.
In the world of direct selling, we have to take people as they come to us. They're not corporate employees who are working for a salary. Instead, they're carving time out of their private lives – their early mornings, free afternoons, or late nights – to hit sales figures, enjoy products, and recruit others. If we bother them excessively, we do that at the risk of alienating them. At the same time, if we leave them alone too much, we risk losing them full-stop if they become disengaged – another kind of alienation, and one that works against the distributor and undermines her progress. 
Uplines and team leads have to strike a careful balance between respect and engagement, between space and attentiveness. Below, we discuss helpful strategies for motivating and inspiring your distributed workforce while being respectful of their time at a moment that is so delicate for many. 
Direct Sales Team Motivation Tips
1. Build & Solidify Relationships
You don't want to pry into distributors' private lives, and boundaries are crucial. Still, uplines can improve their relationships with distributors with open, honest, and clear communication. Let distributors know that you're there if they need to talk about direct selling strategies, time management, or even branded sales aids and motivational knowledge items they've recently come across. 
As Harvard Business Review says, "Everything starts with trust." When downlines know that team leads have their backs and are open, empathetic, and respectful of their time, they're more likely to stay actively selling and to participate more effectively and more often in selling activities.
Start the Conversation & Motivate Direct Sales Teams
Consider checking in every couple days at a time when you know a distributor is likely to be engaged in their direct selling activities. Every distributor has their preferred time of day, so try to find out what that is. Just reach out to see how they are; start a conversation if it seems they want to have one.
It might feel awkward at first, but gradually, you'll get used to communicating on a regular basis. It's even better if you utilize technology that lets you create message boards for distributors as well as person-to-person private messaging, both of which Rallyware supports.
At a time when folks are more likely to want time away from stressful tasks, you can show them that direct selling isn't stressful. Instead, show them that it's a fun, emotionally vibrant, and passion-driven experience that changes lives. In fact, a 2023 survey of European Direct Sellers found that 77% of respondents affirmed that direct selling has helped them improve their interpersonal skills, while 74% said that it boosted their confidence and self-esteem.
2. Use Smart Engagement Technology
Hopefully, if you're an upline, your direct selling organization invests in the right technology. At a time of digital transformation, the right performance enablement technology can help automate the process of distributor motivation. All that team leads have to do is draw distributors' attention to the technology to which they have access. The technology itself helps focus distributor attention and unify their experience. For instance, smart notifications go a long way in terms of direct sales team motivation, providing distributors with the right activity at the right time.
Designing the Right Distributor Experience
Let's assume that corporate admins have selected the right performance enablement technology for direct selling. As an upline, you can use that technology to help maximize distributor engagement. For instance, utilizing Rallyware's data-driven tools, you can encourage downlines, drive their performance, and maintain open lines of communication.
The results will be not only higher ROI and sales volume, but a more engaged and dynamic distributed workforce. The question of inspiration and engagement will effectively be outsourced to technology, the job of which is to automate distributor motivation using data-based digital tools.
Communication Tools and I&R Driving Direct Sales Team Motivation
Uplines can use their platform to communicate team-wide on segmented message boards and personally in private inboxes – helping teams store all their information, including distributor outreach and engagement, on a single platform. That makes everyone's lives easier – downlines and uplines – while doing away with performance-draining silos.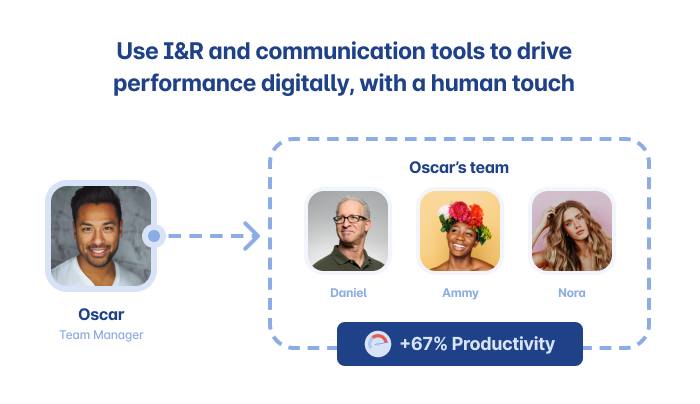 The right technology can help not only engage, but inspire. Rallyware's incentives and recognition platform includes personalized widgets and group leaderboards that challenge each distributor to be their best direct-selling self.
This I&R platform tracks real-time progress and calculates what the distributor's next moves should be to improve their standing. As an upline, you can encourage distributors to make those moves – Rallyware will often notify you when it's time to reach out to downlines to help them meet their goals.
A key part of positive workforce psychology is knowing your progress and how you can improve it – and Rallyware's I&R makes it incredibly intuitive to serve downlines that regular token of inspiration. Which leads us to our next tip…
3. Cheer on Your Team's Successes
In the busyness of business, we sometimes forget to celebrate the wins, the victories, and the successes – even the small ones. Whether it's an enrollment anniversary or highest-ever weekly sales numbers, team leads should take time to congratulate downlines on a job well done. Some experts theorize that celebrating wins can make people more productive.
With the right technology in place, teams can even start to systematize success recognition and drive greater direct sales team motivation. As mentioned in tip #2, Rallyware's I&R solutions allow you to embed recognition in the concrete process of selling.
As team members work to meet and push beyond their past triumphs, Rallyware compiles the latest relevant data into dashboard widgets that help them measure their progress live. It's the equivalent of seeing your progress toward the finish line and having an automated platform tell you what to do with your body to get there first.
Real-Time Results for Direct Sales Team Motivation
The result is the latest real-time selling metrics presented for the team to see, allowing them to track and measure their wins. They'll know the moment they've (for instance) cracked the monthly top three or reached their sales goal for the quarter.
Using Rallyware's communications tools, such as message boards and private messaging, distributors can applaud each other on their milestones and periodic victories. Uplines can encourage downlines to reach those very milestones and carry out those deeply meaningful victories.
Consider organizing weekly 'Congratulations Calls' – brief, non-mandatory meetings where uplines celebrate and recognize distributor successes – or 'Congratulations Fridays,' where you post everyone's milestones for the week on a segmented team message board.
Whatever strategy you choose, it's important to structure time for weekly recognition. It can mean the difference between a sales rep dropping off the map for a week versus her becoming motivated to go harder than ever.
Direct Sales Motivation & Distributor engagement with Rallyware
However you choose to inspire and engage downline distributors, it helps if you have the right technology – a platform which can use context to show users the right business and learning tasks at the right times. Request your free demonstration of the Rallyware platform today or read more about our Direct Sales Software!
News and Insights on Workforce Training & Engagement
We're among top-notch eLearning and business engagement platforms recognized for effective training and talent development, helping to empower distributed workforces
Subscribe