2021 Rallyware Report: Direct Sales Trends in Distributor Engagement & Productivity
For direct selling companies worldwide, both 2020 and 2021 were landmark years for direct sales, the former enjoying record-shattering growth stemming from the COVID-19 pandemic.
"We see that overall the global industry growth during pandemic underscores the strength and adaptability of the industry," said Tamuna Gabilaia, Executive Director and COO of the World Federation of Direct Selling Associations (WFDSA), when asked what 2022 holds for the industry. "Despite the universal factors that impacted most industries, including prolonged community lockdowns, job displacements, global supply chain disruptions, we saw many direct selling companies and their independent representatives adapt and find new ways to stay connected with their customers and grow their businesses, and we are positive this trend will continue in the future."
For Rallyware's direct selling customer base, what has user adoption of productivity tools looked like, in 2021? How has performance enablement platform adoption evolved, compared to the year prior? What sorts of learning and business activities are distributors most-often completing? We did some digging to find the answers to these and other burning questions. Here, we share a sneak peek of a few of our top findings from a soon-to-be-published report: 2021 Distributed Workforce Engagement & Productivity Report: Insights and Trends.
Direct Sales & Performance Enablement in 2021: User Adoption Continues to Boom
Throughout 2021, we saw a continued trend in adoption of Performance Enablement Platforms, as, in search of guidance on how to grow their businesses, more newly enrolled distributors logged into the Rallyware platform. Overall, we saw a 14.2% increase in new users who logged in to the platform, compared to 2020.
Distributors flocked to the platform, which serves as a central hub for onboarding, incentives & recognition, and ongoing learning, and one that provides the right business-building activities at the right time, for each distributor. Offering activities both large and small that can be easily incorporated into the everyday (such as viewing a training module or sending a nurture email to a prospect), this helps maintain motivation for distributors, which is essential to maintaining their continuous sales and recruiting performance growth, and taking it to new heights.
When It Came To Completion of Various Activities, Learning Took The Lead
Compared to 2020, users completed 8.9% more activities in 2021. This finding demonstrates the impact of progress visualization tools that help to guide users towards their goals, one task at a time. Visualizing user progress, such tools offer a step-by-step action plan on how to achieve personal goals that each distributor set for themselves. We found that simply being provided with clear visibility into their progress serves as powerful motivation for users to progress.

What types of tasks are being completed by distributors? Are those in one category more popular than others? Looking at task completion across three programs: business, onboarding, and learning, business programs took the leading role in 2020, with a total of 34% of tasks completed from this category. Business tasks relate to building one's business, such as sending connection requests via LinkedIn or WhatsApp messages with new catalogs to customers, while learning tasks encompass opportunities for growth, such as reviewing product training brochures or best sales techniques. Onboarding tasks, on the other hand, are associated with the initial getting started/onboarding stage, such as completing one's new user profile and setting up their goals.
While business-related tasks dominated that period, in 2021, there was a perceptible shift in focus towards learning activities, as tasks from this category constituted 29% of all total completed tasks, an increase from 2020's 24%. This shift is due to many distributed team members without any business building experience who joined direct selling companies at the beginning of COVID-19. During that time, there was a need to educate distributors about a company's products and help them become expert consultants of the brand.
Distributors are Craving Social Interactions
Social functionality – enabling connections between distributed team members, such as feedback, coaching and peer-to-peer mentoring – is one core feature of Performance Enablement platforms. Providing a space for these connections to occur is critical, especially today. As the ways in which we live and work are changing dramatically. The aspect of community – a fundamental attribute of the direct selling industry – is now more important than ever.
With a large majority of individuals working remotely, in 2021 we noticed an interesting trend of increased communication activity, compared to the previous year, with users sending more personal messages, sharing more posts, as well as making more comments on posts made by others. In the second year of the pandemic, fatigue had likely been settling in, with distributors craving more social contact with others in the community.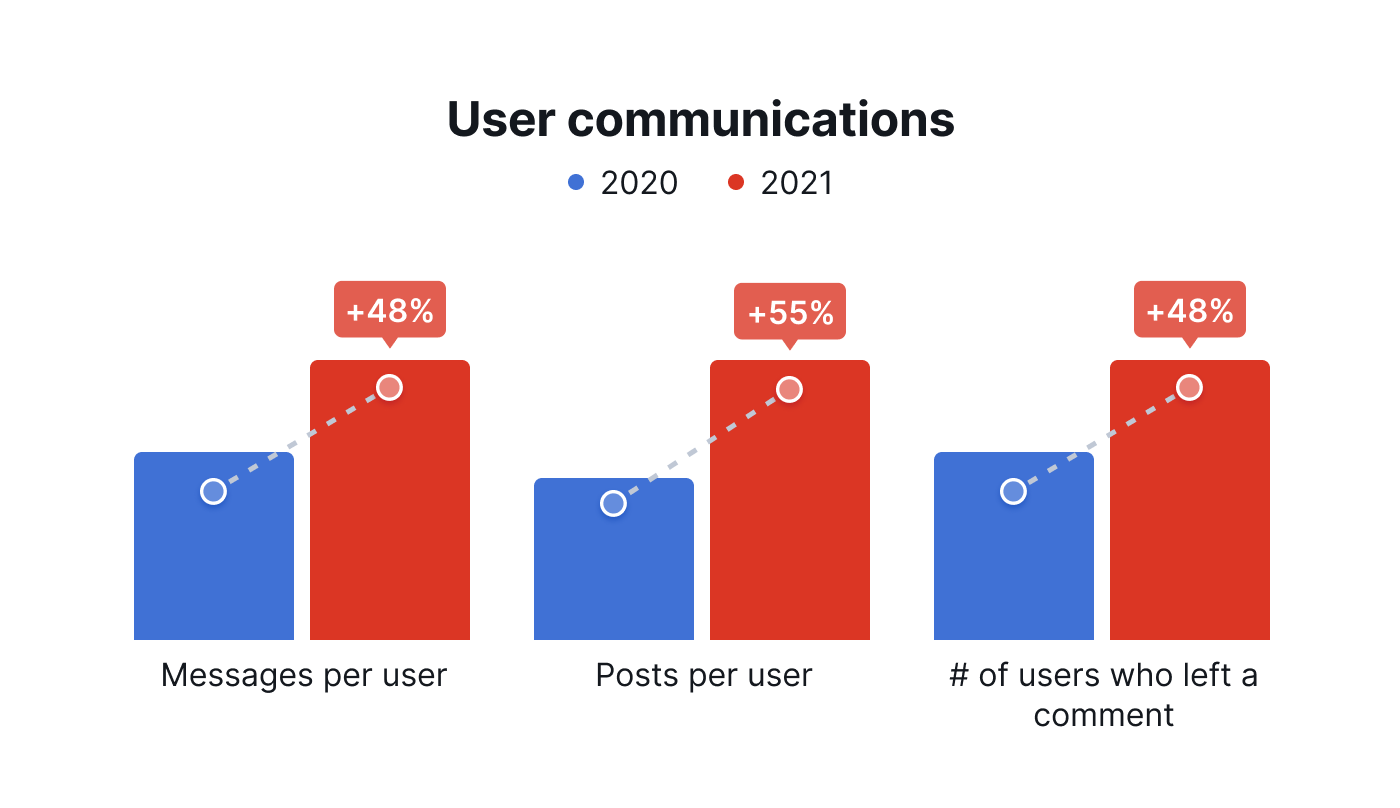 Personalized, smart notifications – triggering the right activity for the right distributor, at the right time, proved to be powerful, and were in full force this past year. In 2021 we observed a boom in the number of smart notifications delivered to Rallyware users (close to a whopping 176 million), with almost 104 million of them encouraging distributors to consume new information and take specific steps towards achieving their goals. With a strong correlation between personalized notifications and sales productivity growth, this trend has demonstrated how Performance Enablement platforms are becoming smarter and smarter, due to larger amounts of data analyzed and used to prescribe just the right behavior modifying activities.
What's in store for 2022? We predict an enhanced focus on digital transformation, as companies rise to meet the demands of today's business landscape, and be better prepared for what the future might hold. Stay tuned for the full report: 2021 Distributed Workforce Engagement & Productivity Report: Insights and Trends, to be published soon! If you want to see Rallyware's Performance Enablement platform in action, request your personalized demo.
News and Insights on Workforce Training & Engagement
We're among top-notch eLearning and business engagement platforms recognized for effective training and talent development, helping to empower distributed workforces
Subscribe